The Tabletop Spotlight is on Rippers Resurrected – a Savage Worlds Supplement!
When Drake from Dragon's Lair Comics & Fantasy pull this book out of his magic bag of goodies I knew we were in for a treat. I was familiar with the Savage Worlds system (it's really more of a core ruleset than a setting) and so I was excited to take a look inside Rippers Resurrected!
Rippers Resurrection takes your classic Victorian Gothic Horror and flips it on it's head. Yes there are werewolves, vampires, and many more creatures that go bump in the night – but you're the part of the night that bumps back! You play as a Ripper, a member of a secret organization dedicated to fighting these monstrous threats. But don't think for one second your going in out classed because Rippers use their foes weapons against them. They harvest their foes organs and using "modern" science they distill, re-engineer and in some cases transplant those organs onto themselves. Rippers make the monsters nightmares – but the question is how long can you keep your sanity before you become a monster yourself.
It's a really cool idea and setting. The book is fairly detailed and has a ton of new tools to play the game. It has plenty of new Hinderances, Edges, Gear and monsters to fight. It also has a ton more background on the Rippers themselves as well as the lodges that you can become associated with to earn more status and other rewards.
Rippers is a smaller book but its well made. It's not quite a "pocket-sized" edition but it's much smaller than say a hard back players handbook for other RPGs. Then again, this book is designed as a sourcebook for the players and you do need to have access to the Savage Worlds core rules to actually play. But overall, it's a really neat setting and this is a great buy if you're into Victorian Era RPGs or interested in playing in one! It's in stores now and online fairly cheap – so go check it out!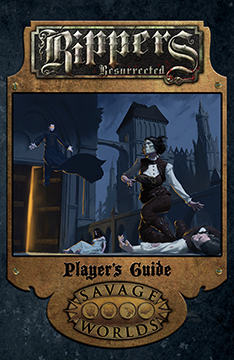 At the Nineteenth Century's end, a shadow lies upon Europe…and the world. The mythological creatures of the night—vampires, werewolves, and far worse—stalk the darkness seeking innocent blood. Only the Rippers, members of an ancient organization dedicated to fighting evil, stand against them. But to win this battle, the Rippers must use all their foes' weapons against them…and preserve their own embattled sanity. It's time to take back the night…again!

The Rippers Resurrected Player's Guide contains everything players need to create the Ripper heroes who oppose evil's machinations: information on the Victorian era, the various Rippers Factions and the frightening world they call home, new Hindrances and Edges, gear, and Setting Rules for Ripper Lodges, Reason, Status, and more. Newly revised rules for rippertech allow heroes to "rip" their enemies' supernatural traits and graft them to other Rippers with greater ease than ever before.

This book requires the Savage Worlds core rules to play.
I'll take the abby-normal brain upgrade!