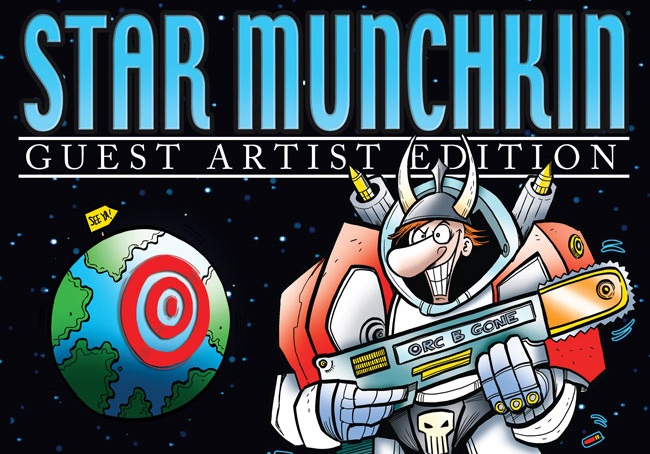 Steve Jackson Games has released Star Munchkin Guest Artist Edition to celebrate 15 years of Munchkin – check it out!
Munchkin is a perennial favorite for all types of gamers. Star Munchkin takes the same basic rules and slaps a Sci-fi filter on the wackiness that ensues. With the Guest Artist Edition, Len Peralta has re-illustrated all the game cards with new art with his own spin on the Munchkin universe:
The basics of Munchkin are simple: Kick open the door, fight the monster, collect the loot and level-up. First person to level-up to 10 wins. What's the catch? Well this game has a mix of helping other players and then totally backstabbing them later in the game! It's really more of a social experience than just a regular board or card game. If you've never played Munchkin you should give it a shot.
That said, Star Munchkin is a stand-alone expansion that you can combine with the original game. It's got some familiar themes and pop-culture references that everyone will be able to understand. This versions has some new art for the same cards. Here is an example: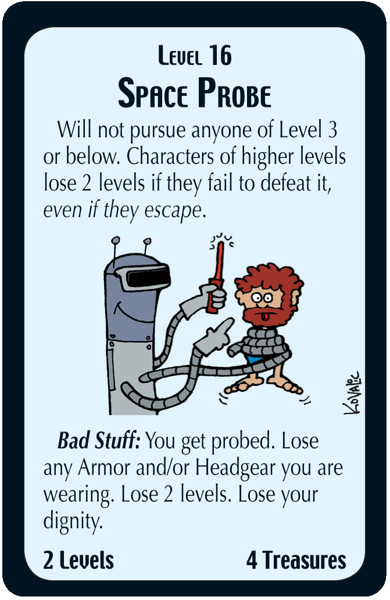 Original Art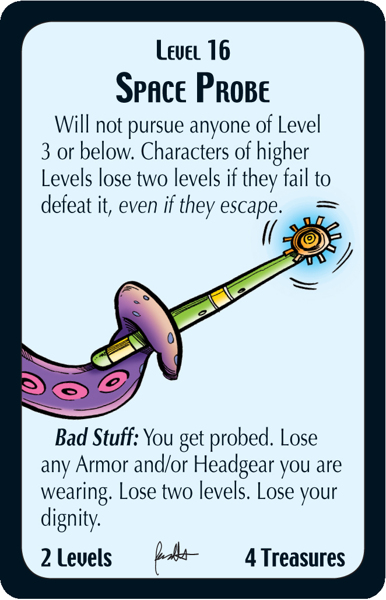 Guest Artist Edition Art
This is a game that doesn't take itself super serious – just about all the cards have some type of tongue-in-cheek reference. The Guest Artist Edition also comes with a bunch of new stuff like a game board, player standies and dice. The new artwork is pretty great as well. Len Peralta has a cool speed-inking video he did for Star Munchkin you can check out as well:
If you're looking for a great gate-way game to get your non-gamers playing with your gamer friends then give Star Munchkin Guest Artist Edition a shot. You might be surprised at the results!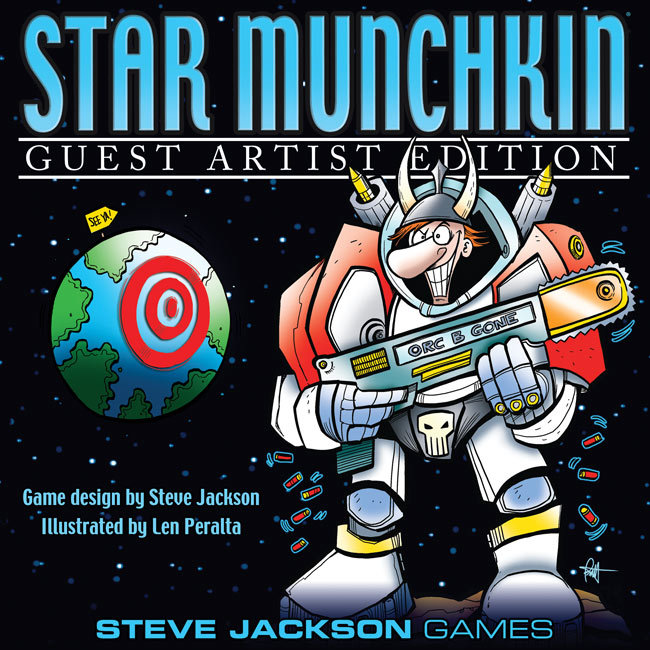 Len Peralta, known for his work on Munchkin The Guild, the Ten State comic book, and his own Geek a Week trading cards, illustrates Star Munchkin, giving us a fresh look at Bottle Bottle, Captain Quirk, the Bananafanafofaser, and the other 165 cards in the box.
This Guest Artist Edition includes completely re-illustrated game cards, a new gameboard decorated with Len Peralta's interpretation of the Star Munchkin universe, and male and female standies for each player.
Star Munchkin: Rev up your Orc-B-Gone and get to playing!