Download a goblin filled, mischievous adventure that's perfect for introducing new players.
Didn't make it to a Free RPG Day event this year? Don't worry… you can download Piazo's fun filled scenario now and rules to expand the scenario for larger groups. Check it out…
Everyone knows that the surest way to improve the quality of any tabletop game is to invite the wholesome goodness of goblins into your home, and your heart. For this year's Free RPG Day, Paizo did just that, by delivering the whimsical prequel to our We Be Goblins series of adventures: We B4 Goblins. This lighthearted coming-of-age tale takes your players back in time to adolescence of our iconic goblin heroes, where they can help these young adventurers reach adulthood by claiming their toads and joining in on their very first raid in a scenario ideal for introducing new players!

And now, We B4 Goblins is available to YOU free of charge on your paizo.com account!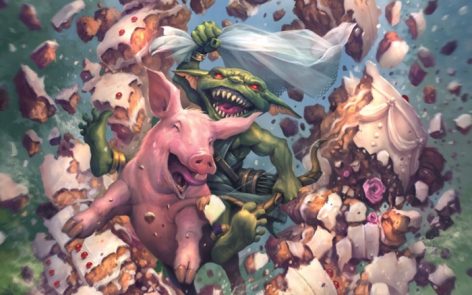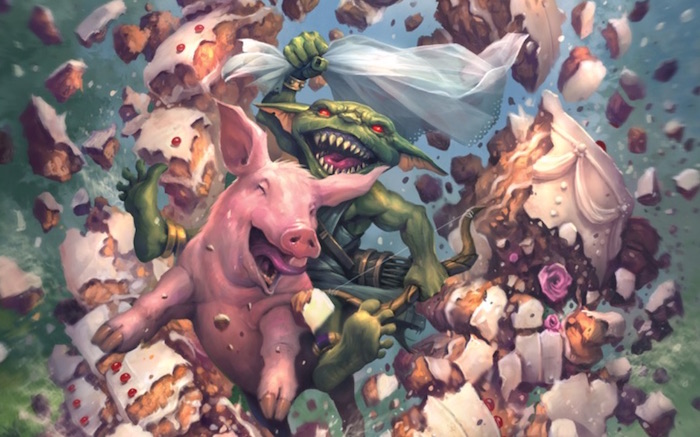 As happens alarmingly often with these adorable little tykes, we have more goblins than can reasonably fit in the space provided! So for those of you who plan to run a table with five or six players, we have two brand new goblin characters for your PCs to test drive: the warchanter-in-training Bisbee, and the ever-lovable Smuz, who so obviously a goblin that you shouldn't even consider the possibility that he might not be. Because, I mean, come on.
These two little champions are ready to join Reta, Mogmurch, Chuffy, and Poog as they brave the world for the very first time!

Illustration by Andrew Hou
This looks like a really fun way to introduce new players to Pathfinder, or as a way to take a break from an intense campaign.
Did you play We B4 Goblins on Free RGP Day? What do you think?