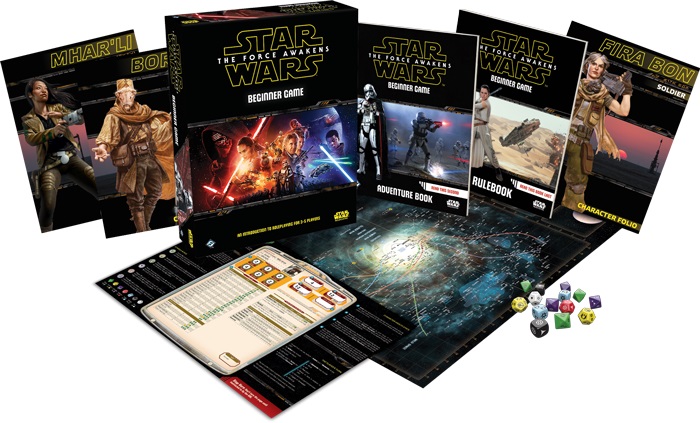 Curious about The Force Awakens Beginner Game? So were we! Come see exactly what you're getting in the box!
Fantasy Flight Games' new addition to the Star Wars RPG family is the The Force Awakens Beginner Game. It's everything you need to jump right in and start role-playing in a galaxy far, far away!
If you've played around with any of the previous Beginner Games from Fantasy Flight Games before then you'll know exactly what to expect. If you haven't, then you're in for a treat because FFG has you covered! We've already previewed some of the contents but after getting my hands on them I can honestly say I'm impressed with what they've packaged together.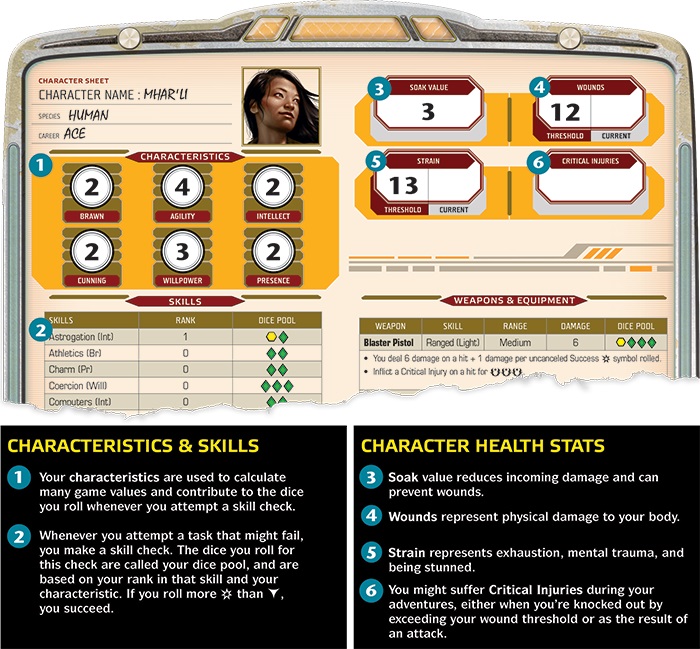 There are 4 character portfolios to go through so it makes jumping in and playing a snap. Each one has a short backstory that helps get you into the mindset of the characters too.
The fact that you also get a set of dice with the Beginner Game is also kind of a big deal. I know I'm not the only player that doesn't mind sharing their dice, but, I'd prefer not to. I'm not superstitious or anything but when someone else uses my dice, how do I know they aren't Jinxing them!? That's just science!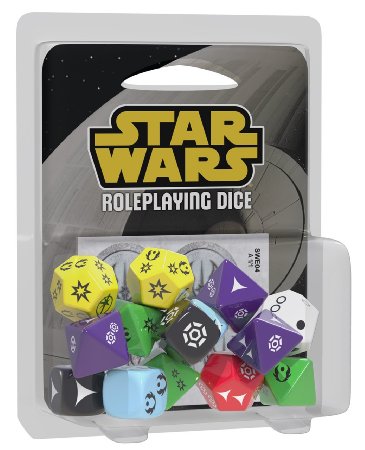 Get your own dice, man!
For the price of around $30 you get dice, pregenerated characters, a really nice map, a rules book and a full-fledged adventure. It's really a great deal – especially if you're looking for a quick way to start playing. It's perfect for gaming groups of 3-5 players.
We show off the contents in a lot more detail in the video (I try not to show off any major story spoilers). In someways this Beginner Game is a pretty big teaser for what's coming. We barely get to scratch the surface but at least we're getting to play in the "new" timeline now. I know it's just a drop in the bucket of the Star Wars story – I'm honestly waiting to get MORE info about the rest of The Force Awakens and how the universe has changed. I guess we'll just have to wait and see what the future holds…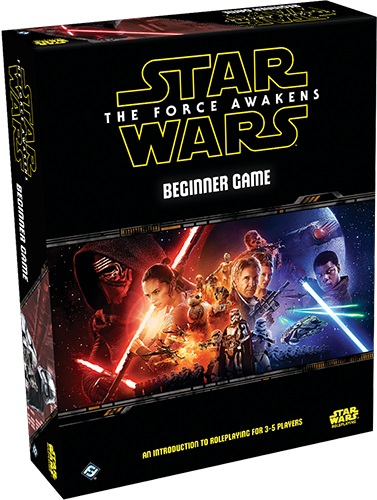 The perfect entry into the Star Wars roleplaying experience for players of all skill levels, The Force Awakens™ Beginner Game introduces a complete, learn-as-you-go adventure that carries you from the sands of Jakku deep into the heart of a mystery that could change the course of the galaxy.

You don't need any previous knowledge of roleplaying to get started. Just open the box, select your character, and let the Force flow through you. Pre-generated character folios keep the rules right at your fingertips, while custom dice and an exciting narrative gameplay system advance your story with every roll.

The Force Awakens Beginner Game includes:
1 32-page Adventure Book, 1 48-page Rulebook, and 1 Introduction Sheet

4 Full-Color Character Folios

1 Full-Color Double-Sided Foldout Map

14 Custom Dice

8 Destiny Tokens and 49 Character Tokens
Finn: We'll use the Force.
Han: That's Not how the Force works…