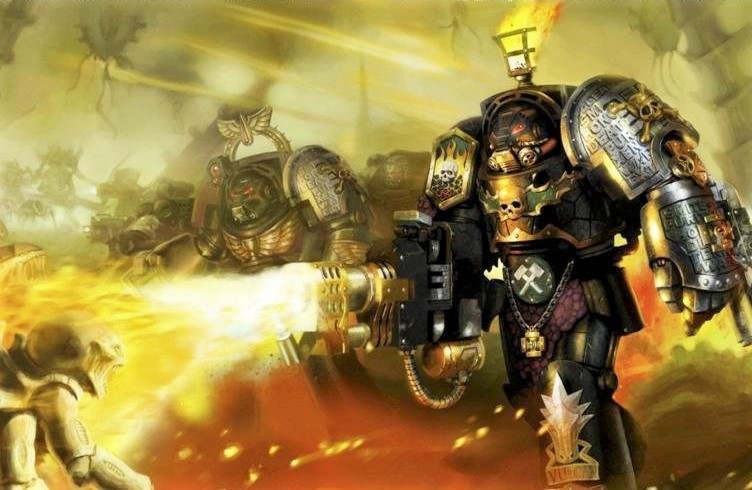 The formations for the Deathwatch are making the rounds – it's mixed unit type time!
The tidal wave of Deathwatch info is starting to pour in from all over. It appears yet another lucky hobbyist has gotten a copy of the Codex and is spilling the beans!
Pictures via GoonBandito (Original post was edited after the fact)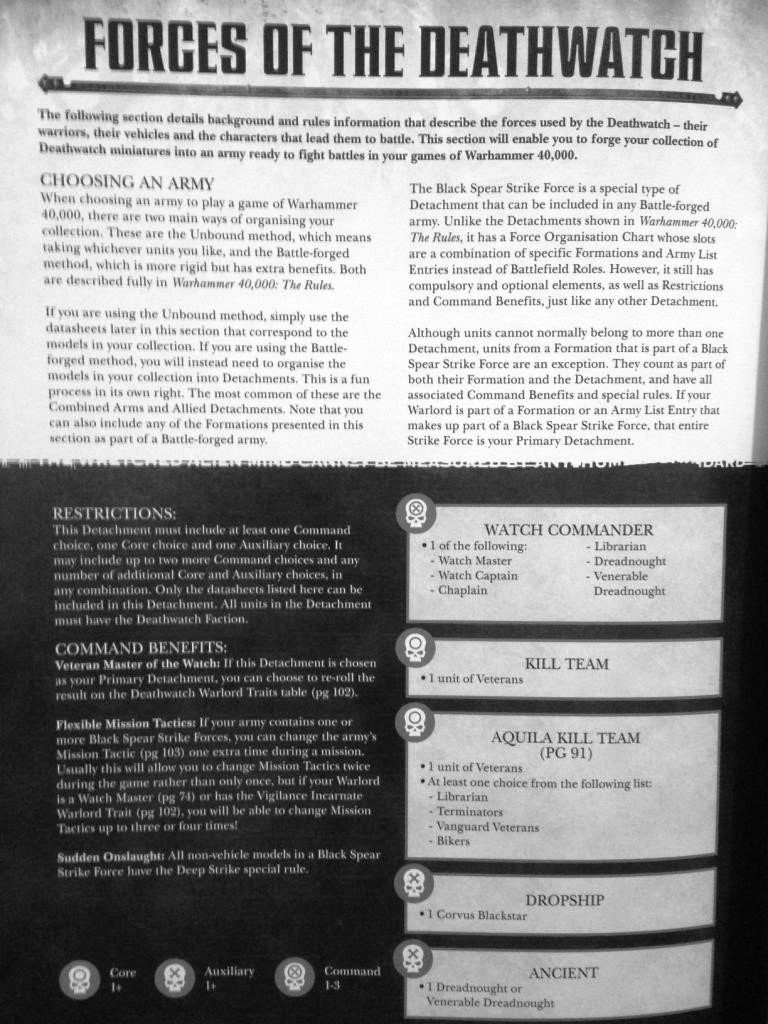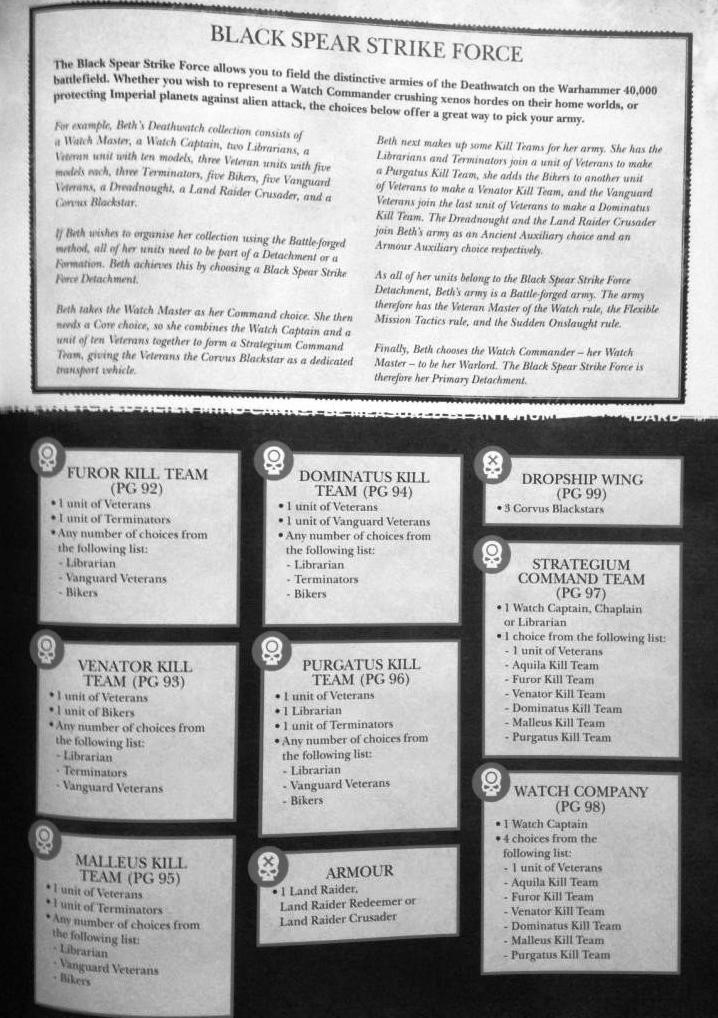 "Q: GoonBandito, I was wondering if you could explain how the Tactical/Maelstrom Objectives work (and what they are) for the Deathwatch since they have 18 unique ones?

A: Oh yeah, there are 3 'sets' and you choose which set you want to use before the mission starts. The Primus set is more aimed at killing HQElites/Characters, Secundus Set more aimed at kill Troops/mass models, and the Tertius is aimed at killing Heavy Support/LoW/Fast Attack/Vehicles. Fits in with the Mission Tactics rule and the Kill Team Formations which are geared toward picking a Force Org Slot to focus on.

Edit: also, haven't talked about the sprues yet! Veterans are in Mk VIII armour with CCW/Ammo Pouches part of the rear torso bit, rear torso cloak for the Black Shield. 2x Heavy Thunder Hammer, 2x the sexy as hell Storm Shields, 2x Power Mauls, 6x Power Swords, 1x Xenophase Sword, 1x Combi-Melta/Plas, 1 Stalker Boltgun, 2x Deathwatch Shotgun, 1x Infernus Heavy Bolter, 1x Frag Cannon. The 'Vanguard Sprues' are a bit boring in comparison, with 4prs Lighting Claws, 4 normal Storm Shields, 4 normal Thunder Hammers, a Power Axe and a Relic Blade. Dreadnaught Sprues have Twin-linked Lascannon, Plasma Cannon and Assault Cannon arms, plus either Storm Bolter or Heavy Flamer options for the Power Fist arm.

There's lots of Deathwatch Shoulder pads, plus a Shoulder pad for each of the First Founding chapters plus Black Templars, Silver Skulls, Howling Griffons, Brazen Claws, Minotaurs, Flesh Tearers and Novamarines and a Black Shield pad."
The post has since been edited by forum mod Reds8n and the rest of the datasheets have been taken down. But there are more formations that are all similar and they basically do the same thing – they let you re-roll any failed To Wound rolls/armor penetration rolls by non-vehicle models in the unit vs their respective targets.
Malleus Kill Team – anti-Heavy Support
Furor Kill Team – anti-Troop
Purgatus Kill Team – anti-HQ
There is also the Watch Company which allows you to take 4 of the smaller Kill Team formations and get the same basic special rule vs units that contain Warlords, Psykers or an Independent Character.
The Deathwatch are really good at doing what they do – and what they do isn't very nice.
It's also interesting to note that just about all of these formations force you to mix Infantry with some other type of unit type like Bikes, Terminators or Jump Infantry. It's going to be interesting seeing how that pans out for Deathwatch players as it could lead to some weird situations in the movement and assault phases.
What's your take on the Deathwatch Formations?