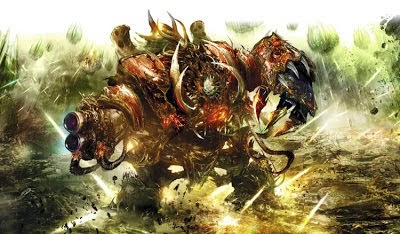 We have a great interview with John French from Black Library, then head into tournament talk and sweet hobby tips.  We even talk Helbrutes.

Yo,
When  I say we cover everything in this show I mean it.   Paul and John French, from the Black Library, talk during the first part of the show.  He talks about his own armies and his experience writing about some of the most legendary figures of all time.
Several of us just returned from the ATC in Tennessee, USA.  With that many people and all those different lists represented it is hard not to come away with inspiration for new tech and new army ideas.
We are happy to report that a lot of our list ideas 'worked' and we share a few elements during the tactics/tournament section.  Please let us know if you end up trying any of these out.
It is very difficult to make talk about painting seem exciting but we're trying something new on this show that I think I'll call 'Finishing Moves.'   We talk about the anxiety that some people feel before they start to weather an otherwise finished model.
We get somewhat explicit about a few of our techniques for this and the painters on the show approach the concept a little differently.  I start the topic with the idea that I decided to weather a model after it was mostly complete.
What are some end stage painting stuff that you like to do or would like to hear about?
FTN mostly focuses on Warhammer 40k, but again you will see in the first few episodes we take a severe deep dive into nerdom. These have been a blast to record and I hope they help pass the time for you.

Credits:
Paul Murphy – Host
@warmaster_tpm
Panelist:
Justin Troop – troopsmash
Christopher Morgan – captain morgan
Adam Abramowicz – Beyond the Brush Studios
Andrew Whittaker