Check out these great options for your German force: Heavy Infantry KF'47 and Spinne Light Panzermech Walker
These heavy hitting infantry are a must for any German force. They charge their way through the battlefield – straight into the heart of the action.
Rift-tech was rapidly used in the development of heavy armour for the Wehrmacht to ensure casualties in intense operations were kept to a minimum. One of the first nations to introduce heavy personal armour, it is effective and provided a much needed boost to the German war effort when first deployed. Other nations have copied the principles, often to better effect, but the heavy infantry remain a potent force on the battlefield.


Full rules can be found in the Konflikt'47 rule book on page 129.
This Weird War take on a heavily armored car is as agile as an infantryman on the ground. Don't worry, that agility doesn't take remove any of the firepower and defenses provided by its wheeled counterpart.
The Spinne (Spider) speed and agility makes it almost the perfect recce vehicle for close terrain and urban environments. The open-turret allows the gunner/commander to maintain anti-air overwatch and maximises his situational awareness.
Full rules can be found in the Konflikt'47 rule book on page 140.
If you think these units look awesome, check out the rest of what the Germon Konflikt '47 force has to offer…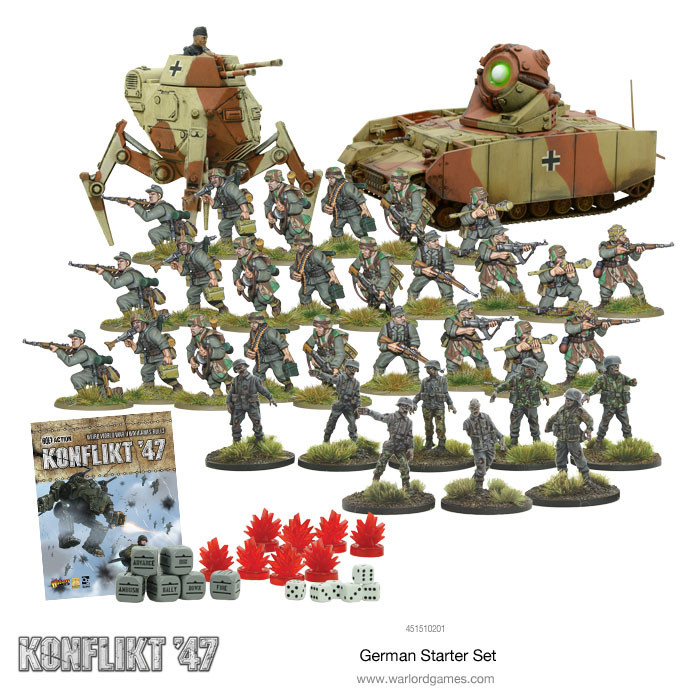 Who's ready to enter Weird War II?