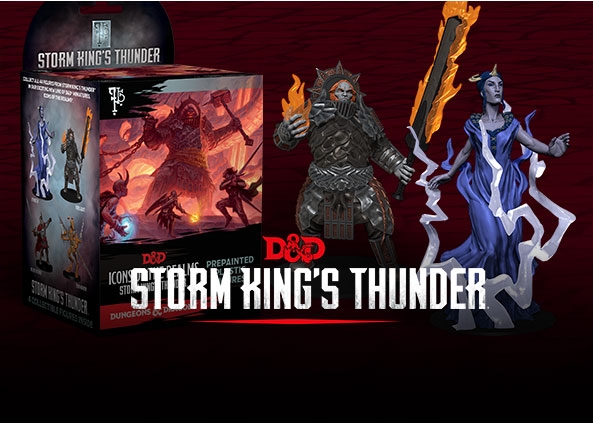 The Tabletop Spotlight is on Icons of the Realm: Storm King's Thunder – Giant Miniatures for your D&D games!
If you're currently running or planning on running the Storm King's Thunder adventure then Wizards of the Coast has the perfect product for you. Our Buddies at Dragon's Lair Comics & Fantasy brought over 2 of the new Icons of the Realm: Storm King's Thunder boxes:
If you're familiar with the D&D miniatures, then you know what to expect with these randomized boxed sets. Each box has a Large or Medium figure at up to 3 other miniatures. It's all random so you never know what you're going to get to add to your collection!
The 45 figures in this set are all pre-painted plastics are the official licensed miniatures that represent some of the Giants and NPCs you might run into if you're playing this campaign. They make a fantastic addition to any D&D game and they are perfect for all games in that scale. The bases are also designed to work with your typical "grid" maps that are common to use for adventuring – after, D&D pretty much pioneered the need for those reusable mats!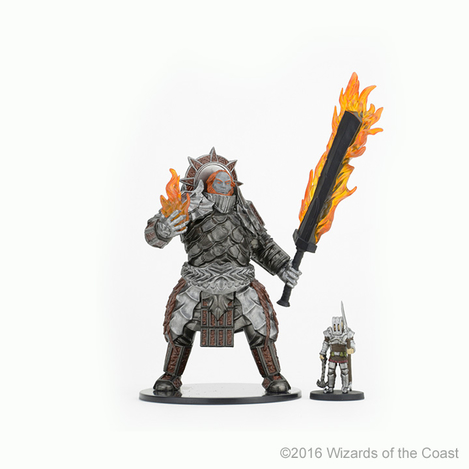 Overall, the miniatures are perfectly passable as what they are supposed to represent. The sculpts on the larger models are actually pretty decent as are the paint jobs. While they might not win any painting awards the fact that they are comparatively "cost-effective" and totally appropriate for the tabletop I'd be happy with a few boxes for games. They are in stores now so go check them out!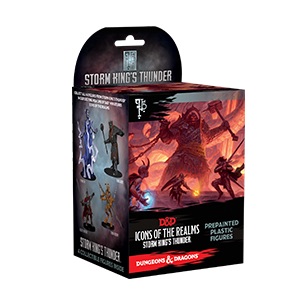 The Giants have returned to the Forgotten Realms in force as they clash with dragons and one another in epic battles for glory and territory, while humans and other small folk caught in the middle try to find a way to survive amid the upheaval.

Collect all 45 figures from Icons of the Realms: Storm King's Thunder, the newest set of randomly sorted monsters and heroes in the exciting line of D&D miniatures, Icons of the Realms.
Those Giants DO look pretty good. I can't wait to fight some!