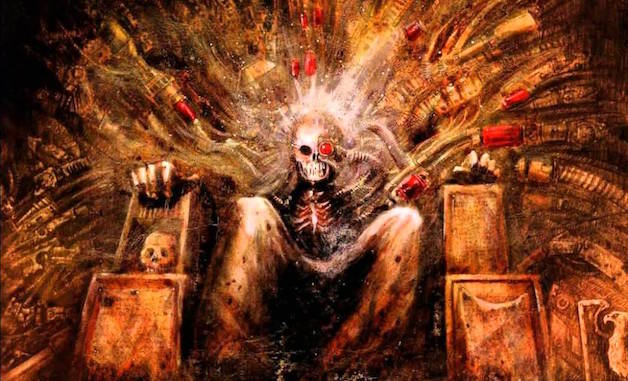 Abaddon wants the Emperor dead. It's going to be a tough climb even for the Warmaster.
Reading in between the lines of Traitor's Hate and Wrath of Magnus, Abaddon is coming.  All his plans are lining up, Prospero is back within the Imperium, and a daemonic rift that could pave the way from the Eye to Terra is a ticking timebomb.
So as we await the next chapter of the story from GW, let's think about this from the point of view of the Emperor.
Say that again after 10,000 years Terra is invaded and the Imperial Palace besieged.

The Invaders
You will be facing the following:
Chaos Fleet
Chaos Cultist hordes
Chaos Marines Renegades
Traitor Legionnaires
Chaos Daemon masses
Dark Mechanicus (this means Traitor titans)
Greater Daemons
Deamon Primarchs

The Defenders
Let's take a look at what forces you have to win the day. I will try to organize them from least effective to most.
Imperial Fleet
Ecclesiarchal Masses
Astra Militarum
Adepta Sororitas
Knight Households
Adeptus Mechanicus (and Titans)
Space Marines
Death Watch
Ordo Assassinorum
Grey Knights
Sisters of Silence
Adeptus Custodes
Primarchs
You can cancel out the fleets and lot of the crappy masses on both sides right away. They won't last an hour once combat begins. You can read all about the original Siege of Terra here, but I have to say this one seems way more lopsided in favor of Chaos this time around.
On the Chaos side, almost every primarch is still kicking and even more powerful in Daemon form.  I'm sure some of the loyal Primarchs will return, but probably not all.  Last time, Chaos was facing the well ordered might of the Imperium at their height of their power and scientific knowledge – led by the Emperor in person.  The Imperium has fallen a long long way since those times, while the forces of Chaos if any thing seem stronger ten millennia later.
I have a feeling looking at that lineup then if a 2nd siege of Terra occurs again, the Emperor is going to need a secret ace in the hole to pull it out when push comes to shove.
I have an inkling what it may be and GW loves to drop hints all over the place, but want to get your thoughts.
~What do you think the Emperor would have to pull to throw back Abaddon once and for all?