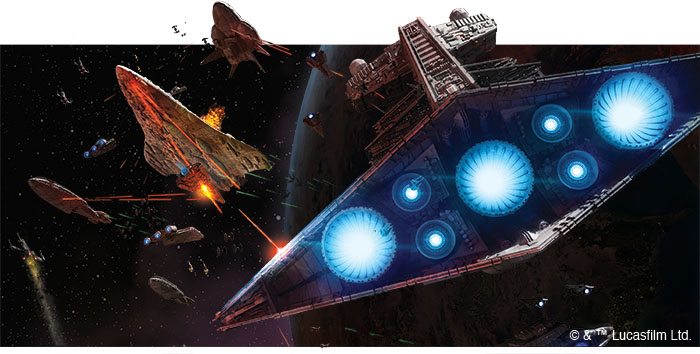 FFG got the big wave of Star Wars Armada ships & more out just before the new year!
Join your friends in open warfare to decide the fate the Corellian Sector! The Corellian Conflictcampaign expansion for Star Wars™: Armada allows you and up to five of your friends to wage an epic campaign spanning multiple fleet battles. Take sides with the Galactic Empire or the Rebel Alliance, then vie for key hyperlane routes, seize vital shipyards, and establish new bases. Victory depends on your team's ability to control vital worlds while crushing your foes in battle!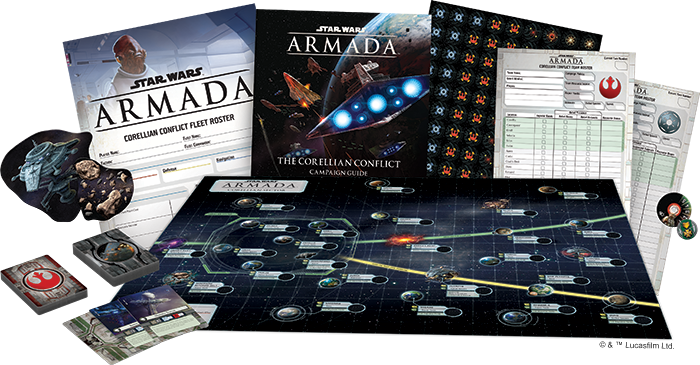 The Corellian Conflict also introduces twelve objectives that expand upon the challenges presented by the objectives in the Core Set. Finally, as you pursue these new paths to victory, you can consider the strategic advantages offered by sixteen unique squadron cards, all of which allow you to field legendary pilots and squadrons of the Galactic Civil War in combat!
Star Wars Armada Wave V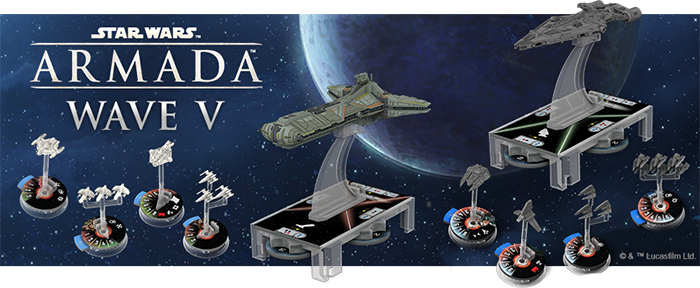 Under the command of Jun Sato, the Phoenix Home was the nerve center of the fledgling Rebel fleet, and it makes its way to Star Wars™: Armada in the Phoenix Home Expansion Pack. What this small-base ship lacks in size and firepower, it makes up with its ability to command your fleet. Along with one pre-painted miniature starship, you will find two ship cards, ten upgrade cards, and all the dials, bases, pegs, and tokens you need to control the battle, more effectively coordinating your capital ships and fighter squadrons alike.

As seen in the Star Wars Rebels television show, the Imperial light cruiser is a communications and blockade ship used to help the Empire spread its domain throughout the galaxy. In Star Wars™: Armada, the Imperial Light Cruiser Expansion Pack presents this ship as a fast, small-base Imperial vessel that excels at providing long-range fire support from its broadsides. With its ship, its two ship cards, eight upgrades, and all requisite accessories, the Imperial Light Cruiser Expansion Pack will have you racing around the Rebels' flanks and into a new era for Imperial tactics!

Rebel pilots are masters of improvisation, and you can bring their talents to your games of Star Wars™: Armada with the Rebel Fighter Squadrons II Expansion Pack. The venerable Z-95 Headhunter, agile Lancer-class Pursuit Craft, and sturdy VCX-100 Freighter lend new strength and tactics to your fleet, helping you win even the most desperate of battles. Together with the advanced E-wing fighter, these crafts add firepower and versatility to your Rebel forces, and their pilots carry the hopes of freedom for a beleaguered galaxy!

The Empire's most advanced attack craft bring monstrous power into battle in the Imperial Fighter Squadrons II Expansion Pack for Star Wars™: Armada. Elusive TIE Phantoms ambush Rebel squadrons, while elite TIE Defenders outmatch the enemy with fearsome capabilities, and hulking VT-49 Decimators leave only wreckage in their wake. Supported by the coordination ability of Lambda-class shuttles, these eight miniature squadrons and eight squadron cards work hard to crush the Rebel opposition.
~ These are on shelves NOW. Go get em admirals!