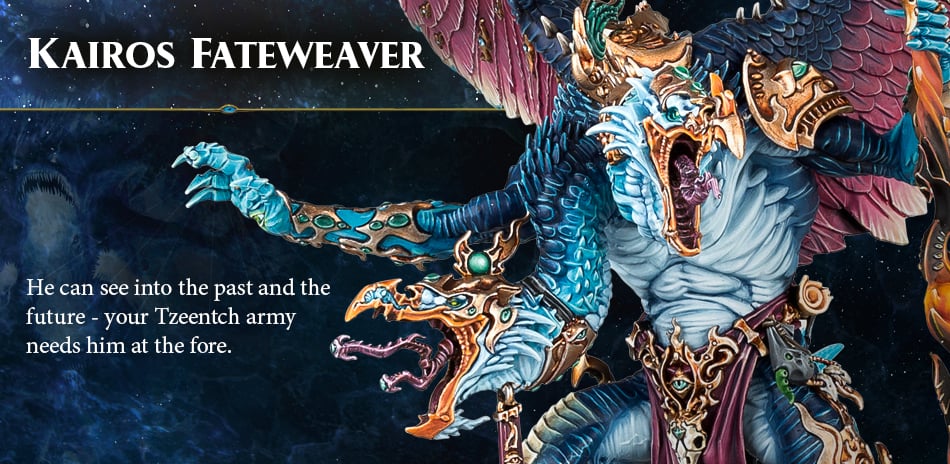 The Daemons of Tzeentch have arrived in full force this weekend from Games Workshop – Kairos is here to play!
via Games Workshop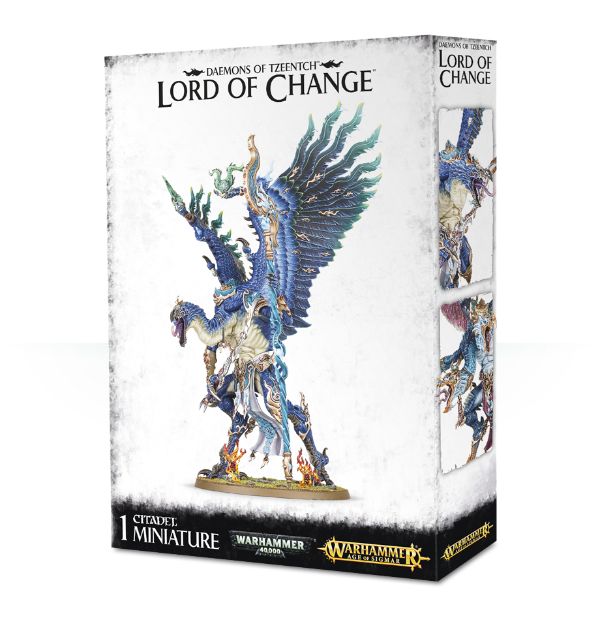 The greatest of Tzeentch's daemons, the Lords of Change shimmer with raw magic. With a flick of its claw, a Lord of Change can hurl foes into nightmares, or blast enemies with the wyrdfires of Tzeentch. Such canny creatures can steal opponents' spells for their own use, or send mutating rays from their rod of sorcery to destroy entire enemy formations.
This multi-part plastic kit contains the components necessary to assemble a Lord of Change. A huge, imposing model, he makes an ideal centrepiece for any Tzeentchian army, covered as he is in the symbolism of Tzeentch that marks him out as a true master of magic. His enormous wings can be modelled in 2 different positions, and he features a choice of 3 different, sinister heads. He wields a staff of Tzeentch, which can be topped with either a symbol of Tzeentch or a flame blade; or can alternatively wield a baleful sword and Tzeentchian wand. He is accompanied by 2 Brimstone Horrors, which can be added to his base.

This kit is supplied as 72 components, and includes a Citadel 100mm Round base.

This kit can alternatively be used to assemble Kairos Fateweaver.
The Rules for the Lord of Change can be found HERE.
The Rules for Kairos Fateweaver can be found HERE.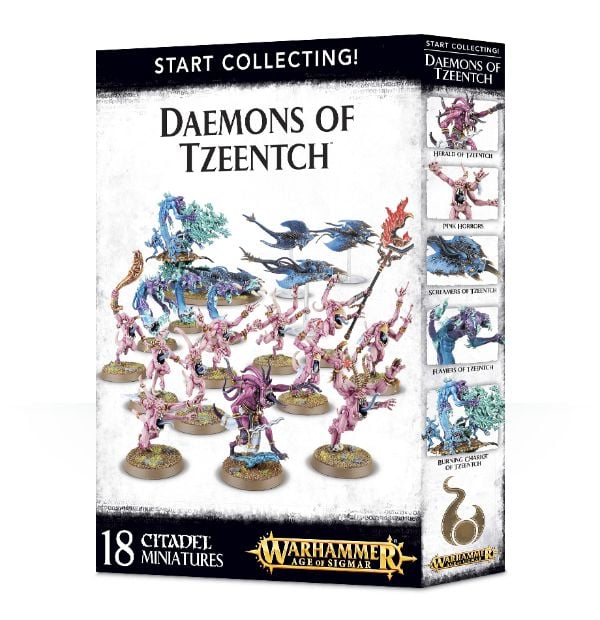 The Changer of Ways, the Master of Fortune, the Great Conspirator and the Architect of Fate – these are just some of the names of Tzeentch. A brother god to Nurgle, Khorne and Slaanesh, and often an ally of the Horned Rat, he is the undisputed master of the arcane arts. His daemonic followers swarm over the battlefields in scintillating glory, searing the land with coruscating flames of change.

This is a great-value box set that gives you an immediate collection of fantastic Daemons of Tzeentch miniatures, which you can assemble and use right away in games of Warhammer Age of Sigmar and Warhammer 40,000! You'll receive a Burning Chariot of Tzeentch (with optional Herald of Tzeentch on foot), 3 Flamers of Tzeentch, 3 Screamers of Tzeentch and 10 Pink Horrors, allowing you to collect, assemble and play with your new miniatures right away!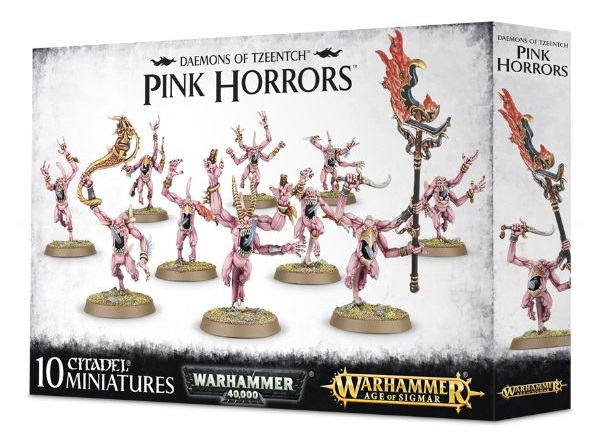 Gibbering nonsense with lunatic energy the luminescent Pink Horrors whirl and flail their arms, generating raw magic that fills the air. En masse, the Pink Horrors give rise to so much arcane force that they can hurl blasts of unnatural fire at the enemy. In combat the Pink Horrors use their powerful hands to choke and, should they be slain, they split in twain to form two Blue Horrors.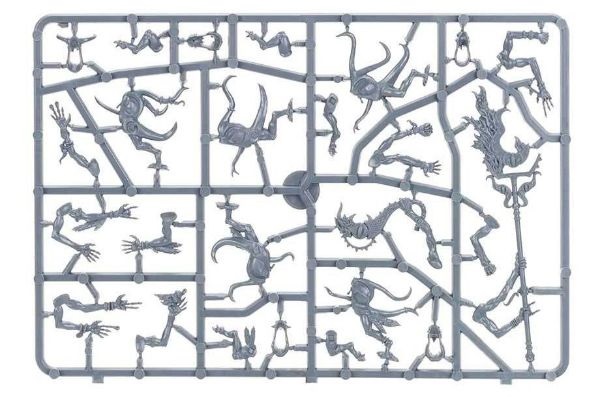 This set contains ten multi-part, multi-limbed plastic Pink Horrors. This set includes all of the components needed to assemble a hornblower, an icon bearer (with immense, flaming Tzeentchian icon) and an Iridescent Horror, a champion who gleefully doles out death with his grasping hands.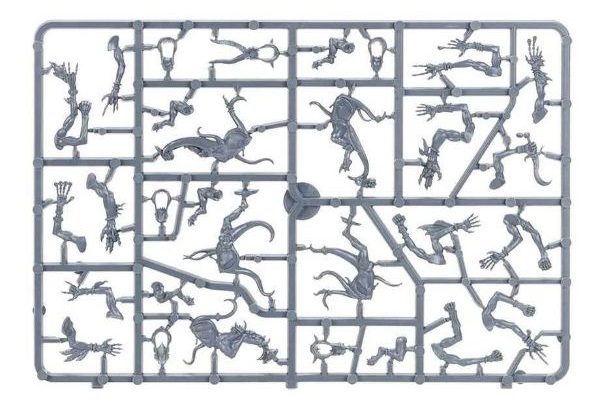 This kit comprises 55 components, and is supplied with 10 Citadel 32mm Round bases.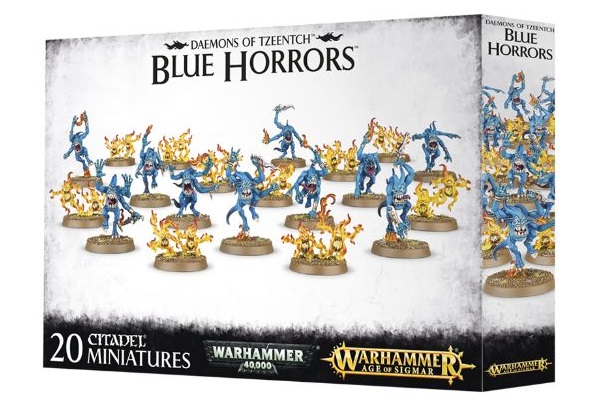 Casting vindictive glares at their enemies and blasting them apart with mystical fire, Blue Horrors are as resentful and bitter as their pink cousins are gleeful and capricious. Muttering glumly, Blue Horrors cast azure flames from their fingertips, stomping and protesting as they do so. Should a Blue Horror be slain, it groans and flashes into flame as a pair of Brimstone Horrors replaces it.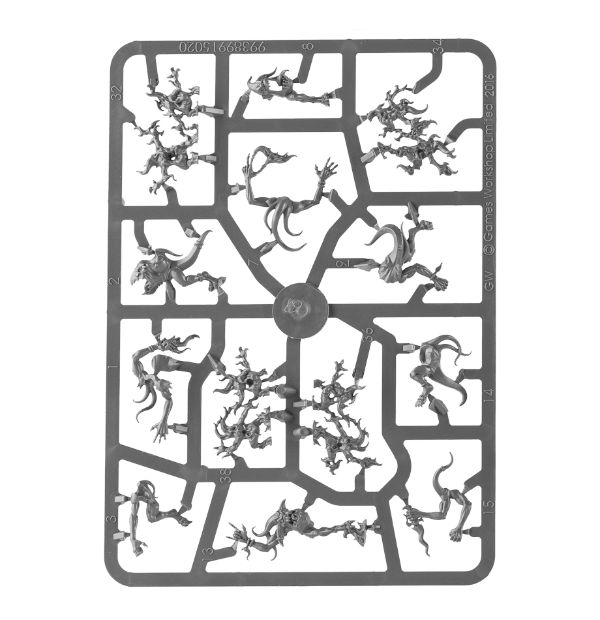 This multi-part plastic kit contains the components necessary to assemble 10 pairs of Brimstone Horrors of Tzeentch. Tiny creatures of pure malice, they caper about on their bases just as you would expect those made of fire to do. Also included are the parts you need to make 10 Blue Horrors of Tzeentch. Eyes full of fury and large mouths full of teeth, some pose with their talons outstretched to hack at their foe, others wield magical flames that dance about their fingertips. Covered in decorations, jewellery and feathers, they also include flames for their bases.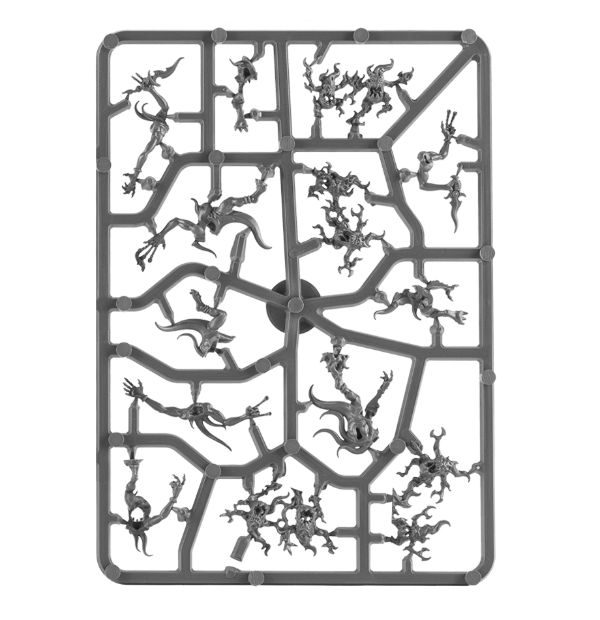 This kit comprises 40 components, and is supplied with 20 Citadel 25mm Round bases.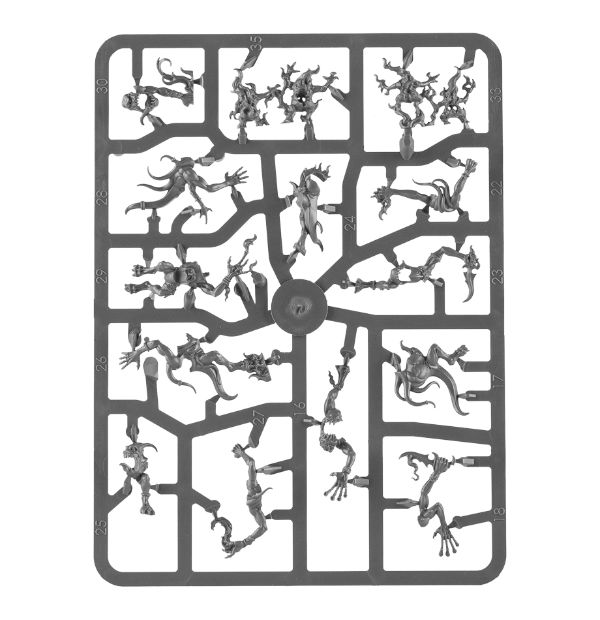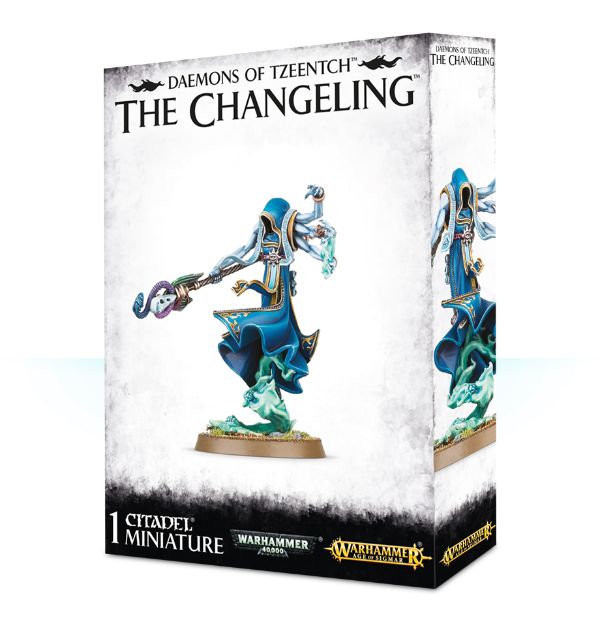 None recognise the presence of the Daemon known as the Changeling before it is too late. A master of illusory disguise, the Changeling secretes itself amongst its quarry, sowing confusion and misdirection. Upon throwing aside its fleshly masquerade, the Changeling uses trickery and its trickster's staff to openly blast its foes.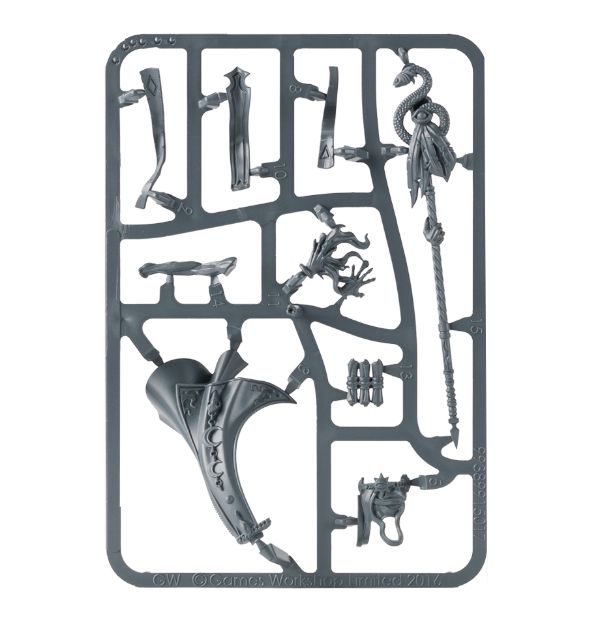 This multi-part plastic kit contains the parts necessary to assemble a Changeling. Armed with the Trickster's staff in one arm, with its sinister snake on the end, his other 3 (yes, 3) arms are all concentrated on his left side, and are preparing to blast warpfire at an unfortunate foe. Clad in a cloak carrying 3 mysterious scrolls, with a huge hood obscuring his face and hiding his identity, he stands aloft magical flames which elevate him from his base.

He comes in 15 parts, and is supplied with a Citadel 40mm Round base.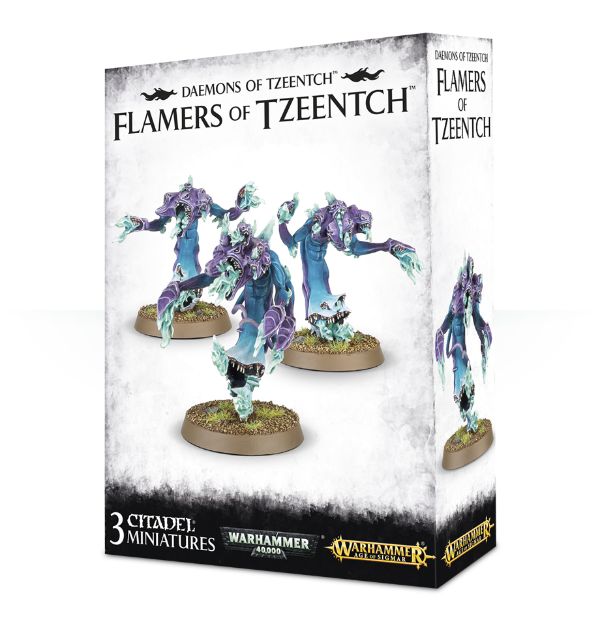 Bounding in a disturbing fashion, Flamers of Tzeentch spring toward the foe spouting wyrdflame, the warpfire of Chaos itself. The supernatural flames writhe and leer, but most of all they burn, scorching the foe's flesh, bones and soul. Yet the Changer of Ways is fickle, and fires that have burnt out may leap to life again, or even heal the afflicted.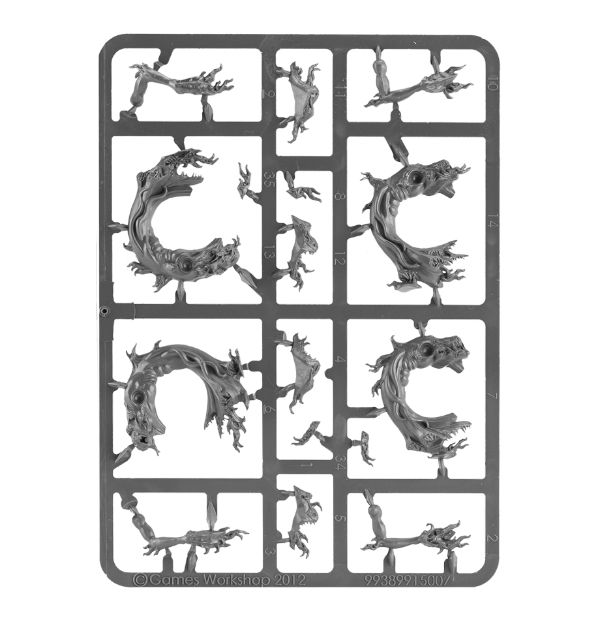 This multi-part plastic kit contains components necessary to build 3 Flamers of Tzeentch, multi-headed spellcasters with warpfire billowing from their terrifying toothed arms. One model can be assembled as a Pyrocaster, seemingly more of fire than flesh.

This kit comes in 36 components, and is supplied with 3 Citadel 32mm Round bases.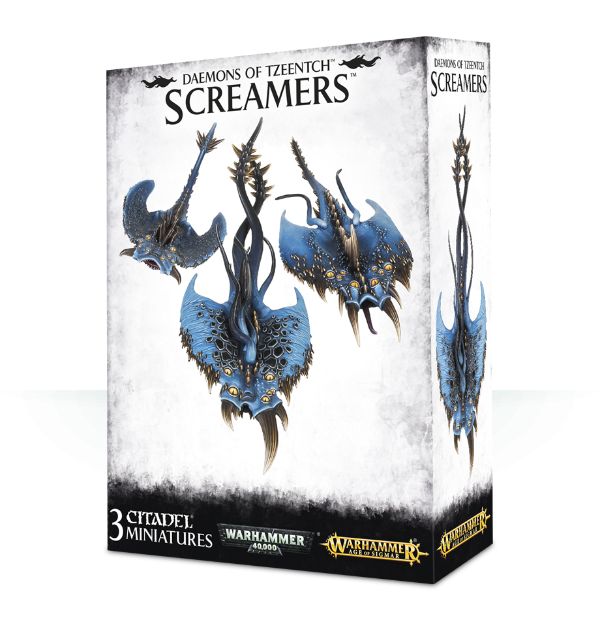 Speeding blurs that leave shimmering trails of change-magics in the air behind them, Screamers streak across the skies with a wailing cry. They slash the foes they pass with razor-sharp horns and fins, before darting down to savage their chosen quarry with gnashing teeth. The bite of a Screamer is fierce, their fang-filled maws able to gouge out huge chunks of flesh.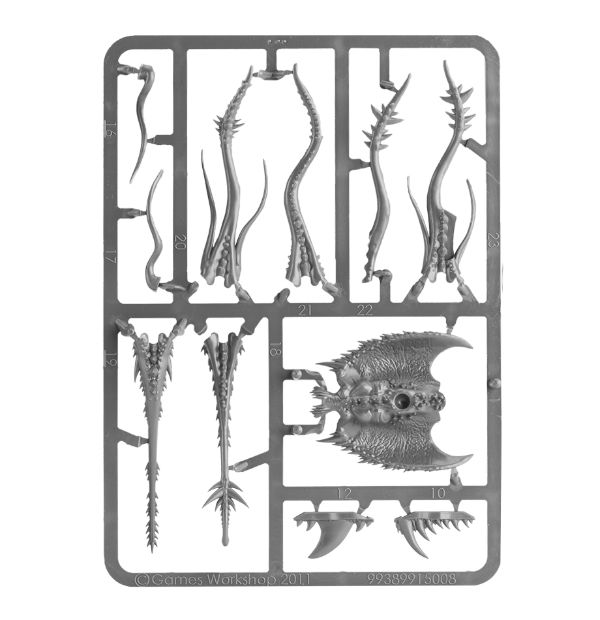 This multi-part plastic kit contains the parts necessary to assemble 3 Screamers of Tzeentch – bizarrely sleek ray-like forms, covered in eyes, horns and fins ready to slash at their foes.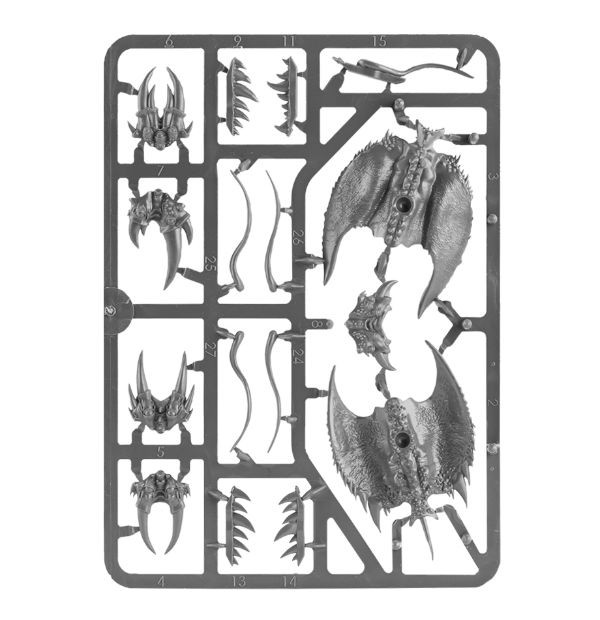 This kit comprises 27 components, and is supplied with 3 small flying bases and 3 ball and socket flying stems.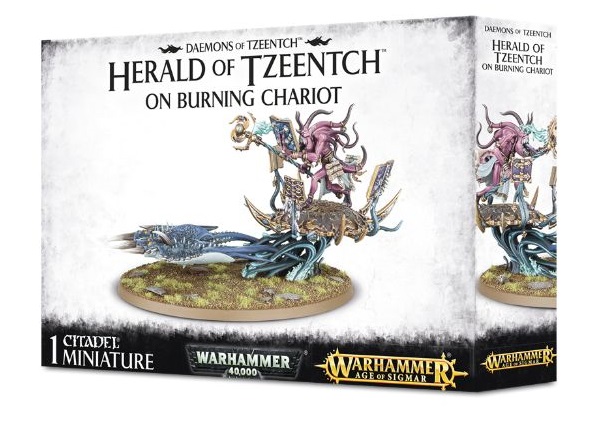 Trailing flames and maniacal laughter, a Herald of Tzeentch streaks across the skies bringing with it fiery doom. While the Herald conjures firestorms to engulf the foe, the living chariot it rides seeks to sear all in its path. Any who close in on the speeding chariot must face the gnashing fangs of the Screamers bound to it, and strikes from the Herald's staff of change.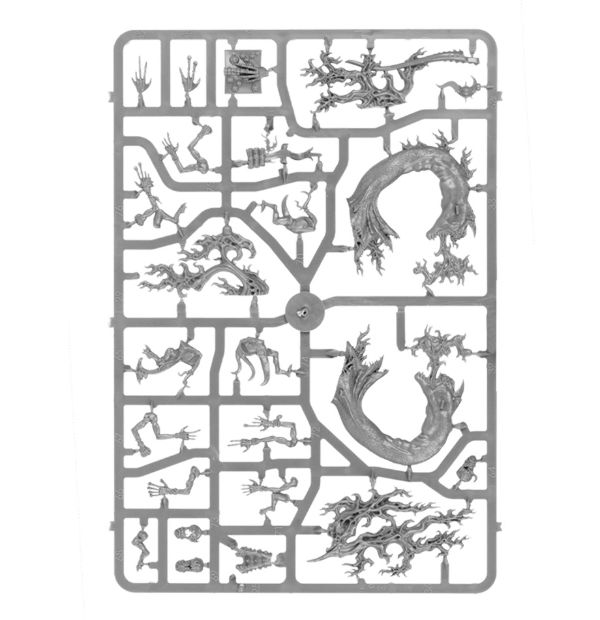 This multi-part plastic kit contains the components necessary to assemble a Herald of Tzeentch on Burning Chariot. Accompanied by 3 Blue Horrors, this model is being dragged into battle by 2 Screamers of Tzeentch. The Herald himself wields a staff of change, covered in warpfire, and is chanting incantations from a detailed arcane tome. As well as this, you can assemble an Exalted Flamer of Tzeentch on foot.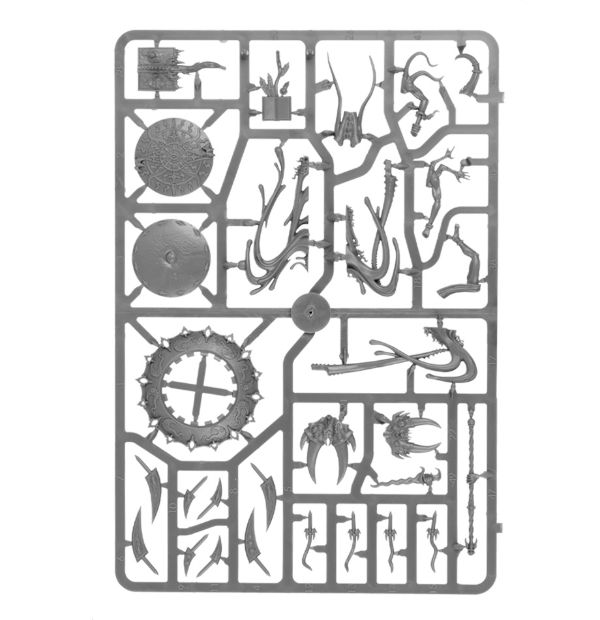 The kit comprises 49 components, and is supplied with a Citadel 120x92mm Oval base, with a Citadel 75x41mm Oval base for the Exalted Flamer (as well as 3 Citadel 25mm Round bases for the Blue Horrors.)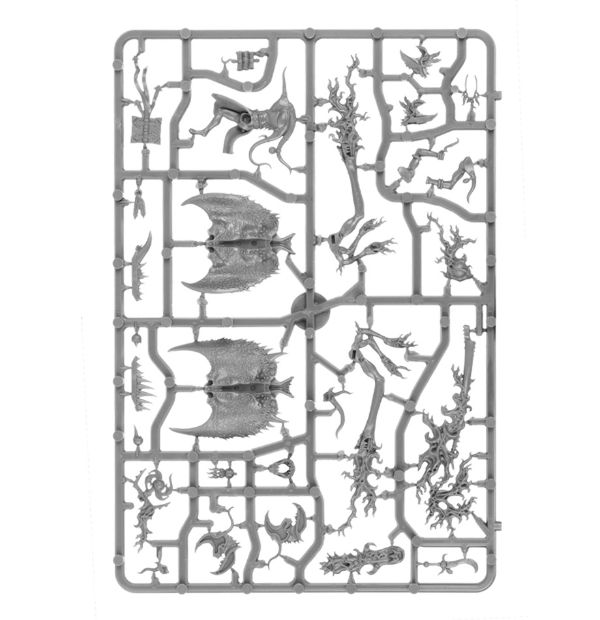 This kit can alternatively be used to assemble a Burning Chariot of Tzeentch, with a Herald of Tzeentch on foot and is supplied with a Citadel 32mm Round Base for this purpose.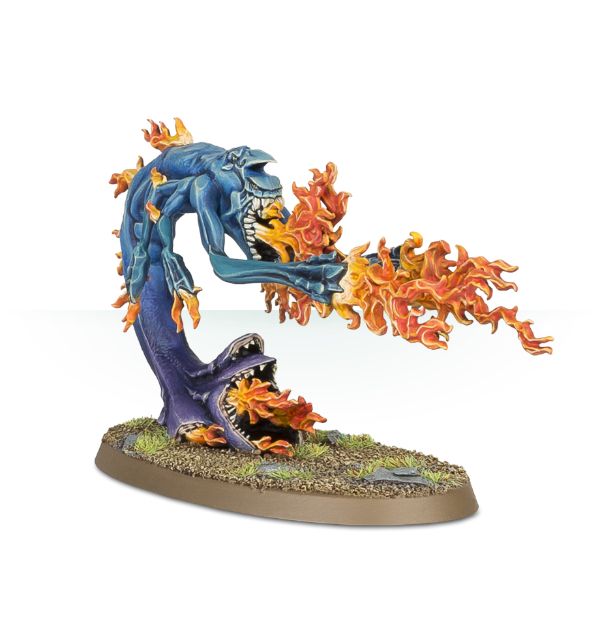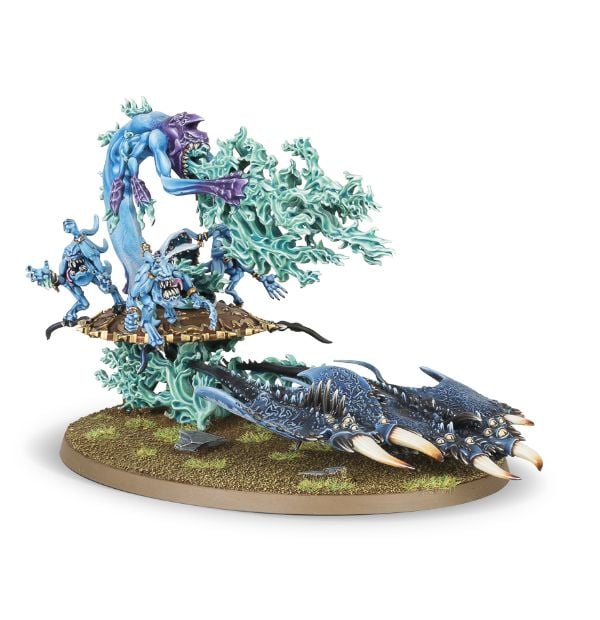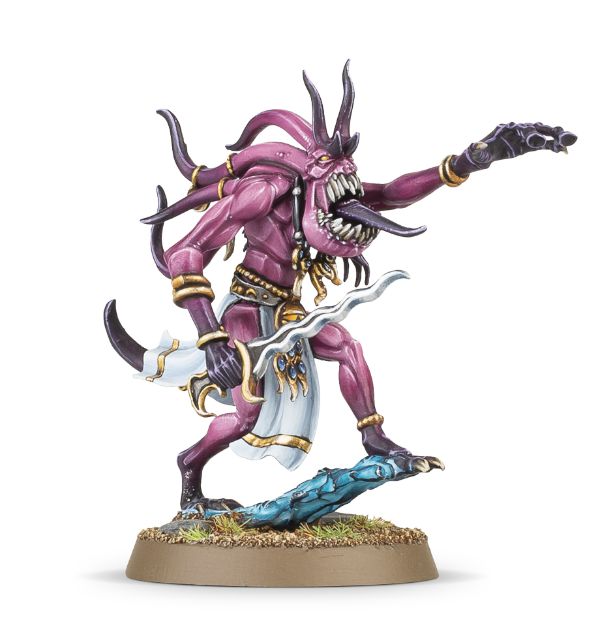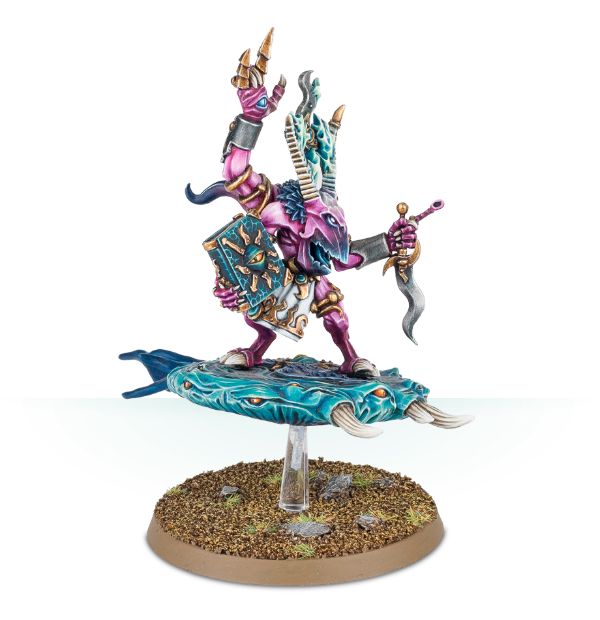 There is nowhere on the battlefield safe from a Herald riding a Disc of Tzeentch. Bolting through the air, he conjures shimmering blue flames to hurl at the foe, while gliding out of reach. Should an enemy appear vulnerable, the Herald will dash in, using its staff of change to cause horrendous mutations while the horns and teeth of the Disc deliver their own punishments.

This kit contains the parts needed to assemble one finely-detailed resin Herald of Tzeentch on Disc, armed with staff of change or ritual dagger. Supplied with a large flying base.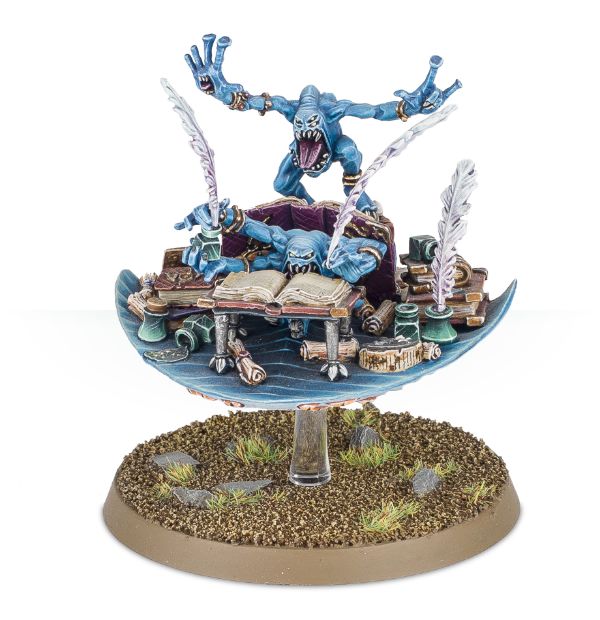 Tzeentch created two daemons, P'tarix and Xirat'p, for the sole purpose of learning every spell in existence. The Blue Scribes, as they are known, ride their Disc of Tzeentch through the realms seeking every fragment of arcana. While P'tarix inscribes magical spells and stabs nearby enemies with his quills, his twin Xirat'p reads the written words, casting strange magics.

This kit contains the components necessary to build the Blue Scribes, detailed resin miniatures atop a Disc of Tzeentch. Armed with sharpened quills, the duo is supplied with a large flying base.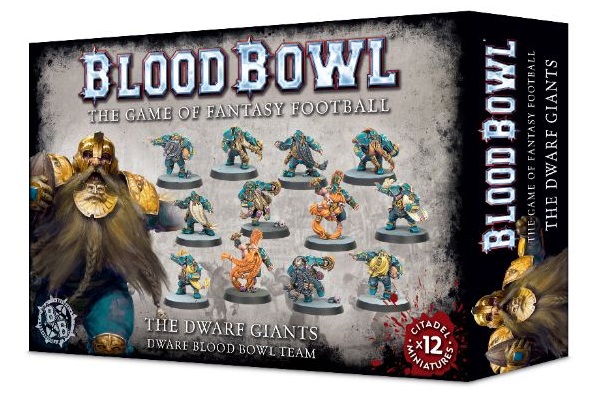 The Dwarf Giants are an old team with a very long and distinguished history. They were one of the original Blood Bowl sects, and have been present for every major development in the game's history. In more recent times they have consolidated their talents and re-launched themselves as major players in the modern Blood Bowl leagues.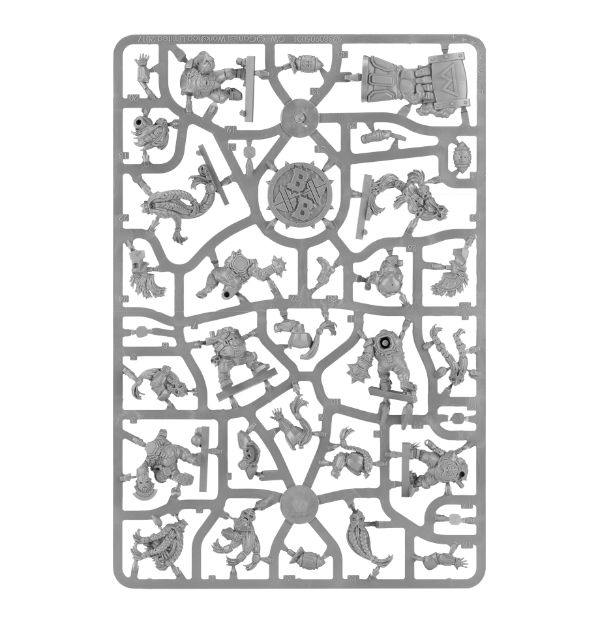 Field the Dwarf Giants Blood Bowl team on the pitch with this set of 12 plastic miniatures! In the box you'll find 2 Troll Slayers, 2 Blitzers, 2 Runners and 6 Linemen, with alternative heads for the Troll Slayer and Blitzer, as well as 3 Dwarf balls, a double-sided score coin and a turn counter.

There's also a decal sheet featuring symbols for the Dwarf Giants, and a 1,000,000 gp roster allowing a coach to use the team straight out of the box, and 12 32mm bases.

Full rules for putting together your own Dwarf teams can be found in Death Zone Season 1.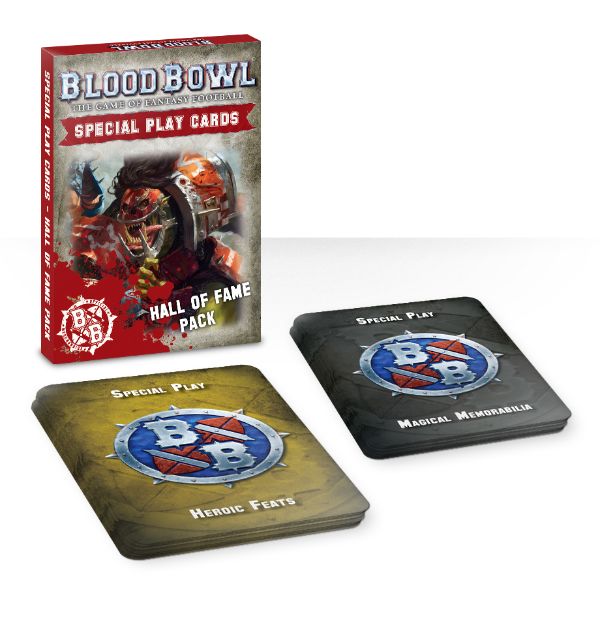 Available while stocks last!

A ton of weird, wonderful and bizarre events can and will happen on and off the pitch during games of Blood Bowl, and they're represented brilliantly by the Hall of Fame cards. Building on the cards included in the boxed game is this pack of 26 cards – split into two decks, the 10-card Magical Memorabilia and 16-card Heroic Feats decks – which bring out the anarchy of this Sport of Champions in fine style. Roll a dice at the beginning of your game to see how many each player can wield; a well-placed card can swing the tide in your favour.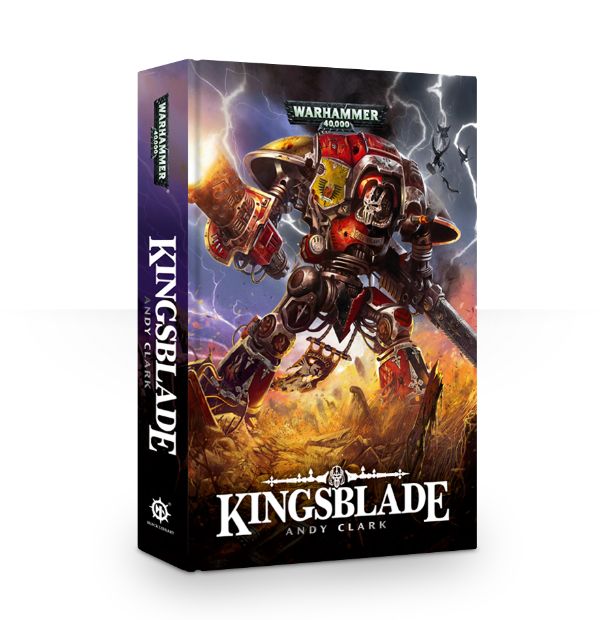 THE STORY
The Knight Houses of Adrastapol are both noble and righteous, and when the Imperial world of Donatos falls to the heresy of the Word Bearers, they are foremost in the vanguard to retake it. Led by High King Tolwyn Draconis, the Knights are peerless in battle and strike deep into the enemy's ranks. But the war soon turns when a terrible tragedy strikes, casting the Imperial campaign into anarchy. As desperation grows, unblooded Knights Errant Danial and Luk must quickly learn the ways of war to prevent an unholy ritual or Donatos will be lost and all the noble Houses of Adrastapol with it.

READ IT BECAUSE
It's war on a larger scale – Imperial Knight scale! Two novice Knight pilots against an entire world of enemies – sounds like a story for the ages.

Written by Andy Clark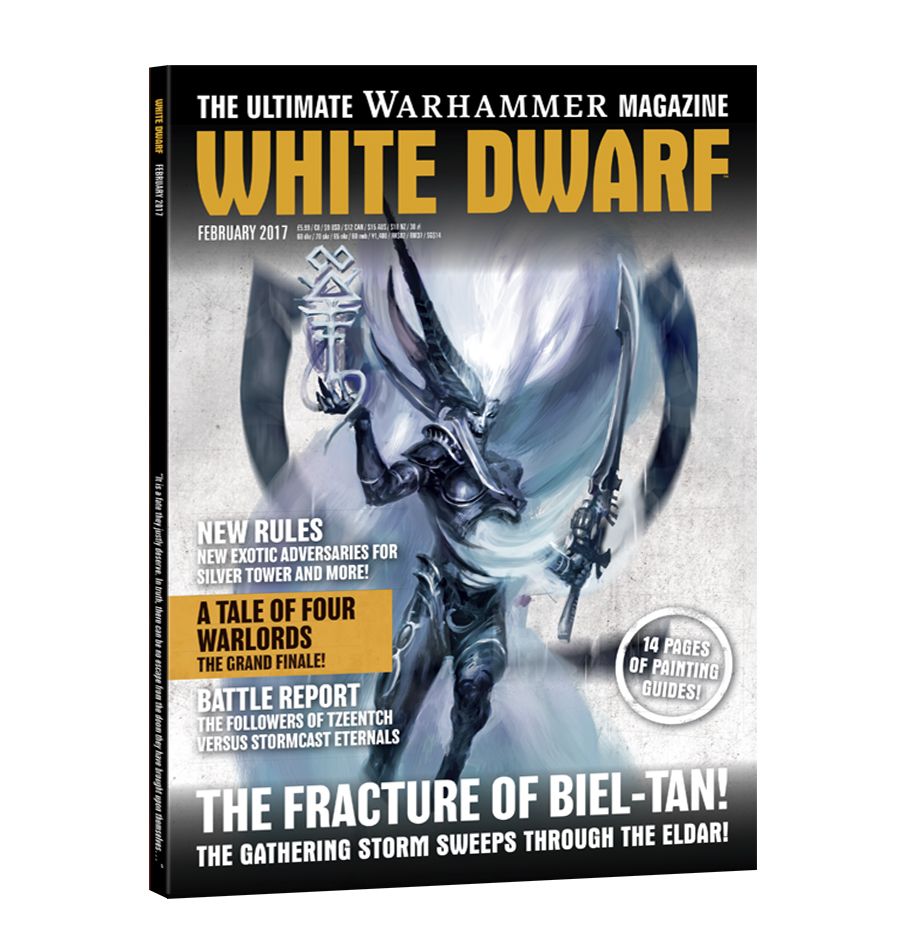 The Eldar brought their doom upon themselves long ago. Now another spectre looms over the Aeldari race – doom for some, rebirth for others, it is Ynnead, the Eldar god of the dead, and you can read all about what this means for the Eldar, their enemies and a galaxy already beset by the Gathering Storm in February's issue of White Dwarf! Meanwhile, in the Mortal Realms, Tzeentch has unleashed his most potent followers, his Daemons, and they face the newly-reinforced Stormcast Eternals in our battle report. (We've painting guides for both armies in Paint Splatter, too.) Elsewhere, one of White Dwarf's most popular features, A Tale of Four Warlords, reaches its conclusion – and with an earth-shattering battle between the Four Warlords to boot. All that and much more besides in 148 jam-packed pages.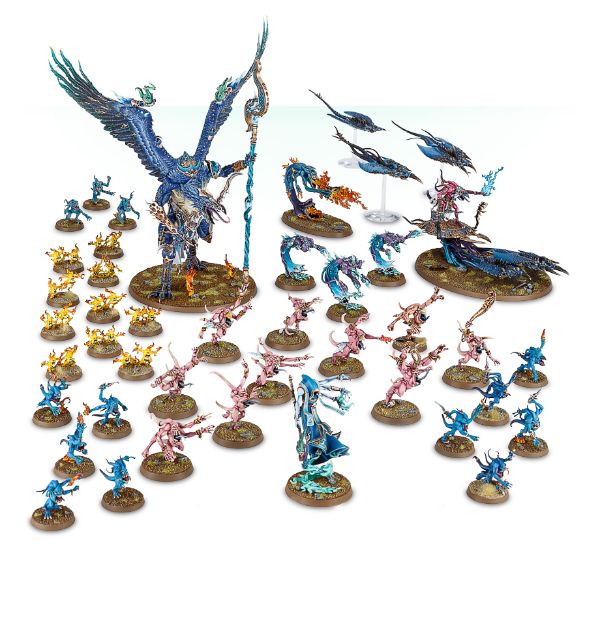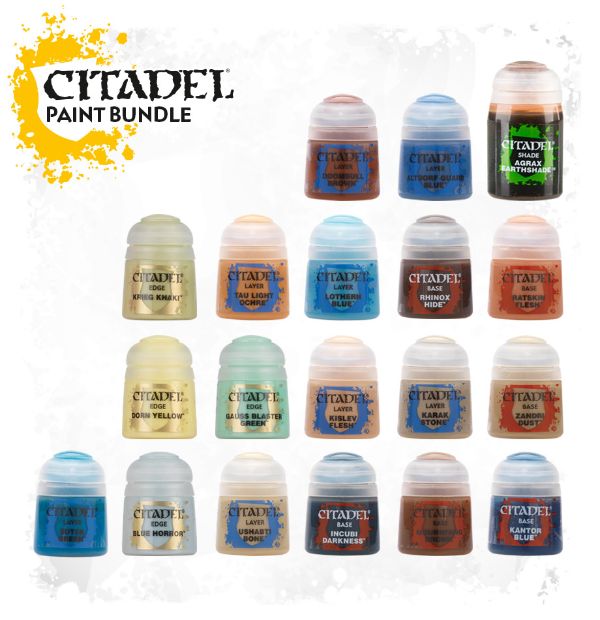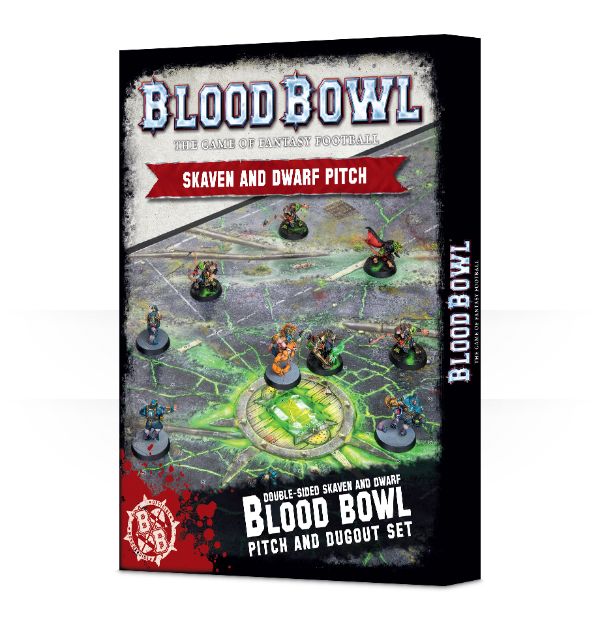 Play games of Blood Bowl on this excellent double-sided foldout card pitch! Made to the same specifications as the pitch found in the boxed game, it features a filthy, 'orrible Skaven pitch on one side – the reeking, dank cavern is perfect for scuttling about on – and a much tidier, properly-hewn Dwarven stadium-vault on the other. Of course, the 2 double-sided dugouts follow the same themes.
If you want extra Blood Bowl Goodies like the Board and the Dice, I hope you moved quick because those are selling out…