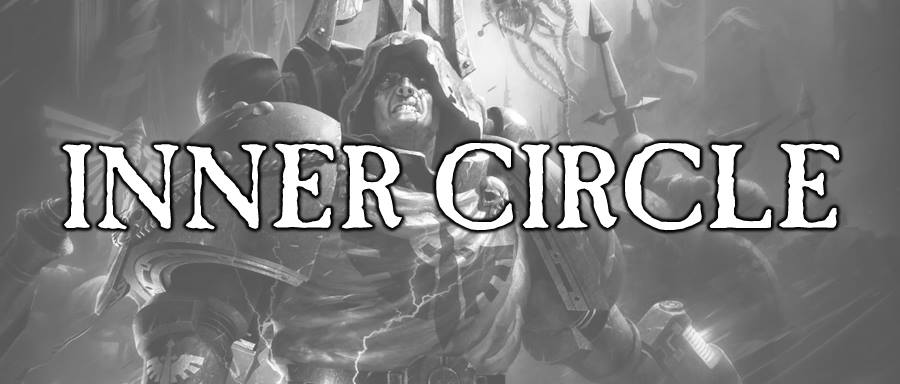 Attention North American 40k players: You might want to visit your local GW Store…
With the Gathering Storm narrative going on the Games Workshop retail stores are getting in on the action. They are hosting a new event exclusive to North American Stores: The Inner Circle Event. You'll have to reach out to your local store for the full details but some have been posting information on their respective Facebook pages.
via Games Workshop (various Facebook pages)
INTRODUCTION:
What a great time to be in the hobby! We are proud to introduce you to The Inner Circle! This is a North American program that lets customers take part in an amazing Warhammer 40,000 hobby event that will excite you to your core. The winners will receive an all expense paid trip to the Games Workshop Dallas office to take part in a mind-blowing event. Now is the time to muster for war, a Storm is gathering!

This description will let you know all the information you need to take part in this awesome event. This includes the following:
Key dates
How do you participate?
What do you need to do to win?
FAQ
A Score sheet

KEY DATES:
3/22/17 Inner Circle "Special Announcement"
5/13/17 Ritual of Judgement
5/13/17 In-Store Party
5/13/17 Announce store winners on Facebook
5/17/17 Final (5) Grand Prize winners announced on store Facebook pages at 4:30pm (central time)
6/3/17 Final (5) winners flown to Dallas for Inner Circle final celebration

HOW DO YOU PARTICIPATE?
This is easy. Gather your forces and head down to your closest Games Workshop store. They will be hosting a hand full of fun "Gathering Storm" activities for you to participate in, as well as providing outrageous customer service to help you collect, build, and paint the newest additions to your collections. Make sure you sign up for the activities and fill out an Inner Circle score tracker, so you can get as many points as you can.

WHAT DO YOU NEED TO DO TO WIN?
There's no purchase necessary to take part in this event. We've provided a score sheet with this document that explains how you get points for your entry. Make sure that you read through it, who knows, there may be an opportunity for you to add some additional details, or that extra level of highlighting. All of these things will help you earn additional points. The entry with the most points wins the title of Store Champion.

Each Store Champion will then be judged against each other by the Games Workshop Dallas office staff. After that, five finalists will be picked, and flown to Dallas for the finals.

FAQ:
Do models have to be painted?
– No, see the score sheet.

What about a tie?
– The 'Player's Choice' winner breaks any ties.

How will the winners be announced?
– We will announce them on your store's Facebook page. The winners will be contacted by Games Workshop and travel arrangements will be made.

How am I getting to Dallas and how long am I staying?
– Once we know the winners, we will contact them to arrange travel. You will be staying for one night, so pack accordingly. If you cannot travel to Dallas, the next runner up will be awarded the grand prize. See the terms and conditions for more details. (Stop by the store to see the Terms and Conditions, as they are not typed up here.)

How will the Store Champions entries get judged for the Grand Prize?
– The store managers will take pictures of the Store Champion's entry and submit them to the Dallas office immediately after the event (5/13/17). The office staff will use an additional score sheet to judge entries (Come by the store to see the additional score sheet)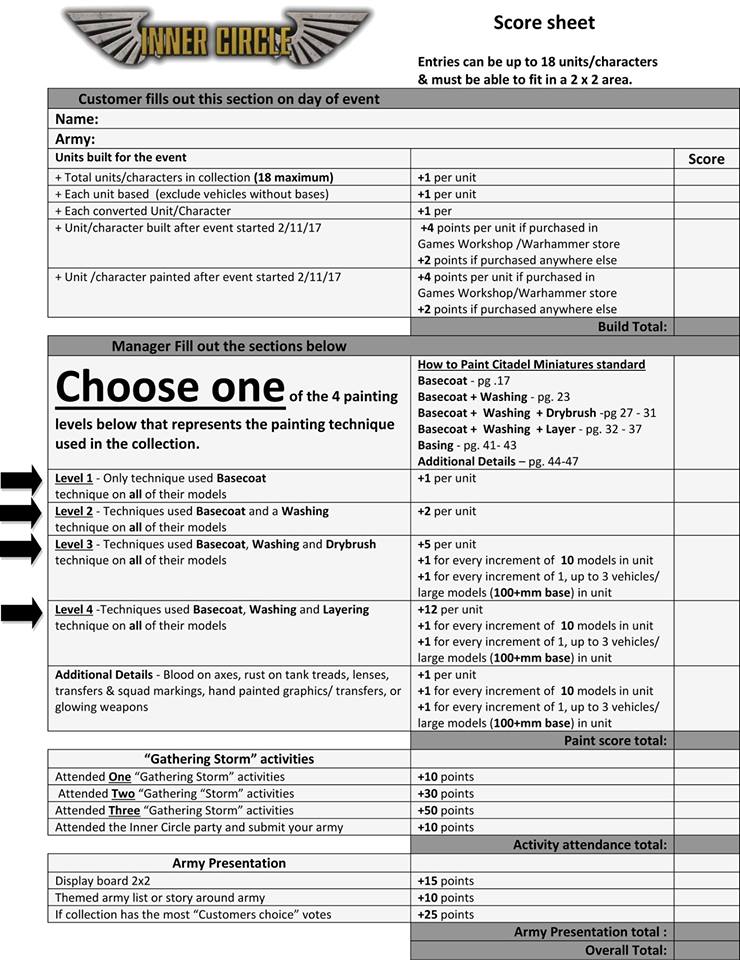 From the looks of the score sheet, this event is really about getting models built and painted. The majority of your points will come from getting units painted up to that Level 4 standard – if you max out on units that's 216 points just for painting! That's not including any model counts, bonuses or Gathering Storm Activity points.
This event is designed to drive activity to the store, get people painting and to increase the community interaction. You also get additional points for purchasing your models from the Games Workshop store. However, that's only for new units – if you already have an existing army you can still enter. Heck, you technically don't even have to have a painted army to enter! (You probably won't win…but at least you'll get to hang out!)
The Inner Circle is very similar to the Armies on Parade event that Games Workshop ran last fall. In fact, you can still check out those entries if you want to get some inspiration!
So, if you want a shot at winning a trip to Dallas for the Inner Circle final celebration, you had better get started! You can't win if you don't enter…
Time to make a trip to my local GW store to see what's going on…