Pit two of the Doctor's most notorious foes – the Daleks and Cybermen – against one another in this frenetic game.
Enter the Time Vortex and discover more game and collector sets today:

Take control of either the Daleks or the Cybermen. Pit your wits against your adversaries as you attempt to gather resources vital to your plans before they fall into the hands of your opponents. Build your force from a variety of options and recruit other factions to your cause – whatever it takes to ensure you have the advantage over your foes! An eternity of adventures awaits you…

In the Exterminate! miniatures game your Cyberman and Dalek forces can recruit neutral factions, improving their chances of success and adding even more variety to your games.

These highly detailed plastic Cybermen and Dalek miniatures are 'push-fit' allowing them to be easily built without glue.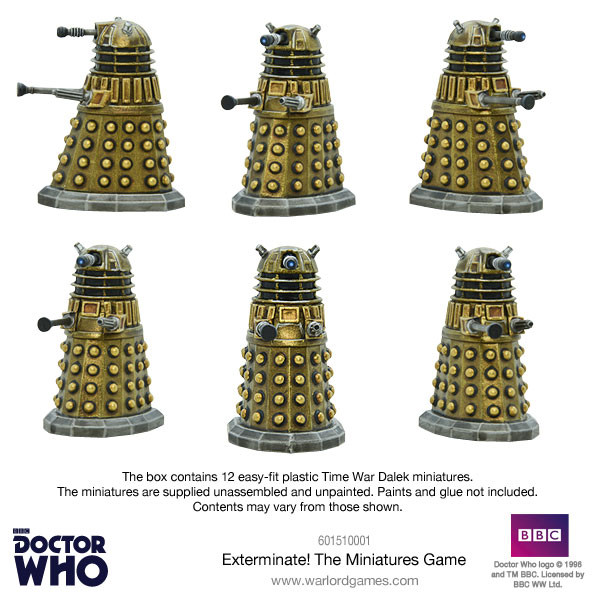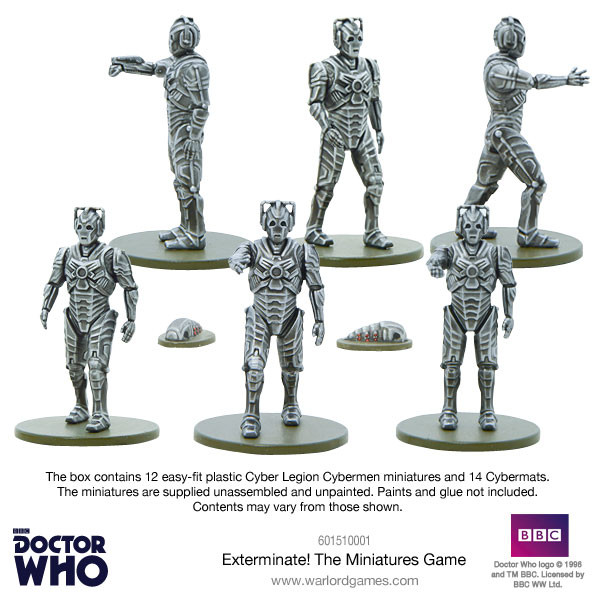 Inside the Exterminate! game we've kicked things off by including rules and cards allowing you to add the Judoon, Zygons and Silents to your games (models not included – available separately from www.doctorwhotimevortex.com or your local hobby store).
The Exterminate! game contains:
12 easy-fit plastic Time War Daleks
12 easy-fit plastic Cyber Legion Cybermen
14 plastic Cybermats
Double-sided 36″ x 36″ battlemat
Card scenery
34 Recruitment Cards
56 Adventure Cards
36 Battle Cards
16-page Rules booklet
12-page Adventures booklet
24-page Guide to the Time _ Vortex booklet
10 Combat Dice
2 Quick Reference Sheets
Card Ruler
59 card tokens
Next month you'll be able to pick up the core set and individual sets of both Daleks and Cybermen – but there's no reason to wait with the pre-order bundles Warlord is offering. Get the core game with the 2 sets, or pick up the ultimate bundle that includes the 10th & 12th doctors and more enemies.
Bundle contains:
1 x Exterminate! – In to the Time Vortex Game
1 x Dalek Plastic Box Set
1 x Cybermen Plastic Box Set

Bundle contains:
1 x Exterminate! – In to the Time Vortex Game
1 x Dalek Plastic Box Set
1 x Cybermen Plastic Box Set
1 x 10th Doctor and Companions
1 x 12th Doctor and Companions
1 x Zygons
1 x Judoon
1 x The Silence
1 x Clockwork Droids
1 x Tetraps
1 x Professor Yana and Chantho
1 x The Return of Doctor Mysterio
~I can't wait to see the UK vs US takes on this game in the comments…