Games Workshop is back with another look at the Chaos of 8th Edition.
Last week, Frankie from Frontline Gaming/LVO chatted with Games Workshop about his perspective on Chaos as a whole. This week he's back with a look at how the Daemons of Chaos will play out. Like last week, these aren't full on spoilers, but more a preview of what's to come, with a few juicy details sprinkled in. So read on for more information.
via Warhammer Community
Chaos Daemons are one of the most powerful armies currently in Warhammer 40,000. You've got large Screamer units running around with re-rollable 2+ invulnerable saves due to the various bonuses available to them, Daemon Princes flying around the table blasting people with mind bullets, Pink Horrors splitting into Blue into Brimstones. If that weren't enough, legions of fresh Daemons can currently be summoned onto the tabletop from the Warp at no points cost.

But what about Daemons in the new Warhammer 40,000? Let's run through this preview one god at a time, shall we?

Khorne blesses his devotees with an increased ability to reap skulls in his name. These models charge up the table taking skulls for the Skull Throne with Unstoppable Ferocity, which grants them a bonus attack and a point of Strength in combat if they charge or are charged. This turns already formidable melee units into killing machines! Your Bloodthirster will be a king of melee when he charges, as he should be.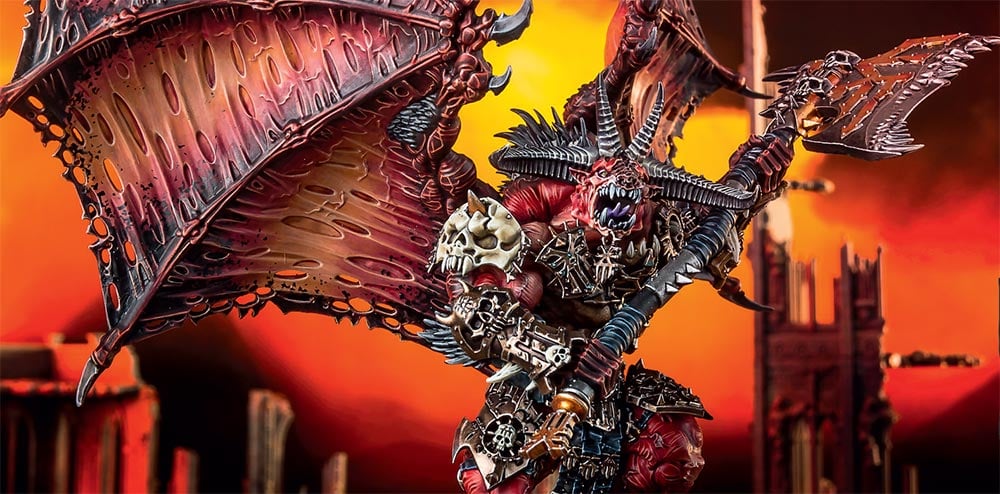 Naturally there will be skulls for the Skull Throne–and Unstoppable Ferocity's bonus makes Bloodthirsters all the deadlier on the charge. I'm curious to know if Unstoppable Ferocity is something that will be exclusive to Bloordthirsters, or if it will be able to combo with the "blood for the blood god" rule that the other followers of Khorne will have (if you recall this rule will make them "happy to have chain axes").
We turn next to Tzeentch, who will wield potent psychic powers and ever changing forms to demons to make them tougher as they lay the psychic smackdown. And from Frankie's words it sounds like Tzeentch's specialty will be psykers.
Tzeentch grants his minions the ability of Ephemeral Form, giving his Daemons +1 to their invulnerable saves. Wow, that's good! A Lord of Change with that boost will be quite powerful indeed, with a 4+ invulnerable save and SIXTEEN wounds!

Your opponents will come to fear not just the big models though, as even your basic Horrors have the ability to lay low even the mightiest of enemies with their psychic might. You will want to include several units of these in your Tzeentch army to deal with some of the tougher enemy units out there.

Save some Reinforcement Points for Blue Horrors and Brimstone Horrorsas well, as these still split out of their parent unit like a series of Russian Dolls and are great for grabbing objectives and keeping enemy units busy long after other units would have been destroyed.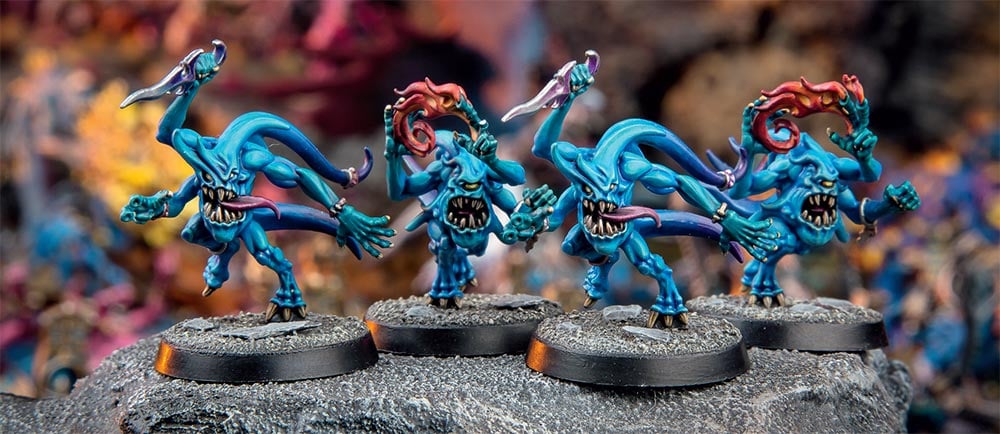 And then when it comes to Slaanesh, speed is the name of the game–both in terms of movement and "initiative" with a rule that alters the speed at which those allied with Slaanesh strike in combat. And it sounds like the Daemonettes will have a special rule to help them claw their way out of every combat they waltz into.
Slaanesh is all about speed, baby. They will almost always swing first in combat, even if they did not charge, due to their Quicksilver Swiftness special rule! This means even relatively fragile units such as Daemonettescan be a threat at all times.

In large units, the Graceful Killers special rule grants them a bonus attack with their Piercing Claws (which are resolved at AP-4 when you roll a 6+ to wound!) allowing them to slice through armour in melee
What's particularly interesting here is that Graceful Killers seems to work in "large units" (in the article they mention units of more than 20)–makes me wonder what other sorts of "group rules" we'll see in the next edition.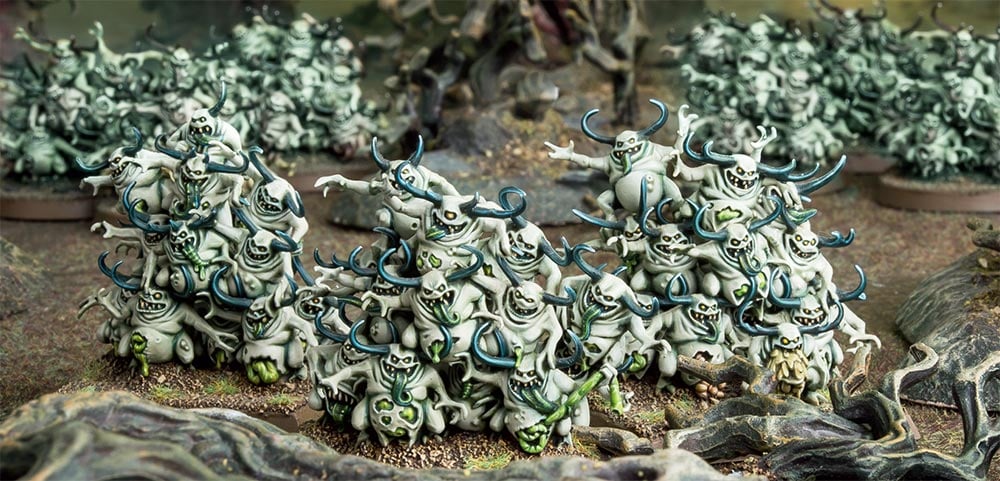 Last, but certainly not least, we've got Papa Nurgle and his motley crew. Probably the coolest models in the Nurgle Daemon line are the Nurglings, in my opinion. These little buggers were often taken in the past just to fulfil the Troop requirement, but in the new Warhammer 40,000, they will be taken for their ability to deploy near enemy models and engage them quickly, tying them up or simply getting in their way using their Mischief Makers special rule. That would normally be a very dangerous proposition for a unit of little guys, but the children of Nurgle are Disgustingly Resilient – which means they ignore wounds on a roll of 5 or 6!
Tough, hard to kill, harder to ignore–yeah that sounds about like Nurgle. As always, more information will be forthcoming as it's released, so check back for more as we ramp into 8th Edition.
Okay but which Chaos god is in charge of the mailer daemons?