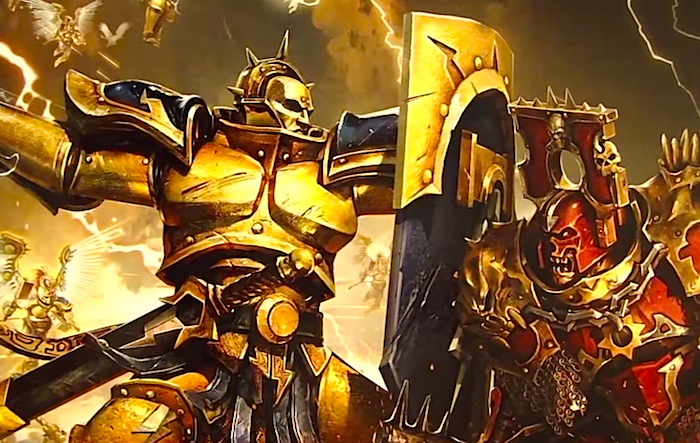 GW is embracing narrative play in the 8 Realms with a new rules supplement.
You will remember the General's Handbook included three modes of play for Age of Sigmar:
Open Play
Narrative Play
Match Play
Everyone kind of obsesses about Match Play, but really how often are you really at tourneys? Just as important in my opinion is the Narrative side of things.  Looking back over decades of wargaming, it's always our crazy specially crafted narrative games that stay with me over the years.  They tend to produce the fantastic moments of high drama shared with friends that stand the test of time.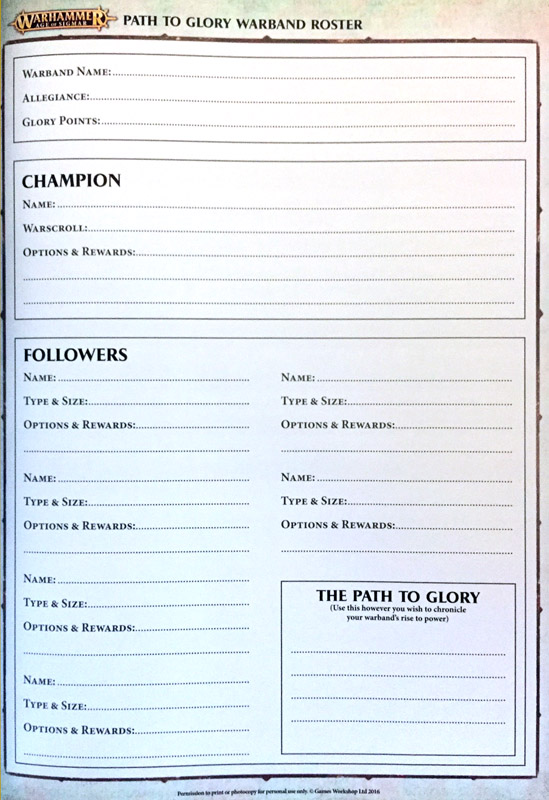 The General's Handbook included a system called Path to Glory that centered around Warbands and serialized gameplay. You picked a faction, built your Warband, fought and collected the loot glory and hopefully the crown of your league. Each faction got a page of special rewards and abilities. Finally there was a set of special missions just for Path to Glory.
Age of Sigmar: Path to Glory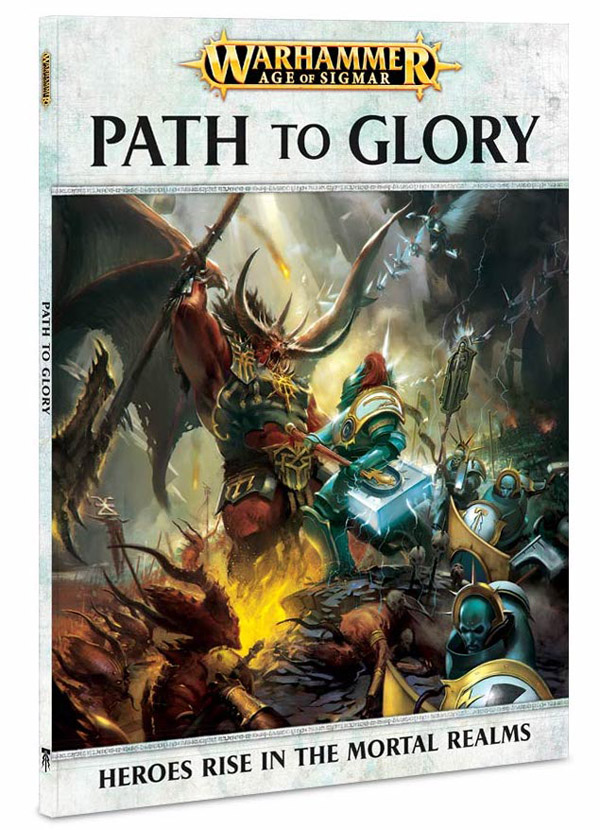 It looks like GW really is embracing narrative play with both hands.  They just pulled the covers off an upcoming supplement called… wait for it… Path to Glory!
The new book takes the basic system from the General's Handbook and expands it. Not only are the core rules presented, but they are expanded to include every faction in the game from the basics to the brand new ones like Kharadron Overlords. There are additionally other types of tables and risks-rewards you can vie for to grow our warband. One example listed was a chance to earn the favor of your god/diety – with the risk of death for your warband's leader and a potential reward of very powerful gifts.
If you like the idea of smaller games with recurring units and leaders who get better from game to game…
If you like the idea of a linked series of games with your group over a few weeks…
If you like crafting a cool narrative in your own campaign setting instead of the random draw of pick-up games…
Then Path to Glory may right up your alley.
~What do you really like playing more – competitive matched play games, or narrative games?