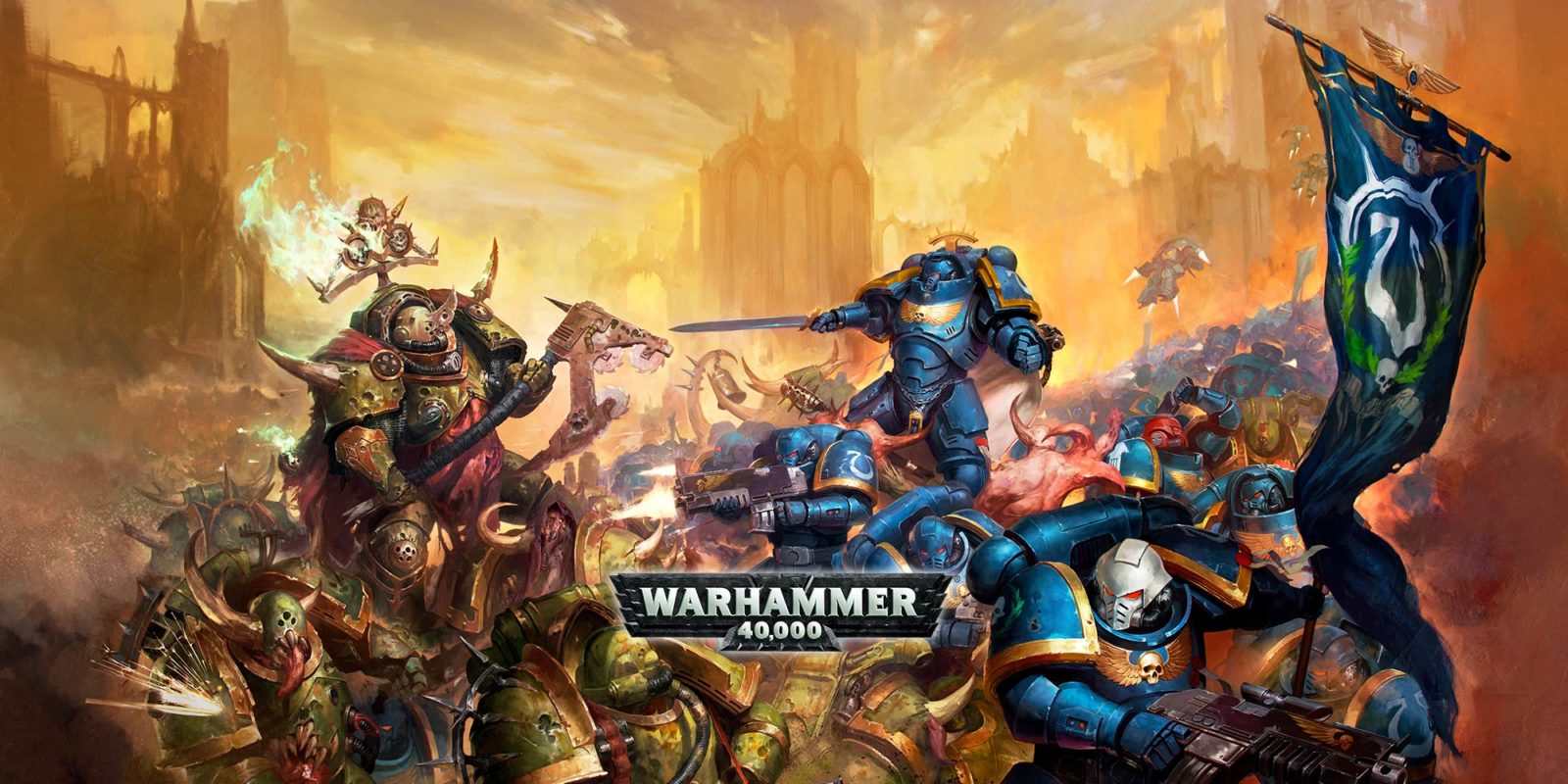 Come take a look inside the new Warhammer 40,000 Starter Set: Dark Imperium!
We got our hands on a preview copy of the Dark Imperium Starter Set for Warhammer 40,000 and it's everything we were hoping for – and then some:
Games Workshop has labeled this one the "Ultimate Warhammer 40,000 Boxed Set" and we are inclined to agree. First off, let's just talk about the "extra" contents: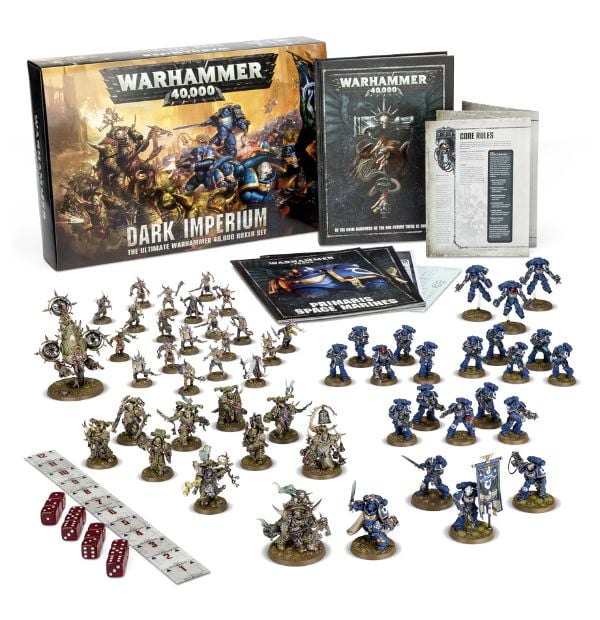 Aside from the 53 miniatures, you also end up with some very fancy extras. The Rulebook is a 280 page Hard Cover book. That's the first time I've seen a Hard Cover book in the starter box for 40k. You also get an 8-page fold-out which reminds me of the old reference pages but the big difference is that the 8-pager is the entire core rules section.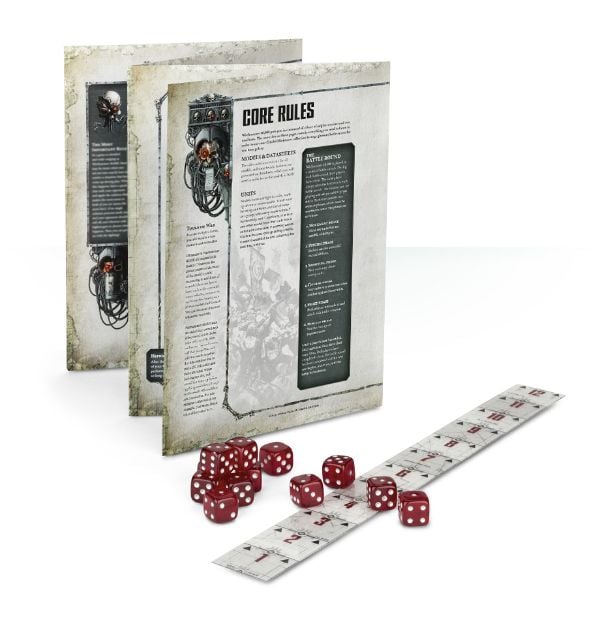 Gone are the old "whippy-sticks" and a new "range-finder" is included. You also get a set of dice which are slightly larger than previous editions. Two additional 24-page rules are also included for the Death Guard and Primaris Space Marines in the box.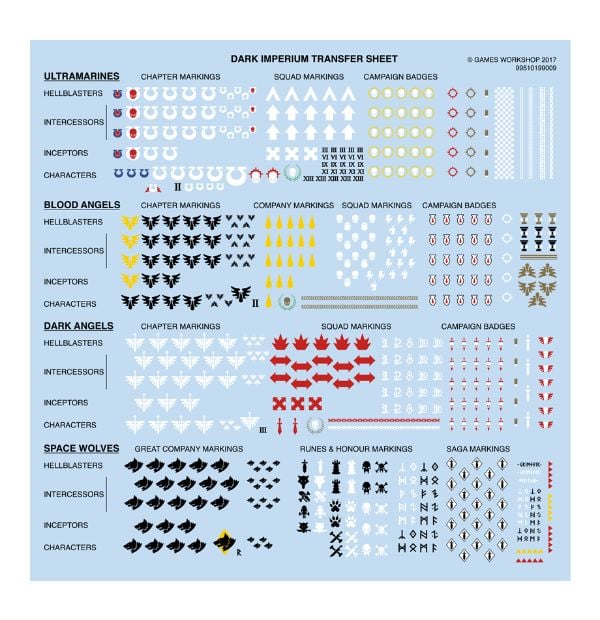 You also get a water-slide transfer sheet. You can use those to make your Primaris Marines one of the "Big 4" chapters. You also get an assembly guide for the miniatures.
Primaris Space Marine Sprues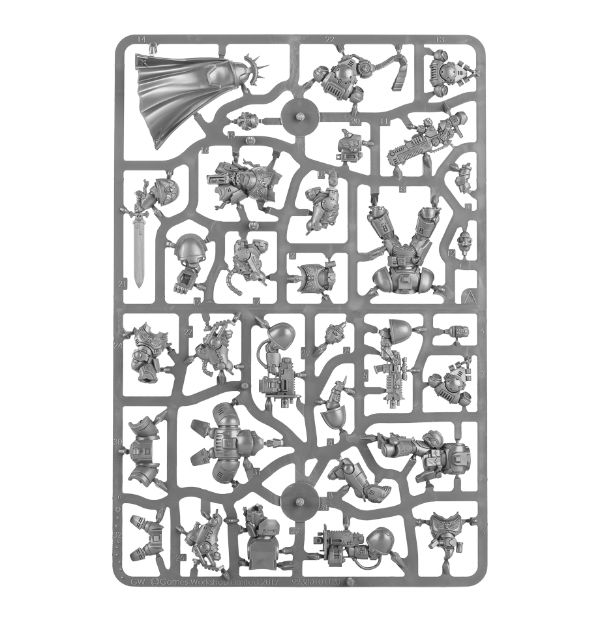 Death Guard Sprues
As for the miniatures – well, it's Games Workshop and these sprues show why GW is an industry leader. Their sprues are jam-packed with goodies and the details are crisp – it's what we've all come to expect. I'm not even a Death Guard fan but there models are so good it's really tempting to start them. I'm also a fan of the Primaris Marines. I appreciate that GW has created new marines but hasn't invalidated my entire Space Marine Army. I'll be able to add them to my existing army and use them if I want.
Overall, I think this new starter box is fantastic. I will miss a "mini" rulebook but the way the rules are shifted out of the "rulebook" and on to the unit profiles makes is so you don't really need it. If you have Chaos Marines or a Space Marine army then picking up this box is a no-brainer. If you aren't interested in any of that but want the Rulebook, you can also order that separately. Personally, I've already got a pre-order and have setup a trade for the Death Guard. I can't wait to get my copy of this box set!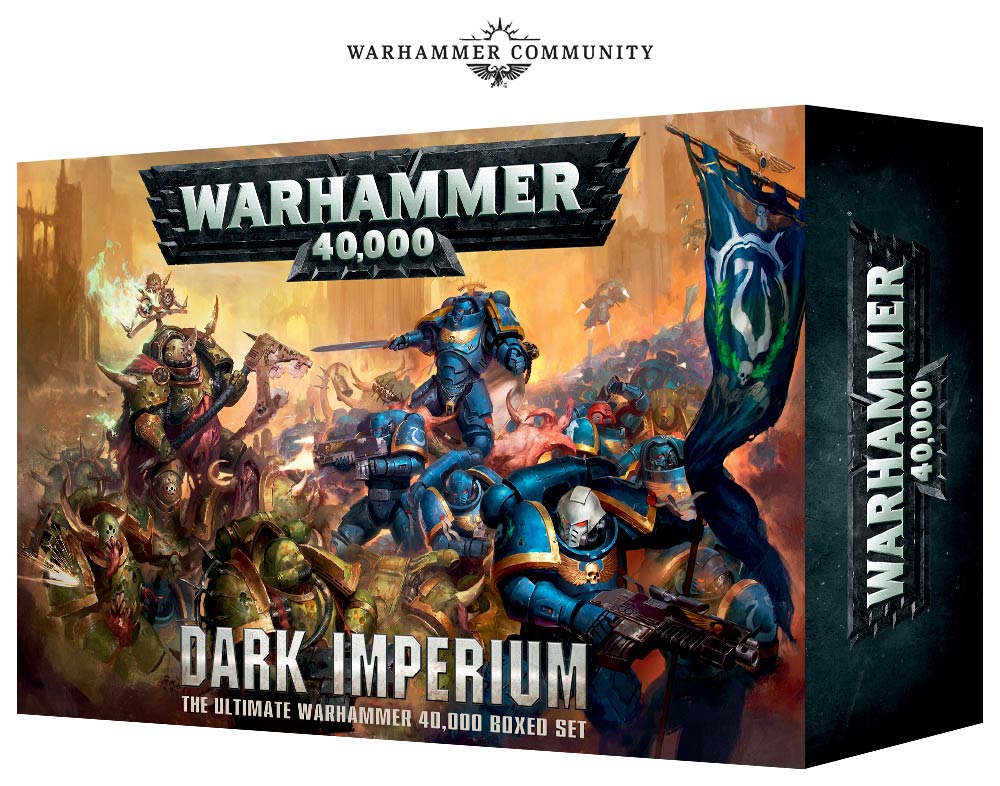 The ultimate Warhammer 40,000 boxed set

Across the war-torn battlefields of the 41st Millennium, Mankind battles for survival against myriad horrifying foes. Beset on all sides by hostile aliens and threatened from within by traitors, Humanity's only chance for survival rests with the continuation of the cruel and bloody regime known as the Imperium. Yet few among Mankind's untold population realise the full truth of their situation. If there is any future at all, it is a grim one…

Dark Imperium is the ultimate Warhammer 40,000 boxed set – a beautifully-packaged set of 53 detailed Citadel miniatures, the complete and unabridged hardback Warhammer 40,000 book, two supplemental softback books containing the rules and background for the included miniatures, and all the extra bits needed to get started with gaming as soon as possible.
The Dark Imperium ships June 17th!