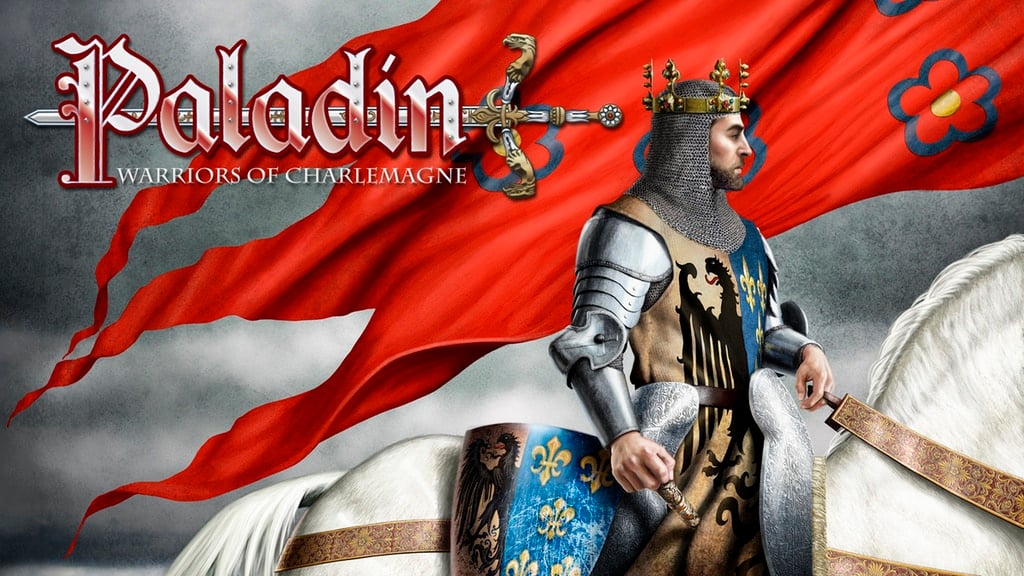 Journey through medieval Europe, and starting as a humble squire, strive to become one of the legendary companions of Charlemagne.
Paladin is a game that is about the actual, historical paladins. Going back to the roots of stories like The Song of Roland  and drawing on Carolingian literature–Paladin is a game that is set firmly within our own world. With figures who, though they may seem larger than life, actually existed. Your goal is to adventure and campaign and embody the standards of knighthood with the hopes that one day you may be one of the twelve peers of Charlemagne, without whom our world would look very different today.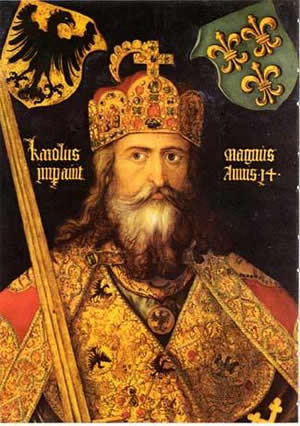 This game pulls no punches. It knows what it's going after–recreating the ideals of knighthood and what living in a world where these are the standards that people are striving to adhere to–and it hits it hard. Delving into the blurred line between history and a storied past, Paladin takes history and epics and puts them together into a world that the players inhabit. I for one am excited about this. I've played many a character that could be considered a "knight" but this is the real deal. According to their Kickstarter campaign, this game–that builds off of the Arthur Pendragon roleplaying engine–is all about that framework.
It's a difficult and complex subject to tackle–but one that's the inspiration for so many of the stories we read and indeed for many of the characters we play. I feel like this is an opportunity to broaden horizons just a little bit. With the expectations of adhering to a code, etc. already baked into the game system, you sort of give permission to players to cling to or reject it without feeling like the gamemaster is out to get them. That burden is taken on by the world (which, hey, that's how it was in actual medieval times so whee). And I think this frees up a different dynamic between Player and GM and opens up wild possibilities for roleplaying.
Plus, if you're still not convinced–Charlemagne and the stories surrounding him are some of the most epic (literally) you'll come across. Even after his death he was still enough to inspire legend: A later story, told by Otho of Lomello, Count of the Palace at Aachen in the time of Otto III, would claim that he and Emperor Otto had discovered Charlemagne's tomb: the emperor, they claimed, was seated upon a throne, wearing a crown and holding a sceptre, his flesh almost entirely incorrupt. After this, they knelt in fealty and attempted to repair any damage they'd caused and walled the tomb back up.
via Nocturnal Media
Set in medieval Europe, PALADIN weaves together the historical Carolingian events and the medieval epics of The Matter of France into a single coherent chronology. In PALADIN the players play young Frankish squires or knights in the service of one of Charlemagne's powerful vassals. By going on adventures they will acquire glory and riches, become lords of their own lands, build castles and found their own family.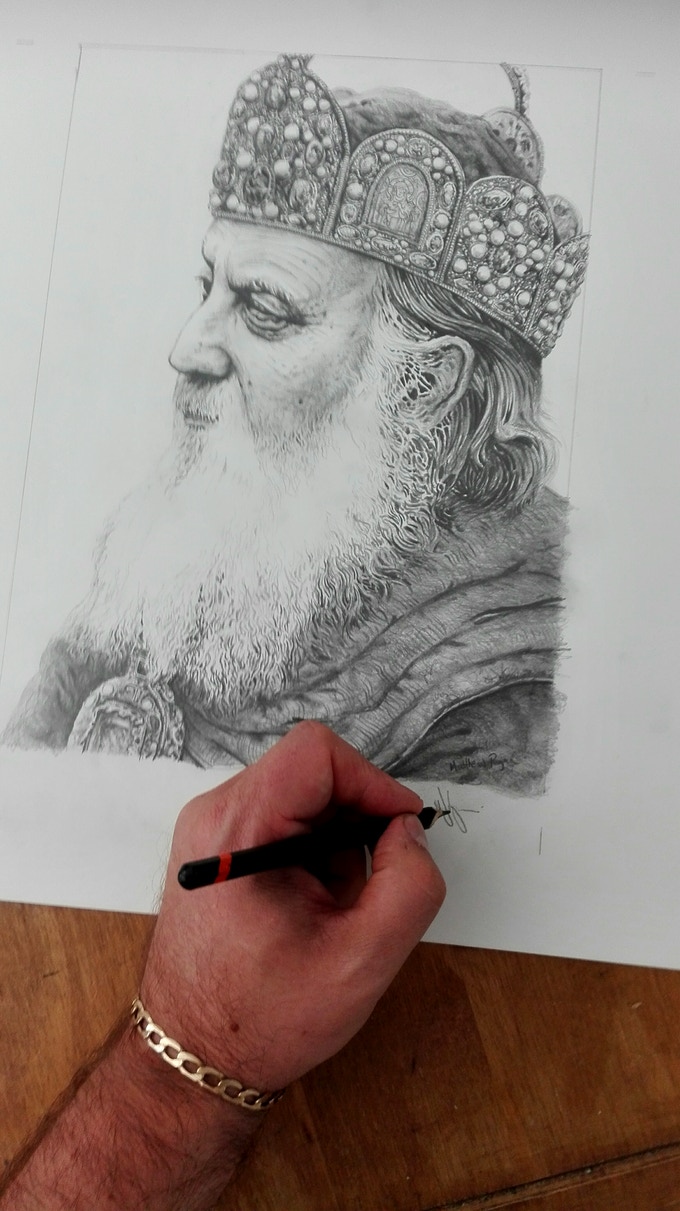 Hopefully, the road to fame will lead to the ultimate goal: becoming one of the legendary paladins themselves, along the likes of Roland, Ogier the Dane, Renaud, Oliver, William Shortnose, and others!
PALADIN is a game of medieval fantasy, played using feudal standards of conduct, offering a chance to experience vicariously that long-lost world in both its brutal reality and its fantastic idealism. The player characters are knights, with the privileges of elite society and the deadly responsibilities of a warrior. These dualisms – brutal reality versus idealism, and elite privilege versus deadly burden – are the basis for the game. PALADIN is a game for knights. It is based on the standards of knighthood found in the original literature about Charlemagne and the paladins (epics such as Song of Roland, Ogier the Dane, Aymon's Four Sons and more). It is not about magicians, thieves, or scholars. In this game, designed for playing the heavily armed and armored chevaliers of Carolingian literature, knighthood is complex enough!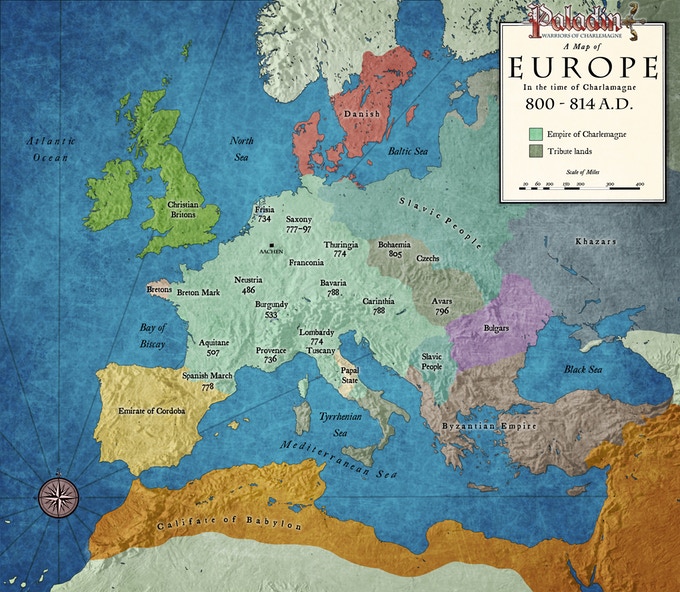 When playing PALADIN, all you need is a twenty-sided dice, and several six-sided dice! It will be intimately familiar to anyone who has played King Arthur Pendragon, as the same rule-set powers both games. All skill checks in the game are done by rolling a single twenty-sided dice. If you roll under your Skill rating (a number), you are successful. If you roll equal to your Skill, you've achieved a critical, and if you've exceeded your skill, you've failed.
Passions and Traits are as important here as in Pendragon, providing more context and depth to your character, while giving mechanical incentives to roleplay and deeply inhabit your character. New Passions, attitudes and religious magic are added for player characters, created to add more depth to the Charlemagne era.
~When they broke into Charlemagne's Tomb, they found him waiting, then replaced the bricks and left him there. How can you resist such a call?