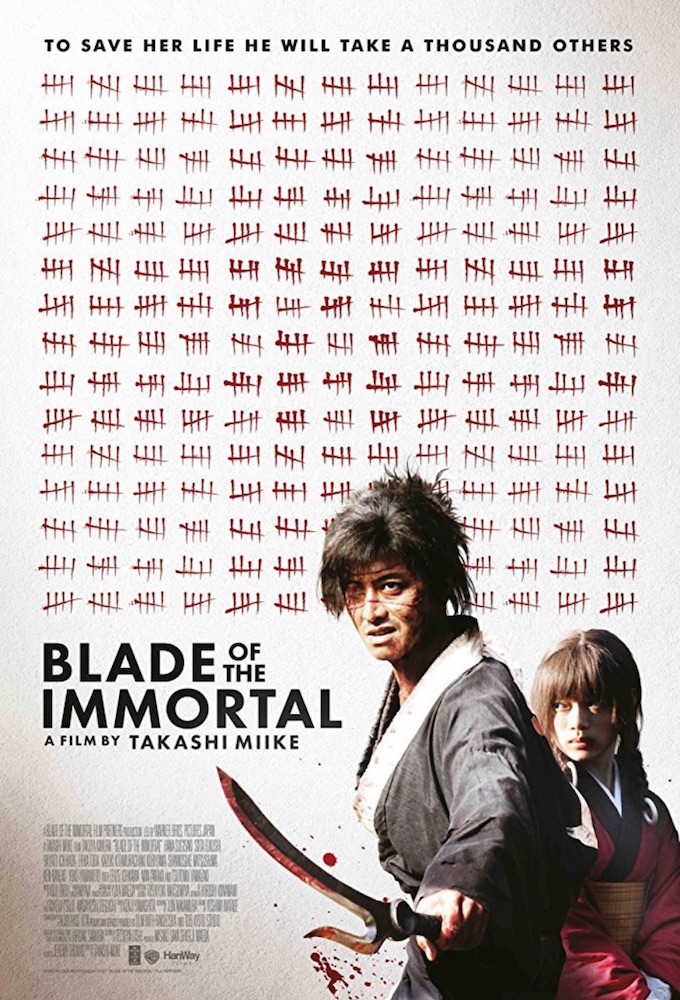 The prolific director's 100th film in 18 years is coming to theaters the US – and it's as crazy as you'd expect.
Miike Takashi has released a tremendous number of projects since his debut film Toppuu! Minipato tai – Aikyacchi Jankushon in 1991. He's helmed multiple comedies, stories set in historical Japan, truly disturbing social satire, mobster movies, and even a musical over that period. This, along with his signature style, has made him one of the better known Japanese directors outside of the country. He has a definite cult following here in the states.
Blade of the Immortal – based on the manga of the same name by Hiroaki Samura – is movie number 100.
The story is
Manji, a highly skilled samurai, becomes cursed with immortality after a legendary battle. Haunted by the brutal murder of his sister, Manji knows that only fighting evil will regain his soul. He promises to help a young girl named Rin avenge her parents, who were killed by a group of master swordsmen led by ruthless warrior Anotsu. The mission will change Manji in ways he could never imagine.
The American red band trailer with more scenes and trendy EDM that you should mute because it's bad…
Blade of the Immortal debuts in the US on November 13th to a limited number of theaters.