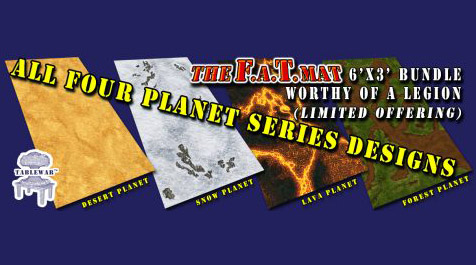 TABLEWAR has 4 new FAT Mats made for your tabletop battles in a Galaxy Far, Far Away…
As I'm sure you know Star Wars LEGION is played on a 6×3 tabletop. So look what the guys over at TABLEWAR have cooked up just in time for you to jump into the game.
They have their own names for these, but to me it looks like:
Endor
Hoth
Mustafar
Tatooine – Jedha – Jakku
Take it away TABLEWAR:
Worthy of a Legion!
"TABLEWAR has released a new 'Planet' series line of F.A.T. Mats! The new mats come in the popular 6×3′ size with four designs sure to help your legion feel right at home whether it be in the forest, desert, snow, or a lava torn landscape.

And, these mats have all the quality you have come to expect from the TABLEWAR F.A.T. Mats: crisp, detailed designs, vibrant colors, water resistant surface, smooth model movement, quiet dice rolls, a non-slip rubber back, and more.

There's more, storage and transport of your F.A.T. Mat is a snap as EVERY F.A.T. Mat comes with its own black canvas zippered storage and carry bag as well as a F.A.T. Tag to identify which beautiful design is inside.

Choose your favorite environment for your battles. Or, as a special bonus, get all four! We have a limited time offering of a discounted bundle of all four designs! Move your campaign from planet to planet for a dynamic environment to really build narrative.

These designs are available for immediate shipment in the U.S. and Australia (www.tablewar.com.au) and will be shipping by the end of February in the U.K.  (www.tablewar.uk)"