The High King of the Idoneth Deepkin, Volturnos, is the first of the elves to be created from the souls stolen from bound Slaanesh. He's been around since the beginning of the Deepkin, and has seen things you people wouldn't believe.
Today we have a little more of an in-depth look at Volturnos, the High King of the Deep. He is about as OG as it gets for aelves (I don't know if Tyrion, Malerion, Morathi, and Teclis really count as them anymore, since they're gods or something now), and has watched his friends perish as their souls withered, and is basically very metal. Volturnos leads the charge both on the battlefield and in the stateroom, wielding diplomacy and swords
via Warhammer Community
When Slaanesh was captured, Tyrion, Malerion, Morathi and Teclis were each entitled to their share of souls, with Teclis – ever the master of magic, and perhaps blinded by his own surety – choosing first. Volturnos wasn't just one of Teclis' original aelves, but the first aelf ever to be created from the souls stolen by Slaanesh!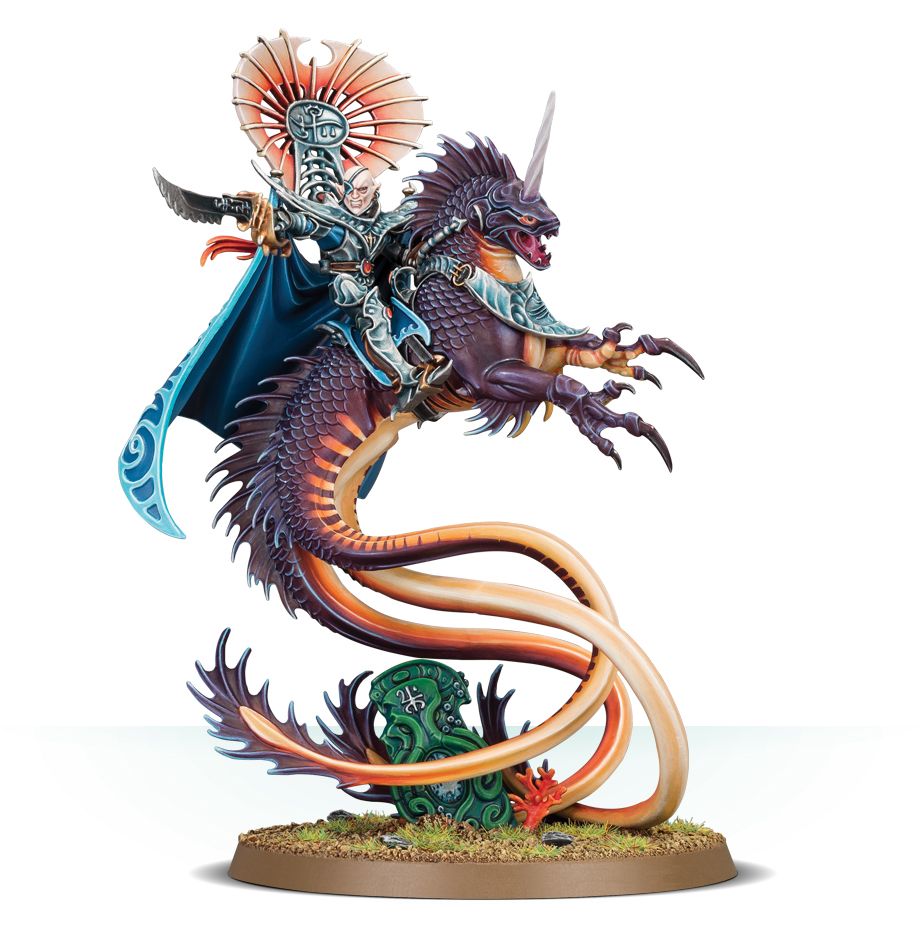 Over time, Volturnos has seen the rest of the Cythai – the first aelves created – perish, and is now the last of their number. The Idoneth care little for lineage – in their brutally meritocratic society, even Volturnos had to prove his personal worth. Over the years, Volturnos has combined his natural born gifts, and the training imparted directly from Teclis, with years of warfare and Idoneth politics, making him a calculating, cunning commander.
And there are his abilities which make him hit like a ton of bricks, while buffing your whole army.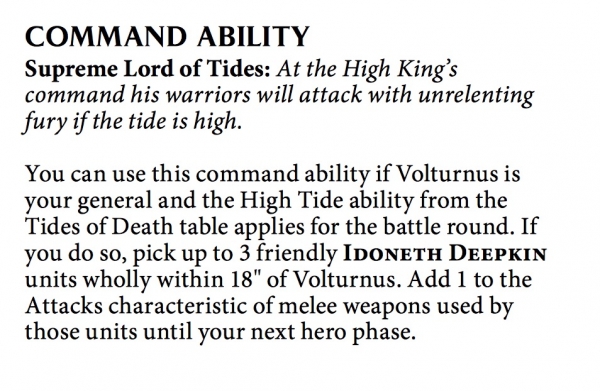 His Command Ability makes High Tide extra delicious, while his wargear protects himself and your army: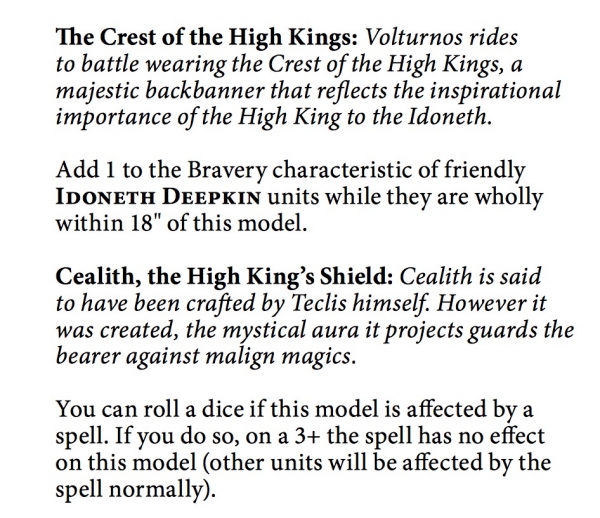 The real thing worth noting about High King Volturnos is that he bears an uncanny resemblance to Bill Nighy.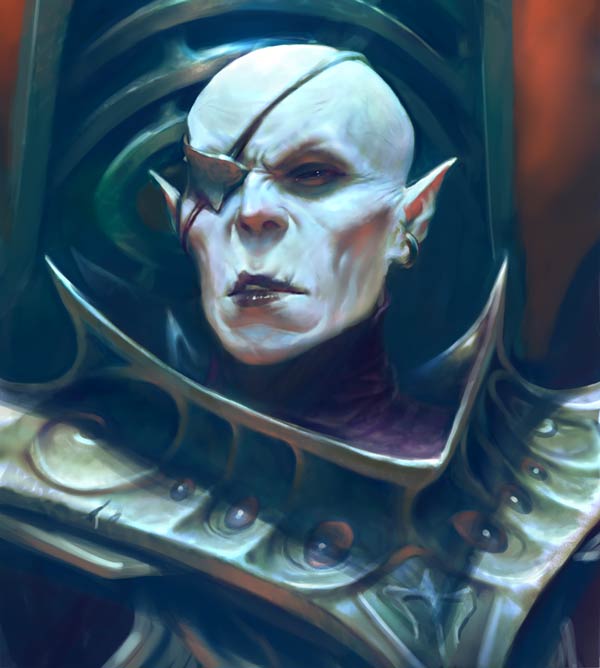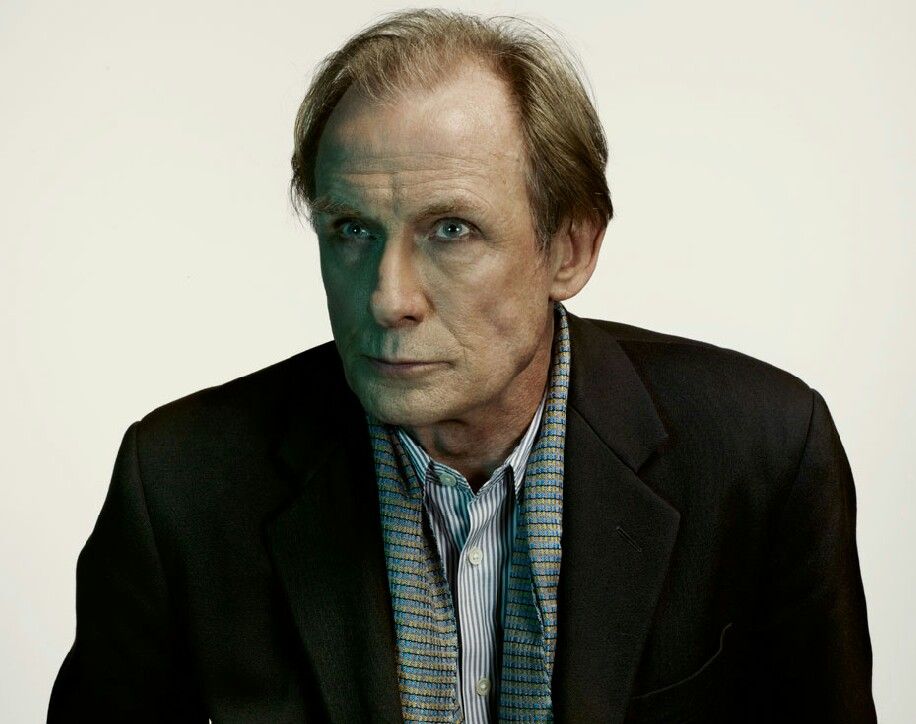 Or better still: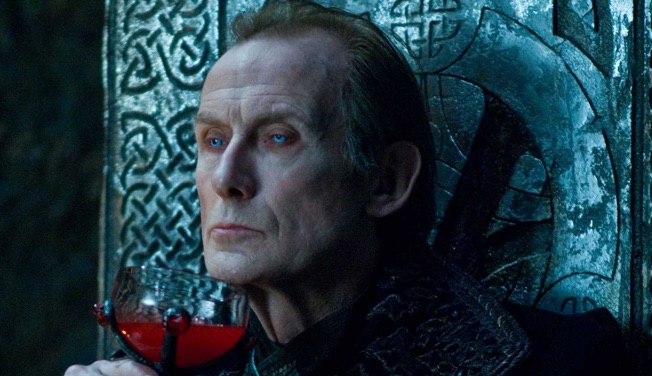 High King Volturnos will be featuring in Detective Pikachu next year, so be sure and stay tuned.