This take on Selina Kyle is inspired by Adam Hughes' art. It's got one of the best head sculpts I've seen of the character – and some great accessories  – for less than $100. A great addition to any DC collection.

This fig really captures Catwoman's athleticism and charm.  Along with sculpt with her signature sly smile the fig comes with an unmasked portrait and one featuring a hissing snarl. She comes decked out in a tailored cat suit, and armed with her whip and tools that can help her break into any building or safe. She also comes with a backpack to carry her loot and a pair of goggles.
This fig is on waitlist right now, and is expected to ship this fall.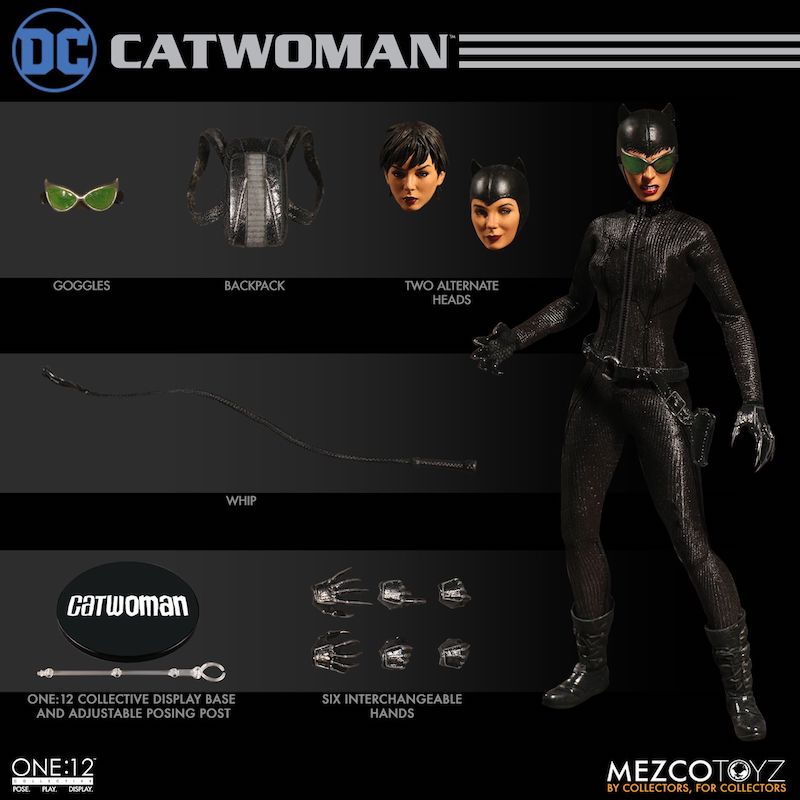 Catwoman – $80.00
One:12 Collective body with over 30 points of articulation
Three (3) head portraits – Smiling, Snarling, Unmasked
Hand painted authentic detailing
Approximately 16cm tall
Eight (8) interchangeable hands

One (1) pair of fists (L&R)
One (1) whip holding hand (R)
One (1) "come here" hand
One (1) pair of posing hands (L&R)
Costume:
Tailored stretch catsuit
Waist belt with tool kit
Mid-calf work boots
One pair of goggles (Fit both masked heads)
One backpack (removable)
One whip
One waist belt with cat burglar tool kit (non-removable)