This weekend felt like an early Christmas as we got see a ton of pictures emerge about the new Adeptus Titanicus. And I am SOOOO ready for some awesome robot bouts of destruction on the Titanicus scale!
In case you missed the news from this weekend, Games Workshop showed off a TON of new Adeptus Titanicus news. We've got a picture dump here and here that you can peruse at your leisure.
I am super excited about this one. Just the idea of building Titanicus scale Warlords, Reavers, Warhounds, and Knights has me pumped. I've always wanted to build a Warlord but I just couldn't bring myself to drop the £1293 to build my dream Warlord Titan. But now, folks will be able to have a Warlord of their own at a fraction of the price (hopefully). And in plastic to boot!
Just thinking of all the load-outs and options has me in a hobby frenzy. I can't wait to see what the community does with these kits as well – it's going to be an awesome time to work on conversions. Those Mini-Knights would make some fantastic Chaos Obliterators for example. Just whip out the greenstuff and go to town. And just wait until folks start kit-bashing Warlords with 40k Knights…It's going to be a good time!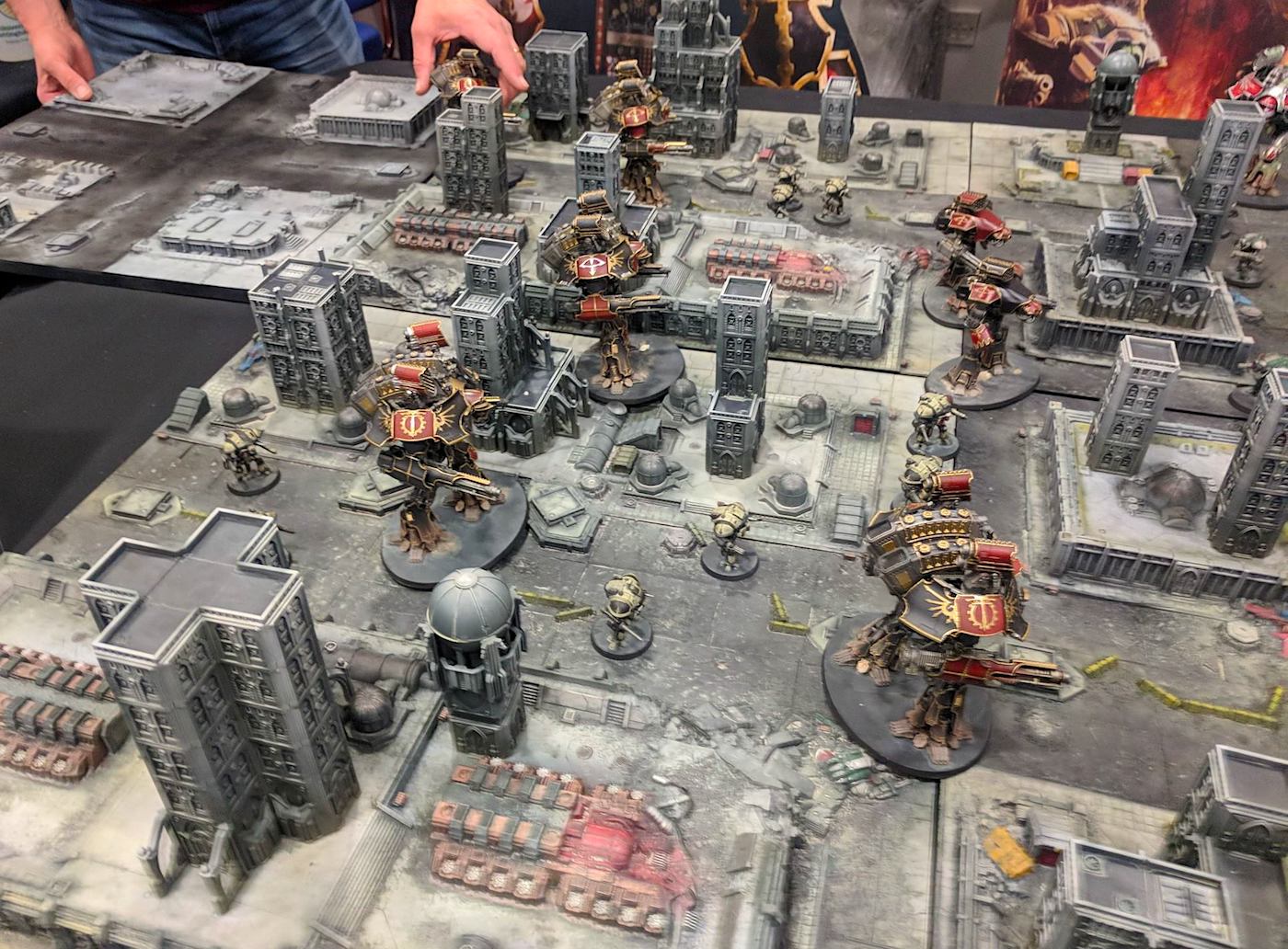 Judging by the size of the Titan's on this board (and the person's hand at the top left) they should be pretty close in size. Even if they are a little smaller than a 40k Scale Knight, the bits may be close enough that folks can stretch their hobby muscle to make it fit.
Capturas y matriz de Caballeros Imperiales de #AdeptusTitanicus https://t.co/rHKURXBjYo pic.twitter.com/Nz3U71Tkfz

— Miniwars (@WarMinis) May 14, 2018
Here's another look at a Knight in someone's hand. Those could be 40mm or 50mm but that's a great size to work on for the Knights.
Adeptus Titanicus: close up shots of the Warlord showing the fine details on these miniatures.

The kit comes with twin volcano cannons and apocalypse launchers, the classic Nemesis class of the original game!#WarhammerFest2018 #warhammerfest #horusheresy #40K #Warmongers #30k pic.twitter.com/CovJt2IgDZ

— Leakycheese (@Leaky_cheese) May 12, 2018
And here's a look at a Warlord in grey plastic in someone's hand. And it's looking to be about the same size as a 40k Knight. I really wish GW had put out a Knight kit from 40k to show the size comparison – but I'm still getting hyped about this game and the modeling opportunities.
How About The Terrain!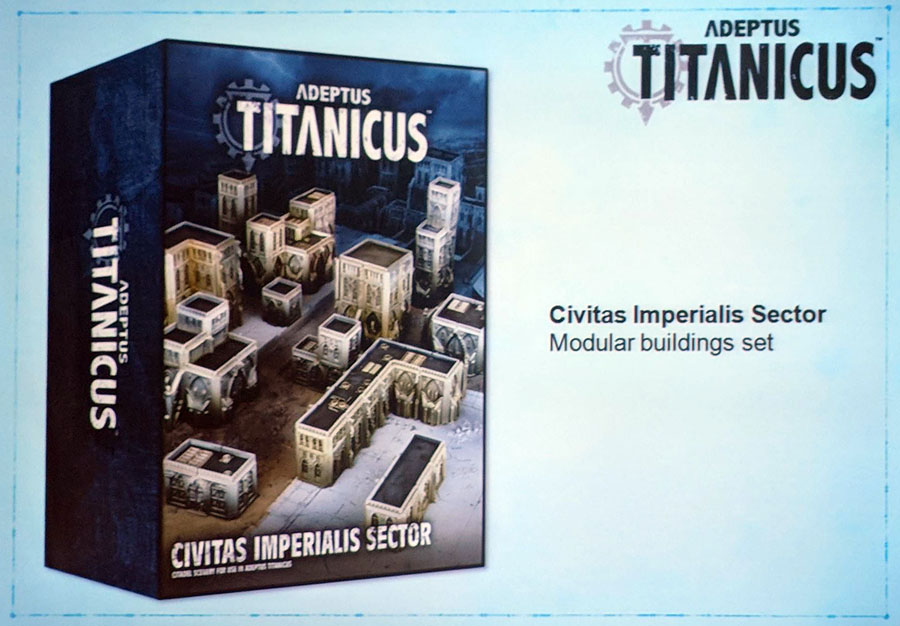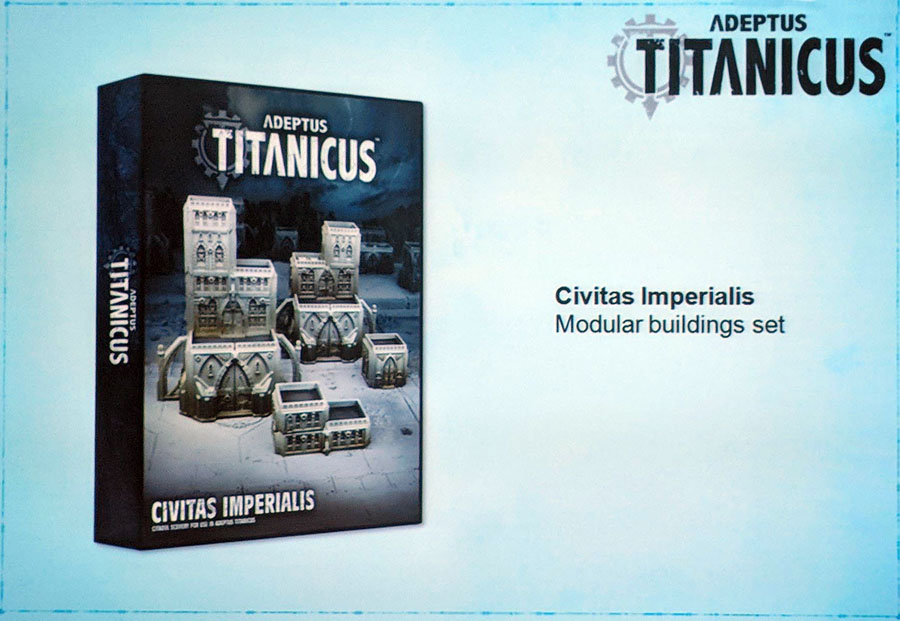 I'm also really excited about the terrain that was created for this game. It looks stackable and modular which is fantastic. I can't wait to get my hands  on this stuff and create a table of my own.
While we may still be in the dark about how most of the game play works, the points sizes, or even how those crazy board work, I'm really looking forward to figuring it all out. I think it's time to head over to the Lexicanum and pick my Knight House out.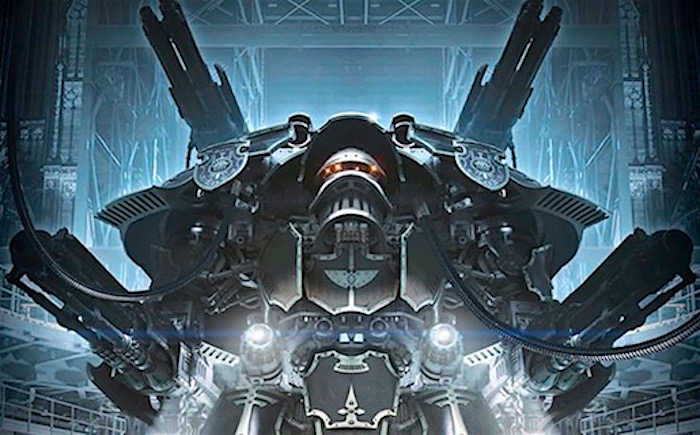 Adeptus Titanicus – It's coming!!! For Real this time!