The War for the Crown continues in Part 4 of the War for the Crown Adventure Path! General Pythareus Threatens to take the nation to war to meet his goal – can you stop him?
The War for the Crown shifts ots focus onto the other candidate for the throne–and boy does it. The fate of Taldor hangs precariously in the balance, with its civil war threatening to spill outwards beyond Taldan borders.
I've really been enjoying the espionage and intrigue of this Adventure Path–it all serves as a great guide for highlighting some good ways to pull those tricky concepts off. Players have their hands on the pulse of history in this one, and it's pretty dang cool.
via Paizo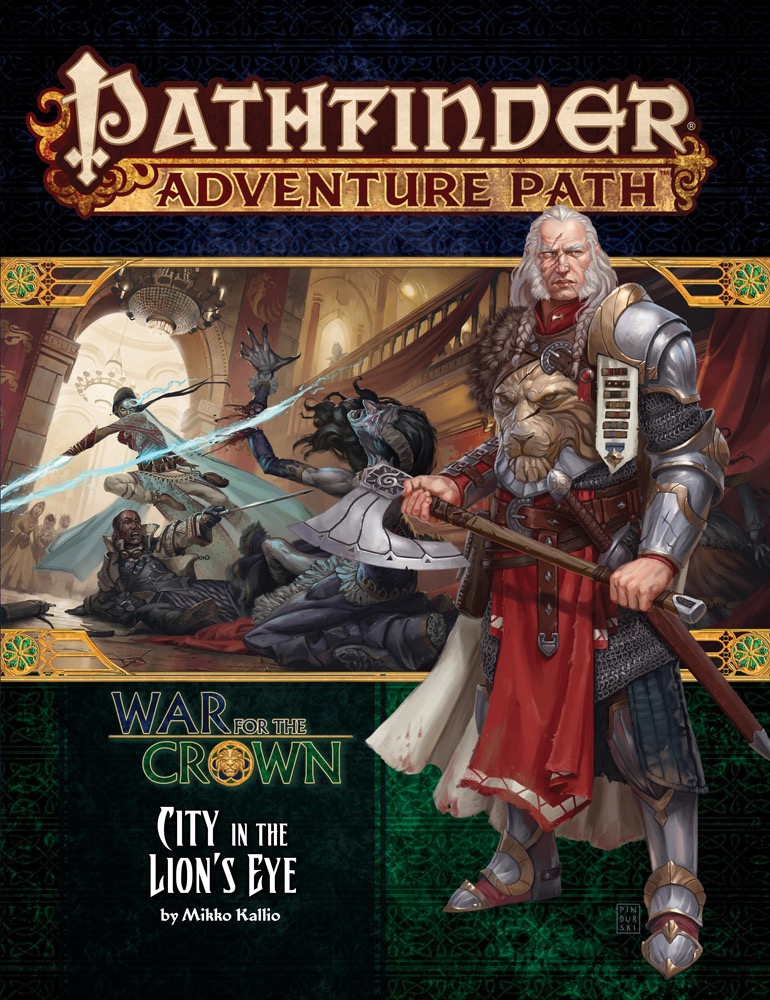 The Worst in Others

As the War for the Crown escalates, General Pythareus—Princess Eutropia's rival for the throne—plots to plunge the nation into war, threatening to kill thousands of people to rally others to him. From the fortress-city of Zimar, he commands the overwhelming army of Taldor, as well as one of the most ruthless spymasters the world has ever known. Even with the resources of the legendary Lion Blades to aid them, can the PCs hope to outmaneuver conspiracy and prevent the War for the Crown from becoming a war between nations, or will Taldor again descend into a thousand years of violence?

This volume of Pathfinder Adventure Path continues the War for the Crown Adventure Path and includes:

"City in the Lion's Eye," a Pathfinder RPG adventure for 10th-level characters, by Mikko Kallio.
A gazetteer of the city of Zimar, the fortified heart of Taldor's military, by Mikko Kallio.
A profile of the Lion Blades, masters of disguise and the most feared spies of the Inner Sea, by Liz Smith.
Eight of the deadliest rakshasas found within the Inner Sea region for use as an adventure supplement or in any campaign, by Eleanor Ferron.
A collection of strange beasts that prowl southern Taldor, from the invulnerable chitikin to the immolating pyrogeist, by Mike Headley, Mikko Kallio, Joe Kondrak, and Kalervo Oikarinen.
Eye of the Lion of course being a hit ballad by a Bard who has gained a reputation as a lone Survivor.