Freeblades are one of my favorite things in the Imperial Knights Codex. And with a handy guide to rolling your own qualities, traits, armament, and even name of your Freeblade, it's time to break out the dice.
One of the ways I've really been getting into 8th Edition is building my own characters. Mostly this comes down to figuring out what relics and traits to give a Warlord, but Freeblades have really been hitting the sweet spot.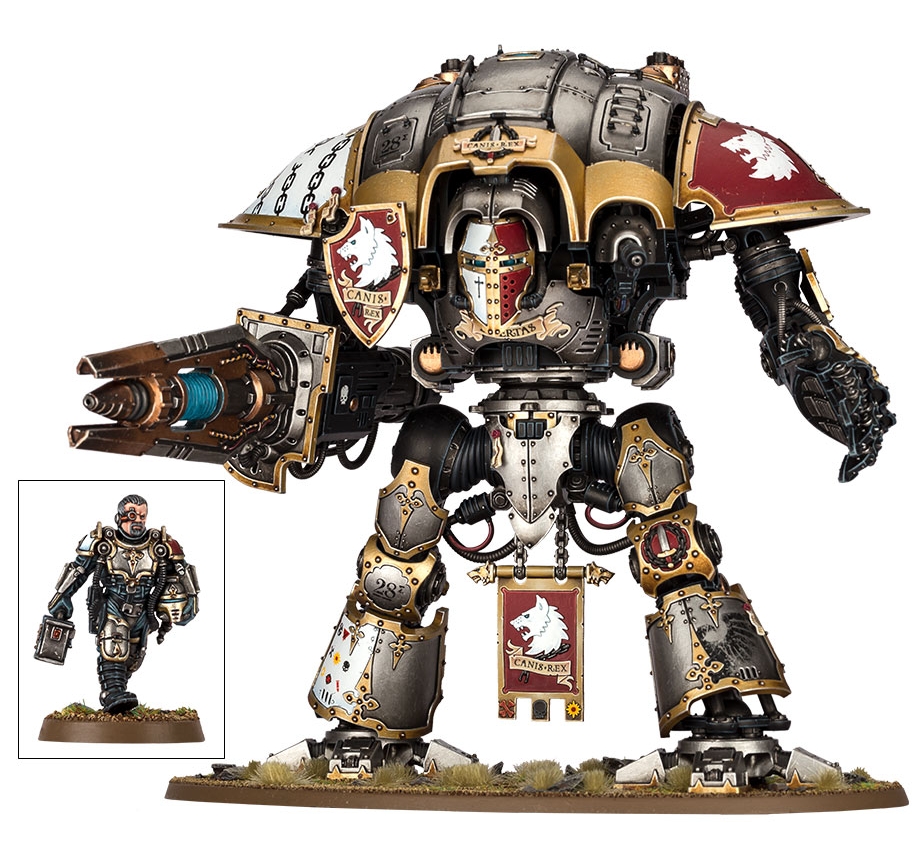 It's exactly the right amount of information to generate a hero who fits in with the larger narrative–but still has rules to back up their weight in the 40K world. There's something about figuring out where they fit that makes it incredibly satisfying. GW has since put out some great material to help support this, so let's roll up our own Freeblade. First things first, we gotta get the most important thing of all–a name.
And not just any name will do. No, we need one that sounds like a hero. One that sounds like the Noble Scion of an Imperial Knight that will sit astride entire worlds, defending against injustice, chaos, and threats to the Imperium from without and within–and what better way than to consult the new best chart in 8th Edition: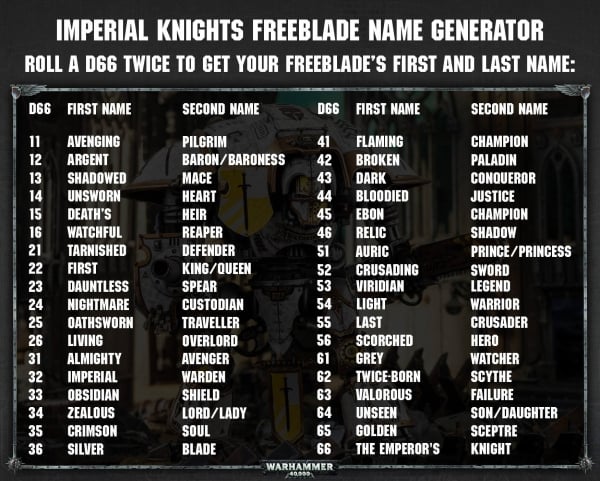 Look at that. Names overflowing with possibilities–Dauntless Spear. Crusading Justice. Bloodied Shield. The possibilities are endless and amazing. So let's let the dice fall and see what name we get. For the First Name we have a 26:Living. This is going to be something amazing. Living Blade, Living Conqueror, I can see it–oh it looks like I rolled a 63 for the Second Name.
Living Failure.
…
Fine. I see how it's going to be. After generating a…name…you roll qualities and burdens. Then pick a helmet.
Or if you're named Living Failure you might want a helmet that looks a little more appropriate.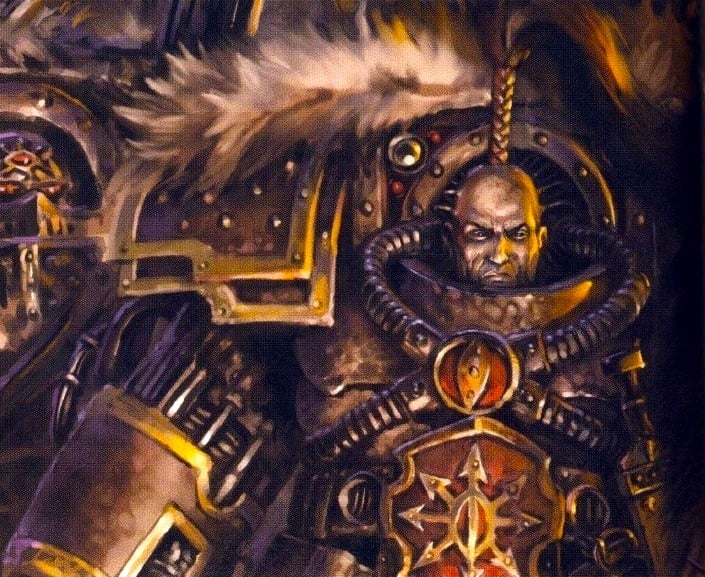 Do they make Knight Helmets with Top Knots?
But you need more than just what can charitably a "name." So we've come up with some possible backgrounds for your Freeblade needs. Like all things GW-related, just roll a d6.
Rose through the Ranks – You used to sit on the throne of an Armiger, then one day played a pivotal role in a battle and earned a promotion. The new Knight is more powerful–but more dangerous than anything you've known.

Accidentally Liberated an Imperial World – You were sure the citizens of this hive world were laboring under tyranny–you didn't recognize they were laboring under the glorious freedom offered to all by the Imperium of Man. Now you're wandering in the remote sectors until the Inquisition stops asking so many questions.

Disgraced Princeps – You once sat on the throne of a mighty Warlord Titan. Now thanks to those meddlesome fools in the Adeptus Mechanicus you've been relieved of your command and your Warlord has been requisitioned by an ambitios Magos. One day you will have revenge.

Sole Survivor – Not many people can claim to have survived Exterminatus, but not too many people can claim to be a Knight Pilot either. You still carry the burden of it–but your enemies fear you.

Genestealer Cultist – You sit on the Throne of a Knight, and can feel the mind-altering effects of the Throne Mechanicus burrowing into your mind making you loyal and a stalwart defender of justice. You know the four-armed Emperor smiles benevolently upon you, and long to find more arms for your Knight. More Arms, More Justice.

"Natural" Prodigy – Of all the subjects in the Magos Biologos' lab, you were the one who responded to the genetic experimentation and cybernetic implants by proving to be predisposed to piloting a Knight.
Other good names include Flaming Queen, and the Emperor's Princess. What names will you use?