Dive back in to the Blighted Ogrun theme force box in Part 2 of this review! This time we check out some the Blighted Rotwings and Warmonger War Chief solo!
Last week we started our discussion on the new Blighted Ogrun theme force box that can be used in the Primal Terrors theme. This time we'll finish reviewing the models in the theme force box and prepare to create our 75pt list! Let's see what kind of new terrors Legion of Everblight has access too.
Blighted Rotwings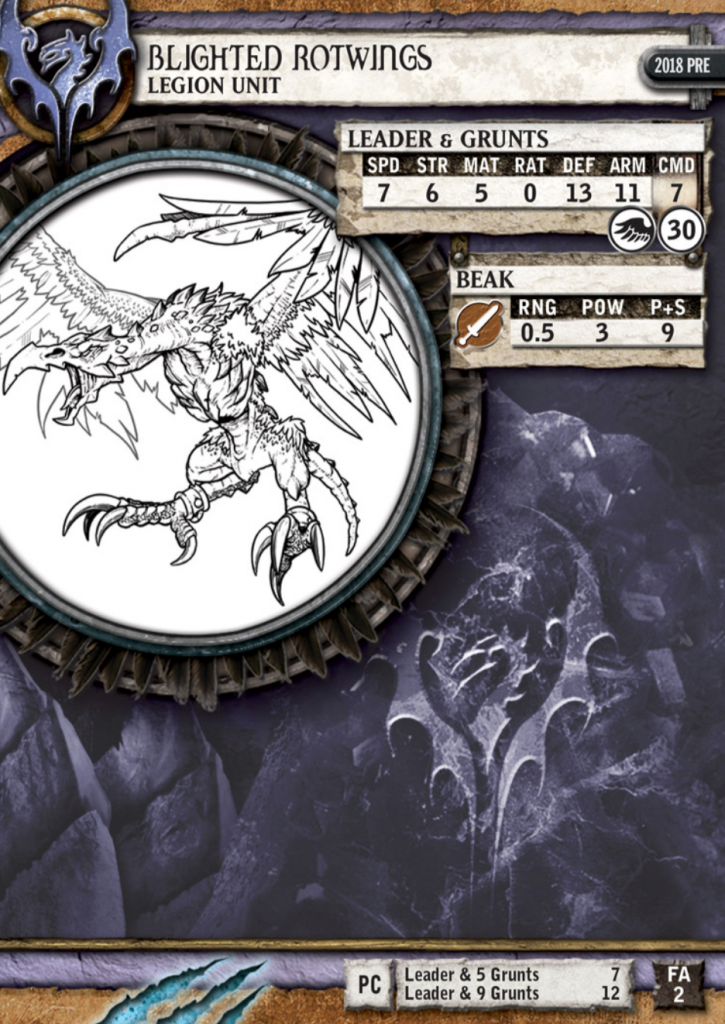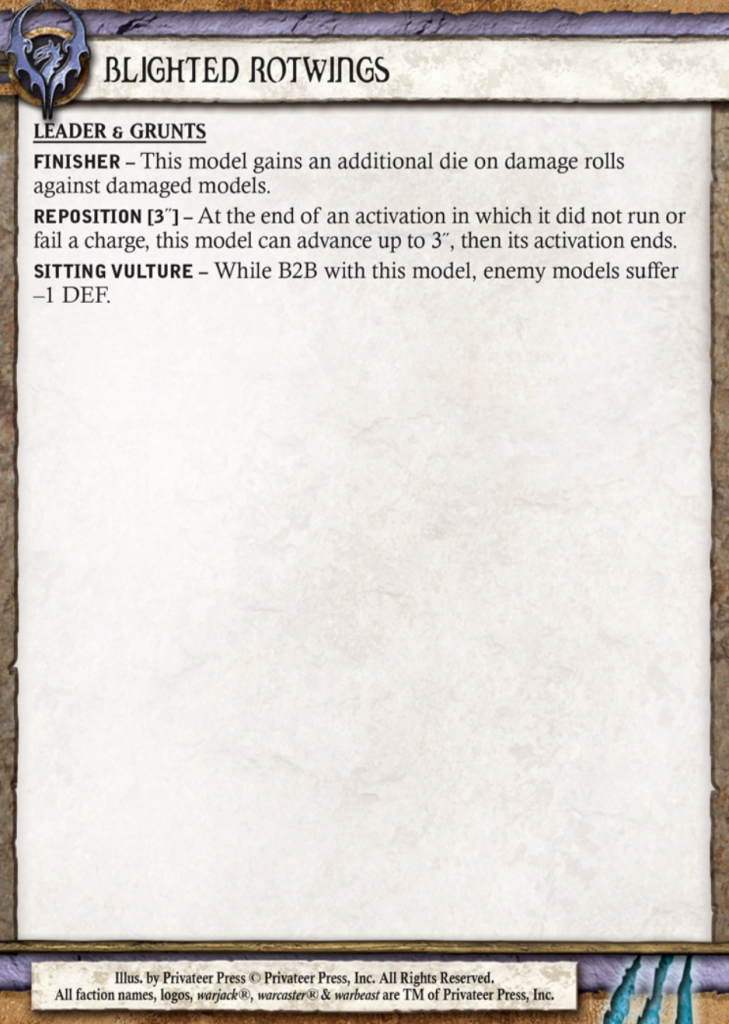 Prerelease cards shown, but these remained the same on release
When choosing units for a list there are a lot of considerations; are you looking for cheap units to hold zones? High damage output? Speed? High Accuracy? Survivability? The Rotwings bring a nice combination of speed, mobility and melee damage output all for the relatively cheap cost of 12pts. There isn't a rule on their card that isn't useful which means you aren't paying for extra stuff that will never come up.
Even though POW 9 isn't super impressive the potential for 4 dice of damage with Finisher means that the birds can even dent up a heavy warjack. Add in some damage buffs and all of a sudden these birds are tearing things apart. Also keep in mind that the Rotwings will almost always be effectively MAT 6 if you can charge or run a Rotwing in base contact with your target to trigger Sitting Vulture. About to send a heavy warbeast into combat? First run a Rotwing into position for +1 MAT!
Warmonger War Chief
At first glance it might seem like this new solo is just like the Warmonger basic trooper. However some key rules make the War Chief a nice addition to a Blighted Ogrun army. The War Chief grants Blood Drinker to all Ogrun in his command range. This allows the model to stop their activation after killing a living model to heal d3. This might not seem like much but on Berserk troops like Warmongers this is excellent! Now you can Berserk and kill all the enemy models then simply stop your activation before swinging on any friendly models. Keep in mind though this is only against living models.
Another great ability is Veteran Leader which grants all Blighted Ogrun +1 to attack rolls. This is all Blighted Ogrun, not just Warmongers. So those Warspears and Chosen units will also benefit from this. Bringing a Blighted Ogrun caster like Anamag? She also benefits from this for ALL attack rolls; spells, ranged or melee attacks all get a +1 to hit! Combine this with an debuff from Gorag Rotteneye or Rotwings and even Haley3 won't have the DEF to avoid being hit! If you are running Anamag who has Carnage the MAT of a Warmonger can get to truly absurd levels.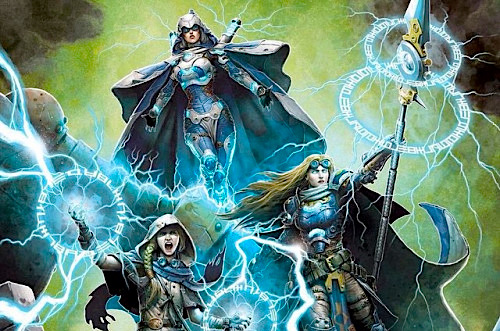 "Stay Close, My Temporal Distortion will protec… How are those Warmongers MAT 14?!?! Retreat!"
The Forsaken
The Theme Force box also contains a Forsaken solo, I won't cover this model in depth as it hasn't changed at all and many people are aware of what it does. Veteran Legion players will almost certainly have a Forsaken but for a new Legion player this is a great addition to your army. With a great Fury management ability and a cool attack that can get a ton of additional dice on damage this solo is a solid choice for your list, especially if you are running a lot of warbeasts.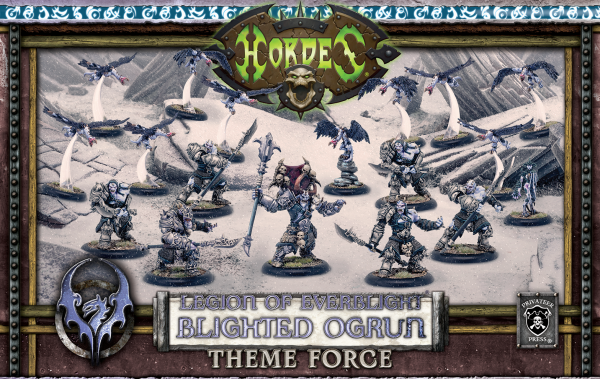 Wrap Up
So we've covered all the models in the Blighted Ogrun Theme Force box, next week we'll make a 75pt list using this box and the new caster, Anamag the Doom Feaster!
What's your favorite model in the Theme Force box?

Join us for a weekend of wargaming – and put your Warmachine tactics to the test in the Iron Gauntlet Qualifier and more!
Registration for Wargames Con X is open now!