Fantasy Flight Games has announced two new unit expansions for Star Wars Legion. From the icy wastes of Hoth come the E-Web Heavy Blaster Team and the 1.4 FD Laser Cannon Team. So put on that sweet sweet soundtrack, cut open your Tauntaun and let's take a look at these new units.
Man the forward positions, radio back to alert Echo Base, prep your Snowspeeders, because a couple of iconic units from the Battle of Hoth are coming to Star Wars Legion.
We've got the E-Web Heavy Blaster Team–and even if you don't know why you know it, you know what an E-Web is before I even show you this picture of one.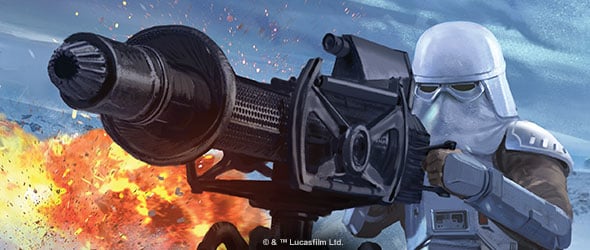 That's on the Imperial side of thing. Rebels on the other hand, get the 1.4 FD Laser Cannon Team, or as I like to call it, the Radar Laser Gun Thing You Know From The Movie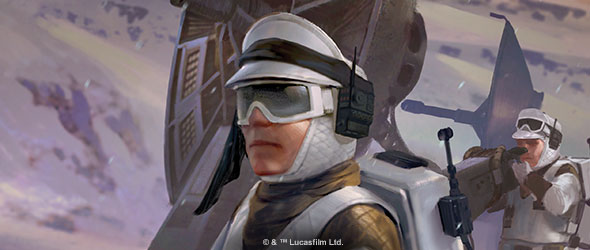 Let's take a look at what these units can do.
via Fantasy Flight Games
First up we have the E-Web Heavy Blaster Team (which gives me a thrill to type that out, every time), a powerful but sluggish firing platform that is capable of putting out a ton of shots. You'll have to be very careful with it, because not only is it slow, it can't move and fire on the same turn, so if your enemy gets the drop on you, you're in trouble. But if not–you're capable of putting out some serious firepower.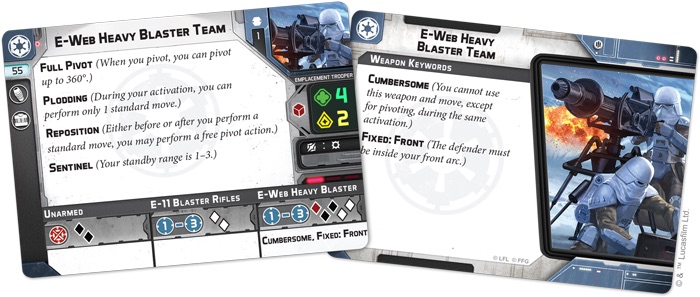 And with Sentinel extending your range to 3, you can move and Standby to still pack some meaningful denial into your turn. The firepower is a little odd, one red, two black, and two white dice–but you can customize your firepower with some of the upgrades, including a Barrage Generator or Overcharged Generator depending on what you think you'll be facing.
All in all this team packs a powerful punch.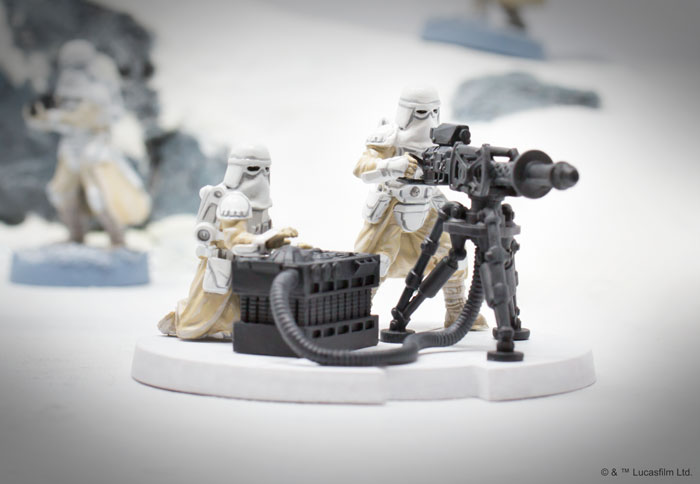 But on the Rebellion side of things, the Laser Cannon is just straight up immobile. But it is probably the heaviest firepower that the Rebel Army has. With five black dice for attack, you will be hurting whatever you shoot at–but the only move you can make is pivoting. So positioning is even more important. Like the E-Web Team 1.4 FD Laser Cannons can only trget units in their front arcs, but with Sentinel you can control swaths of the battlefield with proper placement.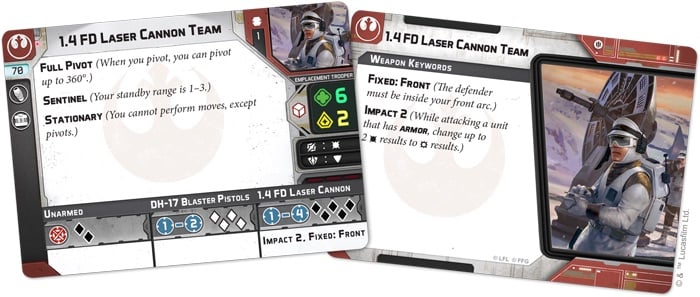 And like the E-Web team you can upgrade the Cannon Team with the same kind of generators and an HQ Link so you can keep these units operating with the support they need to support your army.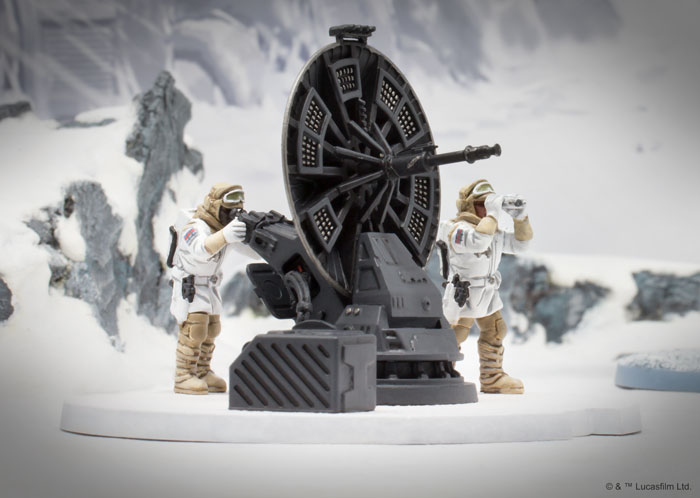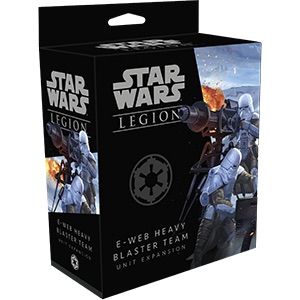 Imperial troops are known for their relentlessness, pressing the attack even in the face of the strongest Rebel resistance. But when the Empire really wants to bring the fight to the Rebels, it calls in its heavy blaster teams. Bridging the gap between lightly armed trooper units and the heavy AT-ST, an E-Web Heavy Blaster Team gives you even more options for rounding out your Imperial army.

The E-Web Heavy Blaster Team Unit Expansion expands the possibilities for your games of Star Wars: Legion with an unpainted, easily assembled E-Web Heavy Blaster Team miniature that you can field as a support unit. Additionally, three upgrade cards let you customize your heavy blaster team, improving its communications or modifying its power generator to create new ways to attack.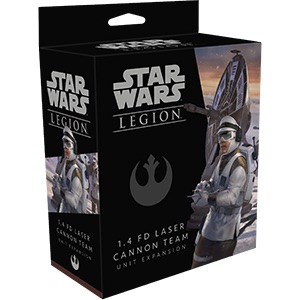 No matter where the Rebel Alliance establishes one of its bases, it must always be prepared for an Imperial attack. Rebel ground troops are always willing to put themselves in harm's way, but sometimes troopers are not enough to stem the tide of the Imperial legions and their heavy walkers. Laser cannon emplacements can provide these troops with the fire support they need to fend off any assault they might face during your games of Star Wars: Legion.

Within the 1.4 FD Laser Cannon Team Unit Expansion, you'll find an unpainted, easily assembled 1.4 FD Laser Cannon Team miniature that can be fielded as a support unit for your Rebel army. Alongside this team, you'll find three upgrade cards that invite you to further modify your cannon to make it an even more stalwart line of defense against the forces of the Empire.