Age of Sigmar's new edition has some gorgeous art accompanying the lore, legends, and mythological maelstroms that are set out in the new products. Take a look at the world, characters, and dangers of the Mortal Realms, including a few new pictures of the battles and beauty of the Age of Sigmar.
The Mortal Realms are a dangerous place–but they're also quite beautiful. Whether it's the floating islands of Chamon or the beautiful deserts of the fiery realm of Aqshy, you can find no end of breathtaking vistas or larger than life characters to inspire your games and the stories you tell through them. Warhammer Community is celebrating that today, so let's take a look at the Art of Sigmar.
First up we have the beautiful and uh…hammery halls of Hammerhal.

This is the seat of power for the Stormcast Eternals. But it's not as safe a place as you would think–you can see the Realmgate right smack dab in the middle of it–because Hammerhal stretches across both Fire and Life in terms of which Realms its a part of. This means that citizens can enjoy a great deal of comfort, but where there's comfort there's corruption. A vampire has infiltrated the ruling council, wielding influence and secrets to ferret out weakness for the armies of Nagash. Armies that have their eye on this redoubt.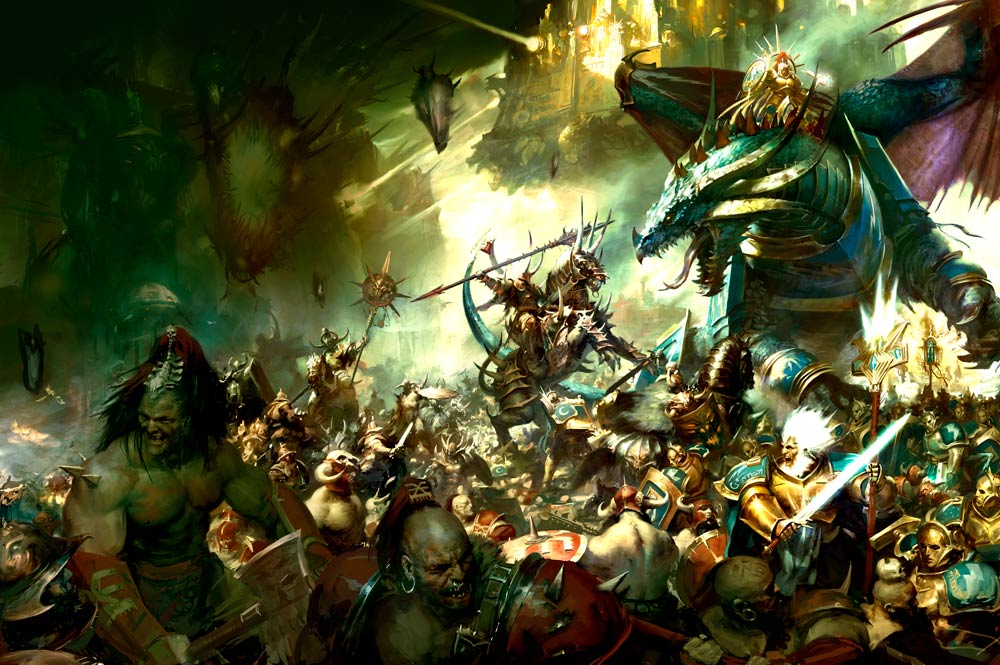 But this wouldn't be Warhammer if it wasn't full of everyone hating everyone and wanting to kill each other. So in addition to Death you have Chaos, depicted above. This is one of the big battles of the Realms, you can see a horde of Darkoath marauders swarming against the Stormcasts–Stormcasts from all the different chapters–er–chambers.
Then there are the fantastic Realms themselves. You've got this verdant beauty from Ghyran the Realm of Life, where sits the Immortal City.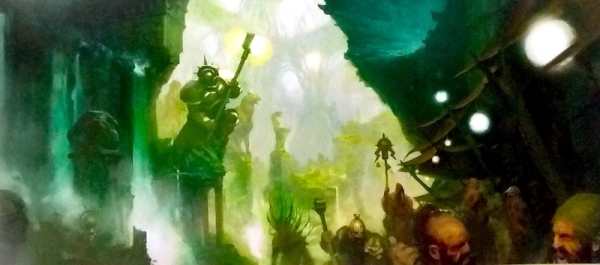 Or a fight happening deep within the realms themselves, where Skaven skitter and forgotten nightmares from the deep surge forward to battle for souls and survival.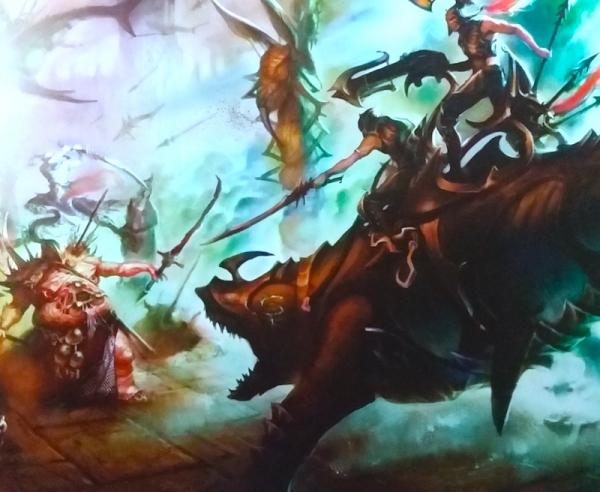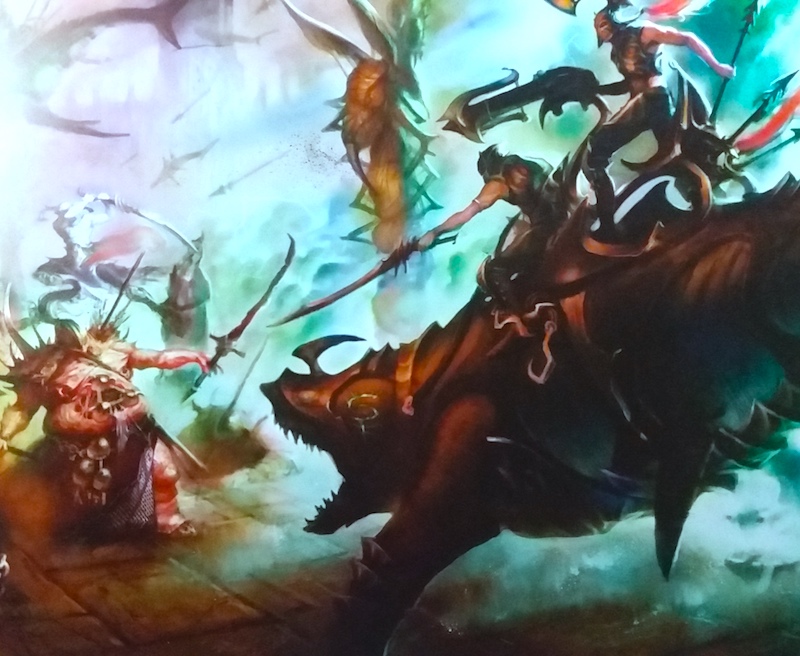 Far more interesting though, are the massive figures in the background. The flying fortress laying siege to armored walls and a shadowed, horned beast.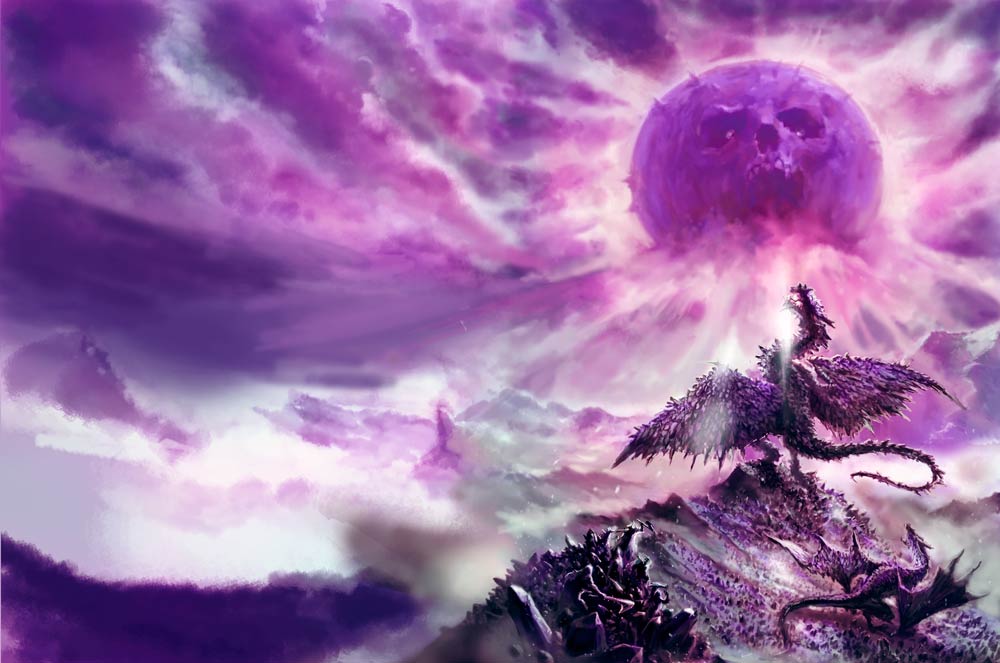 Speaking of Death though, we have the Purple Sun of Shyish dawning here. Turning some hapless drakes caught within it into Amethyst statues. Crytallizing all who draw near it, the Purple Sun is one of the powerful new Endless Spells. Which, along with the Burning Head and the Geminids of Uhl-Gysh…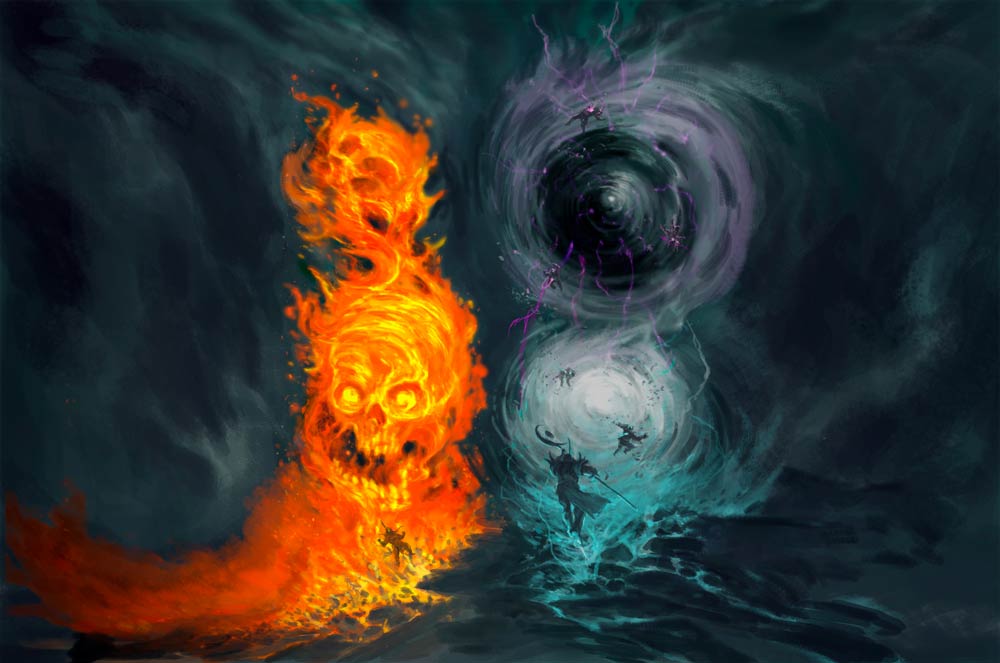 Make for some hazardous magics indeed. These spells are all predatory, meaning they'll wander off in search of anyone and anything they can devour in their mad, undeath-fueled rampage. After all the lifespan of these spells doesn't run out like natural spells should. One of the things you can read about in the Malign Sorcery book are Spell Hunters–these are crazy adventurers and mages who take it on themselves to hunt down these Endless Spells and end them. Which is kind of amazing–there's a Black Library novel in there for sure, GW. And if you don't have one yet, call me.
Finally for inspiration let's take a look at the cover image: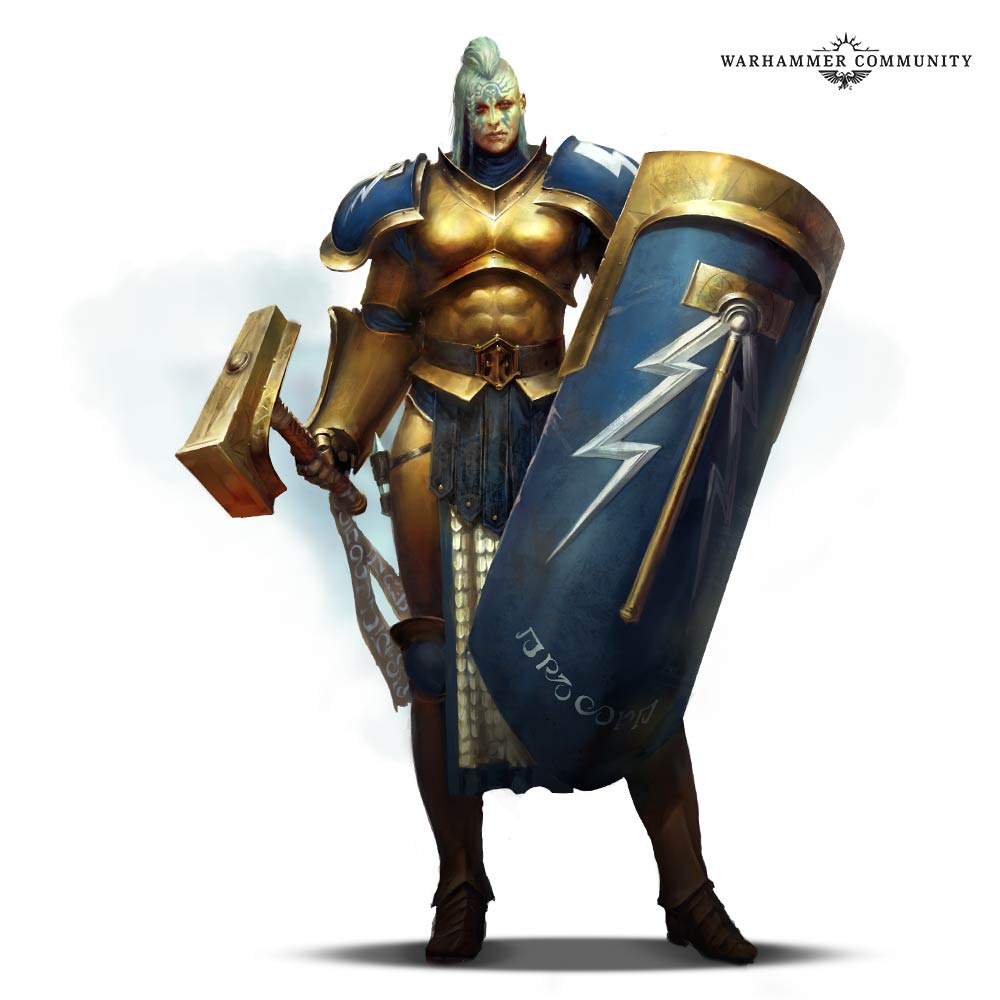 I'm really coming around on Stormcasts in this new edition. If I'm being honest, it's been hard to engage with them in the past–their story makes it hard to really dig in–they were already heroes and they're just sort of eternally reforged. It's been this grim solid wall that makes them seem unreal–but in the latest art we've seen they're definitely leaning more into the human side of it. And that's helping. I think we need a few more stories in that direction, because that's when I really get it–when they are human we can understand what makes them more.
At any rate, that's some of the Art of Sigmar.
What inspires you about the new edition? About the lore?