Warhammer 40,000 has an incredibly rich history and lore. One of the reasons it's so interesting is that it actually has some really interesting villains. And as the saying goes – a hero is only as interesting as their villain. Here are 5 villains we can't get enough of.
The bad guys make the good guys look good because they are the twisted evil reflections of what the heroes could become. That or their heinous acts are so drastically evil that the good guys have to rise-up to meet their 'evil' with 'good' of their own. It's classic story telling and Warhammer 40,000 has a deep pool of villains that can each be explored. Today, we're diving into that pool to bring up some of those Villains that we want MORE from – maybe they have been hinted at or maybe their story just kind of stalled out. Either way, GW – we want some lore updates!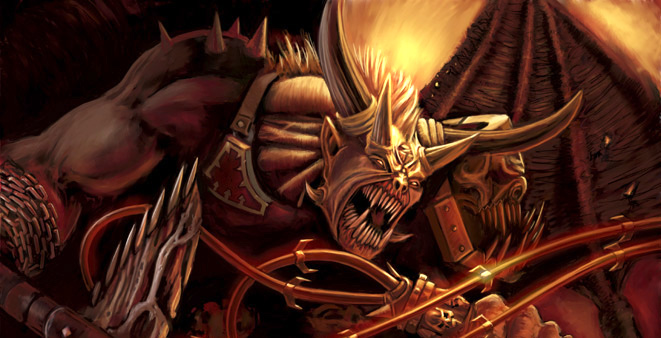 After the events of the most recent Battle For Baal, the Blood Angels had an unlikely 'savior' in the Bloodthirster Ka'Bandha. Sure, there was some Warp-storm/Warp-time influence and the Imperial Fleet was at the doorstep, too…but let's be real here – Ka'Bandha saved their bacon. Why? Because if someone is going to responsible for erasing the Sons of Sanguinius from existence it's going to be HIM. We want to know what the heck happened! And what's next now that Ka'Bandha just kicked the beehive known as Hive Fleet Leviathan. Oh if you think the Hive Mind doesn't hold a grudge, think again…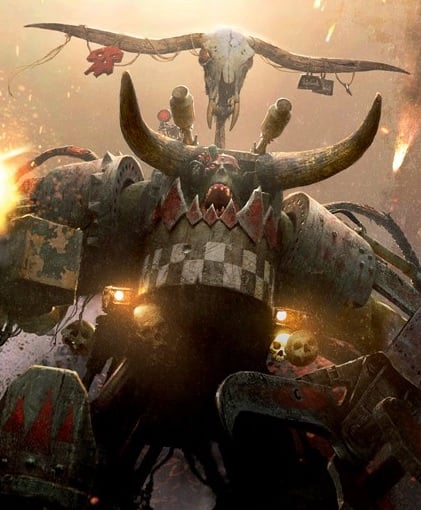 Ghaz is coming. You can bet your cap on that. The Deathwatch book hinted that the Big Green Meanie is making his WAAAGH!!! through Imperial Space. He's been crushing all resistance and the threat of the green tide looms…but where is he heading? Maybe he wants a piece of Robbie G. Maybe he wants to throw down with Chaos – after-all, if you can tear a hole through reality and rip the galaxy in half you outta be able to put up a good fight, right? Whatever the case, we want to know what he's up to…and we kinda want to watch that trainwreck happen!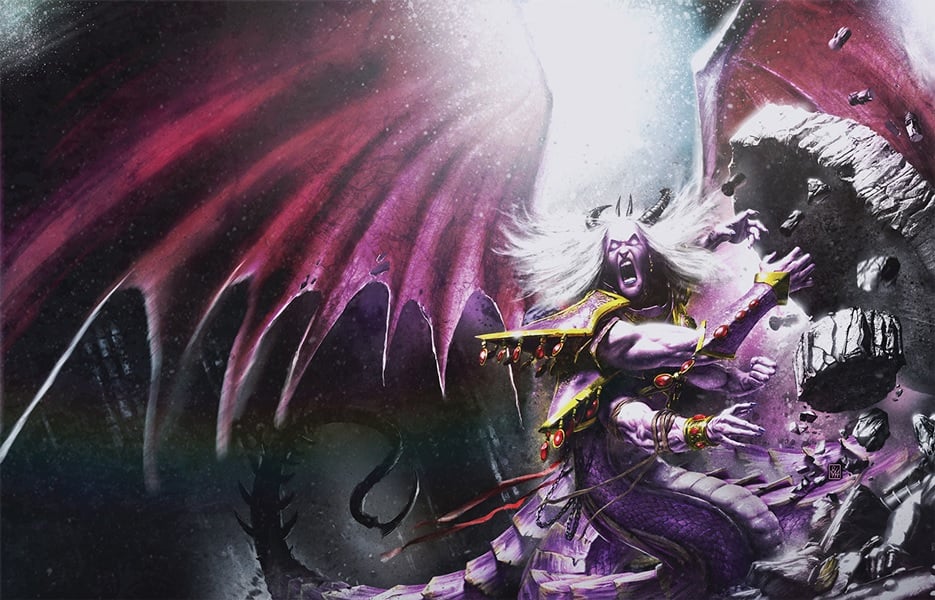 Have you seen what GW has been doing with the other Daemon Primarchs? Of course you have. So where the heck is Fulgrim and his sweet new kit!? We know that Fulgrim has been lurking in the shadows of the lore – he got named dropped in a a few of the new codexes already. Maybe one Slaanesh decides to get free we'll see his Daemon Prince Primarch charge back into the fray. Who's going to be his first victim? Who knows! But that's a story we want to read about.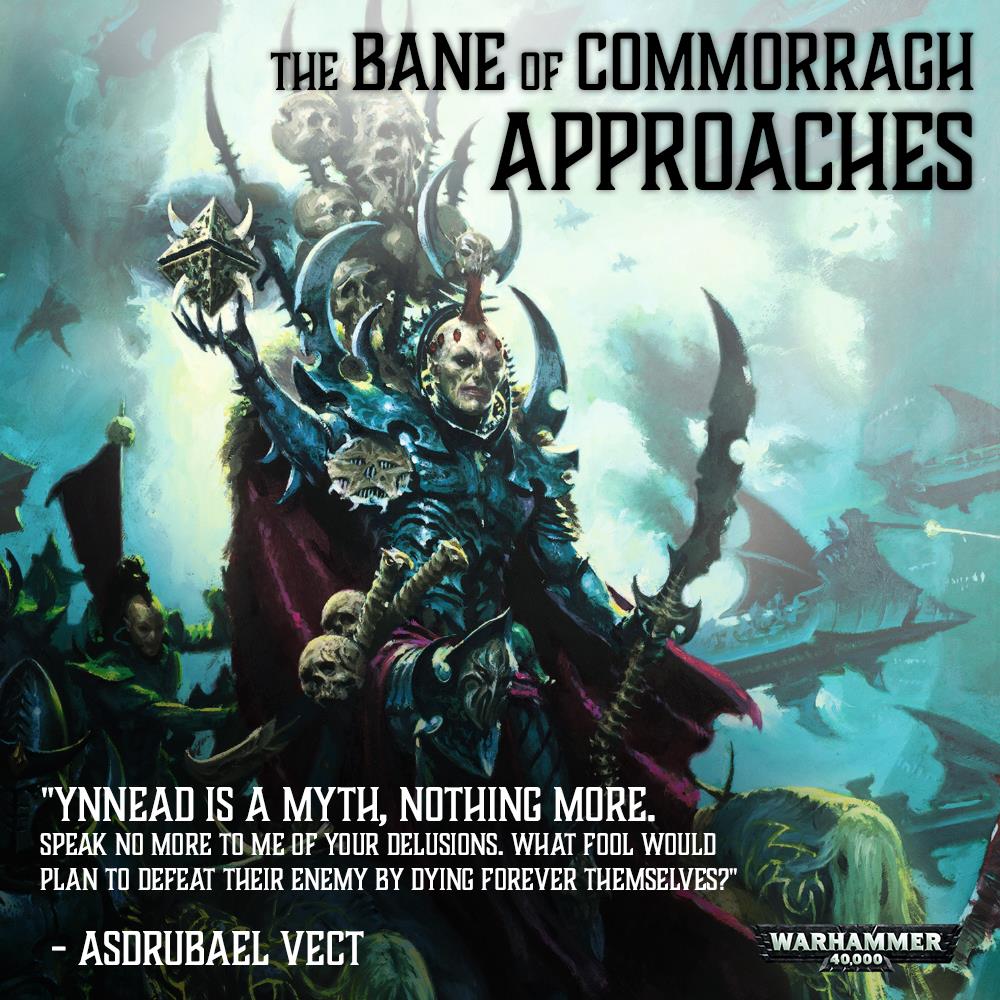 For someone who's finger prints are all over the place in the Aeldari story, Ascdrubael Vect is mysteriously MIA. Sure, he 'faked' his death and eliminated his enemies in a pretty clever ploy. And it's possible he's got a new allegiance to Ynnead…but regardless, he is perhaps the most interesting figure that doesn't have a model any more. Lore wise, he's got a pretty vast information network and massive influence within the Drukhari. So what is he planning to do with all that? Who knows!? But we really want to find out!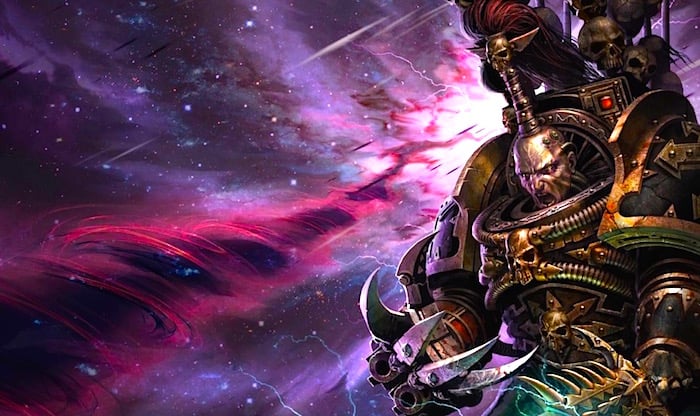 Is he 0-13 or 13-0? Depends on how you read his story arc I suppose. Regardless, his last crusade quite literally ripped the galaxy in half! That's a pretty big win for Chaos and a massive blow to the Imperium. Sure, Guilliman came back and he's been kicking butt, but what happened to Abaddon? Did he just decide to take a vacation after Cadia? Is he on a beach somewhere enjoying some warp-infused "me time" or what? Gathering Storm was a BIG deal. And regardless if you believe he was the mastermind behind it all or just one more pawn in the game, Abaddon is still in play. So…where are you Abaddon and what are you up to?
Okay 40k fans – which OTHER Bad Guys are you craving more from? Perhaps a particular Necron Lord? Or what about those Hive Fleets circling the Galaxy? Let us know which one(s) you want to hear more about in the comments!