Take home these good boys, doggos, puppers, and dogventurers thanks to a smashingly successful Kickstarter. Dungeons, Dogs, Miniatures–seriously what else do I need to say?
I mean, these are D&D/Fantasy RPG style adventuring dogs presented in miniatures that you can use like right now in your own home game. Well, not right now, the Kickstarter isn't expected to deliver until May 2019, but it is such a fantastic concept. Dogs are humanity's best friend, they can play basketball, soccer, football, even baseball–they are routinely let out, though nobody knows by whom, and when you see one, you know it's good times. So here, have a whole kickstarter full of doggos just waiting to do an adventure.
via Painting and Polygon

Animal Adventures brings intelligent animal characters to your favourite fantasy roleplaying game! Dungeons and Doggies is the first in a planned series of Animal Adventures releases! It is a set of highly detailed miniatures combining some favourite dog breeds with the different classes of the fifth edition of the world's greatest roleplaying game!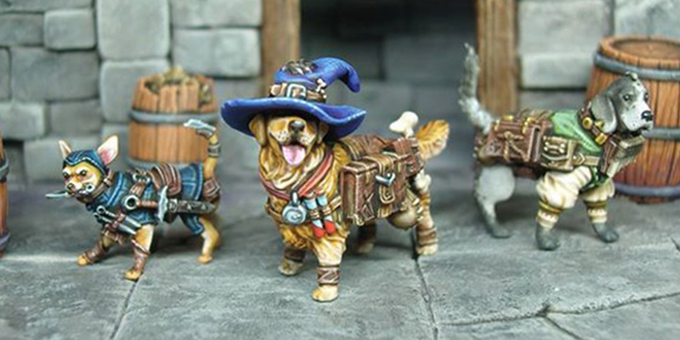 This set features not only the miniatures in preassembled ready-to-play or paint PVC, but also a bespoke set of fifth edition compatible rules for using your Animal Adventure miniatures and playing as dogs in ANY campaign setting.

You will be able to mix canine characters with your regular adventuring party or create an entire doggy team of heroes to save the world! The miniatures also make perfect companions and familiars for your existing characters in any fantasy setting or game!

The dogs are designed on 25mm and 20mm bases and scaled to fit in with existing RPG miniatures ranges. And, although we are providing full rules to create your own doggy adventurers, each miniature comes with its own pre-generated character, complete with character sheet and short story! Whether you fancy being Hartley, a gruff and stoic fighter or Freya, a noble guardian druid, there's a dog for every player.
And there's so much more–so if you head on down to their Kickstarter Page you can get the greatest gaming accessory out there.
So if you're thinking, 'Man, gaming has really gone to the dogs lately…" this is the book for you.