Seriously, this miniature puts the great in Great Cthulhu. And, predictably, this massive mini is a Kickstarter Exclusive, so back this new game of eldritch horror and cult rituals while the backing is good.
The stars are right, eldritch horrors from beyond the stars, or just, y'know from sunken R'lyeh, where with passing aeons strange or otherwise (and really, look around at 2018, do aeons get much stranger than this one?) even death may die. Which, coincidentally is the name of the new game from CMON on Kickstarter. Let's take a look at this game, filled with gorgeous new minis, and investigators flirting pretty readilly with insanity.
via CMON
Cthulhu: Death May Die is a cooperative board game for 1 to 5 players willing to take on the Cthulhu mythos like never before! Cultists are summoning one of the Elder Ones to consume our world, and it is up to the ragtag group of investigators to face the nightmarish forces and disrupt the ritual long enough to make the Elder One vulnerable. And then kill it dead.

Designed by Rob Daviau and Eric M. Lang, the game features monster artwork by Adrian Smith and investigator artwork by Karl Kopinski. Investigators come from all walks of life, each bringing a unique skill to the team, as well as two other generic skills.
That last paragraph right there should be enough to draw you in, even if you're not really a fan of the Cthulhu Mythos, which is a phrase I don't understand. But Eric M Lang has worked on A Song of Ice and Fire and Rising Sun, both of which have excellent tactical gameplay, and Rob Daviau has a massive pedigree, including Betrayal at the House on the Hill, Pandemic Legacy, and Mountains of Madness, all of which showcase narrative through mechanics. He's no stranger to horror/Mythos elements, so it'll be interesting to see how this one is different.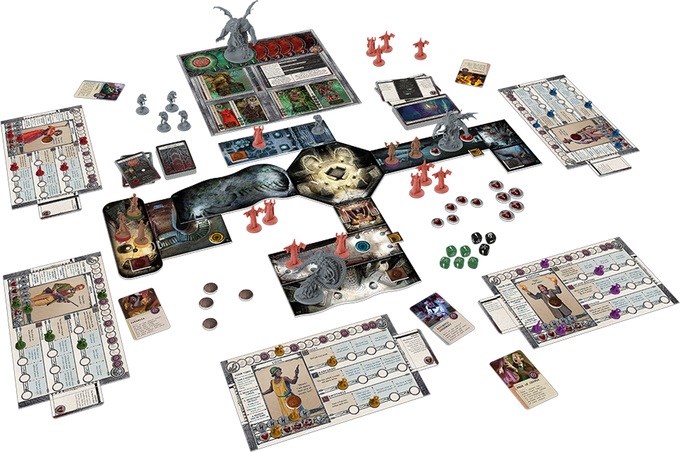 The game feels like a less exploration focused iteration on some of the concepts in FFG's Eldritch Horror. Only instead of hopping around the world, Investigators face madness and monsters in discrete "episodes."
The Death May Die core box contains smaller boxes that hold the modular elements to create each unique game session. Players choose one of the two available Elder Ones and combine their contents with those of one of the six available Episodes. Each of these boxes contain unique figures, tokens, and cards that are only used when playing with those elements. The Mythos deck used in each game is a combination of cards from the chosen Elder One box and the chosen Episode box. Each Episode not only indicates the map setup using the various tiles in the game, but also new actions the investigators can perform in order to accomplish the tasks required to disrupt that episode's ritual. They each also bring their own Discovery cards for players to explore, and the monsters' behaviors and abilities are tailored to each unique story.
So you'll get your own little story packet that tells you what you'll be using in each of the games. The monsters will of course adapt to each of the missions, but what's interesting to me is the big confrontation aspect of this. You're trying to disrupt the ritual enough to render these elder gods vulnerable so that you can kill them once and for all. Well…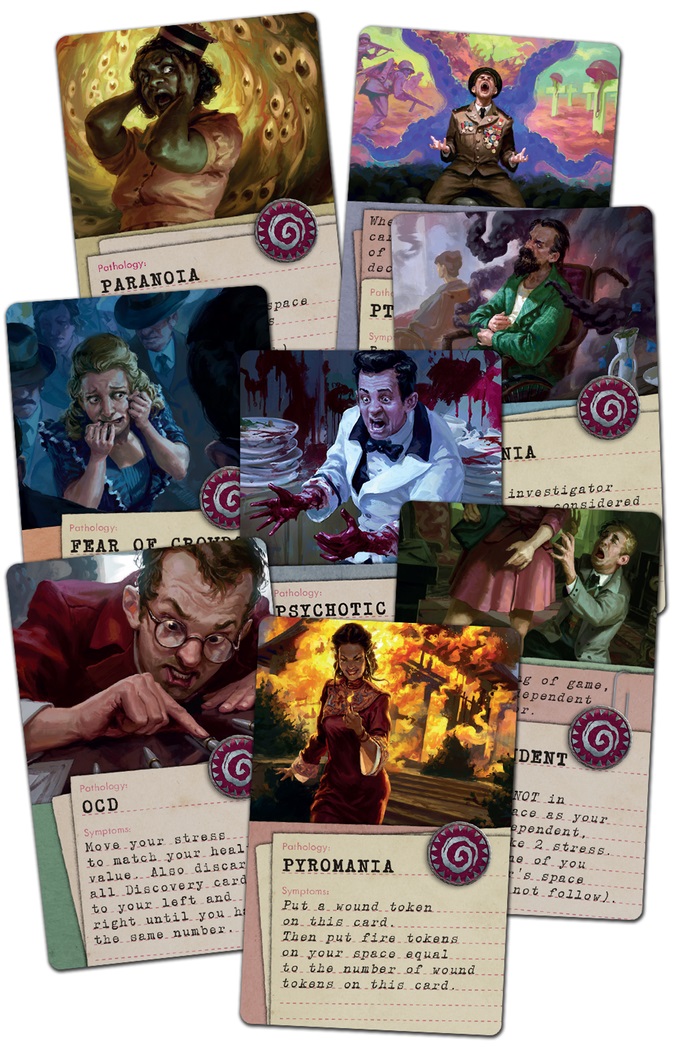 But in order to do this, you'll have to face down your own insanity. Each of the heroes is already afflicted with some kind of madness at the start of the game, and as the given elder god is pulled closer and closer into our reality, the insanity and madness grows even more, meaning that you'll really have to struggle to try and take on the boss.
This game has already hit in excess of 1.2 million at press time, and that means minis. Which, they have in spades. And they're gorgeous.

Amazing. But wait, there's more, because we promised you a Cthulhu the size of a small baby. And here it is, released as a custom reward for pledging at the $250 level, the R'lyeh Rising expansion.
I mean holy cow. There is no way this doesn't come to life and wreak havoc in a 90s movie–good thing we're in 2018 though, so you don't have to worry about it. Seriously though, the detail on this thing is fantastic–and you can see just how massive this guy is compared to the standard sized cultist minis for comparison. It's 44cm x 44cm x 57cm.
This alone makes it worth it, and it's Kickstarter Exclusive, so if you want one, now's the time to grab it. You've got 12 days left (at press time), so hop on down to that link below.
I can't stop staring at its butt. It's so hypnotic.