So what is Outremer: Faith and Blood? Outremer is a Historical skirmish game set during the Crusades. Personally, I tend to avoid religious battles, but if the Crusades are your thing, I highly recommend this book.
Let's take a quick look at the game Outremer: Faith and Blood by Osprey Games. This article is somewhat brief so if you want a more in depth review, be sure to visit Must Contain Minis.
Campaign System
Set during the Holy Wars between 1095AD to 1291AD, Outremer: Faith and Blood is a game heavily focused on campaign play. This is a system that you would want to pull out if you and your friends have an afternoon or two and want to play a series of linked games. Each skirmish should take 45 to 60 minutes.
Your forces will likely number 3 to 13 troops per side and your troops improve in their skills as you play. In fact, Jamie Gordon dedicates over 30 pages in a 64 page book on content that I consider campaign related.
From Nobles to Commoners, everyone levels up as you play. Depending on your class, you may choose certain tables to roll on for an advancement. Below are a few samples of those tables on which you can roll.
Leveling up your characters creates an atmosphere where it feels like you are in control even though a lot of the development is random. Also, just as your characters level up, they can also become injured.
It would seriously suck to put a lot of effort into leveling up one of your characters only to have your opponents cut him down, but it is all part of the game.
Between Skirmishes, you have to pay "upkeep" for your warband. Each Horse, Warrior and Leader in your group will cost you money. You gain money by completing mission objectives. You can also hire new warband members and buy new weapons.
Whats Different?
If you examine the images above, you may well notice that you are rolling dice of all sorts. We have a D20, a D10, a D8, and a D6 all listed for use in the tables above. If you get into this game, you will have a reason to crack out your RPG dice. This game uses all of them from the D4 right up to the D20 (although it uses the D6 more than the others).
The combat system looks like it will play fast and it uses the various dice to determine whether an attack from a weapon hits its opponent.
Outremer also handles activation differently than other games. In this one, you use a deck of cards to randomly activate individual models. Each model is assigned a different card. When that card is pulled, that model activates. This is done until the cards are exhausted and then the process repeats.
Another thing that is different about this game is how much the system focuses on the campaign. If you want to play a low-model count campaign game focused in on the crusades, this is the game for you!!!
Wrapping it up…
This book really impressed me. Personally, I wish it was set in a different setting (such as Fantasy or a Historical period outside of the Holy Wars), but if you are into the Crusades, I whole heartily recommend this book. For just $20 you get an exciting new rule set that should play fast and has a strong focus on campaign rules.
This game has character development in an RPG style and has several differences that make it stand out from its competition. To be honest, this looks like the type of game I tried to develop myself when I was a kid adapting Dungeons and Dragons rules into a miniatures game. Perhaps it is this aspect of my past that makes me hope that Osprey will re-theme Outremer: Faith and Blood to other settings.
Again, if you are interested in a fuller review of this book, come on over to Must Contain Minis and check out our longer review of Outremer: Faith and Blood.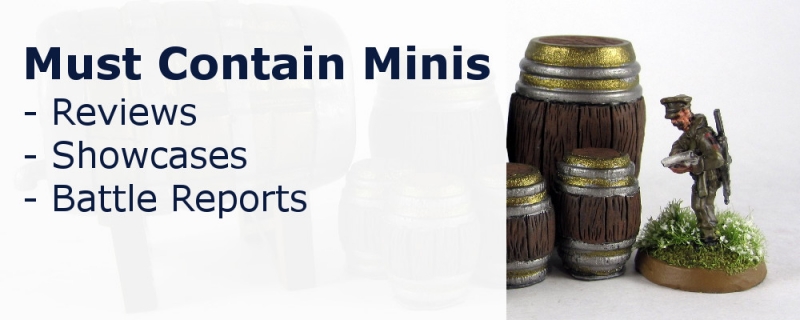 Read more about great Indy and Historical games on my site!