The Crucible Guard get some serious supporting firepower this week in the form of their Combat Alchemists, some heavy rocket gunnery crews, and an alchemically powered Warjack…
via Privateer Press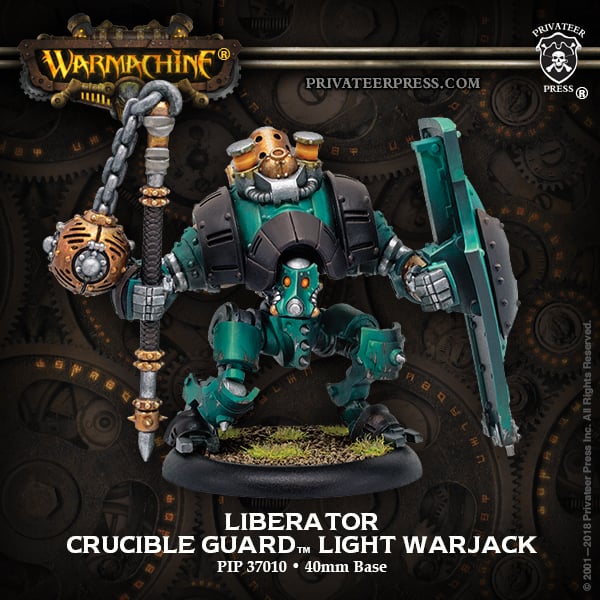 Crucible Arms 'jack mechaniks have taken the reliable Vanguard chassis and subjected it to systematic reconfiguration to produce several variant models, most notable among them the Liberator. To preserve the rare cortex materials required for traditional arc nodes, the Liberator is instead outfitted with an experimental new alchemical powered variant employing a formula of arcanely sensitive compounds. This apparatus is easier and cheaper to produce, allowing the Crucible Guard to deploy the machine in great numbers.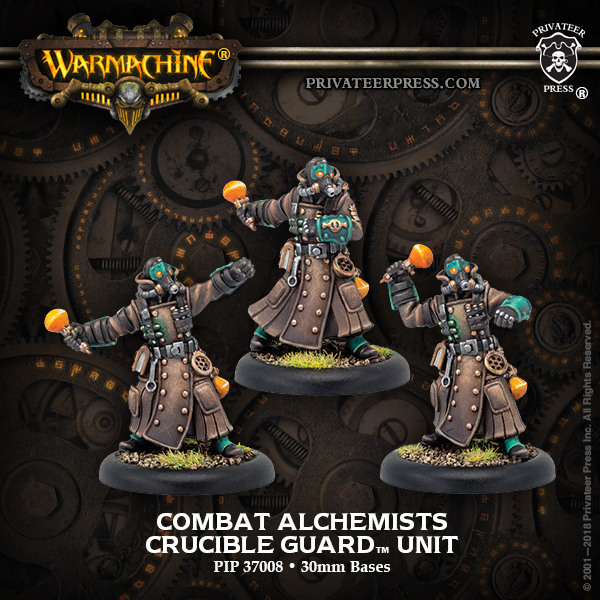 These soldiers combine alchemical talents with traditional combat training to support more conventional military units. Carrying a variety of specialized alchemical grenades, they can effectively assault many different targets. Combat alchemist teams are drilled in path-finding and skirmish warfare, as they are often deployed in advance of a larger army to neutralize key threats.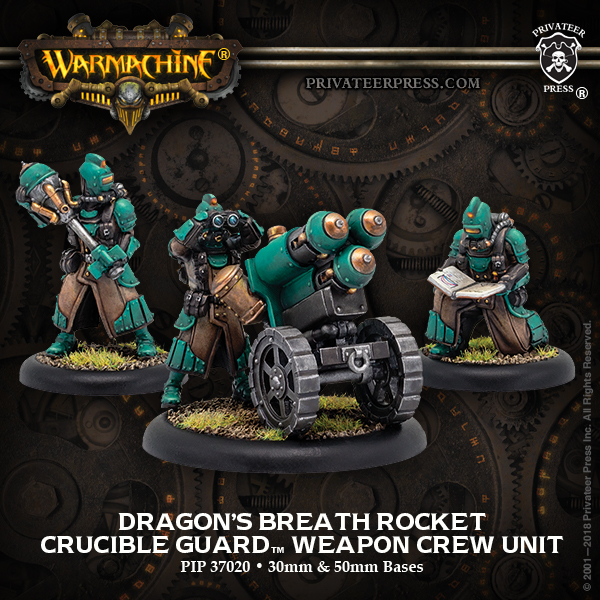 Dragon's Breath Rocket artillery are devastating long-range rockets used in the place of traditional artillery like mortars and cannons. Containing a payload of explosive charges and debilitating alchemical agents, on impact they first devastate an area with a concussive blast wave, then the dispersed aerosol form of the compounds within blanket the target with a cloud of toxic gas.

Holden serves as a warning to all who would oppose the Defiers. Once this hollow man was a promising young man who might have been a hero, but his courage faltered and he failed in the face of the Wicked Harvest. For the impertinence of being sent against them, the Defiers transformed him into their own deadly tool, but they kept a tiny shard of Holden within his hollow shell, to remember them. All Holden can do now is watch in silent horror as his actions answer a will that is not his own.