Something something something – Darkside – something something something – complete. It's a look at all the contents of the Galactic Empire Conversion Kit for X-Wing 2.0!
Our Star Wars: X-Wing Second Edition coverage continues. We checked out the Core Set. We popped open the Rebel Alliance Conversion Kit. And today we're diving into the Galactic Empire Conversion Kit in all it's Imperial glory:
This kit is pretty much mandatory if you're an Imperial Player. It's got everything you need to convert your collection of plastic Imperial ships into a fighting force for X-Wing 2.0.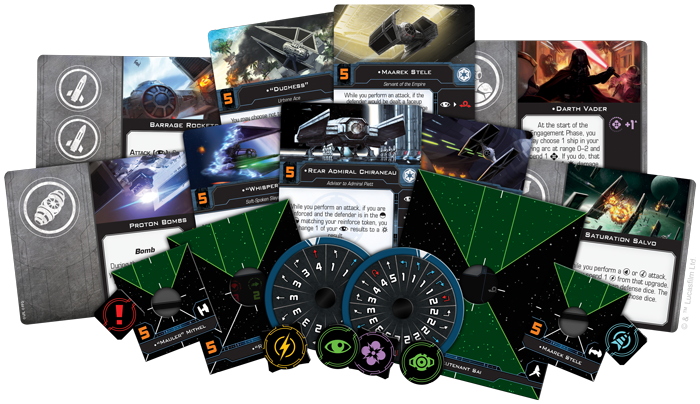 What's in the box? Cardboard and cards! Lots of both – you'll also get a set of 4 plastic bases for the new medium ship size. You're going to need those for 2.0 because a few large base ships got downsized and a few small based ships got upgraded in the game. I'm pretty sure you'll find a use for them.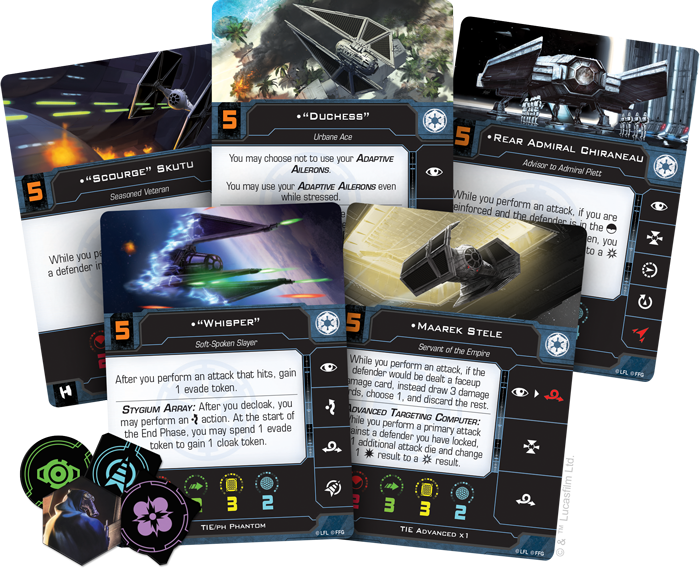 Also in the pack, many Imperial favorites got reworked while some of the lesser flown pilots got a second look. It's an impressive feat to think that all the ships that are currently in the game got a rework – just about every ship got a tweak here and there. Here's the full list of ships you'll find:
Galactic Empire Conversion Kit
3 – Alpha-class Star Wing
3 – Inquisitor's TIE
2 – Lambda-class Shuttle
2 – TIE Advanced
3 – TIE Aggressor
3 – TIE Bomber
2 – TIE Defender
4 – TIE Fighter
3 – TIE Interceptor
2 – TIE Phantom
2 – TIE Punisher
3 – TIE Striker
2 – VT-49 Decimator
Keep in mind, that's just the ships and dials – that's not counting all the upgrade cards. If you're wanting to dive in on September 13, 2018 when the game re-launches we'd recommend getting your hands on a core set (for the new rules, maneuver templates, tokens and all the extras) and then the conversion kit of your preferred faction. Oh, and you'll probably want to keep an eye out for the app which is set to release later – you'll need that because none of the cards have points yet.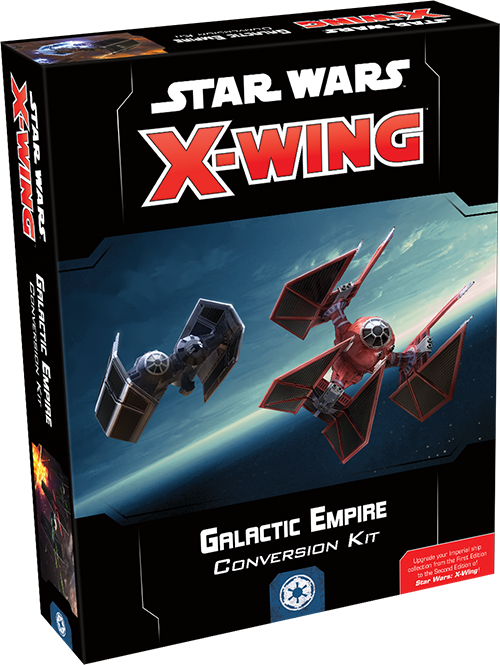 At the height of its power, the Imperial Navy deployed a wide range of ships and exceptional pilots in its effort to bring order to the galaxy and crush the Rebellion. From the legendary Soontir Fel in his TIE interceptor to the feared TIE defender pilots of Onyx Squadron, each pilot and ship had unique skills and capabilities to offer in service of the Emperor. The Galactic Empire Conversion Kit allows you to tap into the vast reserves of the Empire at the very beginning of X-Wing Second Edition.

This kit contains all the components you need to upgrade your Imperial ship collection from the first edition to the second edition, including ship cards, upgrade cards, ship tokens, and maneuver dials. With the conversion kit, veteran and new players alike will be able to choose from a variety of Imperial pilots for each ship, then outfit those ships by selecting from more than one-hundred upgrade cards. All ships and upgrade cards contained in the Galactic Empire Conversion Kit will be supported by the X-Wing Second Edition squad-builder app at launch, giving you a deep pool of options for customizing each ship and squadron.