The TIE Advanced is ready to "turn it up to 11" in X-Wing Second Edition. Come take a look inside the preferred ride of Jedi-Turned-Sith-Lord-With-More-Machine-Parts-Than-Man  everywhere!
It's Vader's "Ride" in X-Wing and we're getting a preview of everything else that is included in the new Second Edition Expansion Pack from X-Wing. And if you didn't catch our preview from the Galactic Empire Conversion Kit, Vader is GOOD.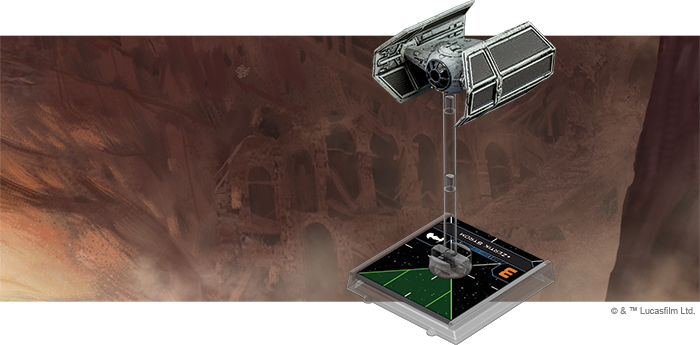 The Galactic Empire's strategy in space combat often hinges on crushing enemy squadrons with wave after wave of cheap, expendable TIE/ln fighters. This does not mean, however, that the Empire lacks advanced starfighters that can match the T-65 X-wings and BTL-A4 Y-wings that Imperial pilots regularly face. For that, they turn to the TIE Advanced x1. Reserved for only the very best Imperial pilots, this prototype design is the ship of choice of Darth Vader himself.
The Pilots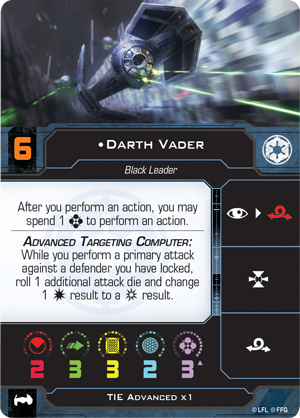 First off, we're starting with Vader because he's the reason you fly this ship. Not only is he still a beast with his unique Pilot ability (it taps into his use of the new Force powers to allow him to get more actions), but the ship also comes standard with Advanced Targeting Computer.
This is change from the previous version but it's still really good. If you have your target locked, you can roll an additional attack die and change 1 hit to a crit result. At range 1 you can get a 4 die attack – Not too shabby!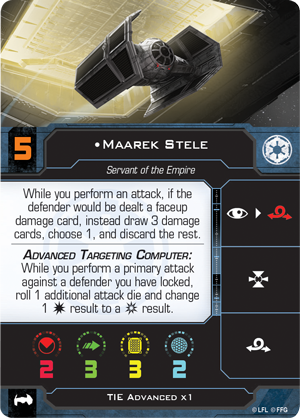 Maarek Stele is back as well and is still a valuable imperial asset. Stele's pilot ability is still just as mean especially when you can convert a hit to a crit. Make those face-up damage cards work for you!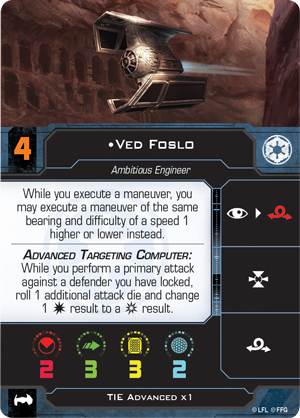 Well hello to Ved Foslo! Did you totally screw up your maneuver? Ved Foslo gives you the change to get out of a jam by allowing you to maniupulate your maneuver to be either 1 speed higher or lower – the catch is that they have to be the same bearing and difficulty.
Finally we have Zertik Strom. Strom has a bit of a delayed damage with the ability to expose 1 a ships damage cards by spending the lock you have on it. That could be interesting as you could damage a ship fly out of range and then "pop-a-lock" on it. Cool guys don't look at explosions.
The Upgrades
We've also got to see all these upgrades before. But we're including them here for completeness sake: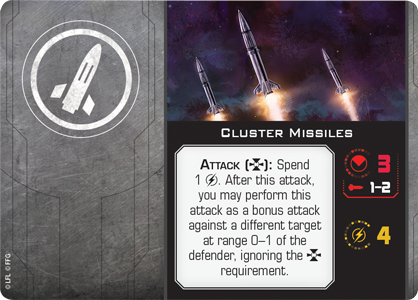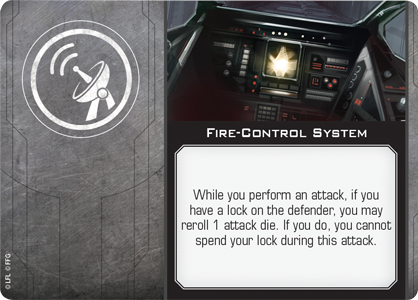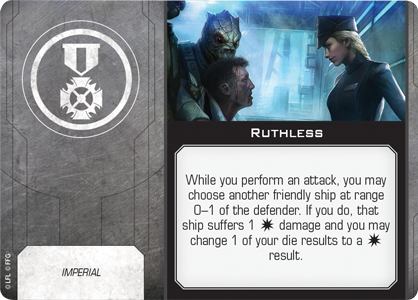 Ruthless seems like a really good reason to do some squadron flying. Sacrifice your friendly ship's health to convert your attacks into more reliable die rolls. Sound pretty Ruthless to me!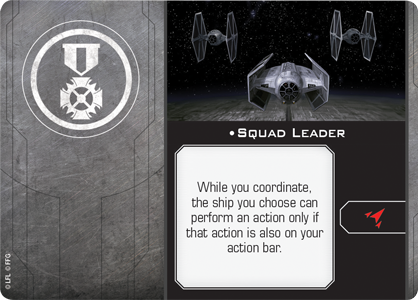 Squad Leader is a little limited but it could open up some options for other ships that might not have access to certain other abilities. It could also get you out of a jam but I'll leave that up to discerning Aces out there to decide if they think its worth taking or not.
The TIE Advanced Expansion hits shelves September 13th, 2018 along with the rest of the Star Wars: X-Wing releases!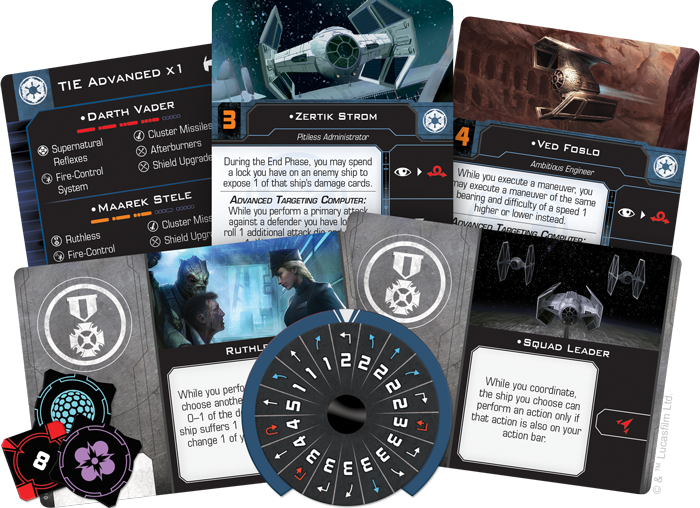 While the TIE fighter is a common sight in Imperial squadrons, picking up a TIE Advanced x1 on your scopes is all the proof you need that a sector has drawn the Empire's attention. This prototype design is flown only by high-ranking Imperial agents, including the dreaded Darth Vader himself, making it a deadly addition to your squadron.

The TIE Advanced x1 Expansion Pack for X-Wing Second Edition includes a single new TIE Advanced x1 miniature for you to add to your squadron, along with a full complement of pilot cards to choose from. Additionally, you'll find an assortment of upgrade cards for you to enhance your TIE Advanced x1 and other ships. The TIE Advanced x1 Expansion Pack also contains a few entirely new cards that have never before appeared in the game's first edition. These new cards and associated punchboard are included in the Galactic Empire Conversion Kit for the benefit of veteran players!
Impressive. Most Impressive.