And blasters, rocket launchers, and some like plasma rifles, and a weird thing that shoots slime, and if you got flamethrowers, we gotta have flamethrowers. Look what I'm saying is, we need some heavy firepower–fortunately the Starfinder Armory has plenty, come take a sneak peek at some.
That's right folks, we've got a look inside the Starfinder Armory, so peer between its weapon-filled pages, and see what sorts of things await you in the coming days.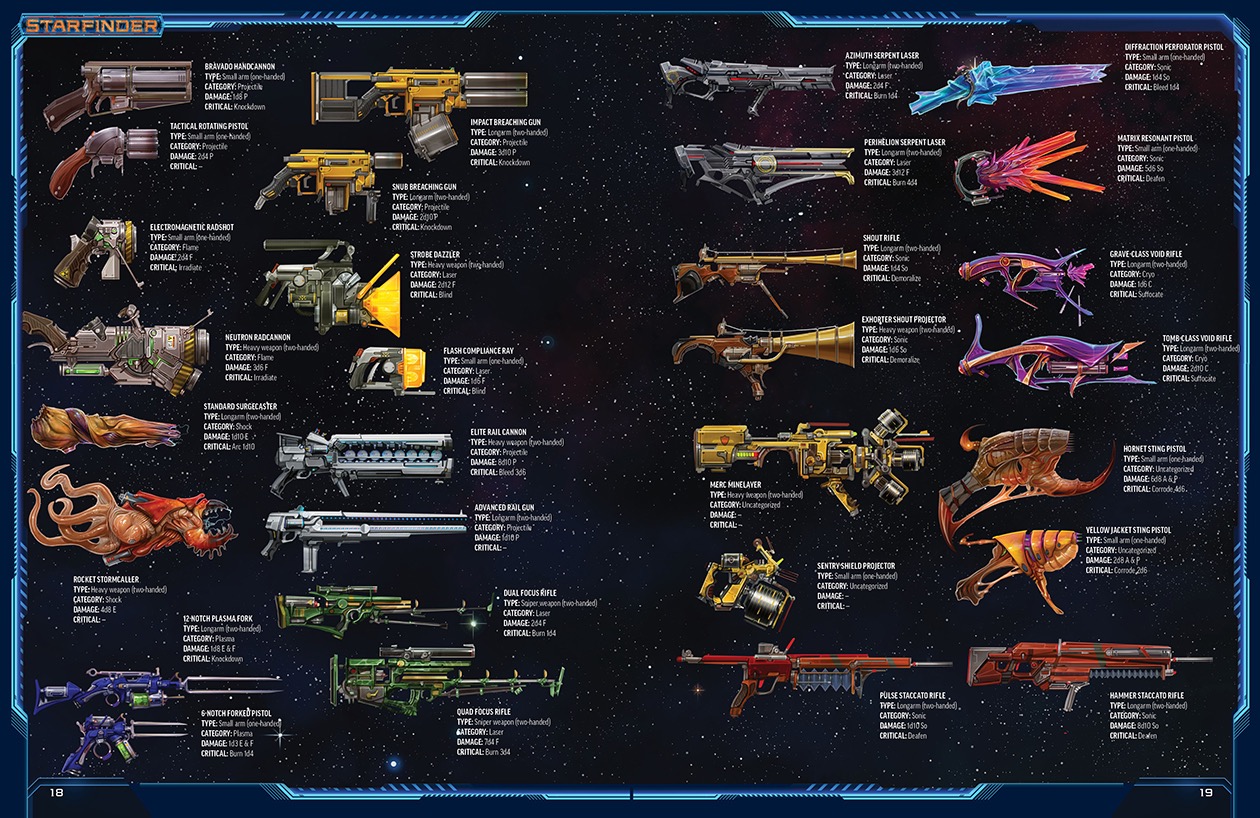 These are some rather exotic looking weapons–I'm drawn to a few of these in particular: the organic looking Rocket Stormcaller, the Strobe Dazzler (best X-Man), the crystal-looking sawed-off shotgun, and the Matrix Resonant Pistol. There's a lot going on here. But these showcase some of the more exotic weapons you can find in the Armory. You've got Radcannons and Minelayers, Quad Cannons, Void Rifles, and then some.
This book is packed with a plethora of features, as Paizo mentions in their blog:
I've got more than 650 weapons on offer, in more than 150 makes, with 46 new weapon special properties and half a dozen critical hit effects. Wanna keep your hands free while blasting away with a shoulder laser? Put a weapon with the integrated special property into an armor upgrade slot! Wanna scare the nutrition paste outta your enemies? Hit em with a psychic-wave cannon and let its demoralize critical hit effect do the work! Whatever your preferred flavor of proactive self-defense, you'll find it here.

And I'm not even counting the new ammunition (phasing sniper rounds strike your fancy?) or dozens of new grenades and solarian weapon crystals. So buy today—I'm even throwing in free installation of a sniper scope with the purchase of any small arm, or free integration of a null-space gunner harness with any heavy weapon. Why lug around that rail cannon when you could carry it in your pocket as a 1-1/2 inch disk? Of course, I'm happy to sell you any of two dozen other weapon accessories, if you prefer.
The picture linked above is just a small fraction of the weapons you can find–there are 42 new 3rd level weapons alone. So get ready to bring vast amounts of firepower (along with armor, and miscellaneous equipment) as the release date draws nigh.
Happy Adventuring!