As we head into summer, let's check in with the industry to see what is selling across all genres.  Here's how your favorite games stacked up.
It's time to look at how all of our favorite games stack up against each other in terms of the top sales. So try and take a little bit of time to distract yourself from the sun's unending summer rays and figure out the worth of your favorite hobby game!
There's only one or two big surprises this time around–the top dogs are the ones you might expect. But let's go see for ourselves.
This sales data was collated from retailers, distributors and manufactuers for Spring 2018
via ICv2 (go check em out, they have lots more data)
RPGs

Here's the RPG breakdown for Spring 2017. Dungeons and Dragons is in it's golden age and continues to be the number one RPG followed by Starfinder which has quickly passed up Paizo stablemate Pathfinder. Star Wars comes in 4th, followed closely by Genesys. This concentrates the top 5 RPGs into offerings from WotC, Paizo and FFG.
Card/Dice Games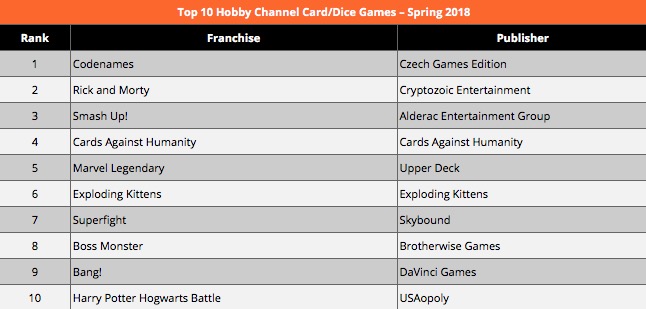 Here we are with some Card/Dice games. These aren't CCGs, but are the kind of Card and/or Dice games I'd lump in with Board Games. You have the excellent Codenames in the top spot with Rick and Morty hot on its heels. Which, if you haven't played it, get out there and do it right now. What the heck are you waiting for. Actually I'd feel comfortable recommending any of the games on this list–so if you're looking for some fun games this is a great place to start.
Boardgames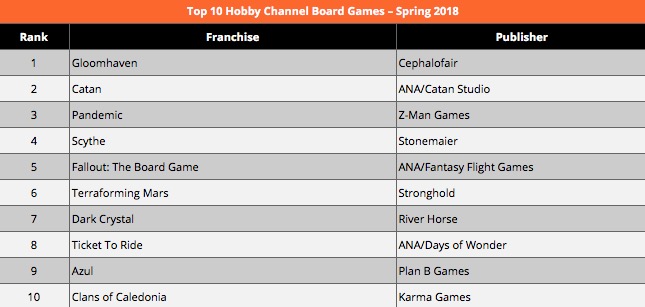 Speaking of board games, here we go. White hot Gloomhaven takes the top spot, with perennial Catan, and the "Usual suspects" Pandemic and Scythe close behind. I have a feeling Azul will be climbing fast with its recent awards.
CCGs

Surprising no one, Magic, Pokemon, and Yu-Gi-Oh! continue to be the top 3 ccgs of all time forever and in that order. Unless you look at sales through big box retailers, and then it's Pokemon, Magic, and Yu-Gi-Oh! I maintain that Yu-Gi-Oh! will occupy the number 3 slot forever for no other reason than it is the only game out there that allows you to say, "you just activated my trap card." Wizkids is moving on up slowly but surely…
Miniatures Games

And then finally we have miniatures games. NO surprise in Spring that 40K is dominating. D&D Nolzur's Marvelous Minis shows the sheer power of D&D's giant customerbase, while Warmachine brings up as #3. Newcomer Star Wars Legion is FFG's sole entry in the top 5, with neither X-Wing nor ARMADA to be seen. It looks like it was a good time for X-Wing 2 to be reintroduced.  Age of Sigmar beings up #5, and I will be very curious to see where this chart sits in 6 months post Age of Sigmar's 2nd Edition launch.
Well, there you have it. All the game rankings listed out in black and white (and orange and grey). What do you think? Does the invisible hand of the market really know what's best?
Be sure and let us know what you expected and what surprised you in the comments.