Move over Legacy Games, Fantasy Flight Games is pushing all sorts of envelops with their new "Unique Game" system. In Discovery: Lands Unknown, each box comes with it's own adventure – and no two sets are the same!
A few years ago Legacy Games took the board gaming world by storm. It was the idea that each game you played had consequences and you could never go back to the "starting state" again. The boards could physically change and so could the actual game rules. Risk, Pandemic, SeaFall, Charterstone and more hit shelves and gamers around the world were each crafting their own narrative as they played.
Fantasy Flight Games even experimented with this with Android: Netrunner – Terminal Directive. And most recently (and perhaps most notably) Gloomhaven seems to have perfected the style. But at GenCon 2018, FFG introduce Keyforge and showed they are all for trying out new ideas in game design. But they didn't stop there. Today we're taking a look at a brand new style of game: The "Unique Game" from Fantasy Flight Games. And it starts with Discovery.
"Discover: Lands Unknown is a new adventure for Fantasy Flight Games, joining KeyForge as one of our first Unique Games. What is a Unique Game? In a nutshell, it's an entirely new type of game! Unique Games can take many different forms, but they share one thing in common—every copy of the game is unique. The copy that you pick up off the shelf will have different components than the copy your friend gets at their store."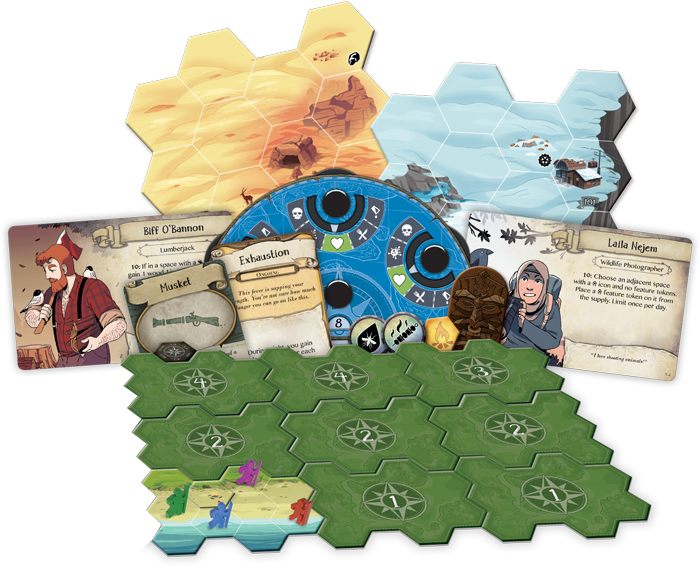 One of the key features is that each game will have a different "mix of environments, characters, storylines, items, and enemies in each copy of Discovery." No box will be the same. You and a friend could purchase the game and have two vastly different experiences. Even though the core mechanics stay the same, the adventure in that particular box and how it unfolds will be different.
How It's Done
Each game starts with the same basic premise – you are a survivor who has awoken in the wilderness "with a splitting headache" and no idea how you've arrived. You might be alone (solo play) or there might be other survivors nearby (co-op or competitive). Your goals are the same: Survival. Will you be able to find a way off this beach, down this mountain, out of this jungle, or through this desert? That's the quest you're on with each copy of Discovery.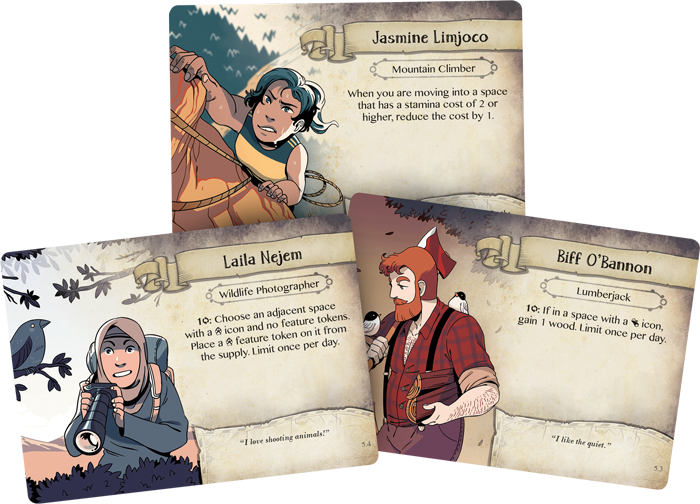 From what we can tell from the announcement article, there will be a pool of random survivors that will be presented in each box. Along with multiple scenarios and a deck of objectives this will make the game have a ton of replay value. I have a feeling you could even get an extra box or two if you wanted to expand your pool of maps, scenarios, survivors, and objectives…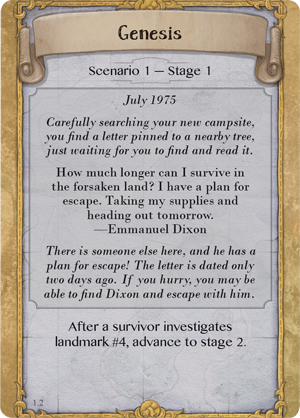 Fantasy Flight Games is showing that they are willing to take risks with their game design and that's exciting. It's impressive to think that each box will be unique and play differently even though each game is based off the same mechanics. I really want to give this one a shot because of that sense of discovery in every game. I see what they are doing – and I want more. Discovery launches in Q4 of 2018!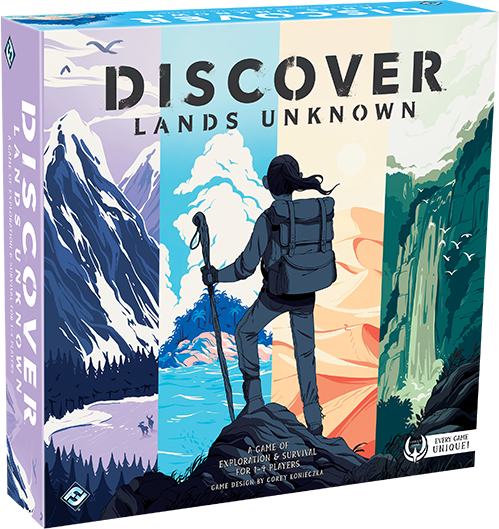 When two to four players find themselves marooned in the harsh wilderness, you must cooperate and compete to search for water, food, and tools that will be essential to your very survival. But your adventure holds many secrets. Every copy of Discover: Lands Unknown is unlike any other in the world. A mix of environments, storylines, characters, locations, items, and enemies have been engineered to tell a story unique to every copy of the game thanks to an algorithm that ensures no two copies are alike. Your copy will contain various tiles, cards, and tokens, each pulled from a shared pool of components, and the combination will be different from every other copy in the world.
FFG is attempting to shake-up the Legacy Game Genre – what do you think of this new style game?