We've all seen the new Ork buggies by now, and it's only a matter of time before they're in our grubby little mitts–but until there, here are some photos of the amazing details that you haven't seen yet, from consoles to grots, to backseat boyz, here's a look at what makes the Orks go.
Let's step onto the Showroom Floor and take a look at the amazing details hidden in the photographs we've seen. There's a lot of tiny flourishes that add in tons of Orky flavor to these amazing models. Let's dive right on in with the Shockjump Dragsta and the Deffkilla Wartrike.

We've all seen the Shock Attack Engine that comes standard on one of these–but take a look at the Kustom Shokk Rifle–this is a devastating weapon which will bore a hole in everything that comes into contact with it, including its gunner. And then of course there's Rednukl himself behind the wheel, trying to make the most for Shokkaboyz. But let's turn it over to the Deffkilla Wartrike.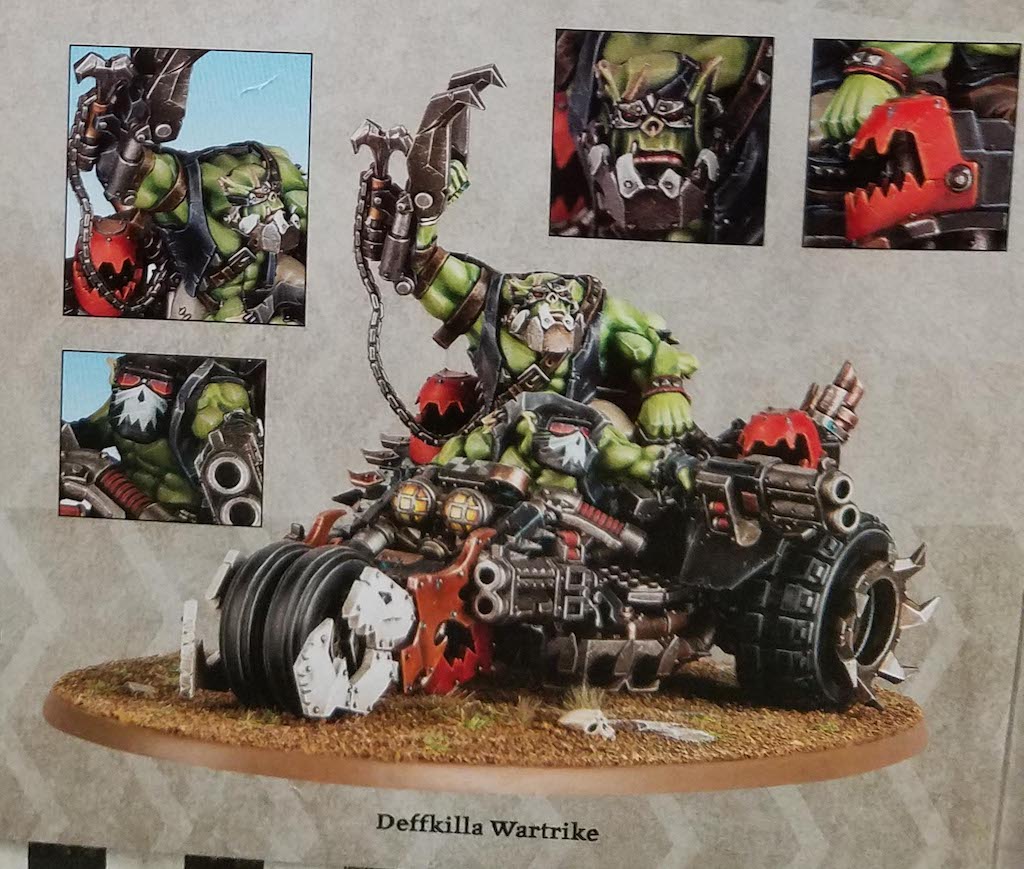 Now here we have the details on the Deffkilla Wartrike and Krew. I love the mask on the driver, but take a look at the Cybork jaw and the metal chompas on back of the burna there. It's pretty fantastic.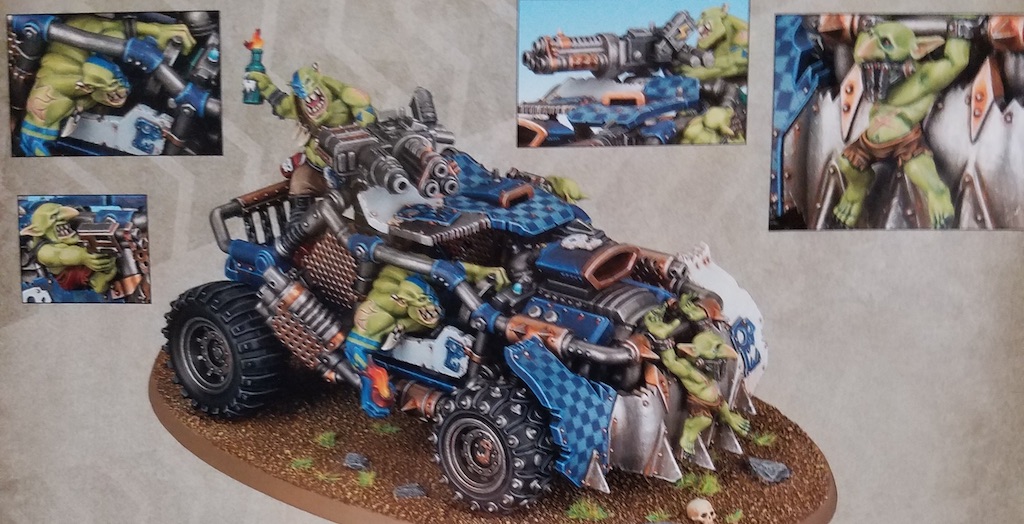 Next up we have some lovely details from the Boomdakka Snazwagon, which has multiple grots and orks–this is the pile-on Buggy. And Grot Max on the front there is clearly going to break free and pilot a Battlewagon later, but for now, that Mek Speshul on the turret and the little grot gunner hanging off the side are pretty sweet.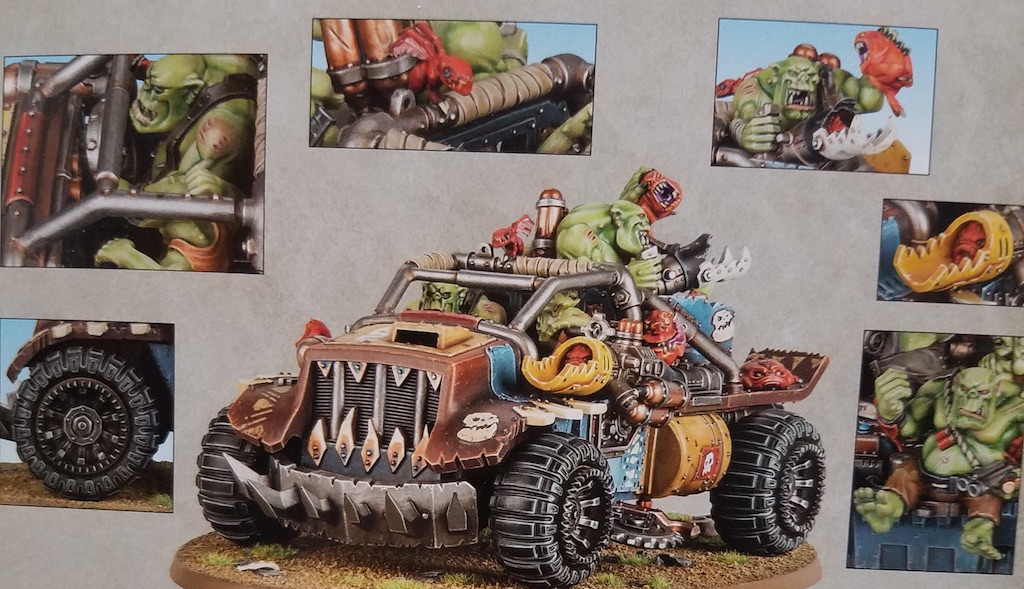 There is a lot to love about the Rukkatrukk Squigbuggy. I'm not sure what my favorite detail is–of course we have the Squigs of multiple variety, including a winged squig, who are hopping around on every surface of this thing, and the tires look pretty cool, but I think the best detail is the fat little Ork who's riding shotgun on the side there. That's pretty amazing.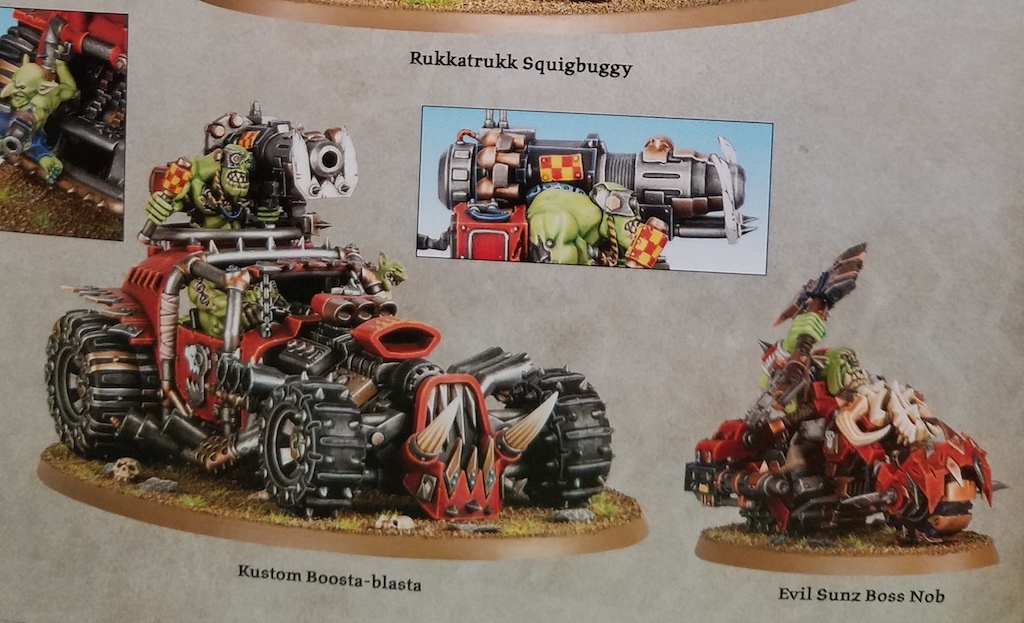 And we've seen the Kustom Boosta-Blasta before, but let's get up close with the grot gunner hanging on the side there, and the rivet kannon, ready to spit hot death on any who get too close.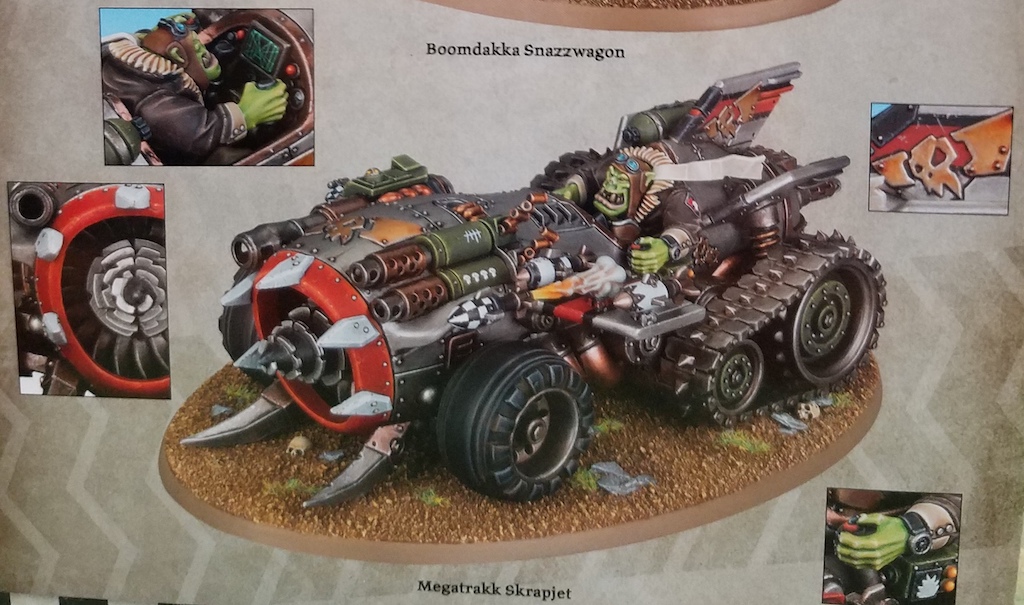 Finally we have some great details on the Megatrakk Scrapjet, piloted by a Flyboy who hasn't given up his dream of speed–and who from the look of things is starting his run on the Death Star's trench.
Which of these details is the orkiest?