'Tis the season friends, the season for value–get your Black Friday deals list here.
Nothing says 'it's time for the holidays' like an agreed upon day to sell things at less of a profit margin to artificially prop up the bottom line, because you've got to show your stockholders that you can in fact operate at a profit. And you may as well jam that in there on a single day that technically starts the day before and lasts until Tuesday the next week. Because nothing means anything unless we all decide it means something, and we're all tricked by the allure of this deal. Because remember folks, sales are all lies intended to trick us into buying things instead of just paying low prices all the time. So the upshot is, nothing means anything, the world is lies, but hey you may as well leverage that meaninglessness to save a few dollars on things you were hoping to buy. Here are a few ways you can buy in to the sales-mania:
The minds behind Infinity have a number of sales going on. Whether you're looking to get started playing Infinity, expand your army, or break into Aristeia, there's a lot to dig into:
And there's more deals than that, which you can find by clicking on their name up above. Corvus Belli is going all out this time 'round, so if you're looking to get into Infinity, this is honestly your best bet. We recommend grabbing one of the Sectorial Starter packs, they're a great way to try out some of the amazing thematic armies that Infinity has to offer, and they're even easier to build out from–you get a solid core and can supplement later.

Kromlech also has a weekend promo coming up, allowing for 20% off whatever it is you're after, whether it's some of their amazing orc bits, or fantastic terrain, there's a lot you can grab with a fantastic discount all around.
Hoo boy does Mantic have a lot on offer. Whether you're looking to get into Deadzone or Dreadball or Warpath, there's a bundle for you. Or if you'd prefer the Walking Dead, Dungeon Saga, or Kings of War? Look no further, it's all here.
SCI-FI BUNDLES
We've got a great selection of 'crazy' bundles that will be perfect for Deadzone players looking to start a force, Firefight players want to bolster their faction or Starfinder RPG fans that want to add miniatures to their games. From Friday you'll be able to get:
Enforcer Crazy Bundle (4 Defenders, 2 Medics, 10 Pathfinders, 2 DOG Drones and 2 Clear Plastic Jetbikes)
Plague Crazy Bundle (11 3rd Gens, 1st gen, 3 2nd Gens, 3 Plague Hounds, 2 Plague Swarm and 2 Teratons)
Asterian Crazy Bundle (Overseer, 12 Cyphers, 6 Wardens, 2 Primes and 3 Sky Razors)
All of the above cost £14.99/€17.99/$19.99 each. To accompany the sci-fi Crazy Bundles, there's also a Scenery Crazy Bundle that comes with five sprues of Battlezones scenery (mixing sci-fi and Red Brick terrain), plus connectors.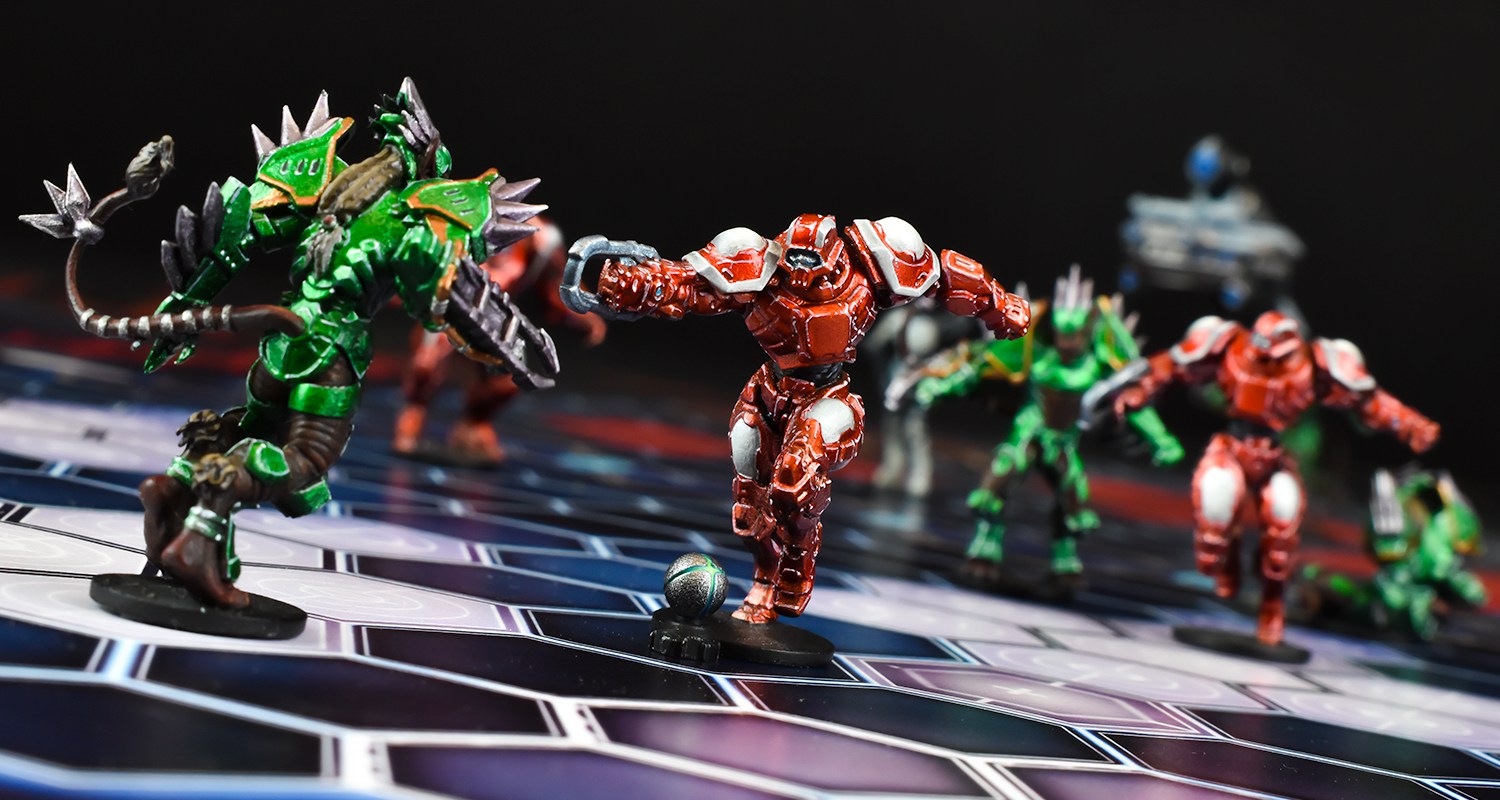 Following on from the DreadBall Xtreme and DreadBall Second Edition offers we mentioned yesterday, there are also some team offers going live from Friday too.
Matsudan Crazy Bundle – Matsudo Tectonics team, Blaine MVP, Kickstarter Exclusive Captains (Raiden, Frank Burke, Romeo Blue and Na'Huatl) and Kickstarter Exclusive Coaches (Fergus and Tracer)
Cyborgs Crazy Bundle – New Eden Revenants Team, Blaine MVP, Kickstarter Exclusive Captains (Raiden, Frank Burke, Romeo Blue and Na'Huatl) and Kickstarter Exclusive Coaches (Fergus and Tracer)
Yndij Crazy Bundle – Ninth Moon Tree Sharks Team, Blaine MVP, Kickstarter Exclusive Captains (Raiden, Frank Burke, Romeo Blue and Na'Huatl) and Kickstarter Exclusive Coaches (Fergus and Tracer)
Neobots Crazy Bundle – Draconis All-Stars Team, Blaine MVP, Kickstarter Exclusive Captains (Raiden, Frank Burke, Romeo Blue and Na'Huatl) and Kickstarter Exclusive Coaches (Fergus and Tracer)
All of the above will cost just £14.99/€17.99/$19.99 each. What's more, it's worth noting this is currently the only way to buy the Ninth Moon Tree Sharks and Draconis All-Stars without having to purchase the two-player starter set. You will need to get the Collector's Edition rulebook for the stats though, but that's on offer too.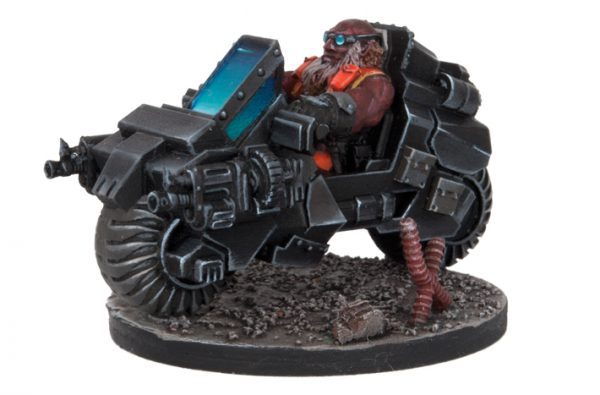 Finally, we've got a selection of much-requested items for Warpath that will be heading your way this Friday. Perfect for expanding your Warpath army or adding to your Deadzone reinforcements.
Marauder Commandos – still need more Marauders after Orcy's Mega Deal? This contains 10 Commandos and 5 Goblin Snipers
Rebs Troopers – join the rebellion with 10 Rebs Human Troopers, 10 Yndij and 5 Sorak
Plague Aberrations – why take 1 Aberration into the shower, when you can take 3?
Forge Father Valkyrs – you asked, so we've obliged. Finally, you can get the Forge Father bikes without having to buy more Deadzone boosters. You're welcome
Marauder Raptors – seems like orc vehicles are popular at the moment, so why not get three for less than a fiver each?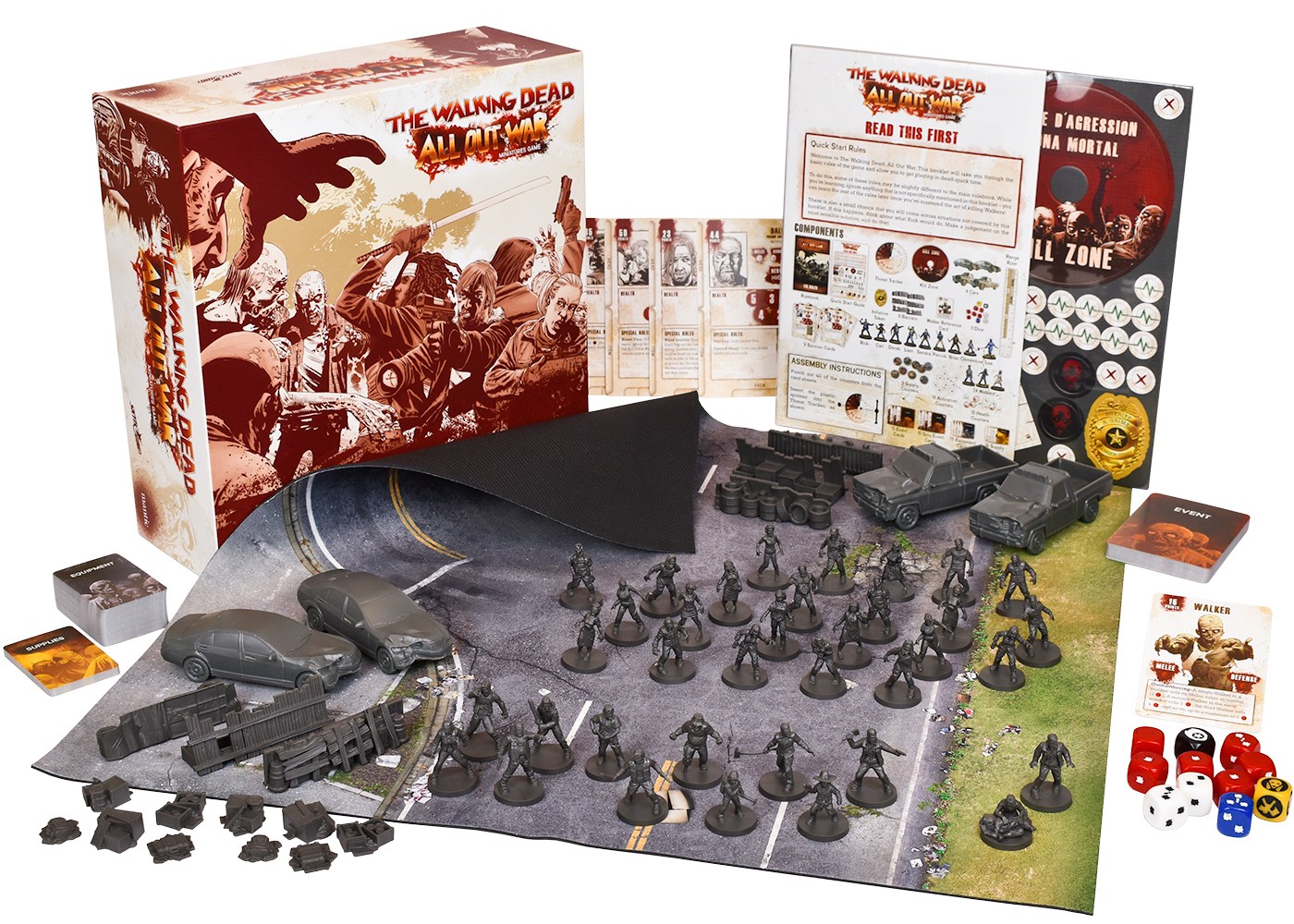 The Walking Dead: Collector's Edition (£49.99/€69.99/$79.99) – want to get into the Walking Dead? Don't know where to start? Well look no further than the Collector's Edition my curious friend. This contains the core game, plus a whole bunch of extras, like the solo-play Prelude to Woodbury, featuring the Governor! Also… between me and you this edition should set you up nicely for the new large battle rules, which are heading into testing early next year. Shhhhhhhhhh…
Walking Dead Deluxe Gaming Mats (£9.99/€12.49/$14.99) – while we're on the subject of The Walking Dead. We've got quite a few UNPACKAGED deluxe gaming mats, covering the Greene Family Farm, Prison and Woodbury (which just happen to be the ones you'll need after getting the Collector's Edition). In fact, the Greene Family Farm mat is perfect for a range of skirmish games, including small games of Vanguard, as it's basically a field.
The Tyrant of Halpi (£14.99/€17.99/$19.99) – pssssst, need a great big dragon for your Kings of War army or RPG sessions? Don't fancy paying a huge chunk of cash? Well, The Tyrant of Halpi Dungeon Saga expansion contains a whopping great dragon and during the Black Friday sale it's less than half price..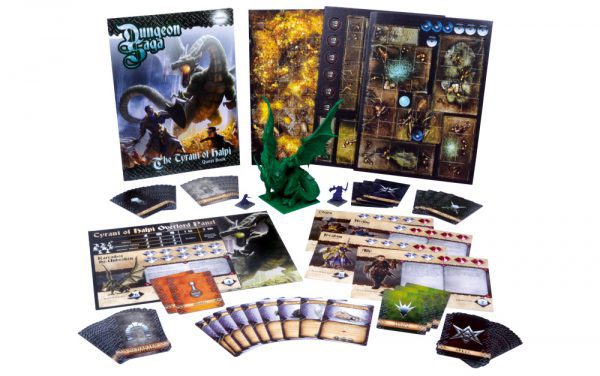 Infernal Crypts and Return of Valandor (£14.99/€17.99/$19.99) – talking of Dungeon Saga expansions. Has your eye been caught by Vanguard recently? Need some miniatures to try it out?Well, look no further than Infernal Crypts and Return of Valandor. Infernal Crypts has more than enough minis to put together a 200pt warband, which you'll be to create using stats from EasyArmy in December once they go up. Meanwhile, you can try a 100pt intro game with the undead minis in Return of Valandor and add some characters to your Kings of War army, with Valandor and Ba'el.
Kings of War books (various) – from Friday, we've got some craaaaaaaazy prices on Kings of War books. If you want to keep up to date with all the fluff from last year's summer campaign, then Edge of the Abyss and Clash of Kings 2018 are just £4.99/€7.99/$9.99 each. Talking of fluff… do you want to learn more about the Nightstalkers? Perhaps the Salamanders tickle your fancy? Well, great news because due to the fact we found a massive box in the warehouse, Uncharted Empires is £7.49/€8.99/$9.99 during the special offer season.
Warlord Games
These wargaming giants have a great deal of great deals as well. If you're looking to break into Bolt Action, this is your chance, with deals of 50% off select books awaiting you come Friday.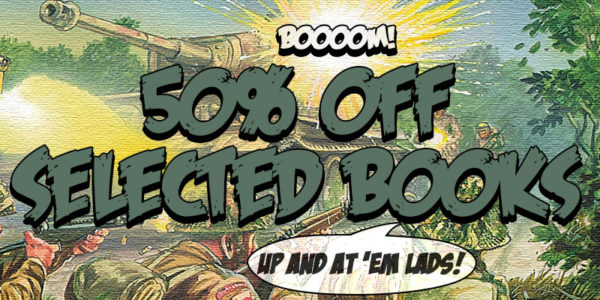 Fancy the derring do of Blood Red Skies? Here you go: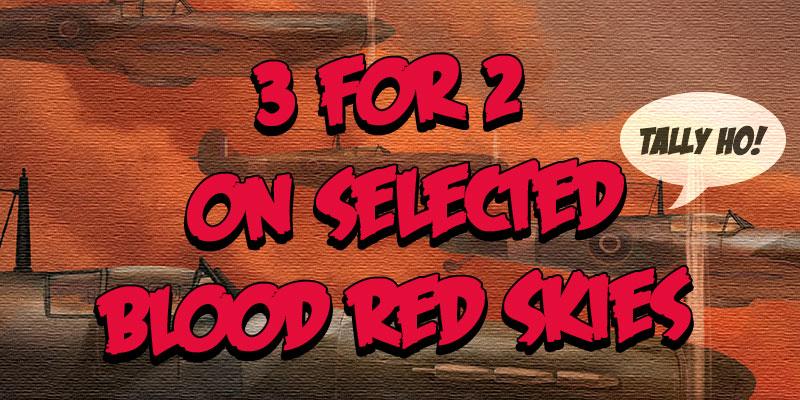 Or grab some amazing discounts on selected Plastic Sprues or Plastic/Resin Vehicles
Wyrd Games is having a special deal, including some exclusive releases, with some Wyrd-themed Unicorns and other friends clearing the way for the cavalcade of value: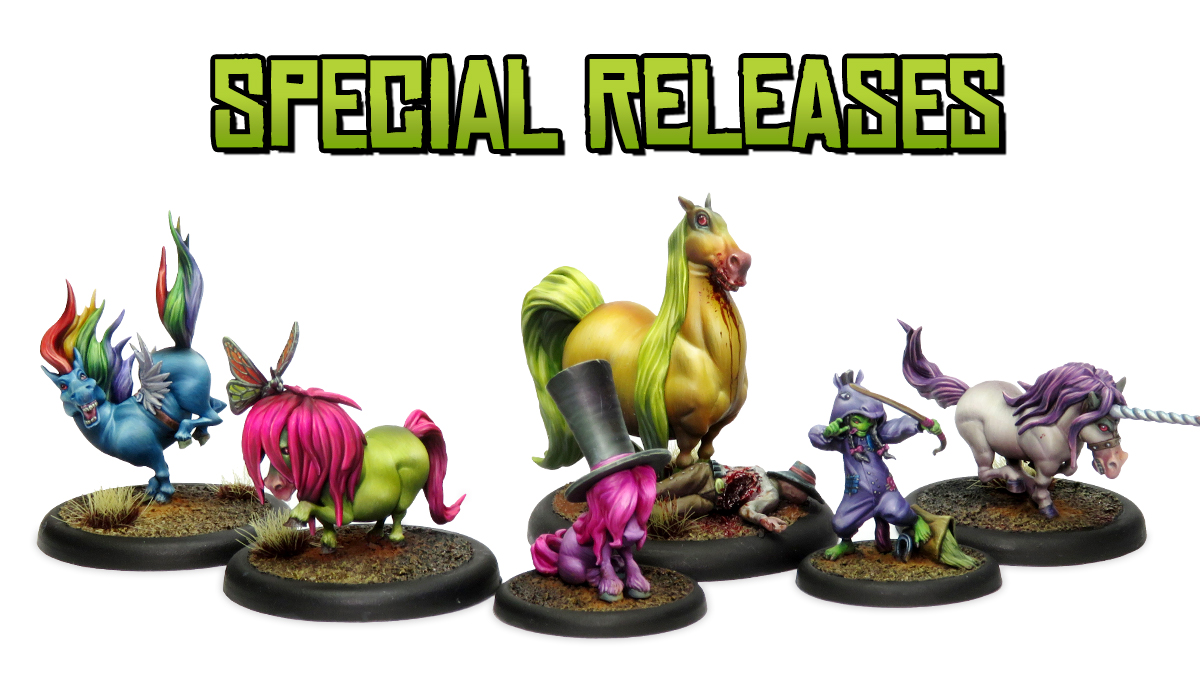 And what a cavalcade it is…

CMON
We close out our Black Friday (which is really Thursday-Tuesday because, again, nothing means anything) round-up with a look at CMON's specials.
CMON will be having a #BlackFriday Sale that lasts all the way until #CyberMonday. Get up to 80% off selected items! Make sure to check out our store to cash in on these incredible deals! https://t.co/oyKZVnwX5D pic.twitter.com/P7NVcv7tsO

— CMON (@CMONGames) November 14, 2018
Enjoy these savings, and whatever you play, may it bring you joy!