Grab yourself a new adventure for a good cause–written by Bart Carrol and many others on the D&D Team, the Lost Laboratory of Kwalish takes players to the Barrier Peaks in search of the legendary Inventor, and lets real life heroes support the Extra Life Charity at the same time.
Kwalish (of Apparatus fame) is a legendary arcane inventor, whose work has been lost to the world. Aside from his legendary Apparatus, which is just the tip of the iceberg for this scholar-cum-artificer, little is known about this once-great inventor. Much of his later work has been forgotten–but now, in this Adventure which supports Extra Life (and is available on the DM's Guild today) your party must brave the lost Daoine Gloine and seek out the mysterious inventor.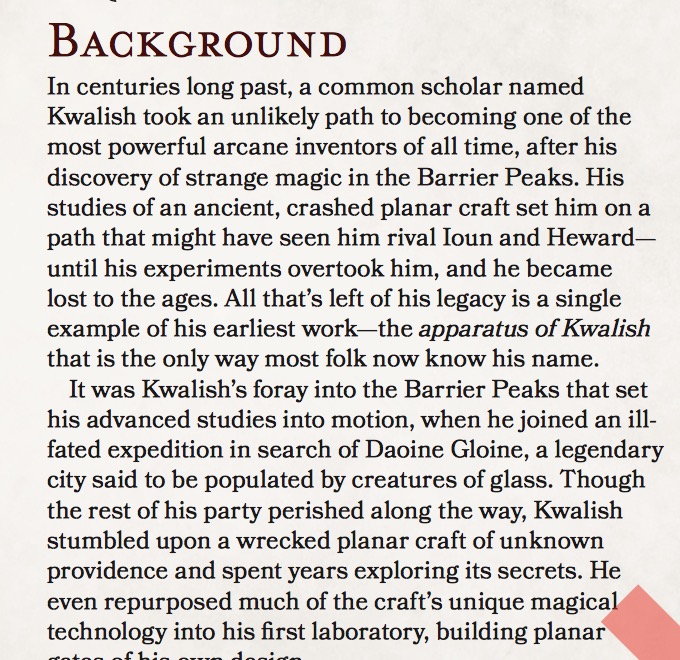 This adventure is full of character and charm. You can see it featured in the D&D Extra Life Streams if you want a taste of what you're in for–but it's a fantastic adventure for DMs looking to grab something to satisfy the explorers and roleplayers in their groups as well as the combat junkies. Make no mistake, there are some fun, if tough, fights in here, but what makes this adventure shine for me is the breadth of delightful NPCs that the characters can encounter.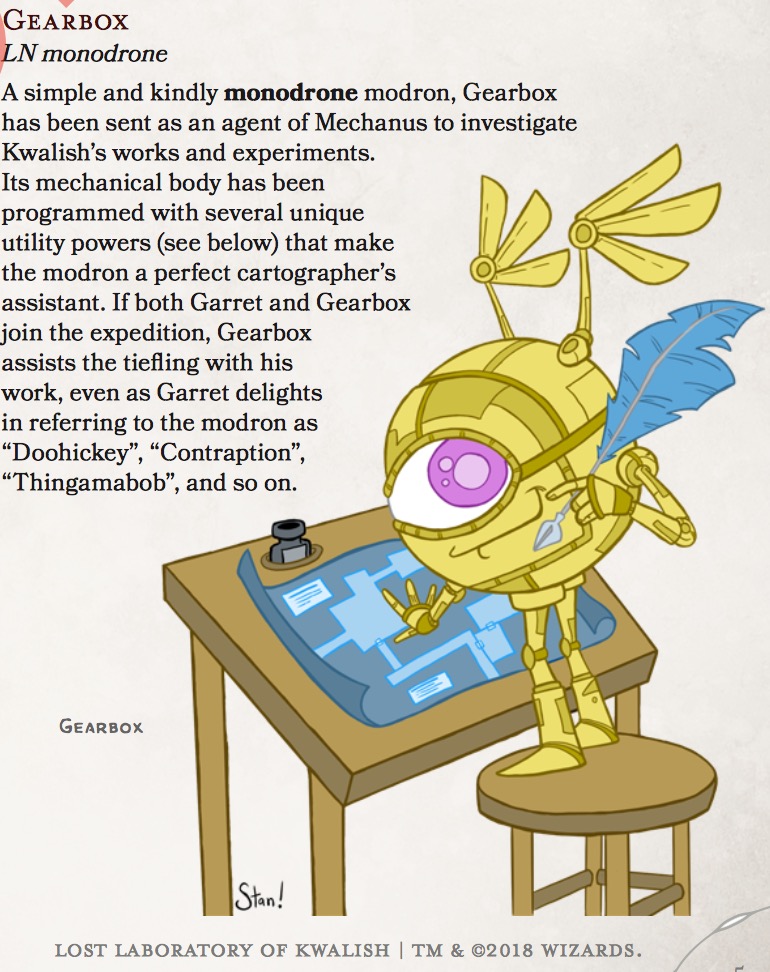 Your party might befriend a Monodrone Modron who has been tasked by Mechanus to find out what Kwalish's experiments are all about, and as such has been outfitted with several unique powers that make it a boon to any adventuring party. Or they might work with the duplicitous Lady Mary Greymalkin, who claims an impressive heritage, but who is also secretly her Cat familiar, while the human that players interact with is mostly a magical simulacrum and distraction.
This adventure is a fantastic homage tot he original Expedition to the Barrier Peaks, and features Jeremy Crawford's newly minted Power Armor which I won't spoil here, but you can check out in action online. This is a ton of fun to play through folks–and all monies that Wizards gets from this .pdf go towards Extra Life, so your adventure also contributes to making the world a better place. What better way to kick off your weekend than with an expedition to the Barrier Peaks in search of the Lost Laboratory of Kwalish.
via the DMs Guild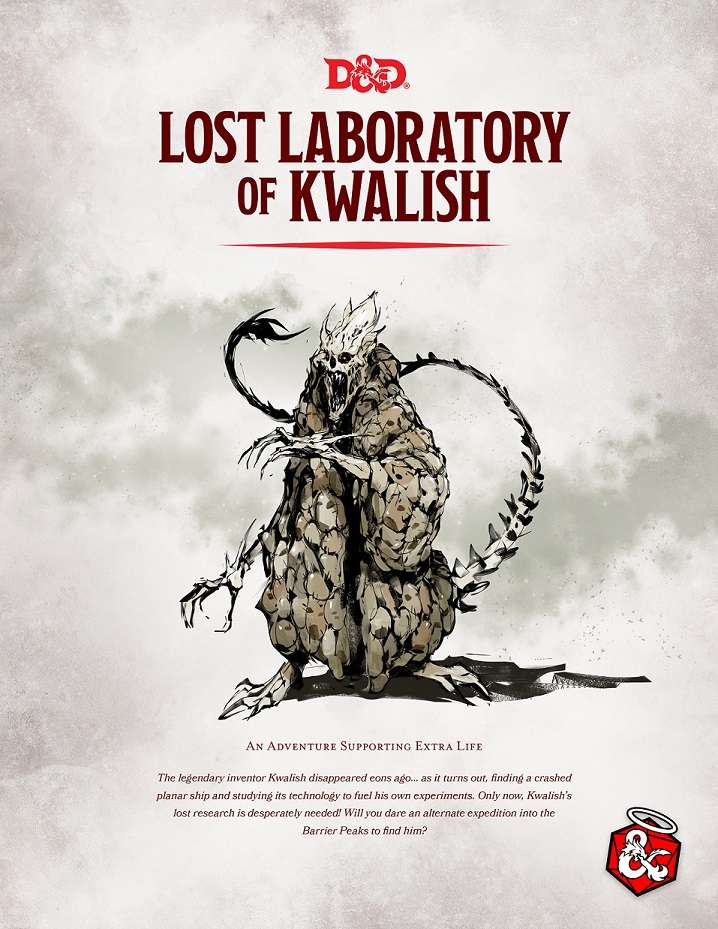 Lost Laboratory of Kwalish explores an alternate expedition into the Barrier Peaks. The legendary inventor disappeared in the peaks eons ago… as it turns out, finding a crashed planar ship and studying its technology to fuel his own experiments—only now, Kwalish's lost research is desperately needed!

For characters 5th-10th level.

This adventure explores two locations within the Barrier Peaks, and includes new monsters, magic items, and spells, plus sci-fi trinkets, random encounters, and even rumors of the area submitted by the player community! Further featuring new art, maps (from Claudio Pozas), and even a cartoon (from Jason Thompson)—as well as the famed suit of powered armor, as edited by Jeremy Crawford on the Dragon+ livestream!

Best of all, all monies that Wizards of the Coast receives from sales of this PDF are donated to Extra Life. Your purchase of this adventure goes to a truly great cause!

In addition, we were honored to include some content designed with Laurence Withey in this adventure. We hope the material presented brings his character – the wizard Galder – to D&D tables around the world.

About Extra Life:

Extra Life unites thousands of gamers around the world to play games in support of their local Children's Miracle Network Hospital. Since its inception in 2008, Extra Life has raised more than $30 million for sick and injured kids. Sign up today and dedicate a day of play for kids in your community!
Happy Adventuring!