Fantasy Flight Games has a new preview for Star Wars: Destiny out and it's heavily focusing on the mods you can add to your deck. Come check out all the new previews for the newest set Across The Galaxy.
Star Wars: Destiny is the collectible card and dice game from FFG and there is a new set on the way soon called Across The Galaxy. We've already seen a few previews – one for the heroes and villains as well as another for Darth Vader. Today we're taking a closer look at the Mods you'll find in the set as well as a few other cards, too.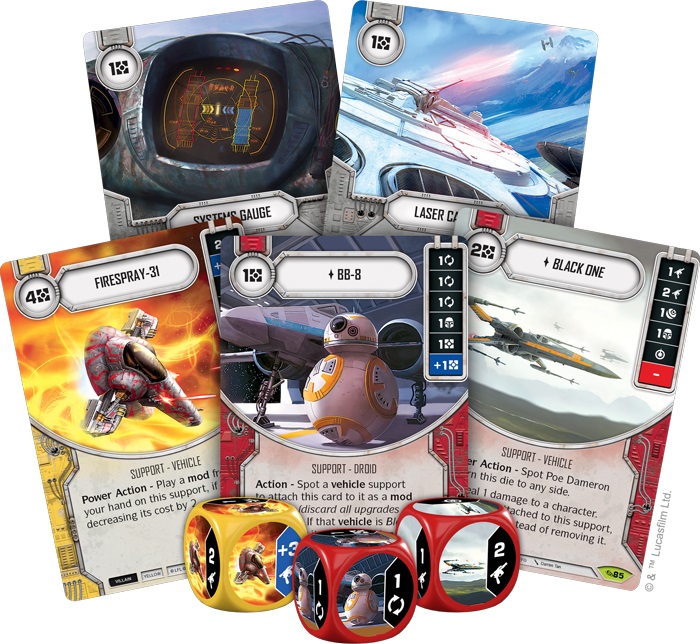 In the game, mods are essentially upgrades for your supports, letting you roll out multiple dice or providing other abilities when you activate the attached card. In Across the Galaxy, mods are exclusively attached to vehicles, letting you customize some of the most famous ships in the Star Wars saga!
Mount Up With Mods
Ships play a big role as they allow you to attach mods to them to make them even better. They are already extra dice in your pool and can trigger abilities, damage, or any of the numerous effects that dice generate. So let's take a look at three ships that are going to be included in this expansion set.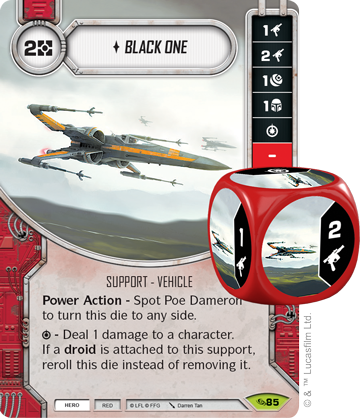 Black One is Poe's X-Wing. It's great when you combo it with Poe himself (who's available in the two-player starter set so he's easy to nab). Spotting Poe will allow you to turn this die to any facing. If you happen to have a droid attached to this ship (more on those below) then you can turn to the special facing, trigger the damage and then re-roll the die – essentially getting to activate it twice.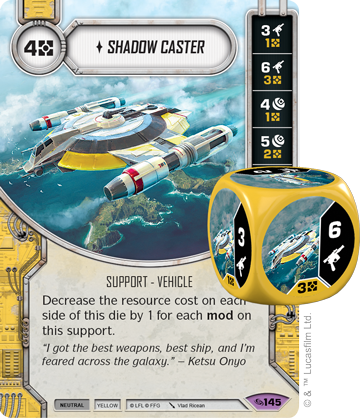 The Shadow Caster is another vehicle that packs quite a punch (if you've got the resources to spend). However, if you're running a mod-heavy deck, you'll find that price starts to drop quite a bit and the Shadow Caster becomes one nasty ship to tangle with. Plus it's a neutral card – this merc will work for either side…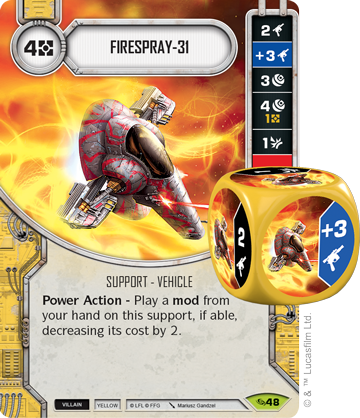 The Firespray-31 is the final ship we're previewing and it allows you to play it an immediately play a mod on it, decreasing the cost by 2. Mods aren't free – anything that knocks their price down helps.
Droids Ride Shotgun
Droids of all shapes and sizes are useful in your deck, double if you're running any ships/vehicles. Let's meet three droids you can count on in a pinch.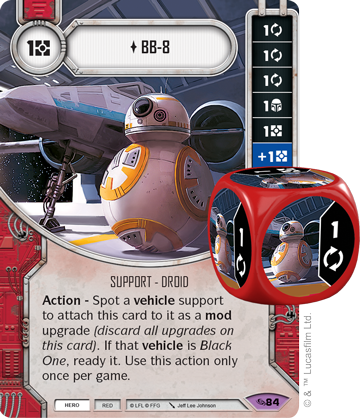 BB-8 is a good buddy for Poe and Black One. Not only does BB-8 allow you to ready Black One immediately after attaching, the die is just really useful! With 1/2 of the results a Focus – you'll be able to reliably get the die facings you want. And the other options aren't bad either.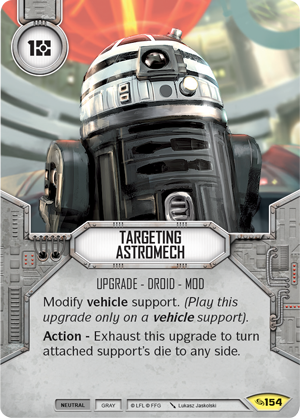 The Targeting Astromech is another Droid who can work on a vehicle – relatively cheap, it adds the action to Exhaust this upgrade to turn the attached support card's die to any side, essentially netting you a free Focus ability on your turn.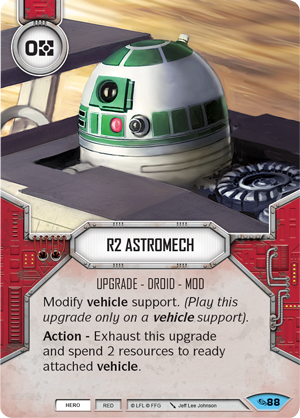 The R2 Astromech again attaches to a vehicle support. This ability isn't free but it can be pretty powerful because it allows you to spend 2 resources to ready the attached vehicle. Do you want to spend to resources to go again? Yes, please!
Random Musings
FFG teased a few other cards in their preview so, just for completeness sake, we're showing them off here as well: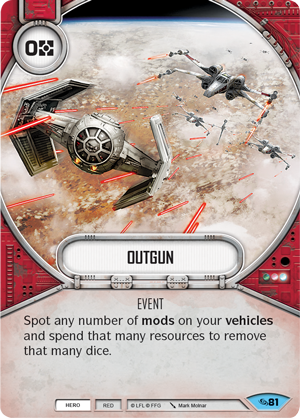 Outgun is an event that capitalizes on all those mods on your vehicles. Turn those mod cards into die removal options and leave your opponent helpless for the turn!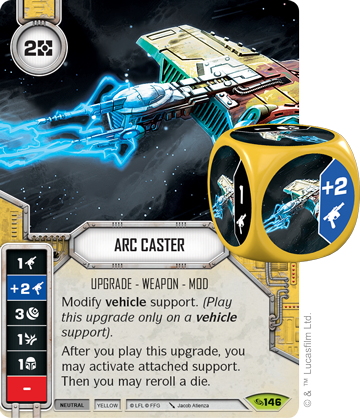 The Arc Caster is a Weapon Mod that attaches to a vehicle. It's got some decent damage options as well as a Disrupt or Shield facing. Also, when you play this card you can activate the attached support plus you can reroll a die. It's not a bad all around card to use.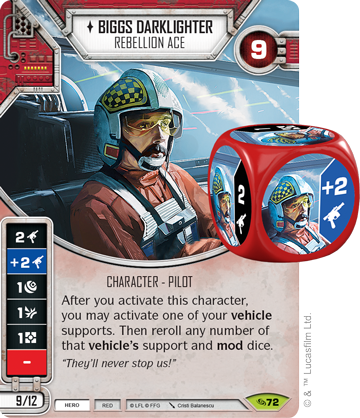 And finally we get a look at Biggs Darklighter who works well with Ships and Mods (which was probably the reason he was included with this preview). Getting to re-roll dice and having an okay die isn't bad. Biggs is a solid wingman to have flying with another character.
That's all for this preview. Across The Galaxy is up for "late Pre-Order" from FFG right now – which probably means it's on it's way to stores relatively soon.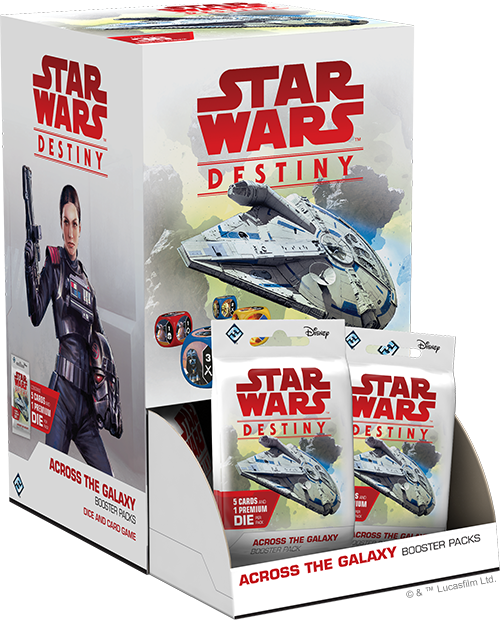 Across the Galaxy brings the characters of Solo: A Star Wars Story to Star Wars: Destiny. Before he was a hero of the Rebellion, Han Solo was a cocky young pirate just looking for a little adventure. With a crew of like-minded individuals that includes Lando Calrissian and Tobias Beckett, the dashing young rogue finds his way to Star Wars: Destiny.

Across the Galaxy finishes the block started by Legacies and expands on its themes. Look for Plot Cards with negative point values, cards that grow stronger when you spot specific characters, and new ways to upgrade some of the most famous vehicles in the galaxy.
Happy Beeps!