Star Wars: Legion fans – get ready for a very important guest. The Emperor is coming. I hope you're prepared.
If there was one super-hero on the tabletop in Star Wars, I would think that it would be a Force User. Well, that would mean that the Emperor IS a super villain. And judging from the preview from FFG, he's certainly both super and a villain.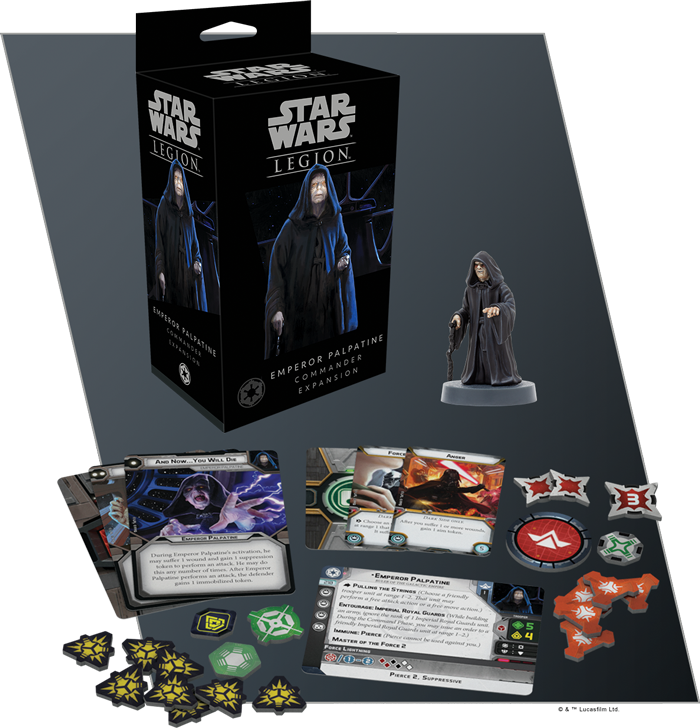 Although he does not often appear on the battlefield, Emperor Palpatine's mere presence is enough to change the tone of a battle. As the ruler of the Galactic Empire, he exemplifies the Empire's tendency to concentrate power in expensive units that can pack a punch. In fact, at 210 points, Emperor Palpatine is the most expensive Star Wars: Legion unit thus far, costing more than an AT-ST or even the fearsome Darth Vader.
Pricey? Absolutely! But in order to help compensate for that you DO get to ignore the rank of one unit of Imperial Royal Guards. Power does come with privilege.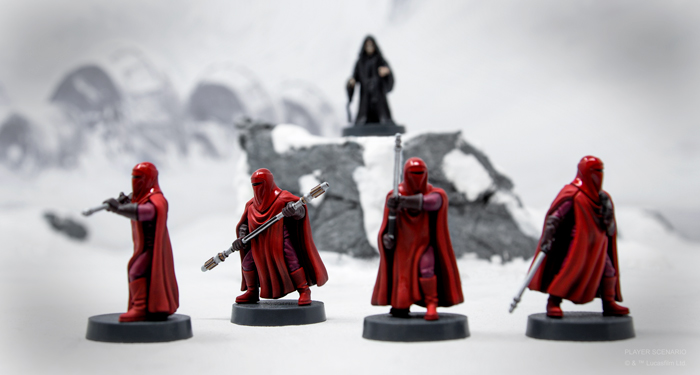 So what else makes this one model so costly? Well take a look at the abilities this guy brings to the tabletop!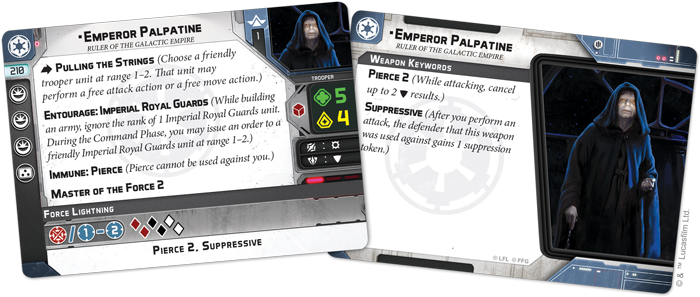 Pulling the Strings allows you to give a unit a free attack action or a free move action. We've mentioned the Entourage benefit, and he's immune to Pierce! He's also a Master of the Force 2 – he gets to ready two Force Upgrade cards during the End Phase. That means you can active cards like Force Choke or Anger and still ready them for next turn: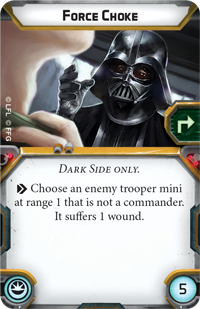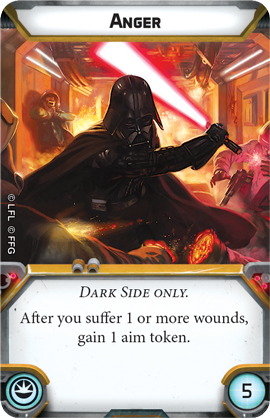 Also, he's packing freaking Force Lightning! 6 dice, range 1-2, Pierce 2 AND Suppressive? He's going to cook whatever he targets.
Oh and of course he's a Commander so he comes with 3 unique Command Cards: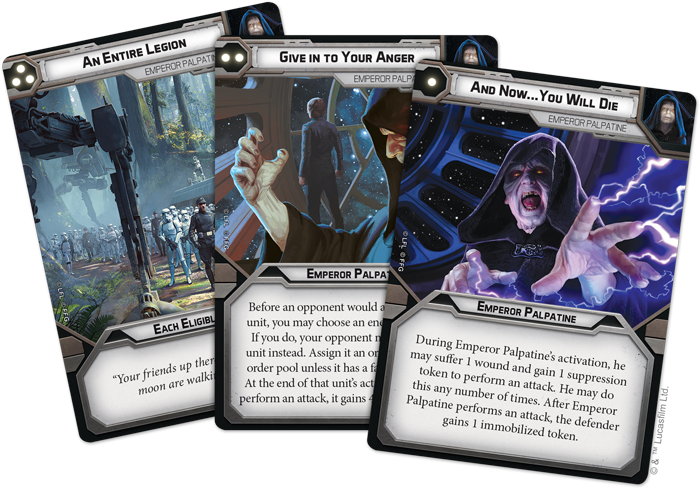 And Now…You Will Die is potent. Take a wound, get a suppression and perform an attack. You can do that as many times as you want. That could reshape the game if the Emperor decides to unleash his attacks at multiple targets!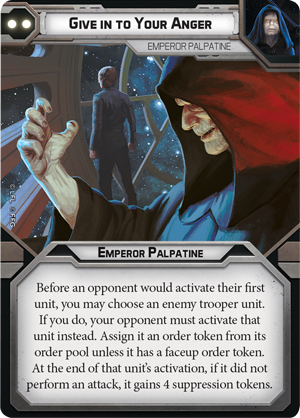 Give In To Your Anger is another card that will mess with your opponents – it forces them to activate a unit of your choosing. And if it doesn't attack, it gains 4 suppression tokens. That could cause that unit to run from the fight! But really when it comes to manipulating the battle how you want, this card is perfect.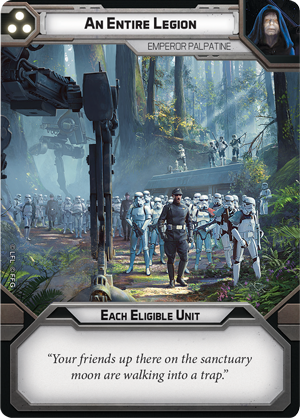 So if you've ever wanted to just activate everything at once – here's your card! It probably won't get you priority for the turn, but who cares?! You'll get to activate ALL eligible units – use this when you need to swing for the fence.
Emperor Palpatine Commander Expansion $12.95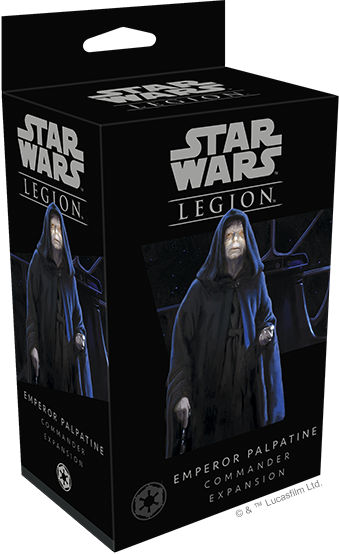 The Galactic Empire encompasses countless star systems, ruling over the galaxy with an iron fist and sitting at its head is Emperor Palpatine. As the ultimate ruler of the Empire, all bow before him, even the fearsome Darth Vader. A brilliant manipulator who almost singlehandedly orchestrated the fall of the Jedi order and his own rise to power, the Emperor makes a perfect addition to Star Wars: Legion as a commander of the Imperial forces.

Within the Emperor Palpatine Commander Expansion you'll find everything you need to add Emperor Palpatine to your army as a commander—leading the Imperial forces on his own or alongside another Imperial commander such as his apprentice, Darth Vader. A single unpainted, easily assembled miniature depicts a cloaked Emperor Palpatine plotting his next move, while three upgrade cards allow you to tap into his mastery of the Dark Side of the Force. Finally, three new command cards give you more options for determining your battle plans, letting you make use of the Emperor's abilities as a master strategist.
The Emperor is set to arrive in the 4th Quarter of 2018. I hope you're ready…