So you've got your hands on Wrath and Rapture (or maybe you are hoping for one for the holidays) – but do you have a plan of where to go next? There's a lot of options to choose from so here's a few recommendations from us!
Wrath and Rapture is out now and it's a pretty amazing deal. It's 6 armies in one box as you can play a Khorne, Slaanesh, or Daemons of Chaos army for either 40k or AoS. However, while it's a great place to start, it's not where you want to finish that army. So we've got a few recommendations on where you can take that core and go to next. Now, for the sake of brevity, we're going to assume you have all the books and supplements you need. We're skipping straight to the good stuff – the models!
A few more assumption as well – we're going to assume you want to play a mixed daemons army. If you just want to focus on Khorne or Slaanesh, well, you have a much more limited pool to choose from so it becomes pretty simple (pick units you like and go). That said, when you introduce all four of the chaos gods into one army it can get pretty overwhelming and that's what this guide is here for – to help you make some wise purchases. We're also going to assume you're going to want to stick with just Khorne and Slaanesh (for now). As your appetite for chaos grows, and you want to expand into the other gods, just get the start collecting boxes as you can build-up from there.

Seriously, you could just buy one of each and have a really good core for a Chaos Daemon build. Just add Daemon Princes to taste.
One last thing: we're sticking with chaos daemons only. No extra mortal followers. We want the army to be usable in both 40k and AoS and some of the god specific mortals don't translate from game to game. Sound good? I know that's a lot of ground rules but it's going to be simpler to talk shop if we're all on the same page. Now, on to the shopping list! First stop, HQ options.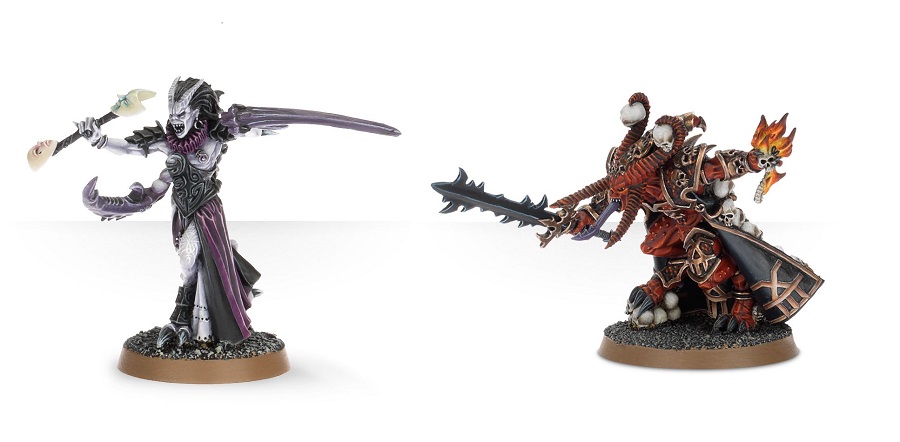 Both of these options are "named" characters and are pretty useful in your army as HQ/Hero options for either system. If you're looking for characters to fill the ranks both or either of these could work. If you're looking to save some points, you could also go with the Heralds of Slaanesh or Khorne. That might be a better option in some cases due to availability. Also Heralds are kind of amazing if you use them correctly in either system.
HQ Slot Recommendations: Masque, Skulltaker, or Heralds.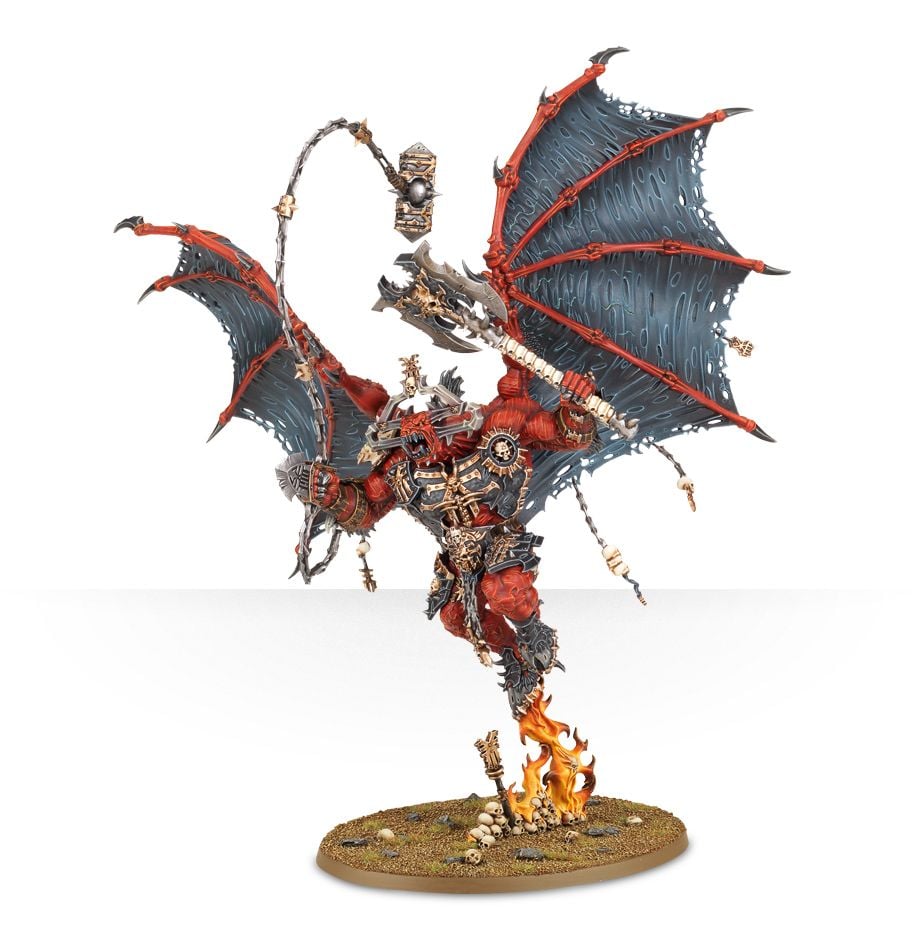 As a nice, big centerpiece model the Bloodthirster or Skarbrand would be excellent. The Bloodthirster also has a few different options depending on how you want to load them out. Look – we're not recommending the Keeper of Secrets in this slot because, well, that model sucks. It's pretty old and if the rumors are true, we might be seeing a new one next year. You don't have to buy a Bloodthirster, but if you want a "show stopper" this is pretty much the way to go.
Centerpeice Model: Bloodthirster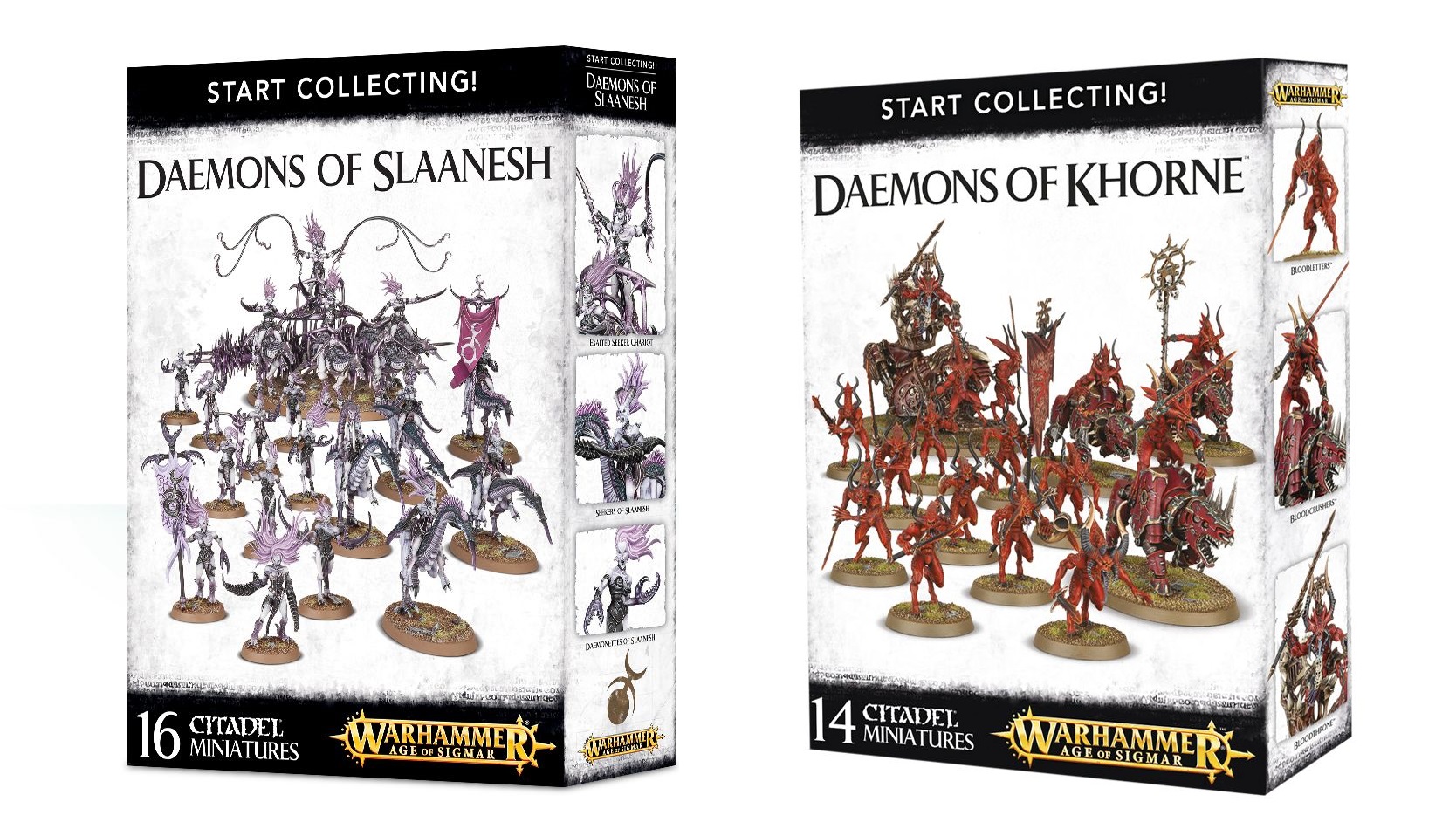 I was going to go into the finer points of the Slaanesh Chariot or the Skullcannon, but honestly, these boxes have everything else you need (if you're planning to run both). More basic troops to help fill out squad sizes (daemonettes and bloodletters), more cavalry units for ones you already have (seekers and bloodcrushers) and the two chariot type units. Plus, these are both great value bundles – you really can't go wrong here.
Need More Models: Start Collecting Offerings
Heck, you could just double-up on these boxes and run what you have in the Wrath and Rapture set. If you bought two of each, that would give you a really filled out roster and core consisting of:
30 Daemonettes
30 Bloodletters
9 Bloodcrushers
15 Seekers
2 Skullcannons
2 Seeker Chariots
5 Flesh hounds (new models)
3 Fiends of Slaanesh (new models)
Karanak, the Hound of Khorne
Infernal Enrapturess
Seriously that's a LOT of stuff to work with. All that with a couple Heralds backing stuff up and/or the Masque and Skulltaker? Yeah, that's a heck of a starting point.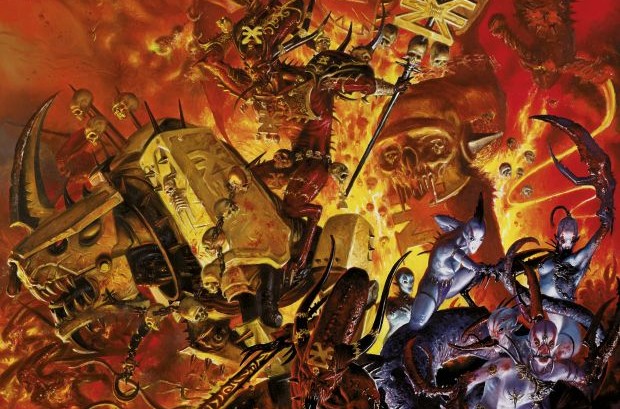 Chaos Daemons – Real Chat
Now, let's get real for a second: this isn't going to break the game. It's kind of a mash-up of random things at this point. But that's kind of what you get when you're opting to play a split daemon army. Also, you're playing Chaos Daemons – you'll probably have a much better time in AoS than 40k with his stuff right now. Chaos Daemons have an uphill fight either way you slice it, especially if you're limited yourself to Khorne "Mr. I don't like Magic/Psykers" and Slaanesh "I'm super fast but also super fragile."
In AoS the large blocks of Infantry can do better and Bloodletters can be one of the best close combat units in the game (with the right help). In 40k, you're probably going to get shot off the board in a few turns…but that's the nature of the game right now (sorry). Plus most of this stuff is designed for assault and unless you can get across the table quickly (in 40k) you're going to have a rough game ahead. But hey – you can play both systems for a reason, right!?
If I were going to go all in on a Chaos Daemon army that was both Slaanesh and Khorne, I'd get Wrath and Rapture and a Start Collecting box from each Slaanesh and Khorne. That'd be a $330 investment at that point. I'd also look at either buying some Heralds or converting them up (especially since getting a hold of the named characters is a chore). And unless I planned on picking up 6 Daemon Princes (which is totally a thing you can do, btw) I'd probably get the Bloodthrister or wait until the new Keeper of Secrets comes out (maybe one day).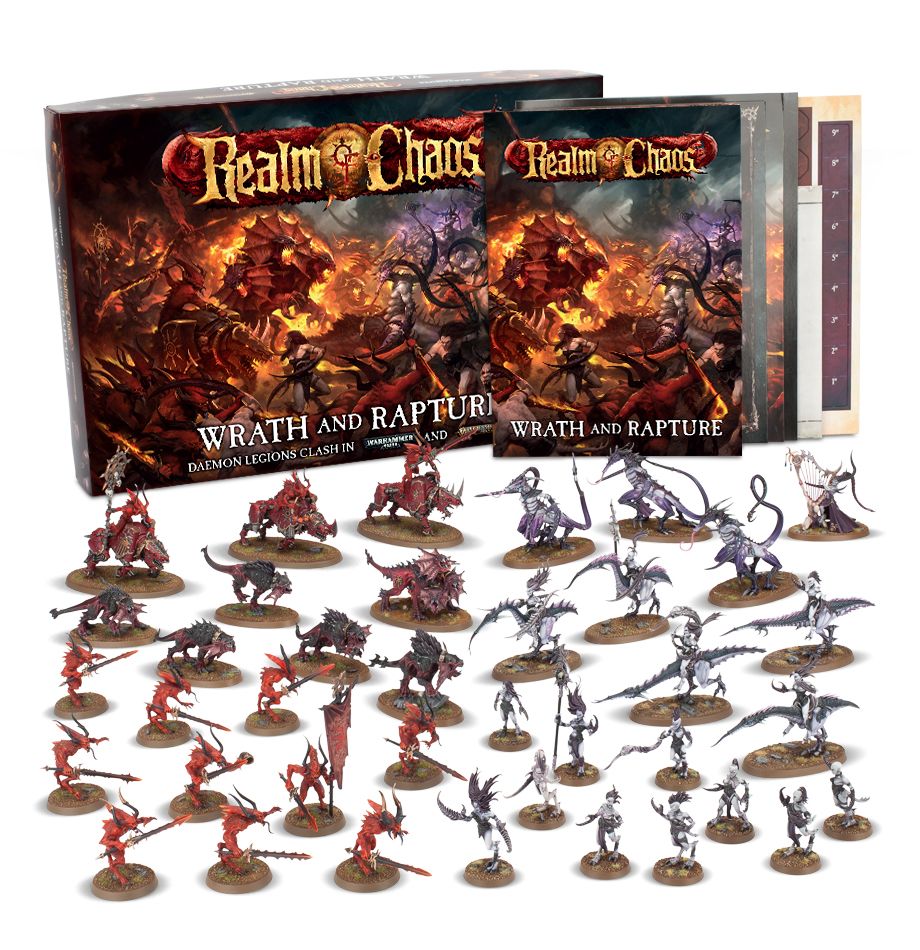 A mixed Khorne and Slaanesh army is doable but it ain't easy. IF you're going to pursue this army get prepared for a hard fought series of thumpings and lessons learned.
Just keep telling yourself "I just need to get into assault…"