Now's your chance to mess with your DM–with permission from Pat Rothfuss, Wil Wheaton, Mike Mearls, and a host of others. As Worldbuilders draws to a close, D&D's prizes get serious.
Author, raconteur, and D&D gadfly Pat Rothfuss, whose name might be familiar to you if you've read the first two books of the Kingkiller Chronicles helms up a massive charity drive each year. And this year, as the fundraising draws into its home stretch, your donations can win you boons for your D&D campaign designed by some of your favorite characters, fictional and factual. Want to take over as DM for a single minute, courtesy of Mike Mearls, or Rage because you'd like to, just like Grog out of Critical Role, or see what the good boys of the Adventure Zone can add to your campaign? Scroll on friends, scroll on.
via Worldbuilders
First though, let's talk about what Worldbuilders is. As mentioned, it's a charity started by Pat Rothfuss and carried on by a team of incredibly dedicated folks who partner with Heifer International to show what "geeks doing good" means.
Worldbuilders is a geek-centered nonprofit partnering with Heifer International to support humanitarian efforts worldwide, and this year marks our 10th anniversary!

100% of your donation goes right to Heifer,
whose programs help improve the lives of people all around the world.

Even better, for every $10 you donate, your name goes into a hat (it's a big hat) for a chance to win thousands of prizes, including signed or rare books, awesome games, collectibles, and other geekery donated by our awesome sponsors, geeks like yourself.

The fundraiser runs from November 27 to December 11, so join us and help build a better world!
Every ten dollars you donate gets you entered in a chance to win some truly outstanding prizes–you can follow the link above to find out. And D&D's entries this year are incredible. With the drive ending later tonight, it's the perfect time for a final push–and for you to win some characterful boons that you can use in your next Campaign. Let's take a look
As you may know, Pat loves playing D&D! (And other systems too, of course. But most of you have seen him playing Viari with Acq Inc, or Kerrek on Critical Role.)

This year he's reached out to the fabulous, large-hearted folks in the online roleplaying community to help bring some of their particular narrative magic into your game!

As a result, we have cards, tickets, coupons… No matter what you call them, they're single-use buffs from over 30 beloved GM's, designers, players, and characters. Enjoy boons and cameos from such notable folks as Jim Darkmagic (Acq Inc) Vax and Vex (Critical Roll) and Griffin McElroy (much abused GM).
These cards are amazing. If you're a fan of any of these shows–or know someone who is, they're totally worth entering for. My particular favorites are the Merle Highchurch Zone of Truth special, and the "VIP" all-access pass to a Jim Darkmagic show. I know too much about what a squirrely DM would do if I tried to redeem Mearls' one-minute of absolute power to wield it as irresponsibly as one ought. But the fact remains, these are an injection of levity and joy that any gamer can feel good about using.
The Adventure Zone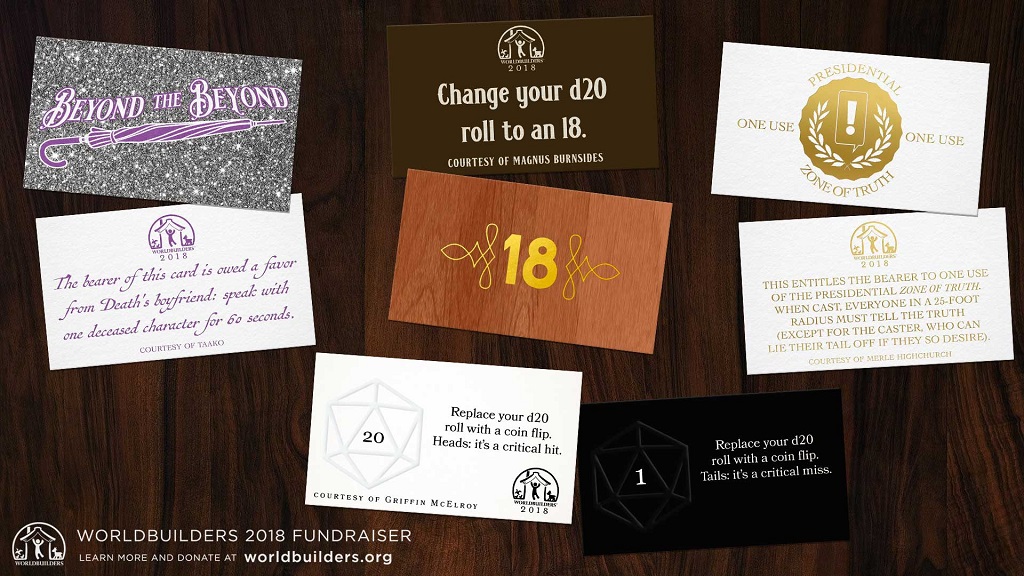 Tired of your DM never letting you get away with things? Well Tres Horny Boys have got you covered with some powerful boons.
Critical Role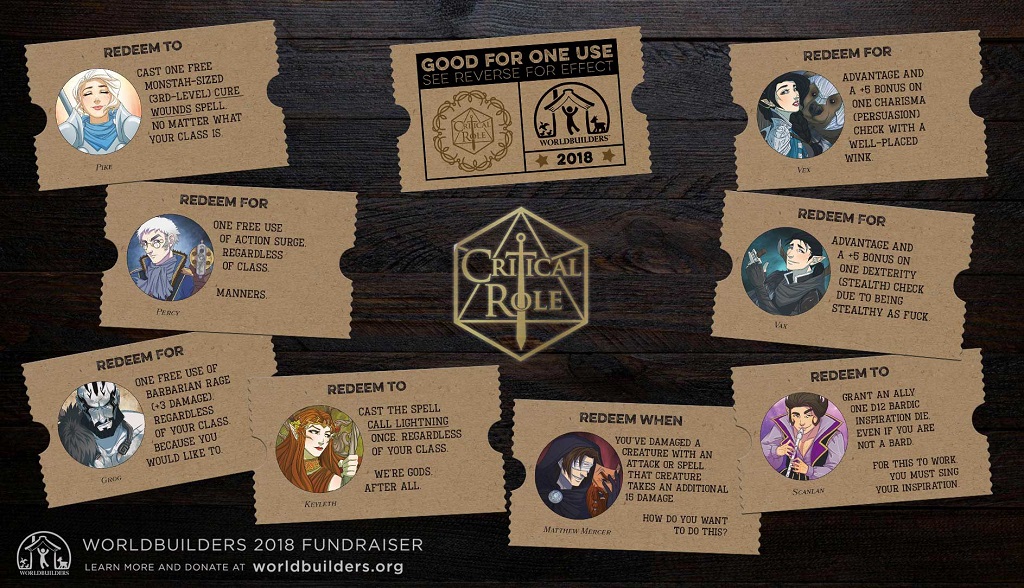 Or perhaps you'll let Vox Machina serve as the vox populi in your campaign, lending their strengths to your players.
Acquisitions Incorporated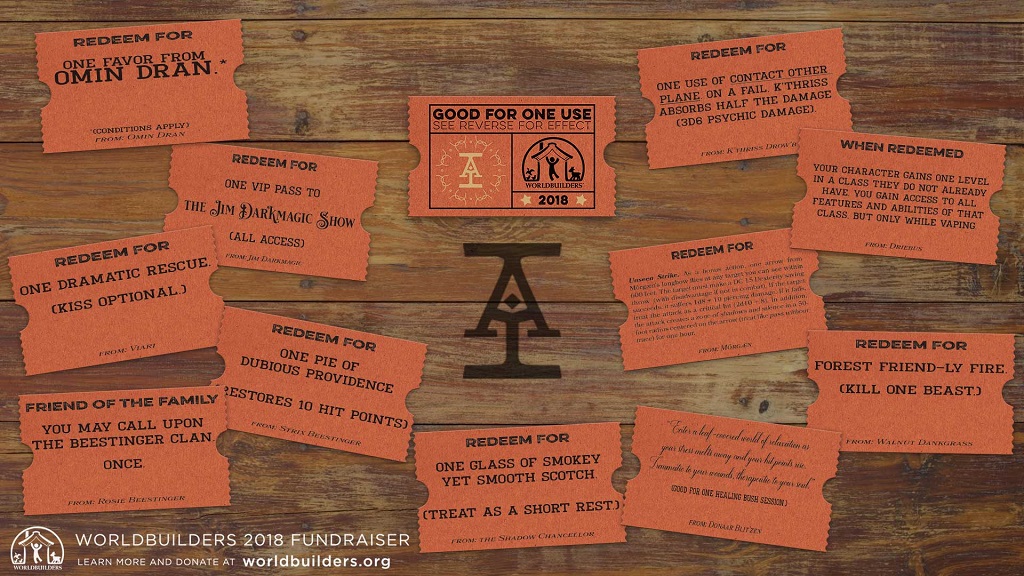 Nobody knows more about the business of adventuring than Acqusitions Incorporated–after all, they have franchises throughout the world. Whether you're looking for something from the faces of the franchise, or the C-Team, there's something for everyone, for a reasonable price.
D&D Official Team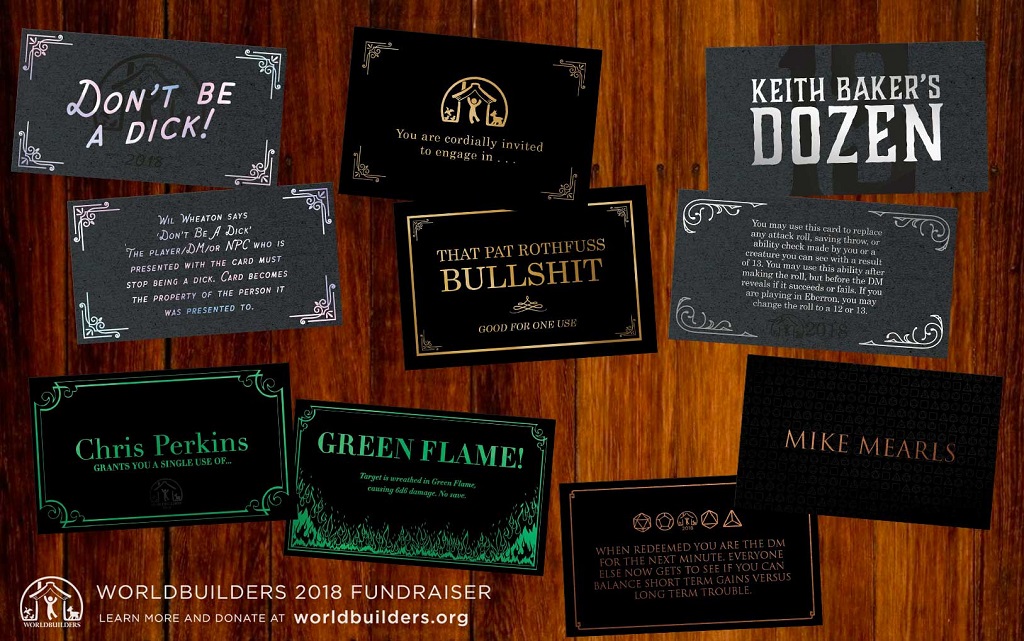 Of course, when even your favorite characters can't help you, it's time to pull out the big guns. Get help from Mike Mearls and Chris Perkins, even Keith Baker, designer of Eberron, along with Wil Wheaton and Pat Rothfuss, have the aid you'll want in your time of need.
All of this can be yours for one easy donation of $10. Who knows what treasures you'll unearth?
Happy Adventuring, heroes!