The Genestealer Cults have many tricks up their sleeves, including an Agents of Vect style counter-stratagem that can disrupt enemy plans. Come see this and the new faction rules inside!
Ascension day is at hand, with more rules for the Genestealer Cults being shown off. Today we've got a look at one of the Genestealer Cult's sneakiest stratagems, as well as their faction traits, so let's dive right in and see what new tricks they have up their sleeves.
via Warhammer Community
The Genestealer Cults, like any 8th Edition army with a Codex, will have their own factions–where the Astartes have Chapters and the Militarum have Regiments, they have Genesects and their Cult Creeds that reflect the differing beliefs and subcultures of each Cult (as well as the accompanying Warlord Trait, Relic, and Stratagem you'd expect). The Cult of the Four-Armed Emperor, for instance, is all about Ambushes and careful planning: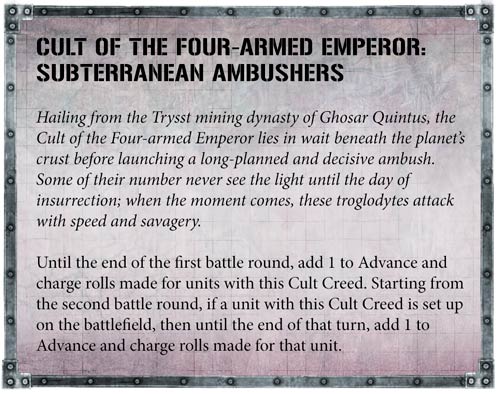 As you can see, they're all about getting into position and being able to take advantage of their ambush abilities. But wait, there's more. They also have their own version of Agents of Vect, which marks the first time this Stratagem has been repeated: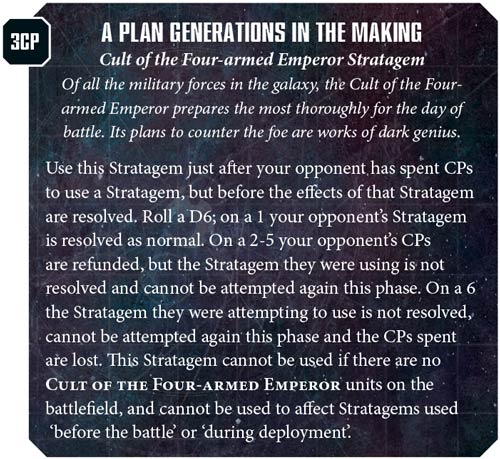 …right down to the errata that requires you to have a faction unit on the battlefield. This alone sets an interesting precedent. Agents of Vect has now gone from a unique thing for the Drukhari (and the Kabal of the Black Heart no less) to something that could be repeated across multiple armies–much like Stratagems that let you fight twice or shoot at things entering from Deepstrike. Does this mean we'll be seeing more armies with access to counterstrats?
We'll have to wait and see on that one. In the meantime, here are the rest of the Genesects' Creeds.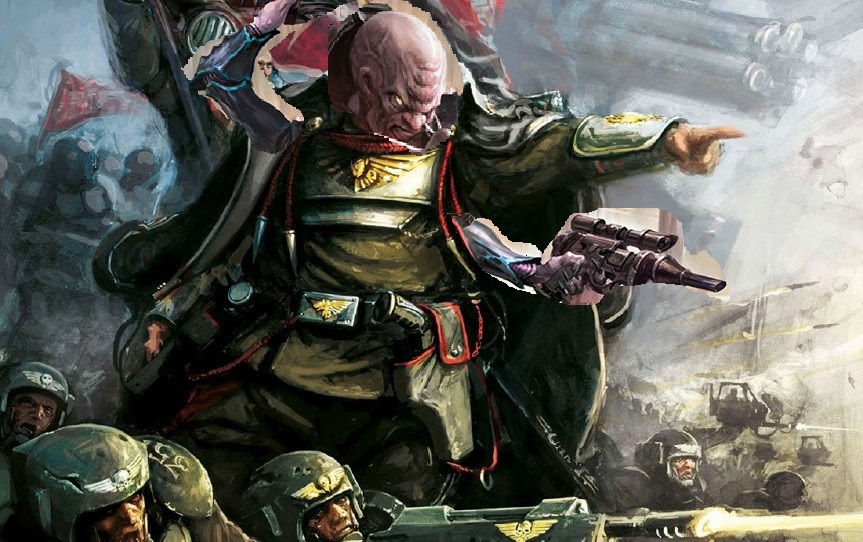 …not that kind of Creed.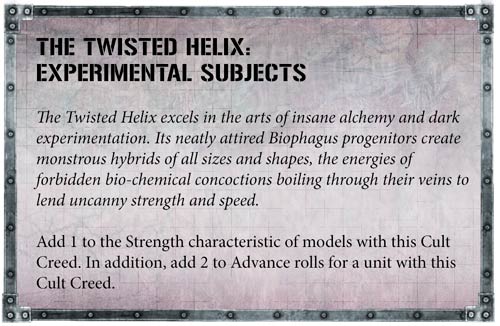 The Twisted Helix are all about getting into melee. Your Aberrants and Abominants will be absolutely devastating with their strengths boosted and then doubled with their power hammer (the Abominant weighs in at Strength 14). And combo that with their faction relic to squeeze an extra attack, point of toughness, and wound out of your heaviest hitters.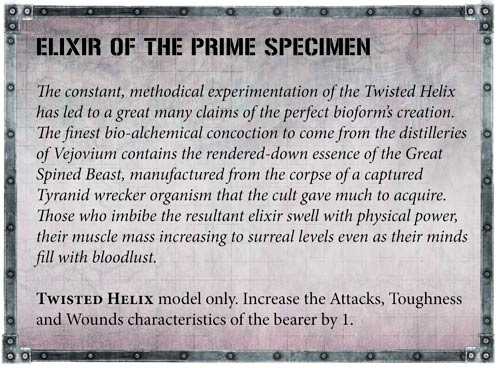 And if you really want to juice up your Abominant, combo that with might from Beyond and you'll be making 5 attacks at Strength 16, and dealing d6 (minimum 3) damage with each of them.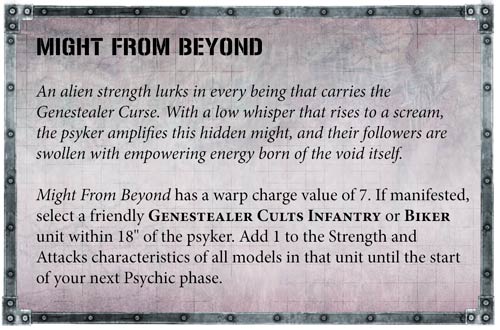 A little mini smash-captain, for sure. And then you've got the Pauper Princes, who are sneaking things up on Vigilus. These are all about hitting enemies on the charge: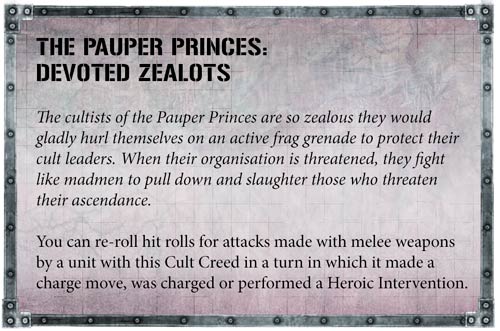 While the cultists of the Hivecult are more about discipline and bravery, losing fewer models to failed morale tests and still being able to fall back and shoot.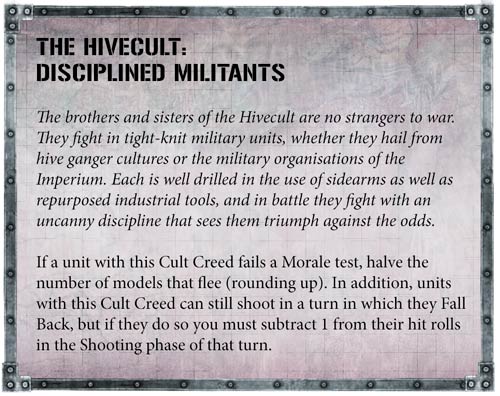 The Bladed Cog have a vaguely Mechanicus flavor to their cult with an Invulnerable Save and the ability to move and shoot heavy weapons freely: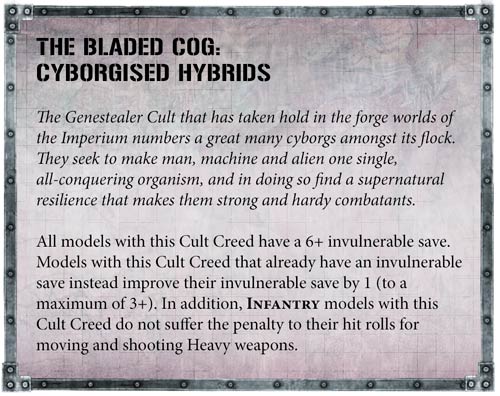 And for those of you who grew up riding Offroad Bikes and ATVs, there's the Nomadic Survivalists of the Rusted Claw, which will help you live out the Mad Max scenarios of your dreams.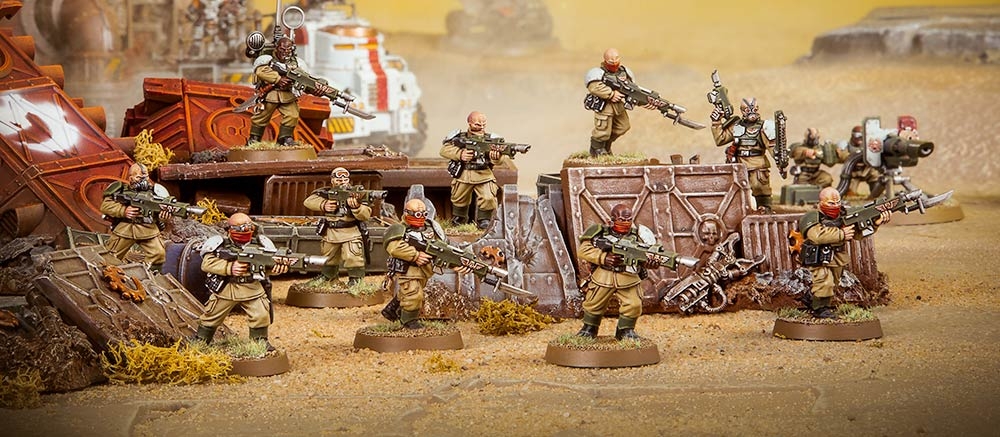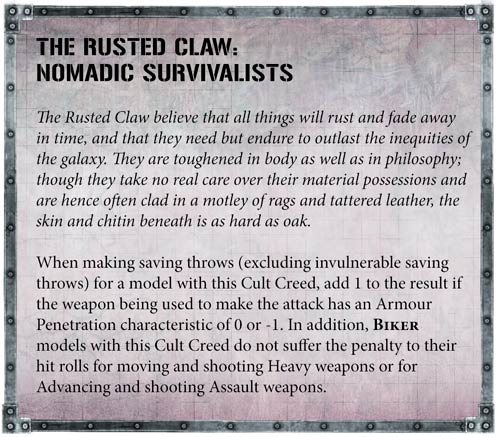 Add to these cults your Brood Brothers and Cult Sentinels and the like, and you've got the might of the Astra Militarum on your side as well. Here's how they'll work in the new Codex: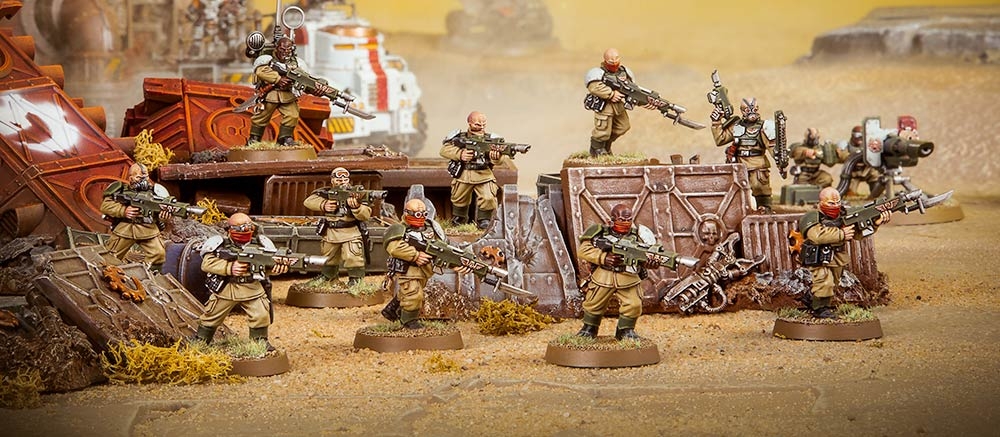 The most common of them form a direct part of the Genestealer Cults army, complete with their own datasheets – Brood Brothers Infantry and Heavy Weapons Squads, Cult Sentinels and Armoured Sentinels, Cult Chimeras and the Cult Leman Russ.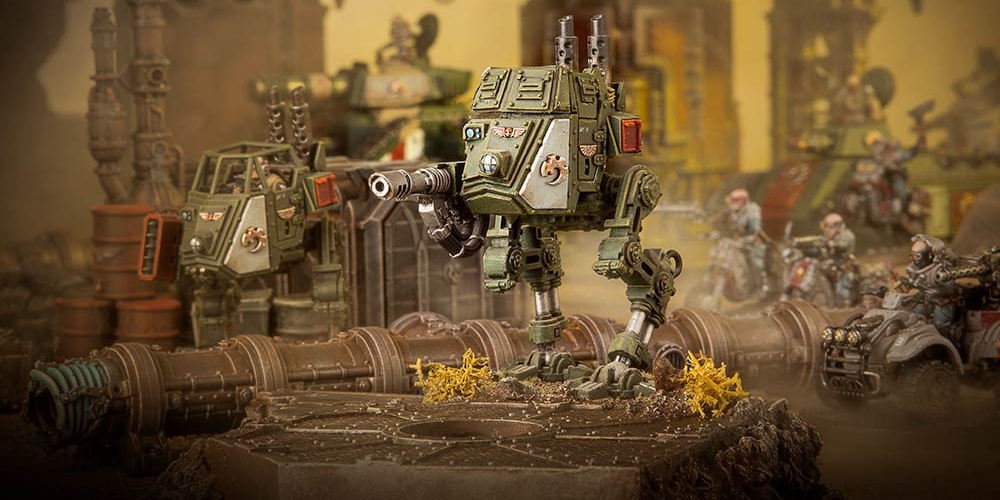 They form their own Brood Brothers Detachment, one of which can even be included in a matched play army for every Genestealer Cults Detachment. Instead of the Cult Creed shared by their Genestealer Cult brethren, Infantry units in Brood Brothers Detachments gain a bonus to their Leadership as well as the Unquestioning Loyalty ability (also featured in Part 1 of our rules preview series).
Well there you have it folks. It looks like the Genestealer Cults are coming out swinging.
What do you think of the changes? And what does another Agents of Vect herald for the game? Also how about those relics, right? Let us know what you think in the comments!