Games Workshop is showing off the contents of Urban Conquest. It's our best look yet at some of the contents inside the box. New terrain and teasers about the campaign ahead!
Urban Conquest looks to be a re-introduction of the Cities of Death style games along with a new, easy to implement campaign system. We are very interested in how this will play out and today Warhammer Community has given us yet another look at the stuff inside this campaign expansion.
"Today, we're continuing this week's coverage of Warhammer 40,000: Urban Conquest with an unboxing of the set itself:"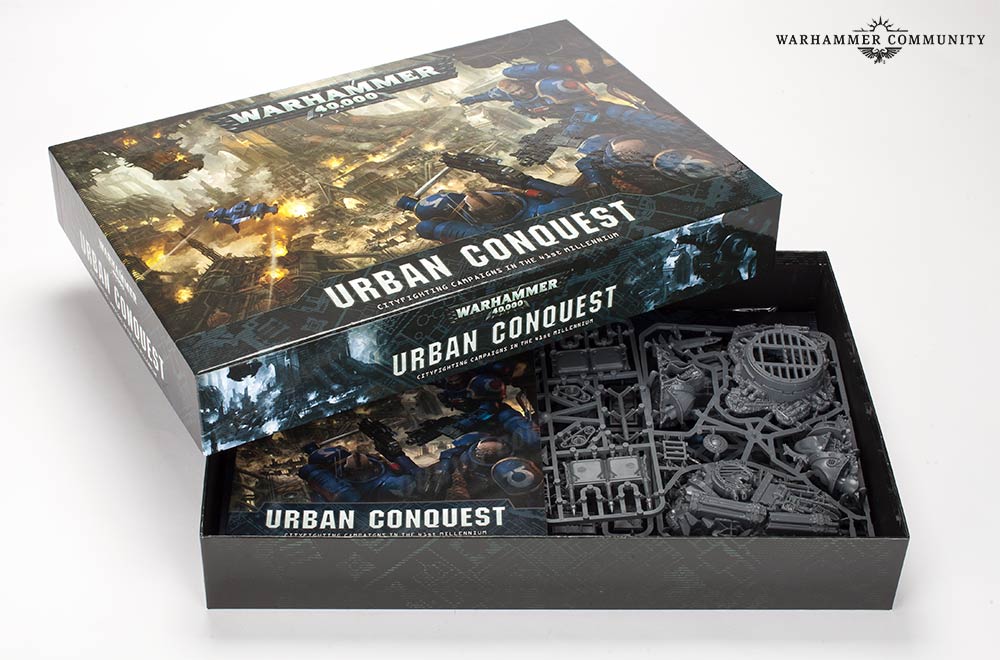 We know there will be another book/supplement in the box as well as some pretty interesting looking terrain.
The Terrain
And speaking of terrain, if we're honest, we're pretty glad to see a lot of the stuff in this set showing up.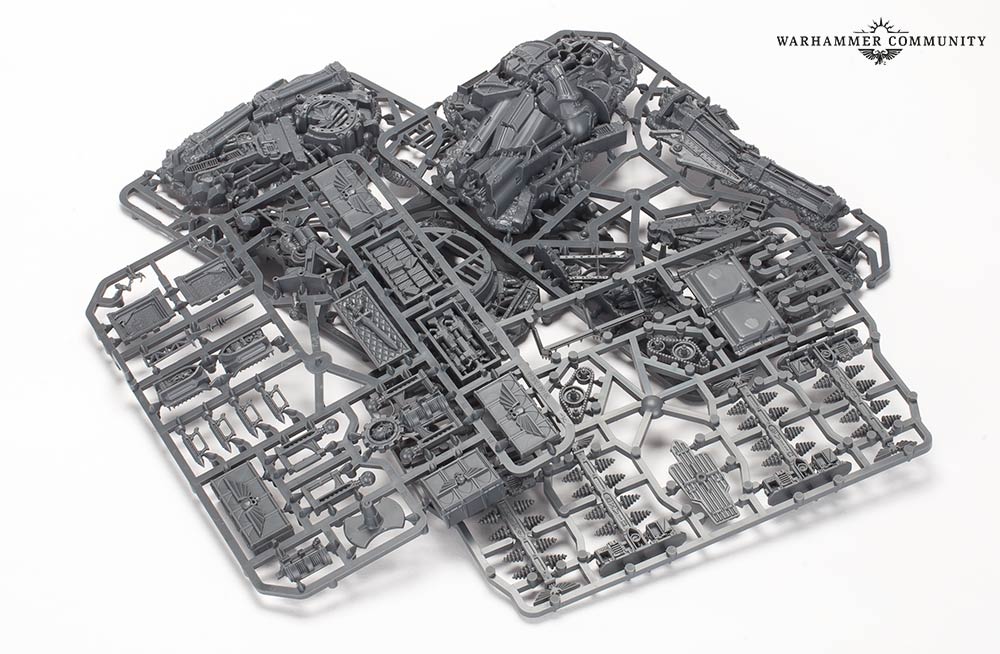 The broken rubble is great for sprucing up any table and it looks like it's straight from the Sector Imperialis set. Toppled statues and broken down walls are a great addition to anyone's existing terrain board.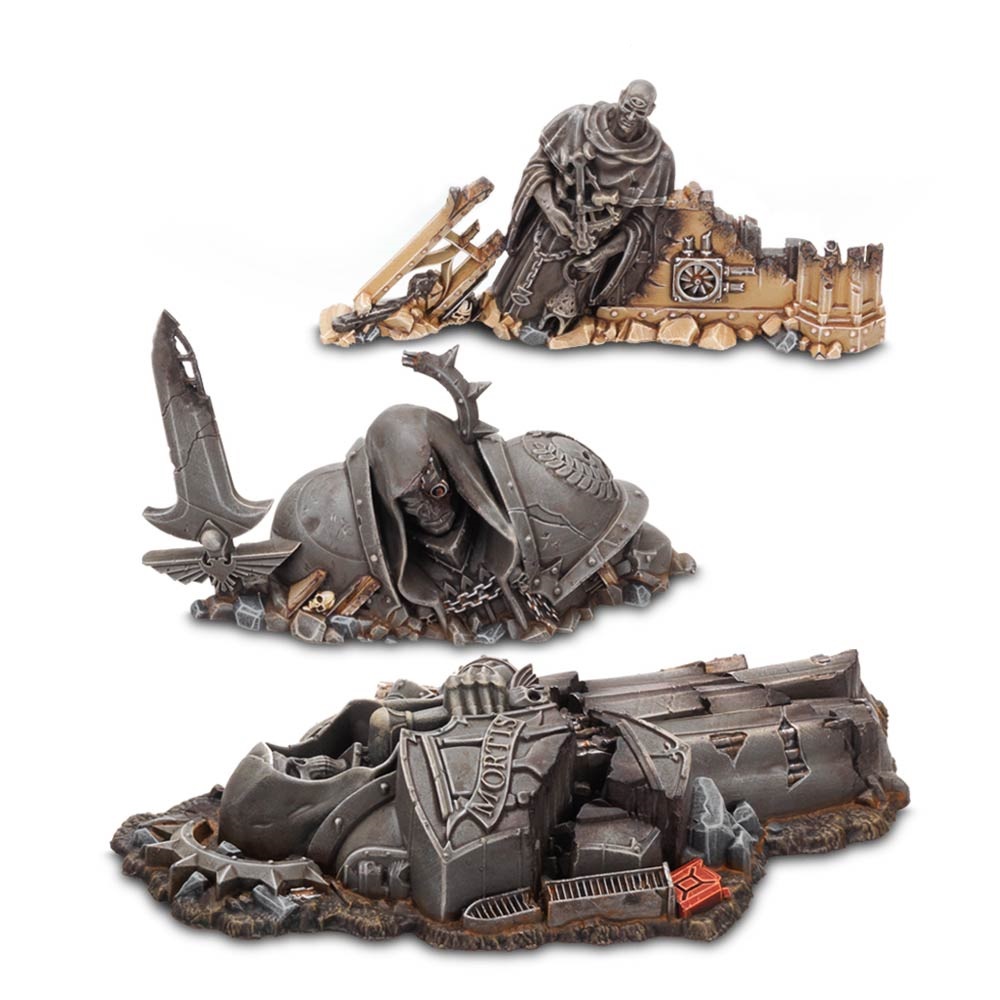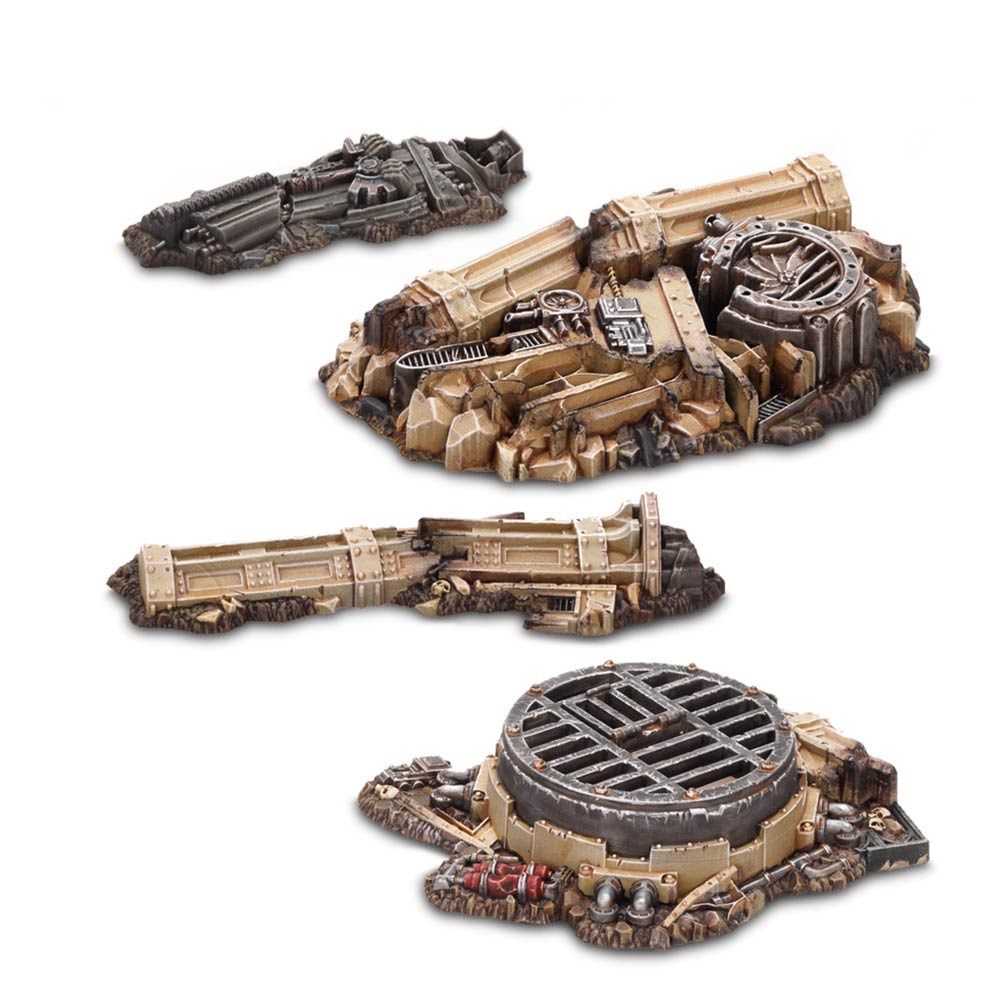 That grate also looks pretty massive – perhaps it connects to some sewer network that leads to tunnels under the city – think of all the thematic reasons you'd want to take it!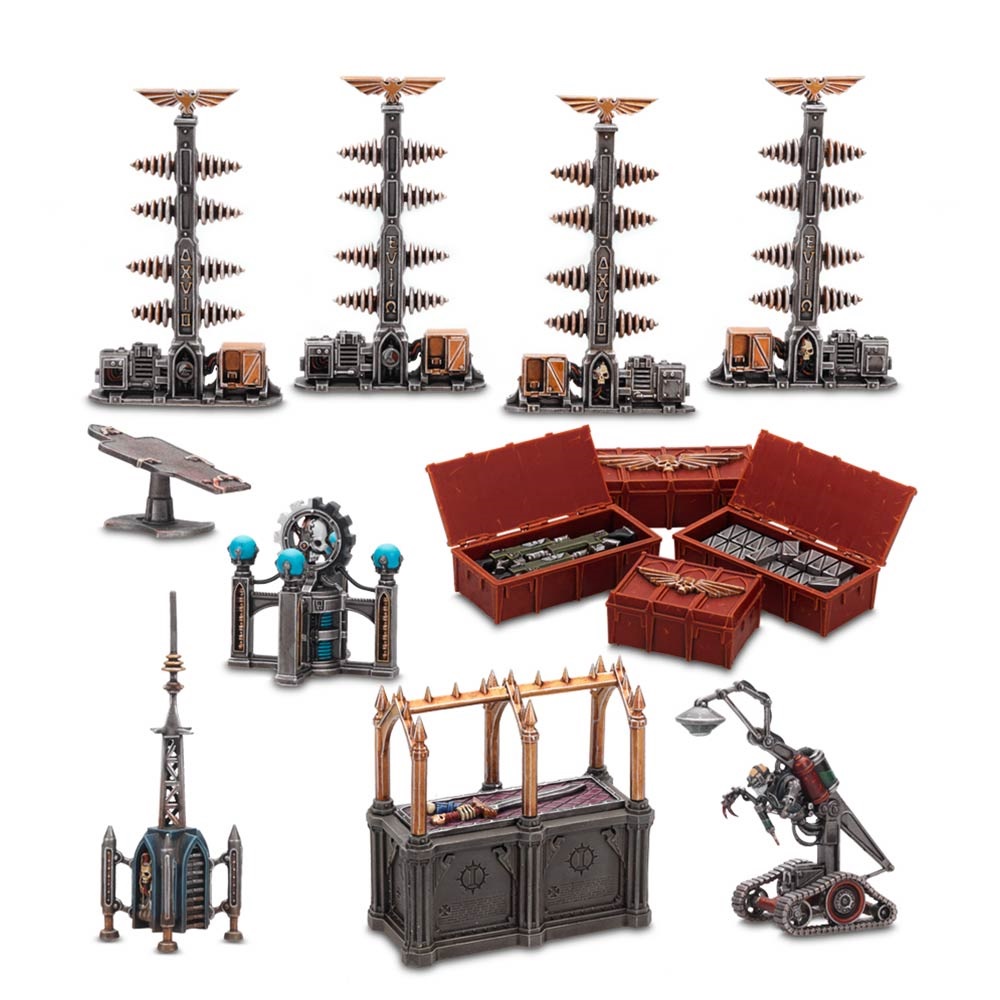 And when it comes to cool looking doo-dads this set has them in droves. This set also brings back one of my favorite pieces of terrain – those weird antenna! I love those things and I've even used previous iterations to make custom objective markers and I'm really looking forward to making another set with these…
The Campaign Map
"Warhammer 40,000: Urban Conquest includes a Cityscape campaign wall map, but rather than featuring a fully detailed, predetermined layout, it's formed of 15 card slots into which you can place any of the set's 57 Location cards to create your very own Cityscape!"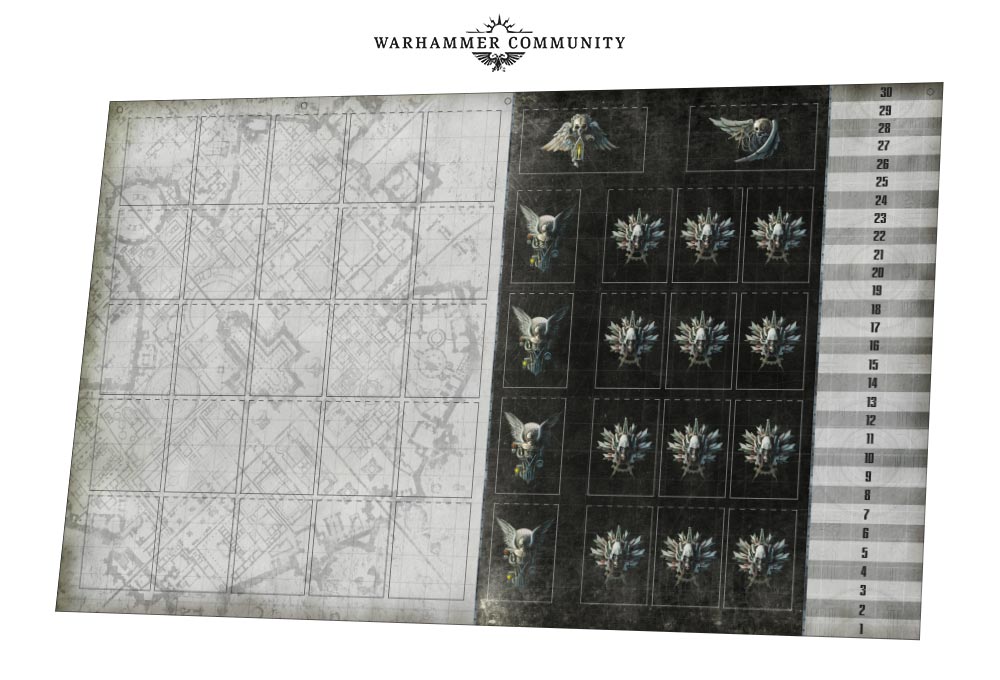 We've gotten a look at this map thing before but now it's starting to come into focus. The map will have plastic sleeves that you'll be able to slot cards into to create a city. I'm a little unclear if it has 25 slots or 15 for the cards. The text says 15 but from the looks of the map, it's a 5×5 grid. In the picture below you can even see the plastic pockets on the map.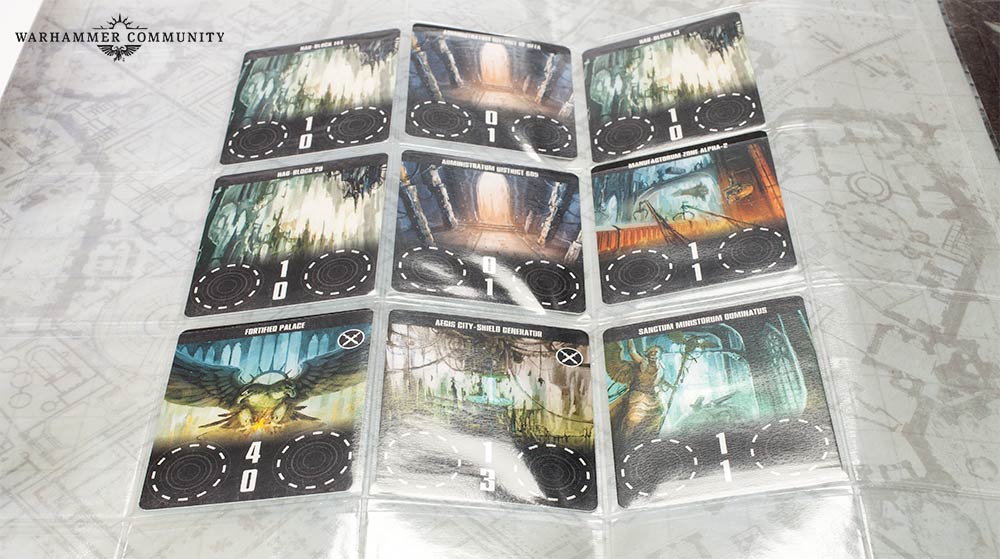 That sure looks like a 5×5 grid to me – so ???
Maybe the size of the city is limited to 15 cards? Again, it's a little unclear but hey – we can all find out together when this launches later this month.
All The Cards
Also included will be card decks of "Strategic Goals, Random Events and Strategic Resource Cards" and these will have an impact on the games you play with them. These cards will give you a reason to battle over locations and will help shape the narrative of your campaign.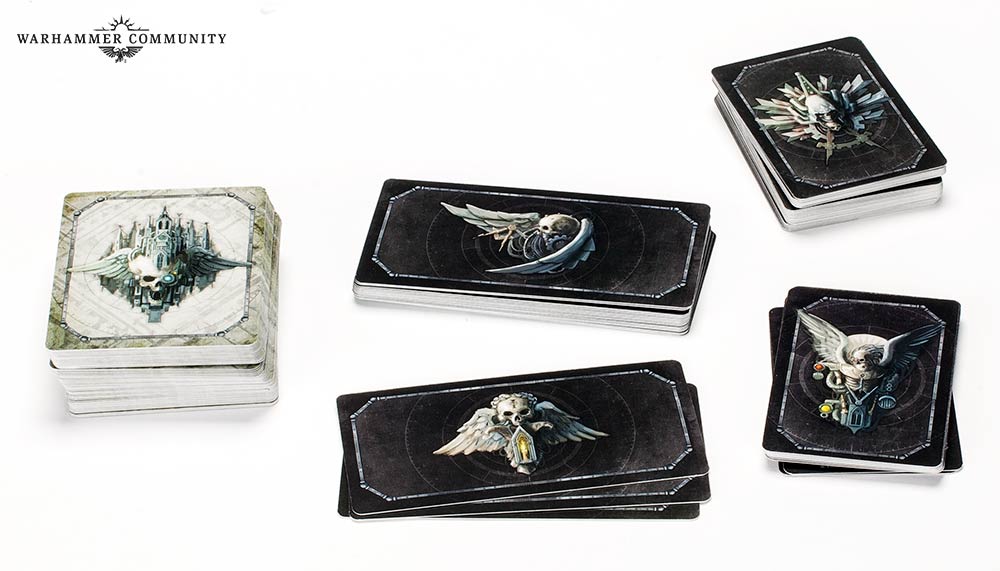 Another cool thing about these cards is that how they are placed on the "side board" of the map actually will matter. We don't have any other details from GW about that yet – so stay tuned!
The Rulebook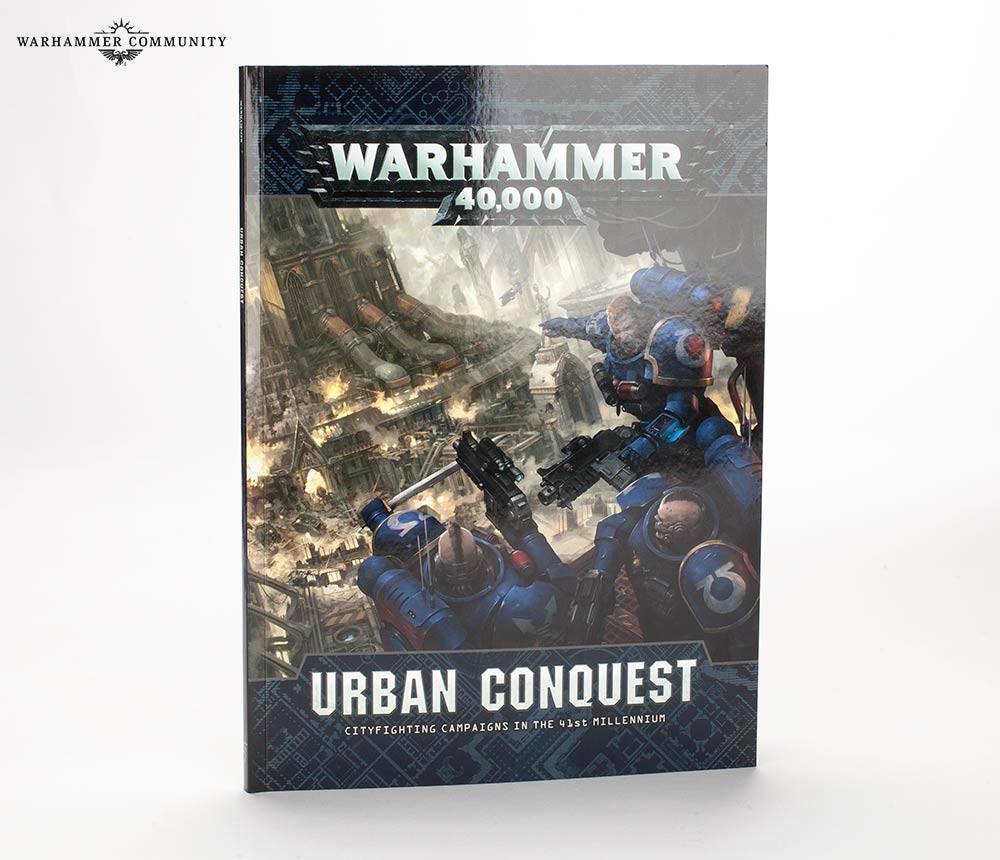 Here we go! This 97 page book will offer new ways to play 40k with the Urban Conquest rules. It's a softback and it's got all the new info you need to setup, run and play in a campaign.
"The latter half of the book introduces loads of new rules content for your campaign, including Stratagems, Tactical Objectives, Urban Battlezones as well as a host of open, narrative and matched play missions and even a handful of bespoke missions that can be played on certain special map locations."
There's a lot to unpack from that statement but here goes:
New Stratagems
New Tactical Obectives
New Urban Battlezones
New Open Missions
New Narrative Missions
New Matched Play Missions
New "bespoke" missions for specific map locations
Well okay then – that sure sounds like it's got something for everyone! This isn't just for open and narrative players looking to have a campaign – Matched Players, this book also has some missions for you to enjoy, too.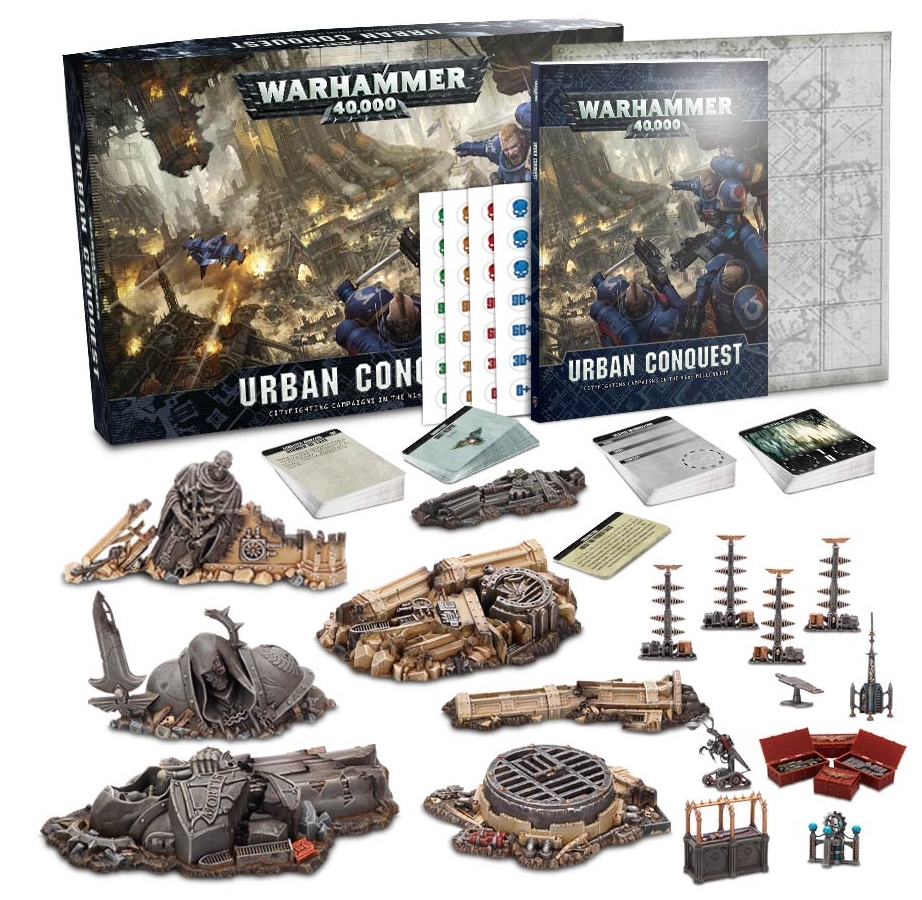 Urban Conquest is embracing the "claustrophobic, deadly and epic" combat of fighting in an urban environment. Are you ready to take up the challenge?
What do you think of the Urban Conquest contents so far? Are you and your gaming group going to launch an Urban Conquest Campaign?