Sometimes influences are subtle. Sometimes they hit you like a power loader hits an alien queen. But if that's your biggest complaint with Nemesis, you still have bigger problems (like aliens).
The Weekly Board Games Top 10
"The Hotness" on BoardGameGeek is a list of the currently most popular games, as based on views. This week brings us these winners:
Certainly a god mix of old and new on the Hotness this week. While we've already taken a look at many of them, the ones we haven't yet covered are Inquisitor, Black Angel, Nemesis and Suburbia: Collector's Edition. Typically, I try to go for whichever game is highest on the list, and that also has enough public information to actually be covered. However, Nemesis has been lurking at the edges of the Hotness list for several weeks now and it's finally time to wake up…….
You wake up from your hibernation sleep aboard the ship. Still groggy and unsure of your footing, you step out of your chamber and notice one of the crew mates lying dead on the floor. Before you have time to assess the situation, you hear a strange scuttling from the corridors around you. Could these be the hostile alien invaders from the stories you've heard? How could they have gotten aboard? There's no time to figure it out. Teamwork and community are all well and good, but you've got to look out for yourself and just try to survive the…
Nemesis
Nemesis is a semi-cooperative survival horror game with modular exploration, dice rolling and hand management mechanics. Each player in Nemesis has their own objective. While they are (usually) working together to keep the ship flying, once the game ends, some will win and some will lose.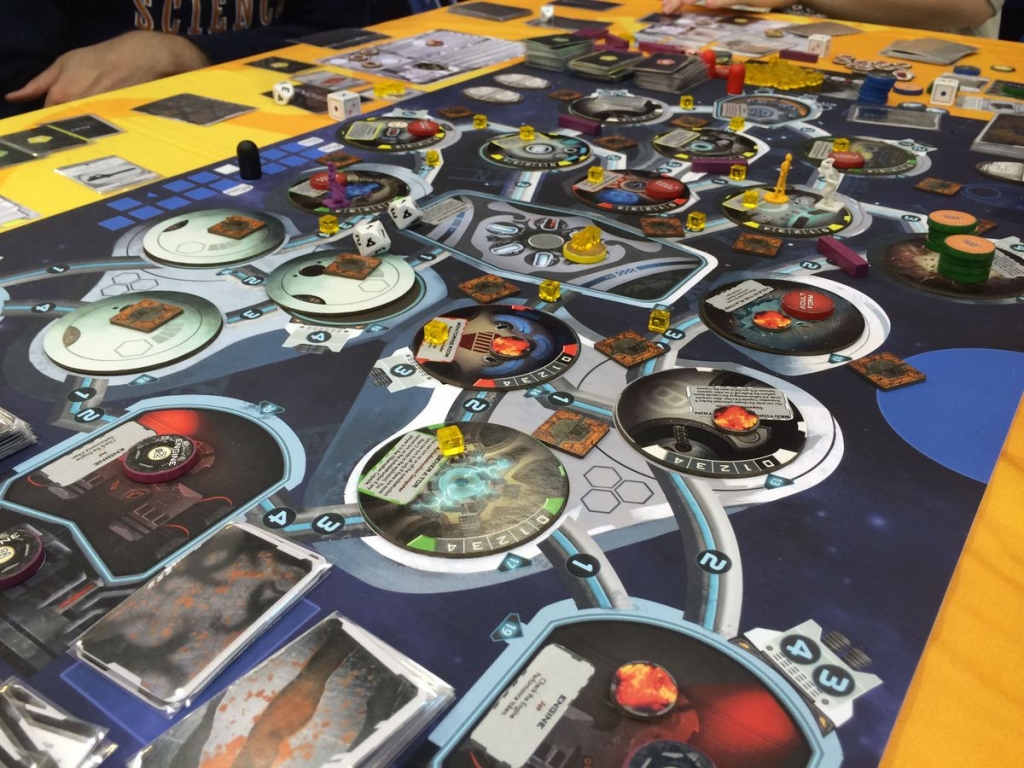 Some components have changed since this was taken.
Nemesis takes a fairly standard gameplay format of "explore the ship, find the bad guys, save the day" and turns it on its head. Not only do you have no idea if there are bad guys at all, but there could be multiple bad guys, each trying to sabotage the ship in their own way. Or maybe no one is bad. On top of that, there is always one very obvious bad guy: the alien invaders.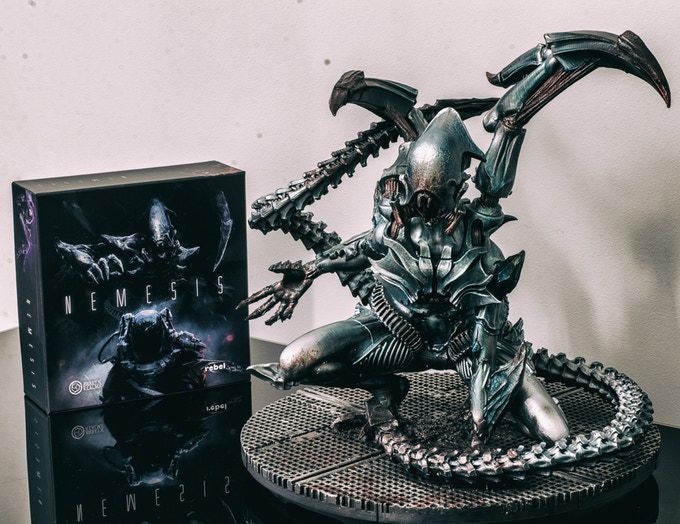 The minis you get are not this big, but they are rad as hell.
While the players are exploring the ship and trying to get it up and running (or not), they are under constant threat of death from aliens which are constantly evolving. Without someone to keep an eye on that, they will overrun the ship and everyone will lose. You can't win if you're dead, after all.
Finally, there is no set map. Each of the rooms are room tiles which are shuffled at the start of the game. This, combined with the random personal goal cards and starting the game with a random dead crew member (that wasn't just fancy story telling!), makes sure that each game has a lot of variance to ensure replayability.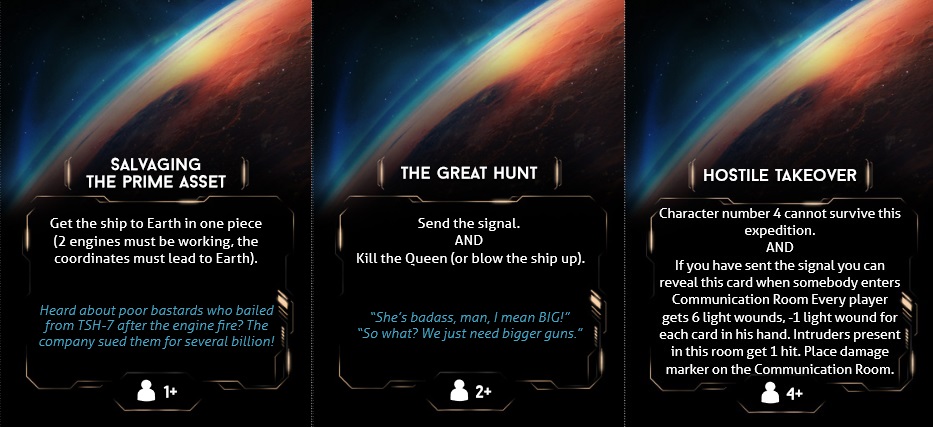 Plus, I actually really love the mechanic that your victory can rely on someone else being dead.
Despite the plethora of additional mechanics, the gameplay is pretty straightforward. Players use action cards from their hands to do the things they wanna do. Sometimes the cards in a players hand are also discarded as part of the cost of the action, as noted in the card description. At the end of each round, players will draw additional cards to use in the next round.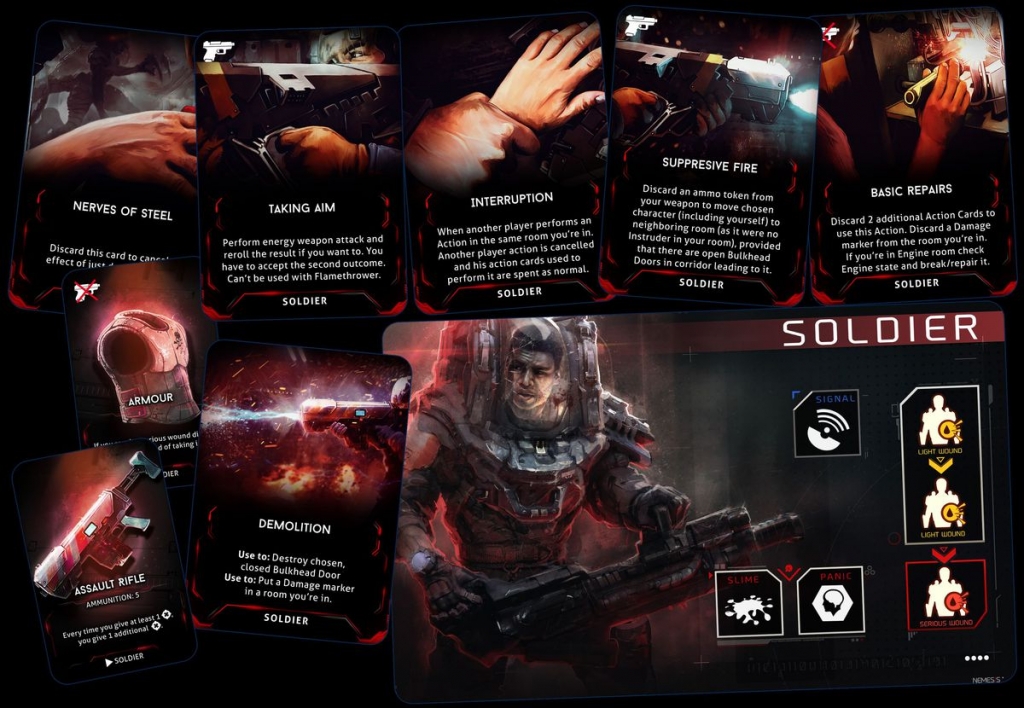 This, in addition to the items and actions available throughout the rooms of the ship provide players all the tools they will need to complete their objectives. After a set number of rounds, the ship has reached its destination. Providing none of the players have activated the self-destruct operation.
The point I've been trying get across the whole time is this game has a ton of options.
From Awaken Realms

Nemesis – Available Soon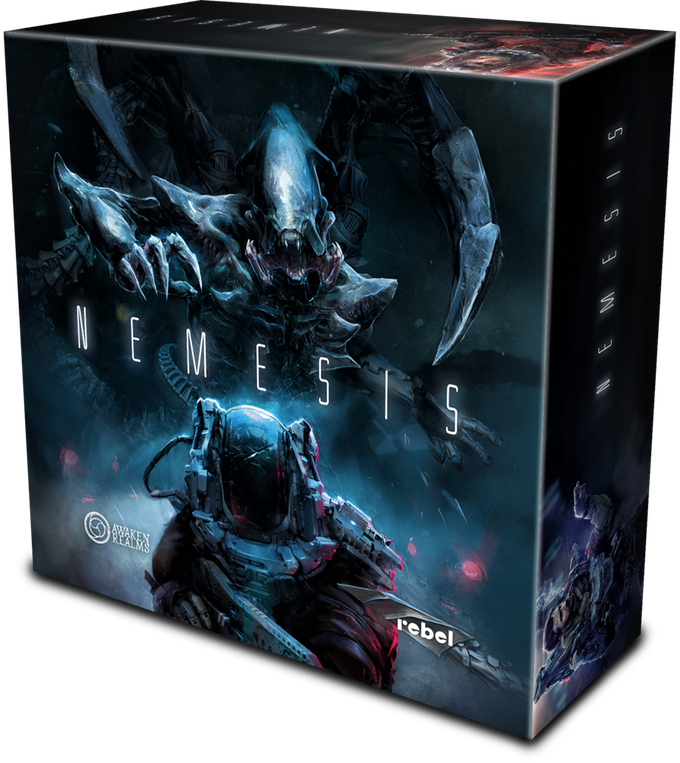 1-5 players semi-cooperative Sci-Fi horror where you and your friends try to survive while attempting to fulfill your secret objectives that may sometimes collide. It enables full co-op as well as solo play experience.

Playing Nemesis will take you into the heart of Sci-Fi survival horror in all its terror. A soldier fires blindly down a corridor, trying to stop the alien advance. A scientist races to find a solution in his makeshift lab. A traitor steal the last escape pod in the very last moment. All this – and other memorable actions – await!
1 – 5 Players
35 Minutes / Player
Ages 14+