The Gloomspite Gitz bring a new wave of units–some with new models, and some just new ways to play the ones you have–come check out a few of our favorites right here.
Today we're taking a look at some of the units in the new Gloomspite Gitz Battletome. With something like 12 new units, and more options than ever before, the Goblins are ready to take on the Mortal Realms. We've gathered our favorite new units from the Battletome below, so you can see some of the things the new Moonclan Grots (and friends) are capable of.
First up, we have the Skitterstrand Arachnarok. These gloom-dwelling spiders live in the netherrealms of Shyish, where they feast upon the living–and the souls of the dead. Yes these spiders are able to snare ghosts and souls in their webs and drain them dry of their vital essence. They've even been known to snare the wayward souls of Stormcasts in their webs, permanently destroying the undead horrors that are kind of okay undead horrors because they're reforged by Sigmar instead of Nagash.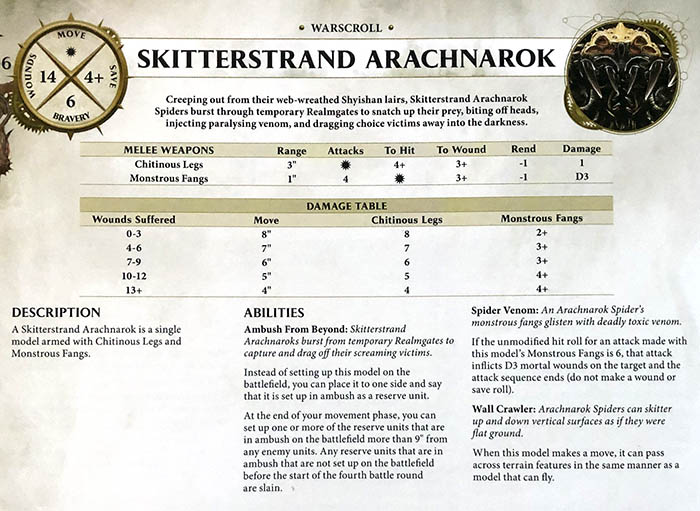 And the new Skitterstrand Kit is there for the old spider model–but now you can field it naked without any spider riders on it. And it's got some pretty terrifying abilities–most notably Ambush from Beyond, which lets you deep strike in wherever you need. And ordinarily Deep Striking is a difficult threat to deal with, but when you drop that on a 14-wound model, who has a 3″ melee range, odds are good you're going to make your charge and just start wreaking havoc on whatever you smash into.
Next up is the Bad Moon Loonshrine. This is the Terrain piece that accompanies the Gloomspite Gitz, and it's pretty much a requirement if you want to take an army that's mostly Grots, because it gives them the one thing they do not have: bravery.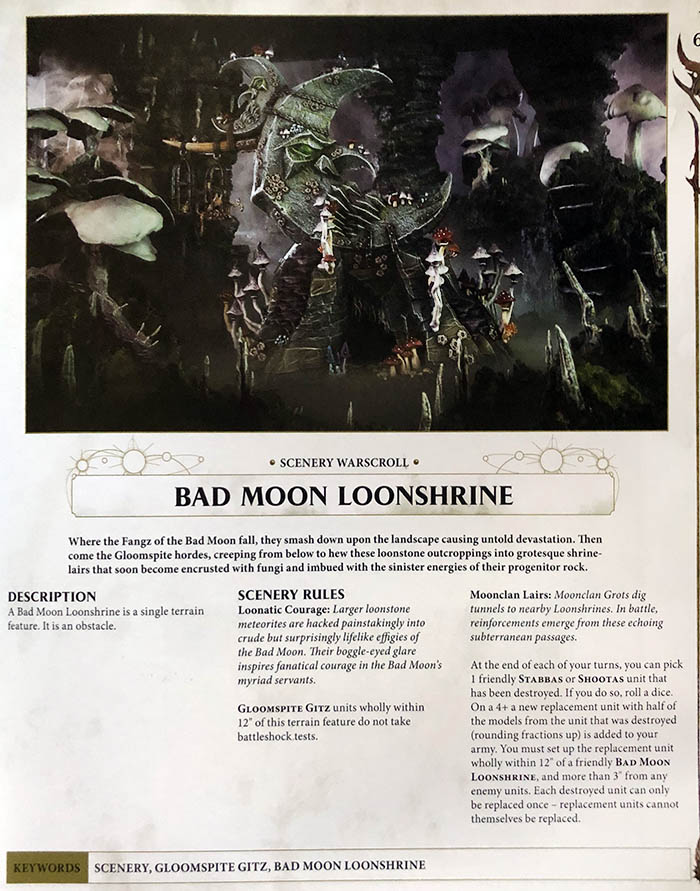 Goblins are known for many things: being spiteful, using poisons, having their own warped, runty view of what the world is actually like–but they are not known for their Bravery, and it holds true in their units. A Goblin horde can be broken if you start making them take Battleshock tests, but that's where the Loonshrine comes in to play. It not only keeps your units from running away, but it also lets you keep your numbers strong by replenishing units of Shootas and/or Stabbas from the twisted lairs within.
Next up, we have our favorite Battalion. Here you'll find the Squigalanche, and I shouldn't have to say more about it than that.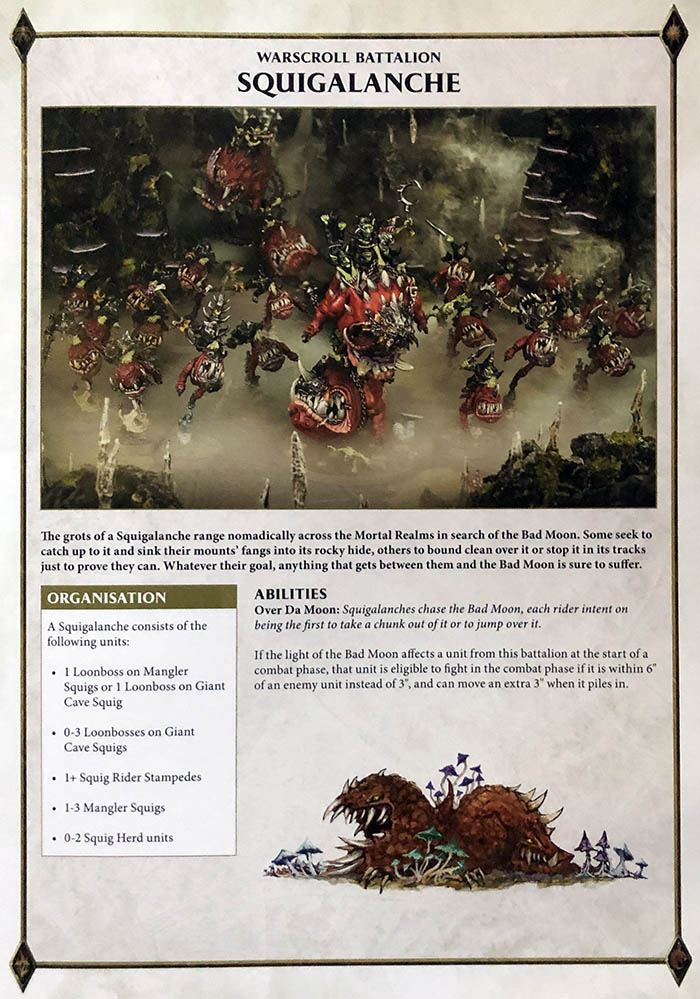 They do make for an effective cavalry army though–getting to pile in if you end up within 6″ of an enemy means you're going to make those charges, and probably going to make charges the enemy didn't see coming. As long as you're under the light of the Bad Moon.
Backed up by Skragrott the Loonking, any of the Gloomspite Gitz can count on the light of the Bad Moon shining down upon them when they need it most.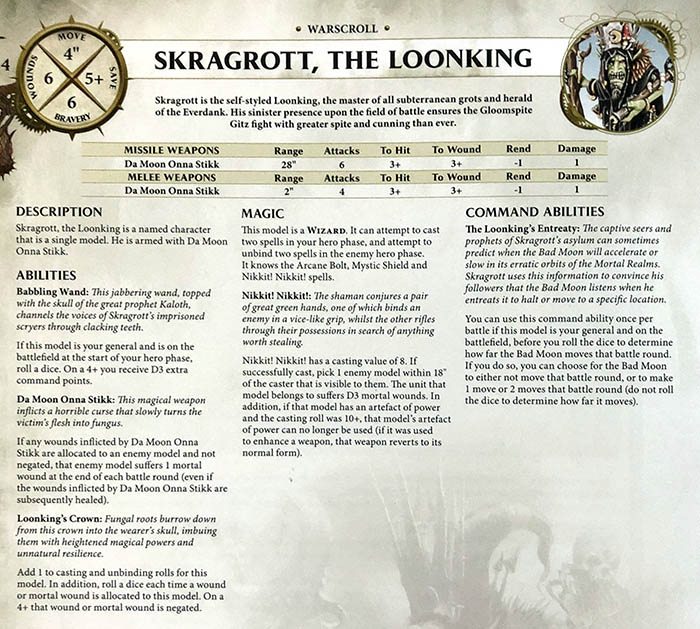 We've already seen what Skragrott can do before–his Moon Onna Stikk slowly turns people into horrible fungus monsters by dealing extra moral wounds at the end of each battle round, and he's got the ability to negate artefacts of power with some lucky casting rolls, but the real strength of Skragrott is his ability to determine how far the Bad Moon moves in one battle round. This means moving it into position if you need it to be somewhere, or keeping it in the central position where it holds dominion over the entire board. And given what the Bad Moon does to the unprepared, this can give the Goblins that crucial edge they need in order to snag victory for themselves.
Last up, we have the Mangler Squigs, who can also be ridden by a Loonboss, but we prefer them as they are–just a couple of chained-together Squigs, angry, hungry, and unleashed upon the mortal realms with little care for what they tear through.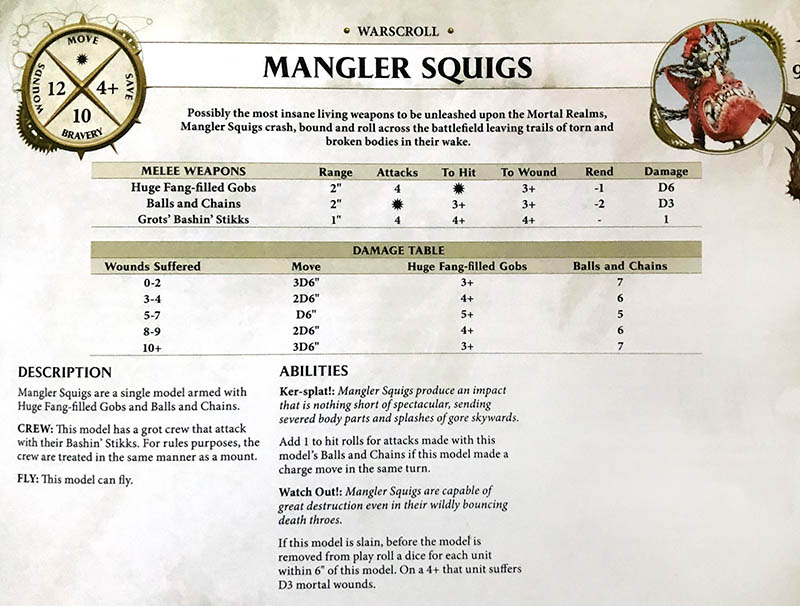 What else do you need to know about these guys? They can fly, they can chomp everything they come across, their balls and chains do weird amounts of damage, and the Mangler Squigs have a weirdly symmetrical wound progression chart that seems to be representative of one of the Squigs getting wounded, then killed, and its corpse becoming an extra weapon for the other one that's bounding around with it.
Or if you want to be less dark, I suppose it could just represent them getting angrier and angrier as their wounds drive them into a frenzy.
What do you think of these new units?