The Half-Year numbers are in and things are looking rosy for Games Workshop.
Games Workshop's latest numbers are looking solid. Keep in mind this Half-Yearly report covers their fiscal year and not the standard year (that's why it ends at December 2, 2018).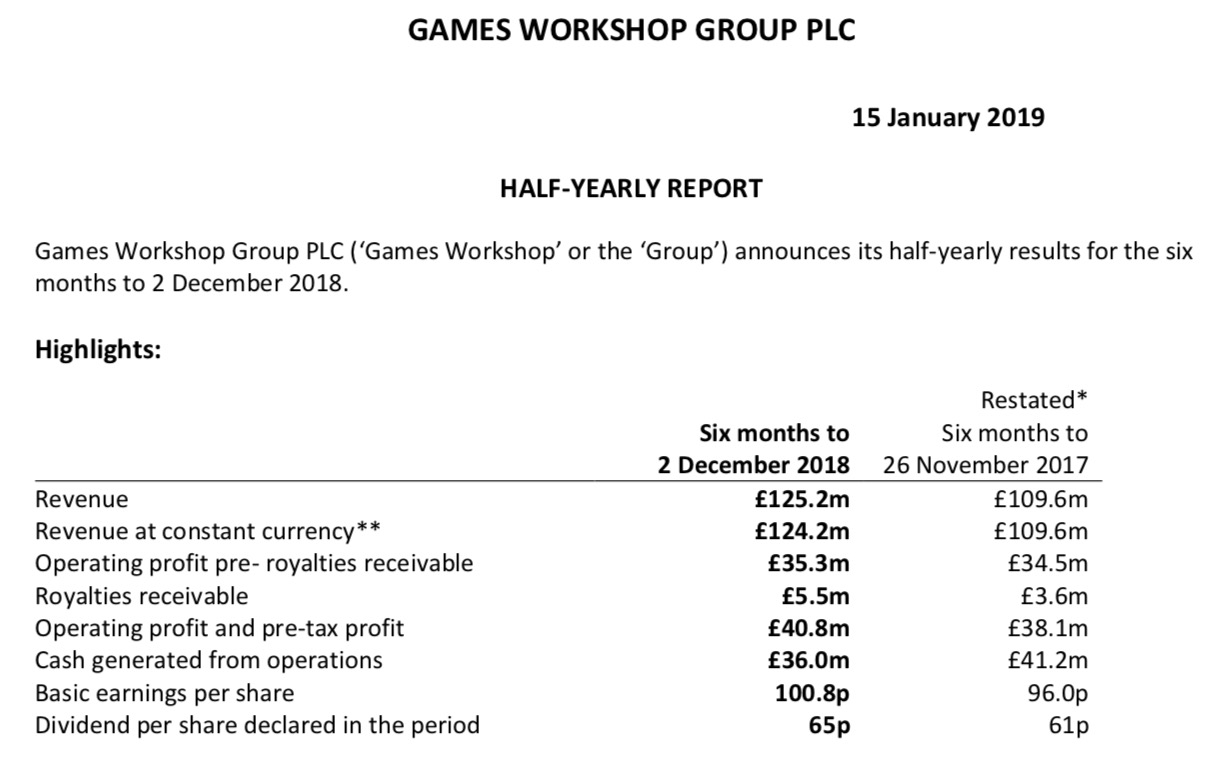 via GW Investor Relations
Kevin Rountree, CEO of Games Workshop:
"Our business and the Warhammer Hobby continue to be in great shape.

We have remained true to our long-term strategy, and once again delivered on our promise to produce and sell the best fantasy miniatures in the world, while engaging and inspiring our fans. We continue to strive to make the Warhammer hobby ever better. Exciting times."
Top Level Numbers (2018 vs 2017)
Revenue: +15%
Operating Profit (Pre-exceptional item & royalties): +2%
Operating Profit: +7%
Earnings Per Share: +5%
Sales Channel Reports (Revenue):
(Constant Currency Numbers)
Retail: +6%
Trade Sales: +26%
Mail-order (web store): -4%
—–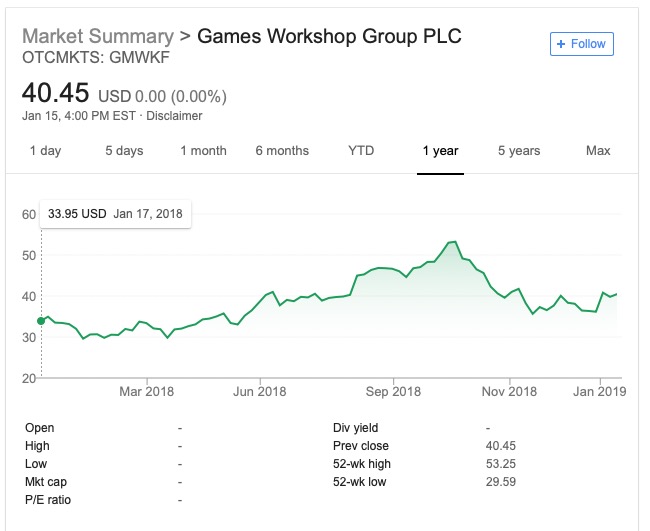 Just comparing this report to the Annual Report from 2017-18 you can see the optimism reflected in the chairman's report.
GW is performing at a record pace, but the heady days of last year's 100-300% explosive growth look to be over. The company continues to grow at a more normal pace and looks to have plans in place to extend their rosy futures in the months ahead.  Aside from the general Brexit cautionary statements there was this bit on what GW considers its greatest risk:
"In our opinion the greatest risk is the same one that we repeat each year, namely, management. So long as we have the right people in the right jobs we will be fine. Problems will arise if the board allows egos and private agendas to rule. We will do our utmost to ensure that this does not happen."
Have fun with this one – and remember NO CHAIRS – be nice!