The Gremlins have to eat, but this hog isn't just a meal waiting to be served – it has some rather damaging melee capabilities. Take a look at what this new model has to offer up.

Staying alive isn't normally the first thing that comes to mind when thinking about Gremlins (wrestling crocs before learning to walk comes to mind well before that). But even pigbrained moonshiners have to eat, and now Som'er is bringing his dinner along into battle. Gremlins have to do things their own special way, and healing is no exception. For the fellow Big Hats, the Spit Hog is essentially a mobile meal, providing Heals to nearby friendly models with his "Food's Up!" Ability and more.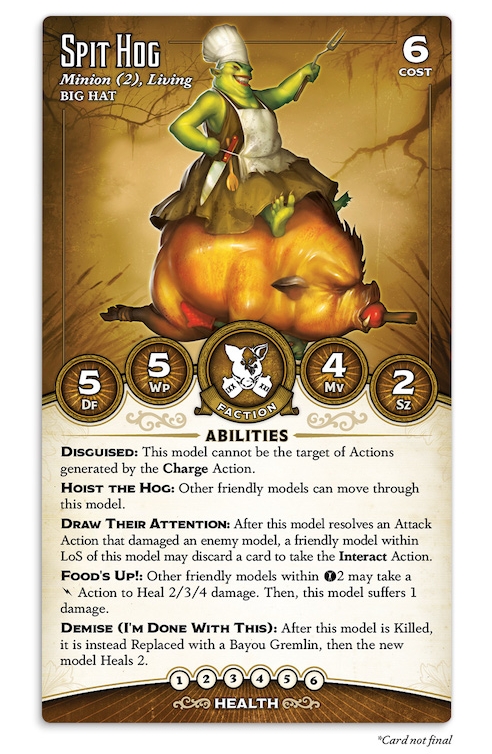 If there's a fight breaking out in a particularly dense part of the Bayou, that much pork (50mm of it!) can get in the way pretty easily, which is why we implemented the Hoist the Hog Ability to allow friendly models to move through the Spit Hog. Enemy models will just have to sit back and smell its roasted glory.
If sitting back wasn't good enough for the opposing team and the Spit Hog somehow falls in battle (or if Lenny gets particularly hungry), the Gremlin underneath all of that weight picks up a Boomstick and joins the fray with the Demise (I'm Done With This) Ability.
When developing Crews and their associated Abilities in M3E, finding a focus that fits both mechanically and thematically is always an interesting challenge. Som'er and his Big Hats, however, came pretty naturally; the idea of Gremlins quitting their job in the middle of battle while swarming the table with waves of Bayou Gremlins has been Som'er since the start.